Get bored of your regular box look wooden knife block? Looking for some elegant and beautiful knife set for your favourite knifes? Have some morbid fantasies but nowhere to release? Check this post, we collect 9 creative and unusual knife block/set designs from world, and hope there will be one appeal to you.
1. Throwzini's Knife Block [link]
Whether you have a zeal for throwing steal or you're a cutlery connoisseur, Throwzini's Knife Block is for you! In 1938, the Wheel of Death introduced a spinning target! Decades later, knife throwing still lives on in the modern day circus and it can live on in your kitchen with the Throwzini's Knife Block. Made of hand crafted wood, it comes complete with 5 stainless steel razor sharp professional chef knives. Each knife is held securely by magnets in individual protective sheathes. Just give it a spin. It's stylish, versatile and functional. The Throwzini's Knife Block is a cut above the rest.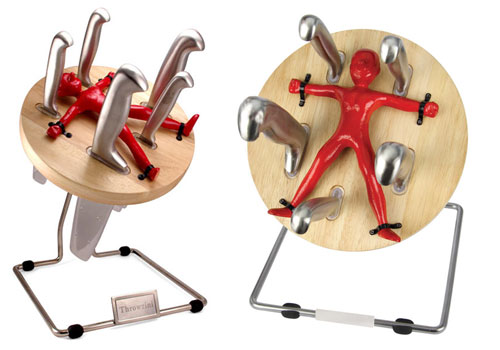 Continue reading