I am not a mac person…. maybe, the only part I like about mac is its lighting "apple" logo…. It does look shining in the dark. Apparently, lots of people share this point as me, and try to add more fun to the logo, making it more eye-catching.
Snow's Revenge
Mirror, mirror on the wall, who's ……..?  It's Snow's turn and she's on a mission.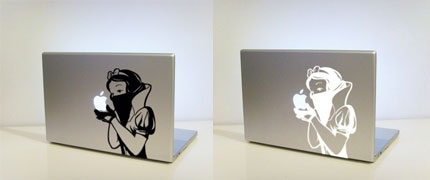 Squirrel and its nuts
Give this squirrel a home on your laptop. It playfully chomps down on your apple logo and forgets about it's other nuts.