Tear-off advertisement, usually, it's just a plain white paper with tear offs of contact information. While in our today's collection, we try to show you some creative and inspiring designs. Those tear-off pieces in those designs are quite good combined with the product/service they want to promote and encourage the interaction between ads and people.
STIHL Leaf Blowers: Autumn Calendar 2010 [link]
This super cool calendar is developed to promote the product of leaf blowers by STIHL. As I know, it is the first tear-off calendar, that tears off its leaves automatically! To show the necessity of STIHL leaf blowers in an entertaining way – day by day. Due the fact that leaves fall in autumn, their calendar covers the time period 09/23 – 12/21.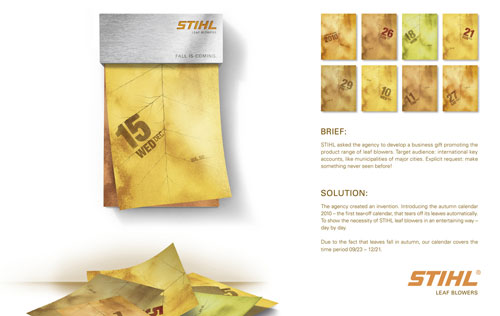 Continue reading