In the battle for eyeball, no front is left unmanned, no stone unturned, no washroom ignored… . Yes, no washroom ignored. As private environment, washroom advertising are regarded as an ideal medium for gender targeted advertising, allowing to convey a more intimate message. Basing on that result, no wonder why I can find so many creative ads in washroom. In this post, I will list 15 Creative Advertising found in Washroom. Are you ready for today's washroom exploration? Let's check how those food, automobiles, entertainment and telecoms industry play their washroom trick.
1. Toyota Prius: Pre-collision
Tag line: The all-new Prius pre-collision system can detect a potential impact before you do.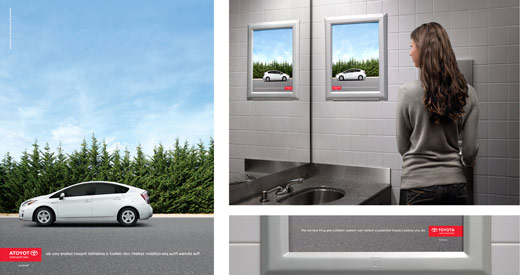 2. Kleenex: Soap dispenser
Tag line: "Got flu?"