Everyone loves a floral arrangement, and going for artificial ones means they'll last so much longer. So, if you want to brighten up a room but don't have to be concerned about it wilting, a good way to do so is with silk flower arrangements. But despite being unreal, they still look incredible and natural, very similar to the real thing. You would be surprised, but there are many kinds of silk floral arrangements available. In this post, we rounded up 10 Beautiful Artificial Silk Flowers Arrangements for your home. If you are the person want to make your own stunning creations, these will also be a good inspiration.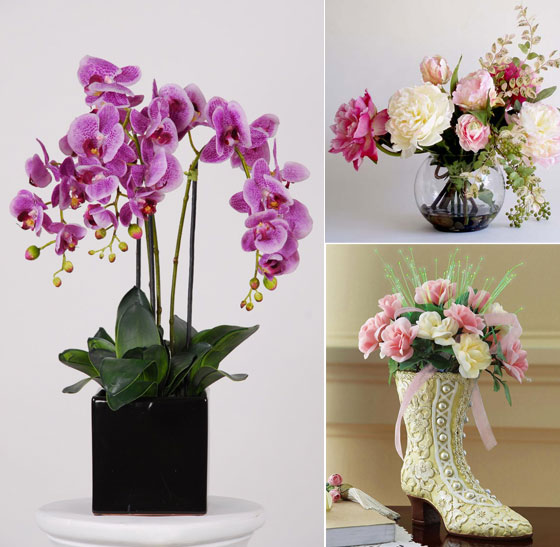 Peony & Orchid Silk Flower Arrangement [amazon]
Height: 21.5 in
Width: 19 in, Depth: 16 in
Includes vase
Vase size: W: 5.5 in, H: 7.5 in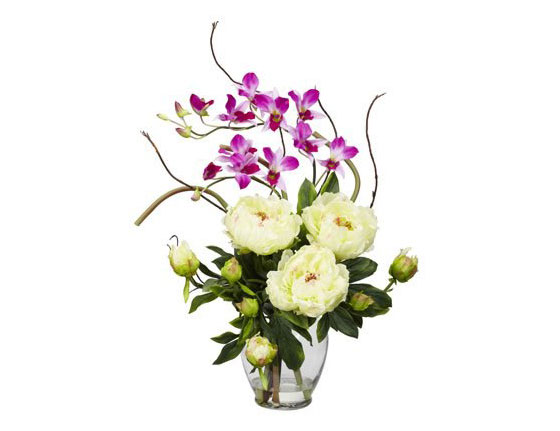 Artificial Triple-stem Phalaenopsis Orchid Arrangement [amazon]
Three stems of lavender silk Phalaenopsis orchids
Each stem has 7-9 blooms and 4-6 buds.
Black glazed ceramic pot to complement any décor (6″ x 6″ x 6″)
Natural-looking and life-like
Approximate dimensions: 18″ diameter x 24″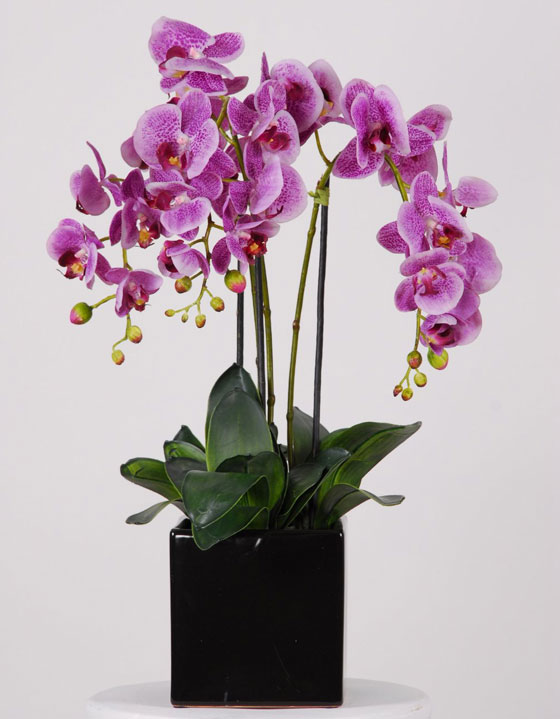 Floral Artificial Potted Cosmos Tubes in Pink and Red [amazon]
Floral Series
Material -SILK/POLY/PVC
Color -Pink, Red
Size -16″
Made in USA
1 Year Limited Manufacturer warranty.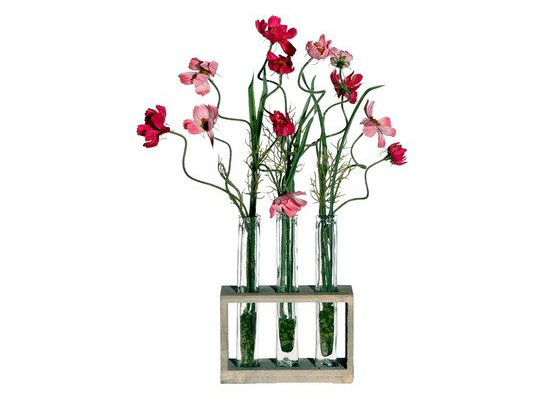 Cymbidium w/Decorative Vase Silk Arrangement [amazon]
Height: 30 in
Width: 30 in, Depth: 20 in
Sure to become a conversation piece
No maintenance or watering required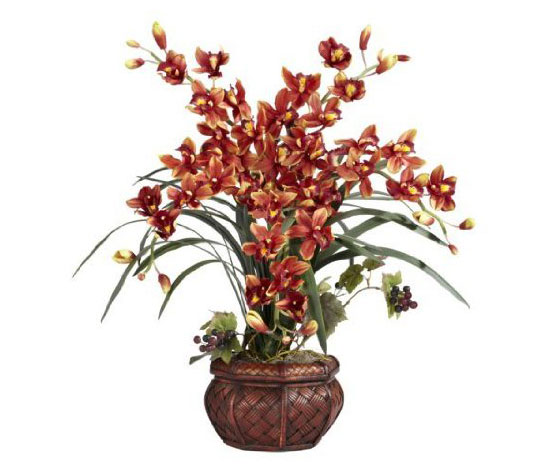 Floral 40″ Artificial Potted Tropical Flowers in Multicolor [amazon]
Floral Series
Material -SILK/POLY/PVC
Color -Green, Orange, Yellow, Red
Size -40″
1 Year Limited Manufacturer warranty.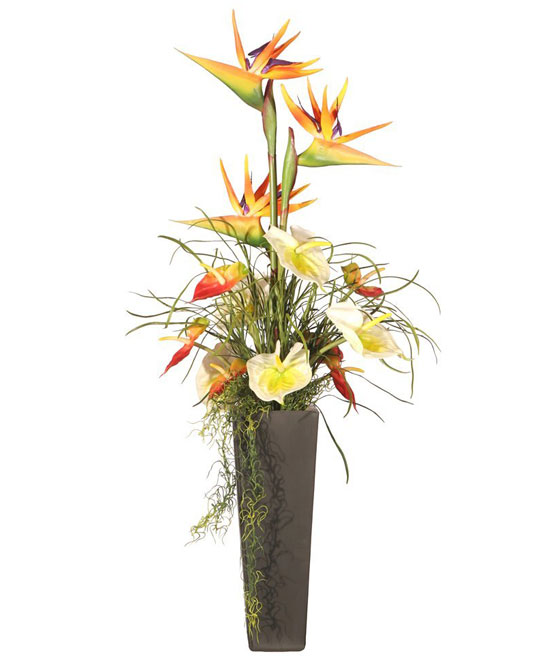 Lilac Bowl In White [source]
This lilac arrangement is great for a side table or any spot where you need a little accent. And best of all you don't have to wait till lilacs are in season! It is approximately 8″ tall, and 10" wide.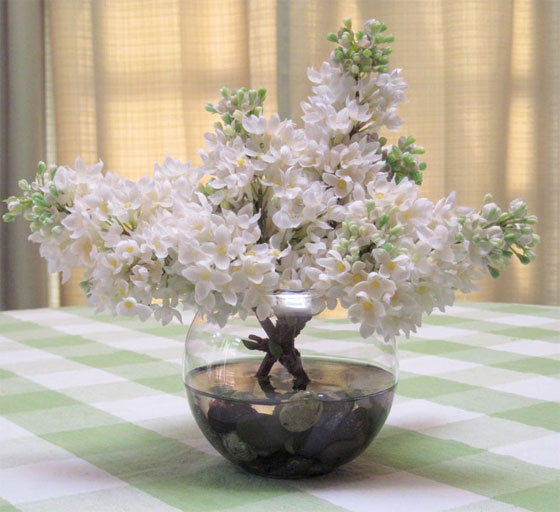 Mini Phalaenopsis w/Fluted Vase Silk Flower Arrangement [amazon]
Height: 15 in
Width: 11 in, Depth: 6 in
Beauty that is otherworldly
Lush greenery and one perfect stem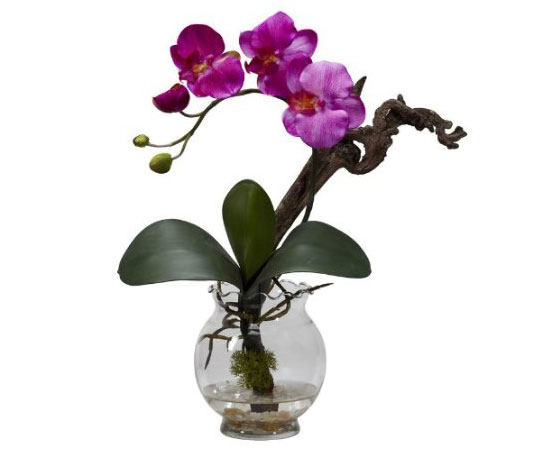 Artificial Anthurium Rose Mixed Flowers and Plants Arrangement [amazon]
Mixed with Anthurium, Rose, Gerbera Daisy.
WOOD/Rattan POT INCLUDED
Each Size approx: 29″H x 20″W
Steel wires used partially to hold the shape, makes it easy to bend or shape to your satisfaction.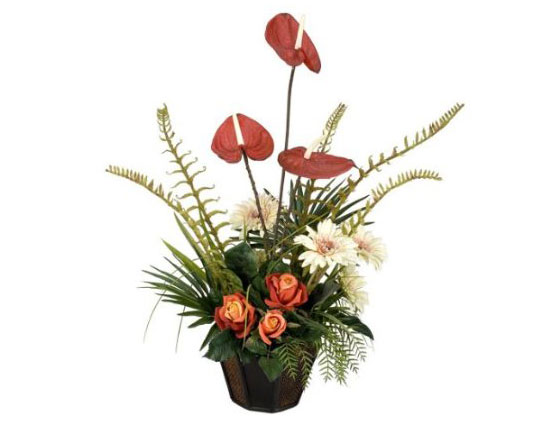 Victorian Boot Vase W/ Fabric Flower Bouquet  [discontinued]
Lady s fancy, high-button boot makes an eye-catching vase for a pretty bouquet of fabric roses that sparkle with color changing fiber optic light and help put you in a springtime mood. Includes 3 button cell batteries. Resin. Measures 8″L x 6″W x 10″H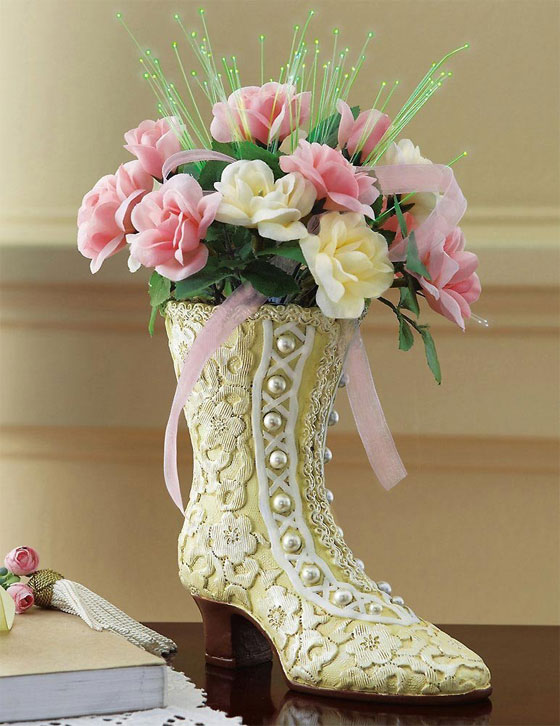 Mixed Peonies In Large Bubble Bowl [source]
This arrangement of fresh cut looking Peony arrangement will make a statement in any room. The arrangement is 20hx20wx12d.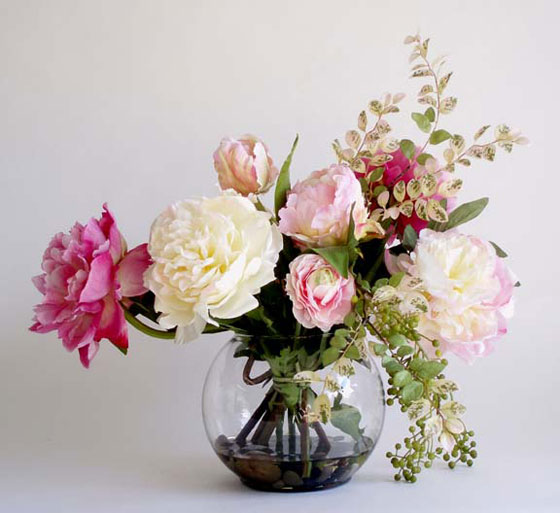 Red Amayrllis w/Bamboo Tray Silk Flower Arrangement [amazon]
Height: 21 in
Width: 17 in, Depth: 10 in
Makes the perfect gift
No maintenance required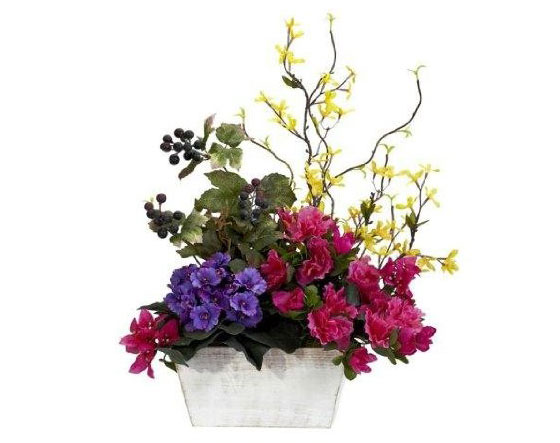 Mini Calla Lily Silk Flower Arrangement [amazon]
The Calla Lily is a centuries old favorite that hails from African origin. The simple yet elegant bulbs are bright and colorful with large leaves and a thick stem. The Calla Lily is truly a classic beauty with an understated radiance. Whether it s for a dining room or a study Calla Lilies will enhance the d cor without dominating it.
Height: 20 in
Width: 15 in, Depth: 15 in
Vase size: W: 3.25 in, H: 10.5 in