Design Trends 3-10 Creative Product / Concept Designs
In today's post, we have 10 Product / Concept Designs, you might find they are creative and useful; or crazy and unacceptable. They might not be really new designs, but for me, it is first time to see them and find they are kindly of interesting. Now, let's check the post and let us know your thoughts, which one you think are the coolest?
CTRUS football by AGENT [link]
The football in below picture called 'CTRUS'. billed as 'the first soccer ball you can see through' the design
emulates the bounce of an inflated pneumatic soccer ball, but offers the advantage of not loosing air. An inner light also displays if the ball is over the goal line or outside the field of play.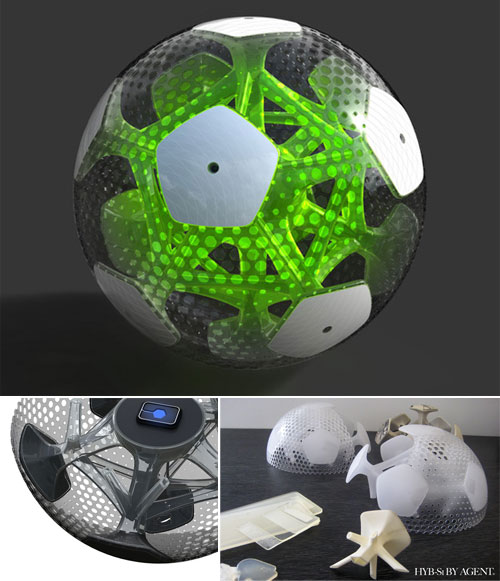 Chewing Gum Bottle [link]
It seems like nearly every time you chew gum, there's always nowhere to put it after you're done. This ingenious "Green Seeds" chewing gum bottle designed by Gonglue Jiang. Featuring a skirt of sticky paper at the bottom of the bottle, and a temporary storage space for used gums and you can dump it out when you find a trashcan.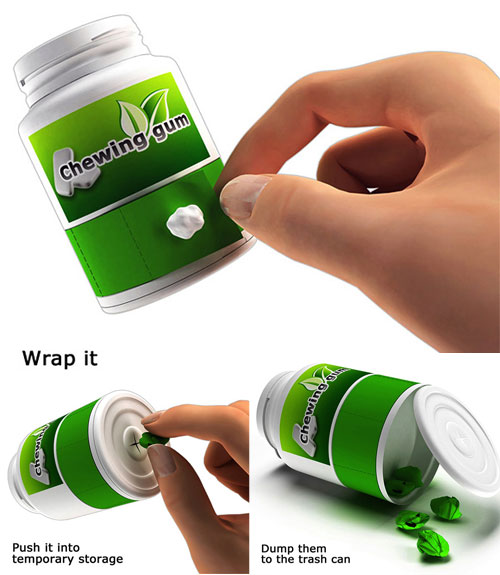 Lock Cup
[
link
]
A cup that is designed for people who share workplace facilities such as a kitchen. The cup has a hole which prevents people from using it. Only the owner of the cup can use his shaped key to close the hole, pour the coffee and enjoy the drink.
Baggy Winecoat
[
link
]
Baggy Winecoat gives the popular Bag in Box wines a casual but stylish look! Simply take the wine bag out of the box, place it in the Baggy Wine Coat and close the flexible top.
A rubber bottom makes sure the Baggy Winecoat do not tip over; neither on the dinner table, nor on the picnic.
If you want to carry your wine with you, just grab the handle and go!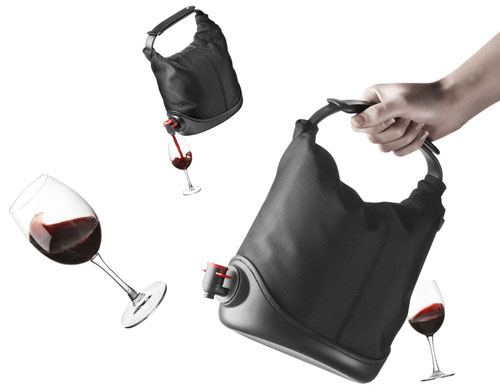 Pad-Dock iPhone to Tablet Converter
[not available]
Hehe, this is a brilliant product to me… And a bit ironic for Apple.
Fancy an iPad but can't stretch the budget quite that far? Well why not get yourself a Pad-Dock? It's a portable dock for your iPhone that magically turns it into an iPad! Well, maybe not magically, but it certainly is clever. Using a touch-screen magnifier, your iPhone screen is enlarged to the exact dimensions of an iPad. Most of the features that the iPad boasts about are on the iPhone anyway, so it only makes good sense to simply enlarge it. And, unlike the iPad, you can actually answer and make calls. Technology, eh?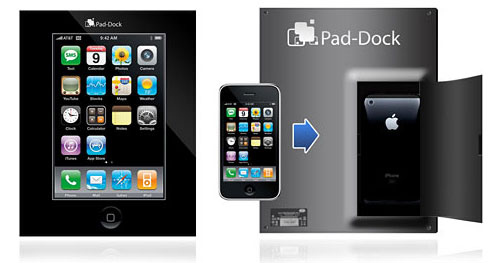 An e-mail counting t-shirt
[
link
]
Why have a t-shirt that counts your unread e-mails? Haven't we exposed us to enough to electromagnetic waves?
Kidding aside, this DIY project was created using an Arduino Lilypad and a Bluetooth dongle. Once done, the shirt would display the number of unread e-mails on your chest. An Android phone continuously does the checking of your inbox for new messages.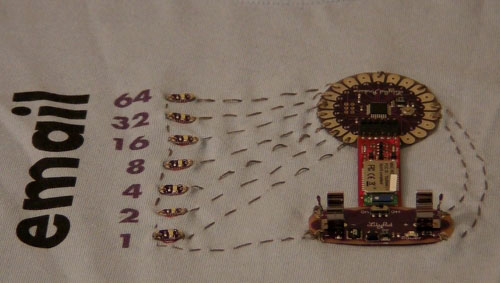 The Discreet Window was designed by Gizem Boyacioglu & Ishac Bertran
[
link
]
The Discreet Window is a blind that provides visual feedback for a home-office environment about the users' work activity.
As an ambient display, The Discreet Window is a membrane that communicates the work intensity to both the home-office space and the outside. The more the user works, the less light is coming inside the room. Thus, the less visual contact there is between both sides of the window.
The concept aims to offer a self-improvement tool which provides an overview of working routines in a non-intrusive manner.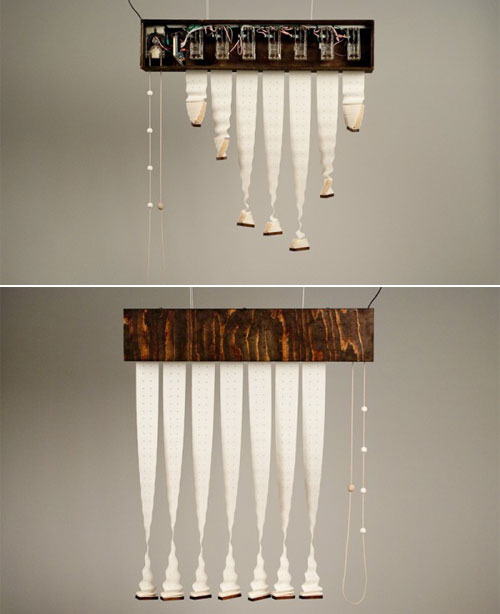 El Faro
[
link
]
"El Faro" Visitors Center, is the gateway to Santander Group's financial complex, one of the largest financial institutions in the Euro zone. The center is a creative mix of advanced robotics, hi-res LED paneled columns and interactive interface design that offer visitors memorable and impactful forms of exploring the group"s history and global presence.
Knee-high autonomous robots greet and guide visitors to their destination in the center, a large-scale model of the financial campus uses augmented reality and advanced graphics to explore points of interest, and a 12-meter tactile, interactive wall senses when people approach, triggers eye-catching graphics and lets visitors explore multimedia contents about "Ciudad Group Santander".
Alfredo Coffee Cup – Did You Hug Your Coffee Today?
[
link
]
The Alfredo Coffee Cup encourages you to get a bit more interactive with your daily cuppa. While the main coffee mug is made from wood, the redesigned saucer is made from ceramic. More like a cup lazing on a hammock, the overall effect of this set is that you can place your sugar and milk sachets comfortably in the tray below, while you caress your mug and share the warmth of the hot brew.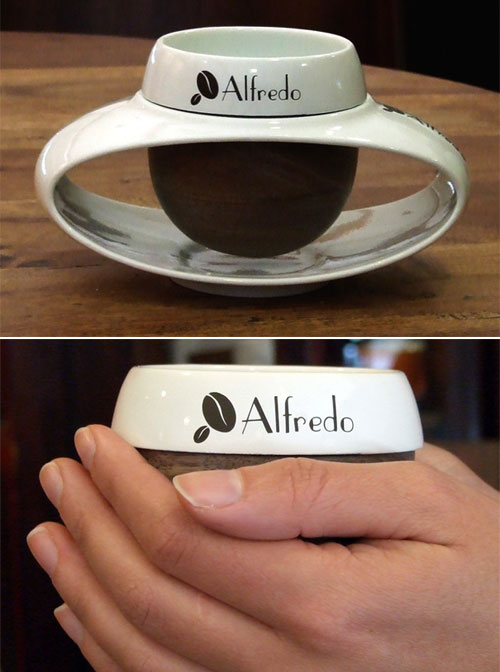 'pata' – an unconventional folding chair
[
link
]
Japanese designer hiroyuki morita has designed 'pata' an unconventional folding chair. when not a chair it appears like a floor mat and can be folded into a compact bundle. it becomes a seat the moment the connecting cord is pulled and tightened. the chair changes shape according to the sitter's act.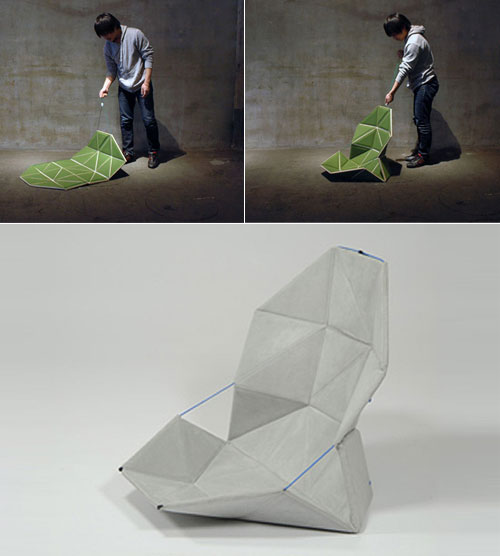 Thank You for Reading Our Posts. What's Next?
Share this post:
Follow our updates:
Read related posts on our site:
Leave us a Comment:
One Response already, click here to leave your comment.
Other Design Articles You May Find Interesting
Loading...