2020 is a bit special for all of us. With the summer approaching, we especially kids desire outdoor play. On the beach, in the wading pool. However, many of us are still concerned about the COVID and unwillingly bring our kids to the crowded public area.
If you happen to have a backyard, summer play for kids can still be fun. Here we rounded up 10 cool backyard toys, and many of them are water toys which are perfectly for the summer. Even we are locked at home, but still let's enjoy the fun of summer.
1. Inflatable Kids Yard Sprinkler [buy on amazon]
This huge, inflatable pink elephant yard sprinkler stands over 6 feet tall! An inflatable sprinkler is a fun and safe way for the whole family to cool off in summer from the comfort of your backyard. Hours of outdoor summertime fun are just minutes away!
This fun pink elephant sprinkler is easy to use! Simply connect it to any regular-sized garden hose. It's easy to set up, take down, and stores nicely in a 18″ x 3″ x 15″ box.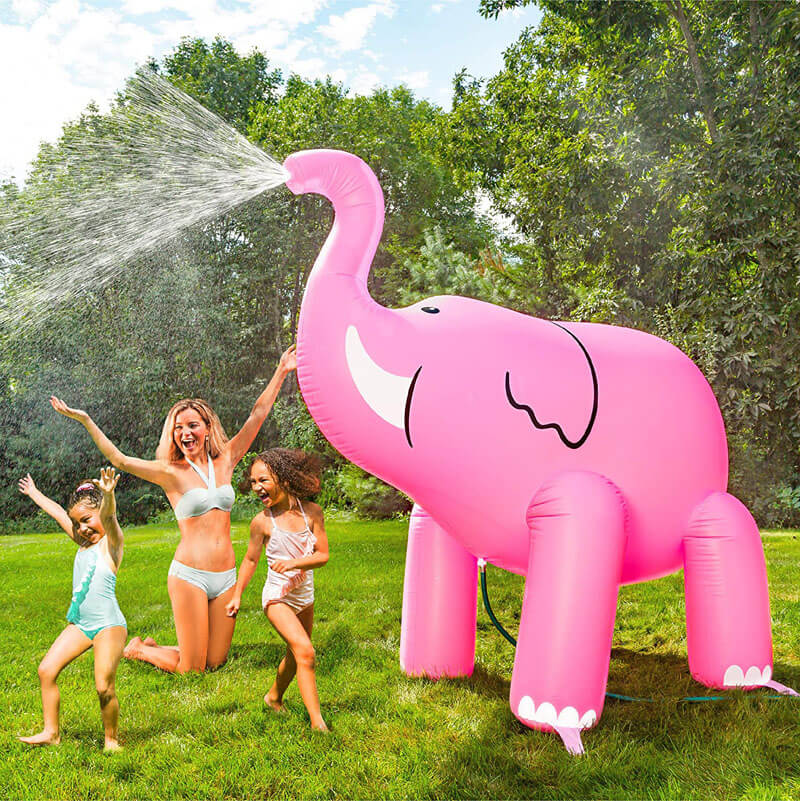 2. Inflatable Splash Pad Sprinkler for Kids [buy on amazon]
The Zen Laboratory splash pad isn't your standard baby pool. It's a 68″ water park in your backyard! Hook it up to the hose and your yard will be the envy of the neighborhood. Complete with child-friendly features and a whopping 68″, you and your kiddos can safely splash in the comfort of your own backyard.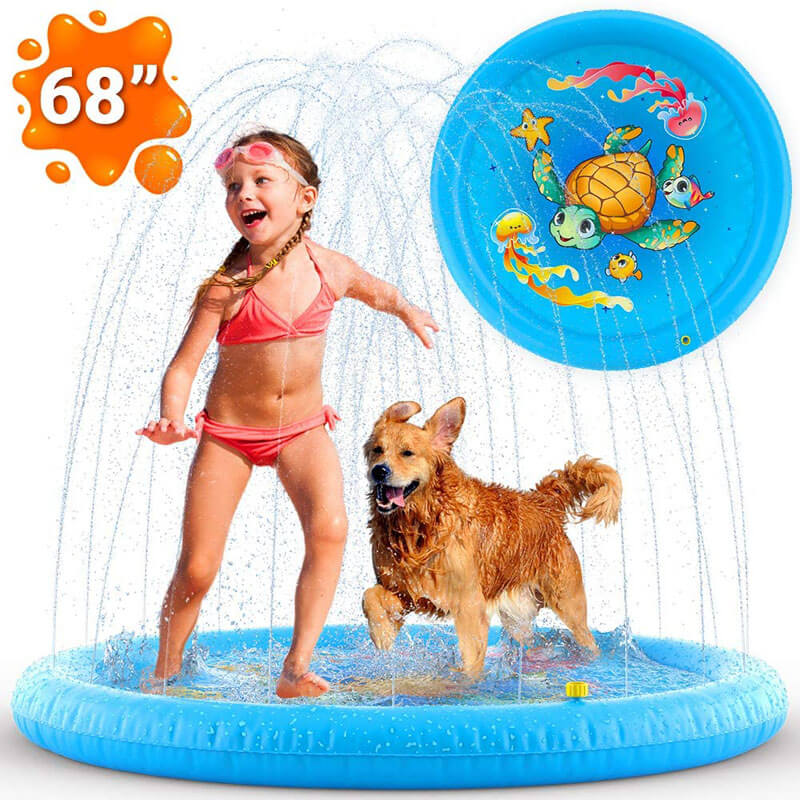 3. Outdoor Trampoline Water Play Sprinklers for Kids [buy on amazon]
Trampoline Sprinkler is a great way for children wholesome and safe summer outdoor water toys.
It lowers the outside temperature by up to 25 degrees! This will be a summer favorite for sure.
The Trampoline Sprinkler will mobilize the children's playing outdoors enthusiasm.
Perfect for relaxation, party or celebration at Trampoline or swimming pool. Imagine setting this up for your kid's party. The kids are going to love you, They will spend a cool summer with more fun.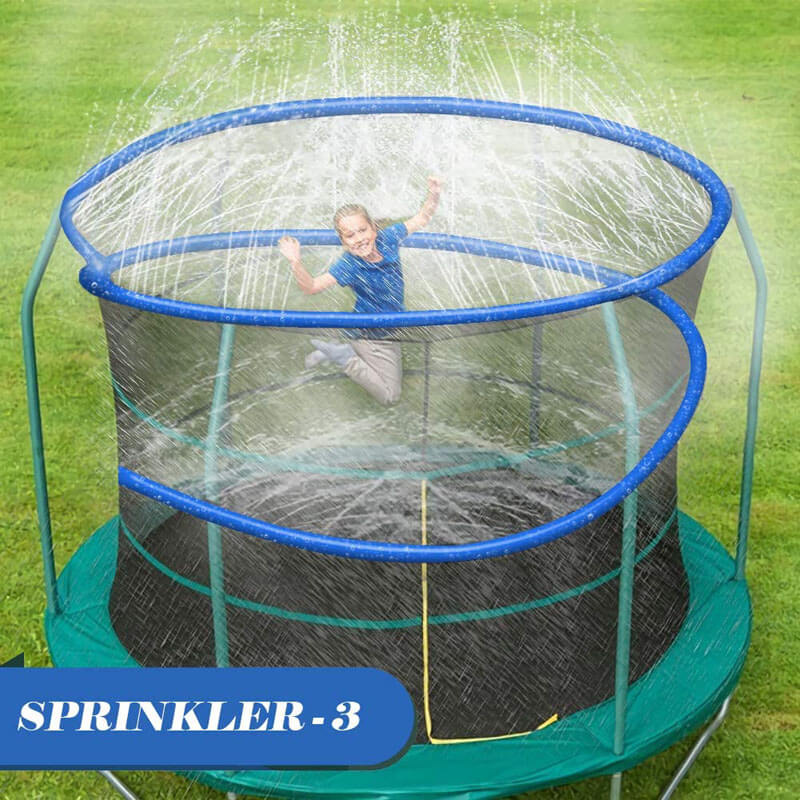 4. Eezy Peezy Monkey Bars Climbing Tower [buy on amazon]
Made of high quality plastic enhanced with UV protection. UV protection offers long lasting outdoor play while quality plastic material ensures long lasting lifetime of product.
Dimensions: (assembled) 70. 07 x 65. 53 x 46. 65 (inches).
Product weight: 27lbs.
Max load: 150lbs.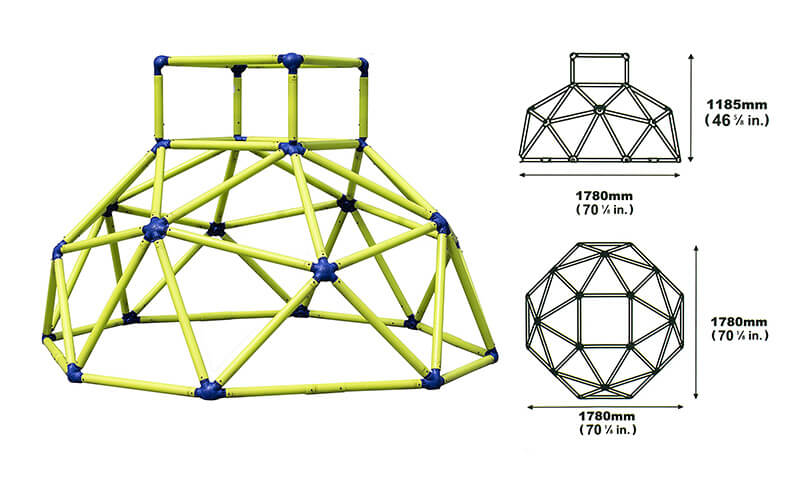 5. Jungle Gym Kingdom Tree Swing Climbing Rope [buy on amazon]
This new ultra fun disc swing with 3" leg protector is enhanced with (4) textured 4 inch platforms attached to a strong climbing rope which is gentle and soft for hands while building their core muscle strength. This dual swing acts as both a swing and climber combination which encourages your kids to get outside for hours of fun playtime!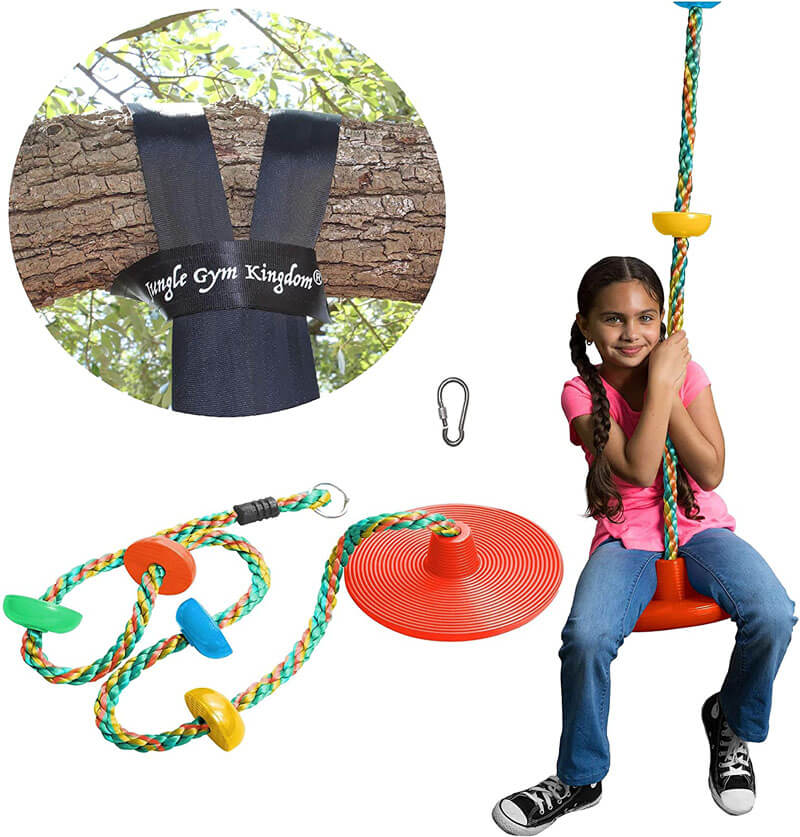 6. Giant Bubble Wands Kit [buy on amazon]
The WOWmazing Bubble Concentrate will make hundreds of high flying and long lasting GIANT bubbles. Just add 1 pouch of the bubble concentrate to one quart of tap water. It is that easy! The wands are reusable, so you'll only need to add WOWmazing bubble solution!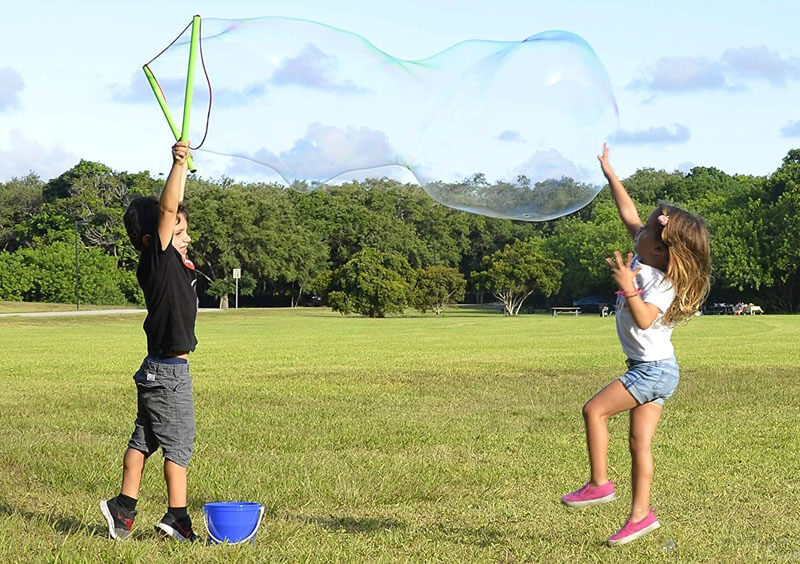 7. GO Flarts Outdoor Games for Family [buy on amazon]
This safe version of lawn darts is getting raving reviews, because at Giggle n Go we pride ourselves on the best family games for kids and adults. indoor games and outdoor games for family to enjoy TOGETHER, is what life's all about.
Includes 4 lawn corner pegs to secure the mat on slightly windy days.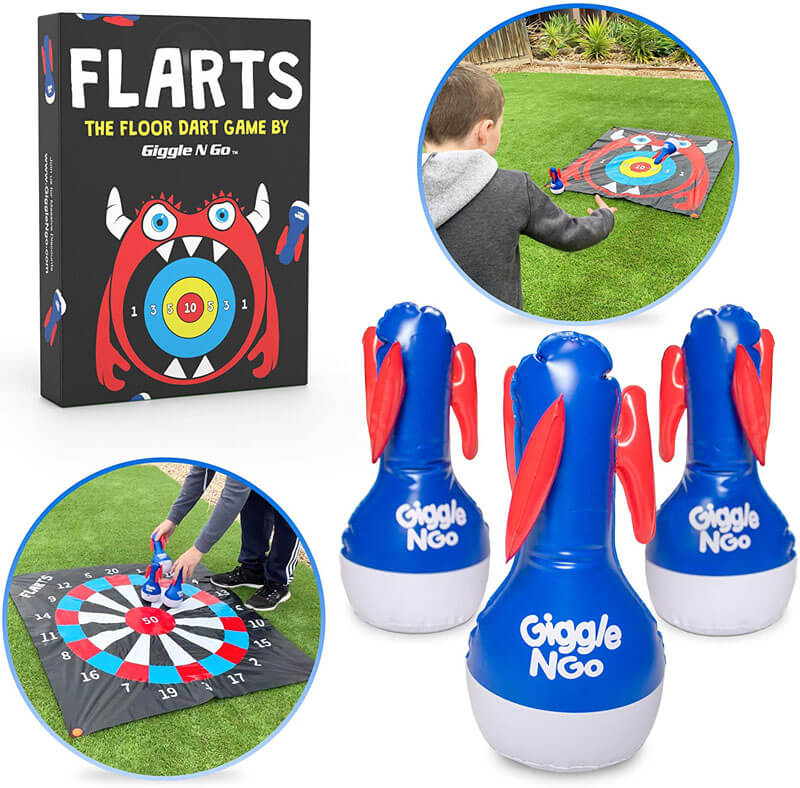 8. Max Liquidator 6-Pack Water Blaster Set [buy on amazon]
Kids will have a blast staging water Wars with the Max Liquidator 6-pack. These floating Water shooters look just like ordinary pool noodles. Pull back the handle to load with water, and take aim. Push the handle forward to blast water at your opponent or target. These lightweight, portable toys are great fun for the water, Whether it be a pool, lake or ocean! Each of the colorful water toys can shoot water up to 30 feet! Recommended for ages 6 years and up; individual Dimensions: 2'' x 2'' x 12.7''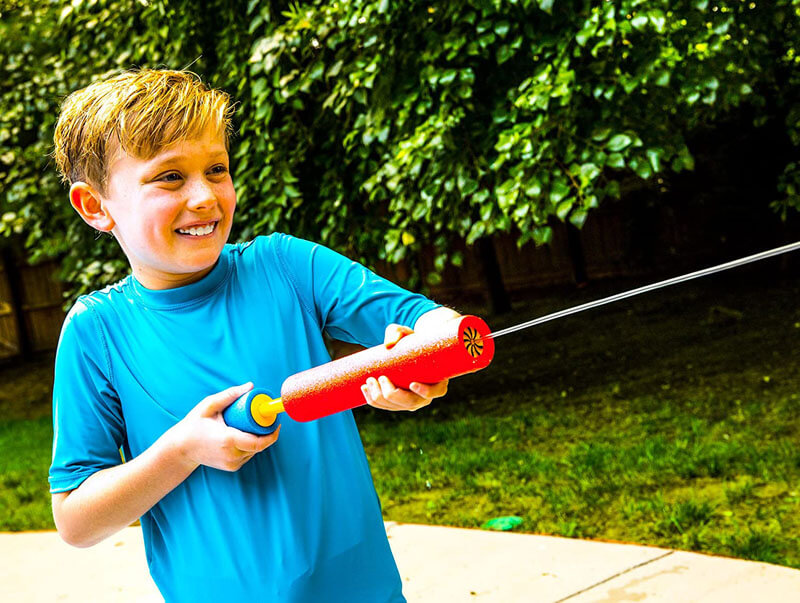 9. Spinning Baseball Sprinkler [buy on amazon]
When playing, children can run around the rotating fountain pad to perform some sports and consume some energy. In the hot summer, young children can use rotating sprinklers and play to stimulate their thinking and provide many other cognitive and emotional developments.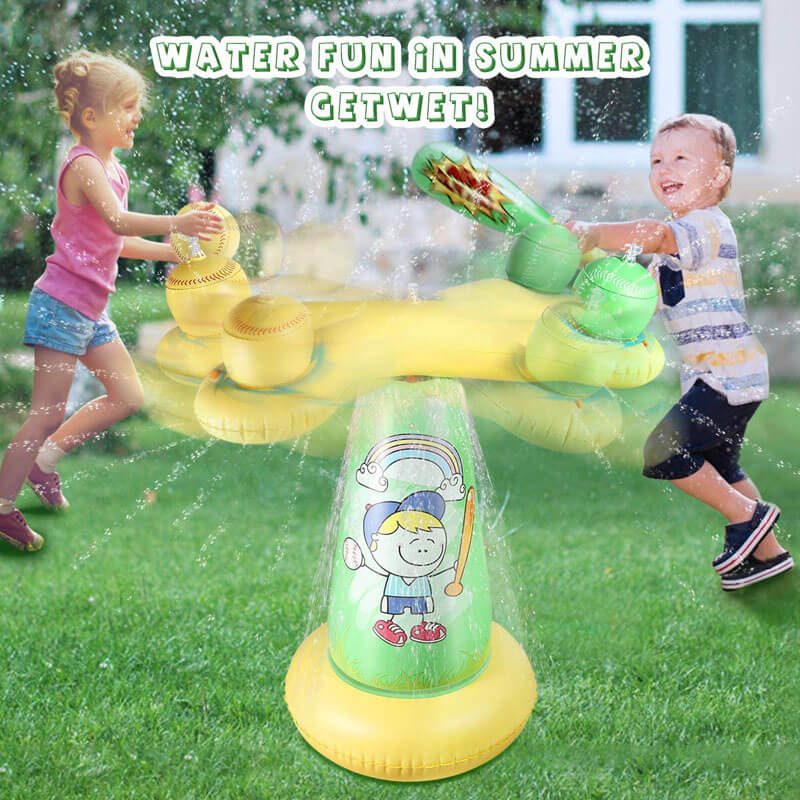 10. Giant Fun Inflatable Outdoor Roller [buy on amazon]
This giant Inflatable Fun Roller Wheel is made for kids and even adults, use it to play games, interact with your families, or simply let your kids roll around in your backyard. This is the perfect entertainment to stay active when your kids are home from school during the summer.