If decorating your home is something that you love to do, you most likely have used candles in some form or another to beautify your space. Decorating with beautiful candles can add that perfect touch of elegance, serenity or coziness to an area of a room.
To make this easy for you, we made a selection of most beautiful candles. We hope that you are going to like this one, and that you are goung to enjoy, as much as we are. Take a look and enjoy.
We are a participant in the Amazon Services LLC Associates Program, an affiliate advertising program designed to provide a means for us to earn fees by linking to Amazon.com and affiliated sites.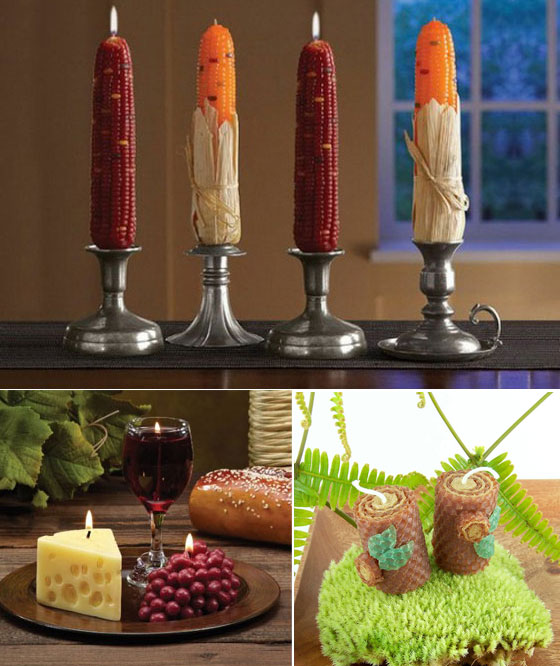 1.Floating Candles Inspired by Origami [source]
How sweet are these? Slovak designer Roman Ficek has designed candles inspired by paper boats. Called Candle Sail, they're available in six colors and each have a burning time of about 2 hours. Love that they remind you of beautiful origami. The shape isn't only for aesthetic purposes but also for functional ones. The candles actually float in water.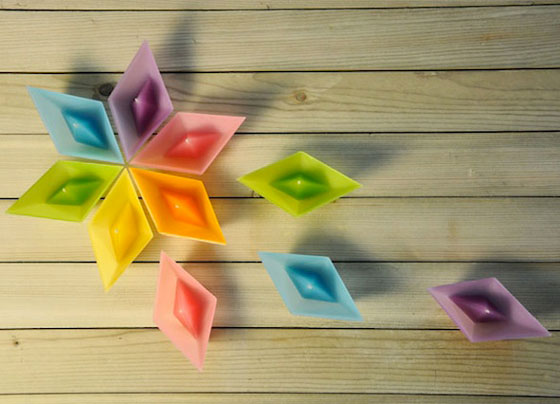 2. Merlot Scented Wine, Cheese & Grape Novelty Candle Gift Sets [buy on amazon]
Gift Set includes a wine glass candle, cheese candle, grape candle, and tray
Realistic looking grapes cheese and wine glass
Gift box size 10″x4″x10″
Burn Time 45 hours. Merlot scented
Pack of 3 Sets.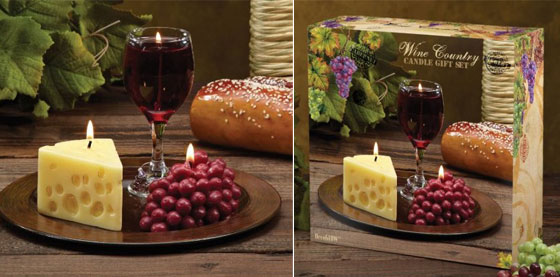 3. Scented Coffee Bean Mug Novelty Candles [discontinued]
Wake up with these tempting coffee scented candles
Scent(s): French Vanilla, Cafe Mocha, Hazelnut
Approximate burn time: 12.5 hrs/candle
Wax Weight: 15 oz/candle
Dimensions: 4″H x 4″W
Material: Wax
Lead free – 100% cotton wicks only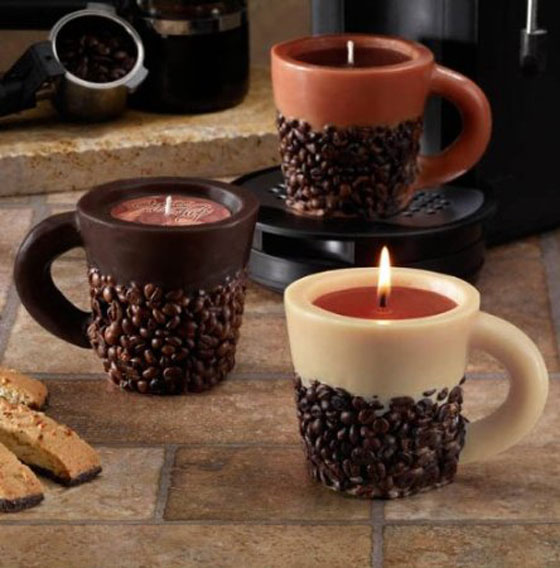 4. Hand Gesture Candles [source]
This line of colorful candles are both in looks and attitude. Hands making gestures cast from real hands and whose burn time is approximately 3 hours each.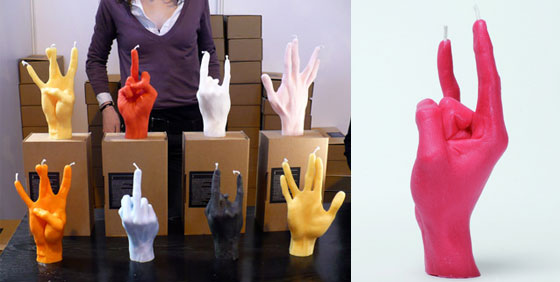 5. Bravit Large candles [source]
BRAVIT is a candle, with an extremely flat design, it creates an elegant translucency and reveals its inner wick structure, which defines the path through which the fire will travel. The wick structure creates excitement and completely draws attention to the candle.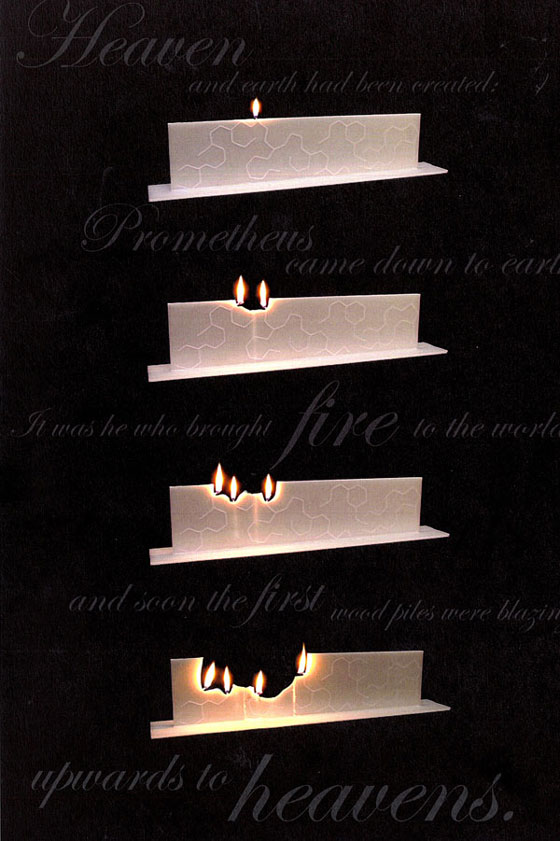 6. Orvis Indian Corn Candles [buy on amazon]
Incredibly realistic, these festive Indian Decorative Corn Candles are made entirely by hand and are wrapped with real corn husks for added authenticity. To add a final touch of realism, each decorative corn cob candle is hand colored with natural colors to achieve a traditional look. 9 1/2″H. USA.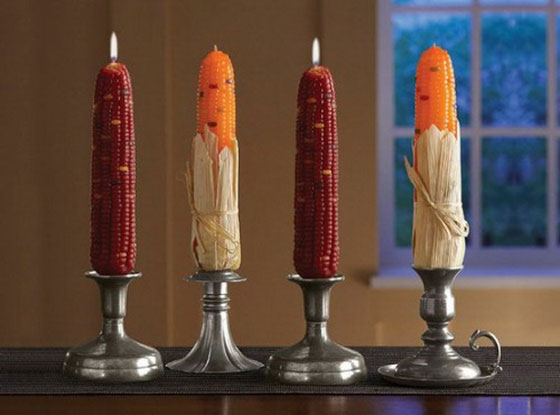 7. Cactus Tea Lights Candle Set [buy on amazon]
A collection of 16 tea lights creates a stylish garden atmosphere that uses no water. Made of paraffin. Base size approx. 1.5″ diameter Includes sixteen assorted pieces per box set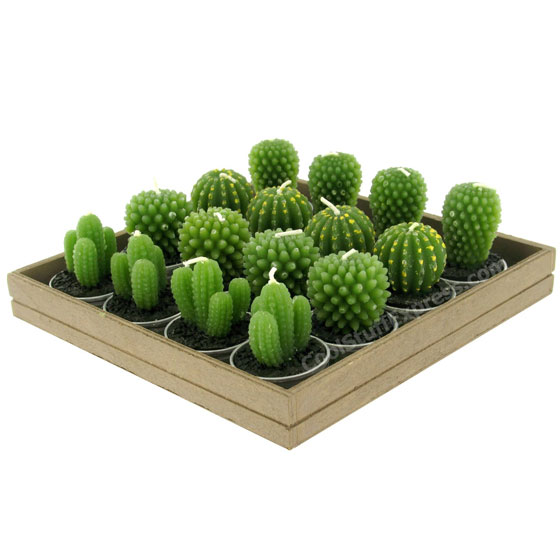 8. Rose Candle Wedding Unity Set [source]
Rose Candles is handcrafted from pure beeswax, cotton wick, and air-dried roses in California. They are long burning and have a delicately fragrant, natural honey aroma. Each candle is hand-built by shaping and dipping many delicate layers. It takes many hours over a period of several days to make each set.
No two candles look exactly the same.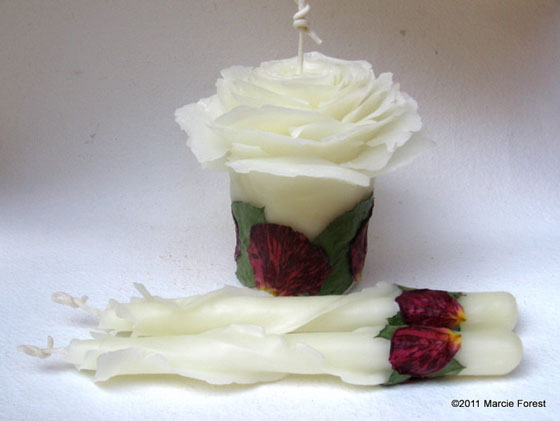 9. Sushi Candle Set [source]
100% Pure Beeswax and all cotton fiber wick
Candle burn time: approx. 2-3 hrs. each futomaki & spam, 2 hrs for hosomaki, 3-5 hrs. for musubi
Candle size: approx. 2″ diameter X 1″ high futomaki and spam, 1.5″ diameter X 1″ high hosomaki, 3″ X 3″ x 1″ musubi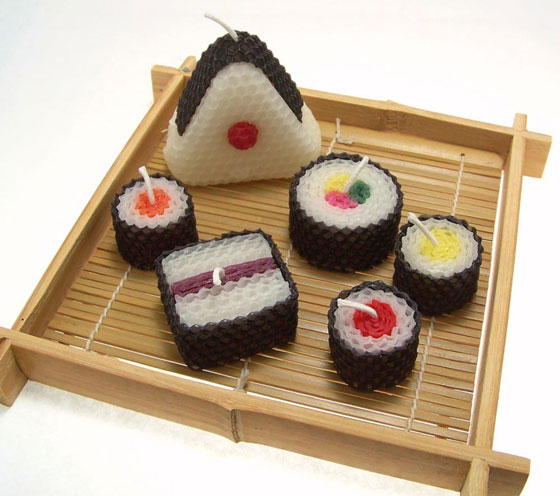 10. Porcelain Votive Soy Candles. [source]
The set of six Egg Candles also comes with a cute little porcelain birdie and packaged in a custom cardboard egg carton. (perfect for gift giving!) Each set is slipcasted, fired and hand poured in our Michigan studio.
Also, you can check Crafters Diary, if you need more soy wax candle information.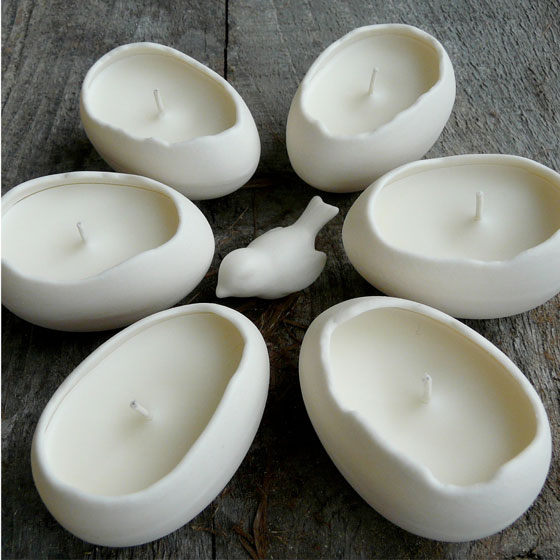 11. Log Candles [source]
These cute tree branch votive log candles look like a tree that has been pruned with all of its branches cut, and yet the 2 budding leaves promise the coming of spring and regrowth. Each candle is carefully cut, rolled and shaped by hand from 100 percent pure beeswax honeycomb sheets. Natural beeswax candles are valued for its bright light and clean burning. It is a renewable resource made by industrious bees.