Who doesn't love nuts? We all love nuts. We like to have them in our ice creams, cakes, and desserts. However, when it comes to cracking nuts, we always try to find some excuses to run away. That is just understandable, the cracking task is just mundane and tedious, especially, when there are lots of nuts needed to be cracked. Have a proper cracking device seems necessary. In this post, we will present you with 11 Cool Nutcrackers. Hope you can enjoy nuts as well as the process of cracking with those stylish weapons.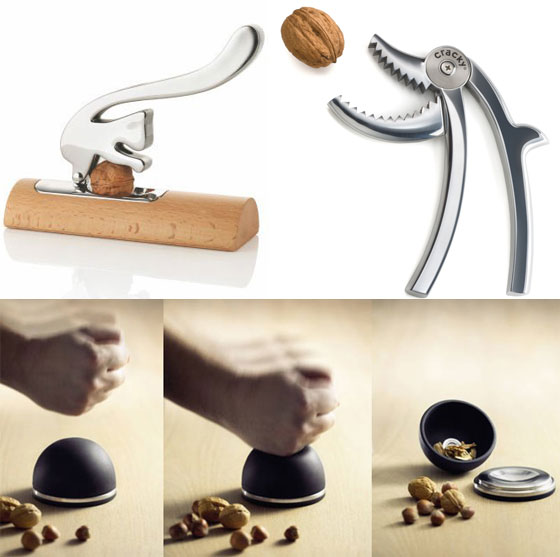 We are a participant in the Amazon Services LLC Associates Program, an affiliate advertising program designed to provide a means for us to earn fees by linking to Amazon.com and affiliated sites.
1. Norpro Davy Crack It Squirrel Nutcracker [buy on amazon]
Easily crack almonds or pecans with this whimsical, attractive nut cracker from Norpro
"Davy" the squirrel is made out of heavy duty cast aluminum
Stands 5-1/2 inches (14 cm) tall
For best care, hand washing and drying is recommended
Makes a great gift idea for any kitchen enthusiast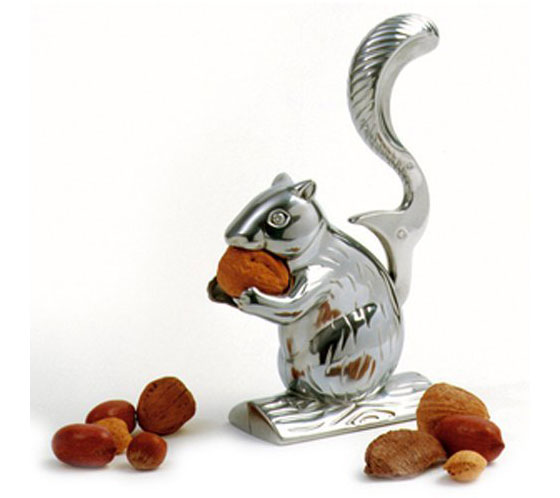 2. Harold Imports Reed's Rocket Nutcracker [buy on amazon]
Heavy duty nutcracker with vintage design
Grips the nut firmly with 5 points of contact for greater power plus cleaner, larger nut meats
Great for pecans, English walnuts, almonds, filberts, and Brazil nuts
All steel machined construction with attractive wooden base and handle grip
Made in USA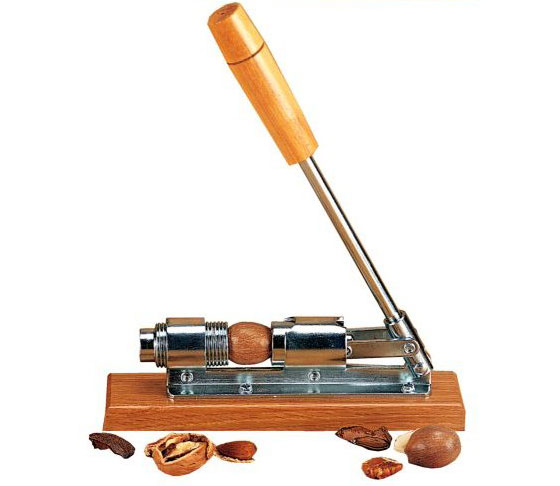 3. Drosselmeyer Nutcracker [buy on amazon]
First handheld nutcracker to have a double lever action and a container to collect the shells
Award winning design is widely regarded as the best and most powerful nutcracker on the market
Minimal exertion; no spraying of nuts and shells; easily accommodates nuts of any size
Entire assembly is easily detachable for simple cleaning and maintenance
Designed and made in Sweden; Internationally patented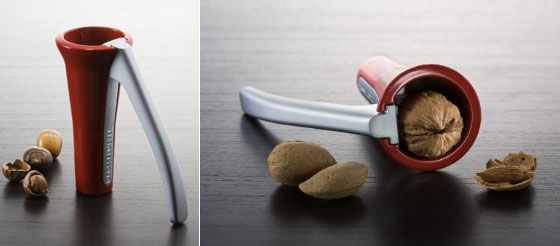 4. Nambe Eclipe Nut Bowl with Nutcracker [buy on amazon]
Eclipe Nut Bowl with Nutcracker
Crafted from signature Nambe Alloy and Acacia-wood
Designed by Wel Young
Hand wash with soap and water
Food safe, meets all FDA guidelines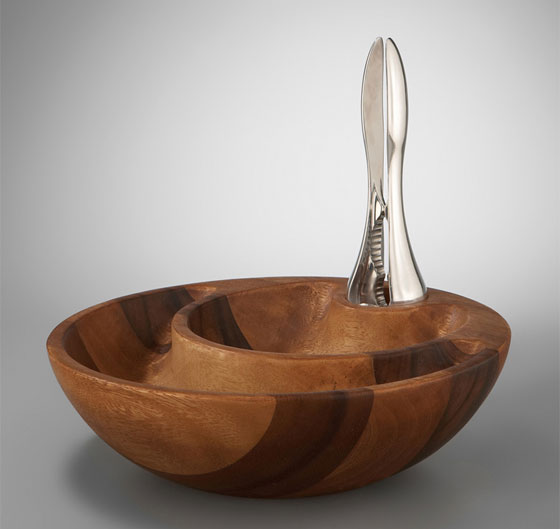 5. Scoiattolo Nutcracker by Andrea Branzi [buy on amazon]
designed by andrea branzi for alessi, the sciattolo nutcracker is amade of 18/10 polished stainless steel and wood.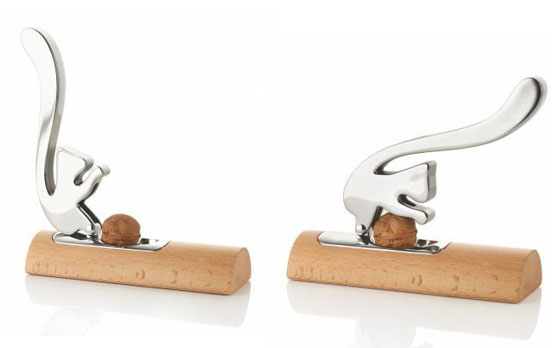 6. The Hillary Nutcracker [buy on amazon]
Nine-inch tall, fully functional, resin nutcracker with amazing likeness of Hilary Clinton
Stainless steel teeth secured inside upper legs to grip and crack nuts in their shell
Stands upright and has internal stainless steel components and spring
Guaranteed to be the talk of any Party
Hand wash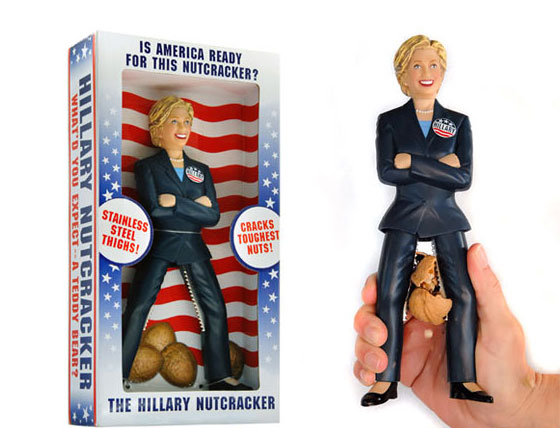 7. Odin – Cracky nutcracker [link]
Cracky by Designer Jack Mankiewicz and Odin is an original and very unusual nutcracker – a merry monster, half laughing dolphin, half tyrannosaurus rex. But the important thing with nutcrackers is how well they work: Cracky's outstanding feature is its mighty teeth, its gaping wide mouth that can effortlessly accommodate nuts of any size. Once these come between the large teeth, they are virtually incapable of further resistance.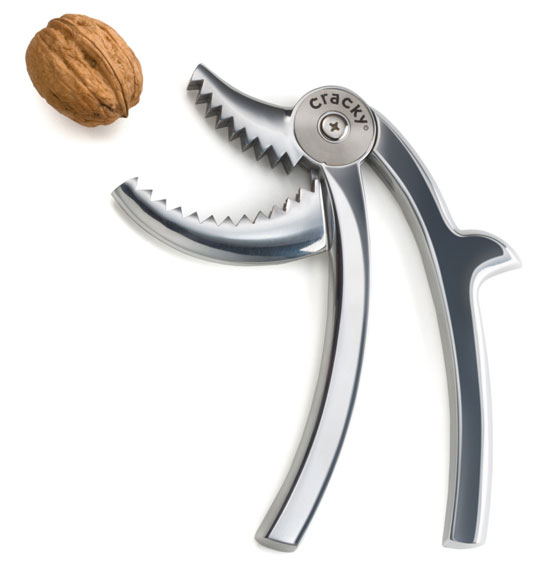 8. Victorian Man-in-the-Moon Iron Nutcracker [link]
The Victorian Crescent Moon Ironwork Nutcracker is an antique replica of the man-in-the-moon, who opens his mighty iron jaw to crack all your favorite nuts. This cool nutcracker is foundry cast of solid iron with a weathered, pitted look and is really built to last.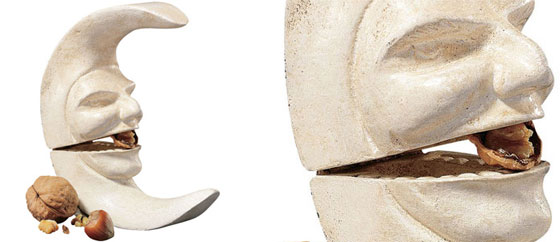 9. OXO Good Grips Slim Nut/Seafood Cracker [buy on amazon]
Solid zinc cracker for nuts and seafood
Highly polished, sleek design
Soft rubber grips absorb pressure
Cracks all sizes of nuts as well as crab legs and lobster claws
Safe to use in dishwasher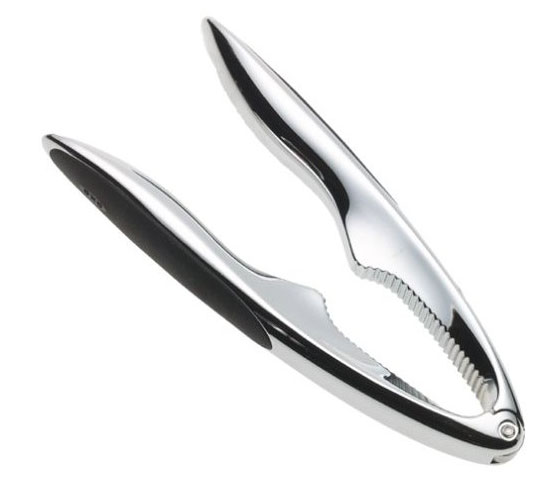 10. Fish Nut Cracker [buy on amazon]
Elegant and unique Nut Cracker with a form of a fish
Made of stainless steal
designed by Philippi
measures 4″x 1.5″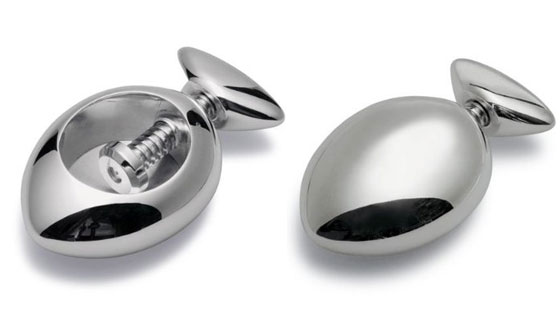 11. Bruno Christesen Nutcracker [buy on amazon]
Featuring a stainless steel base, domed rubber top and non-slip rubber bottom, this modern nut cracker is sleek, streamlined and simply brilliant. Just place the nut on the metal plate and cover it with the rubber dome. Give the dome a light tap and the nut will be ready to eat, with the shell cleanly removed. What's its secret? A ribbed metal fitting on the underside of the dome ensures that only a light tap is needed to split the shell.