On DesignSwan, we have featured many modern furniture designs and chair design is one of our favorite topic. We spend much of our lives occupying chairs, but since we never really see them we sometimes take them for granted. Thanks to those talented designer who devote themselves to create more and more beautiful and comfortable chairs to gain our attention. Once again we've handpicked 11 Ultra Modern and Unique Chair Designs you might love to sit on it. Take a look at the list and let us know which one you would like to have.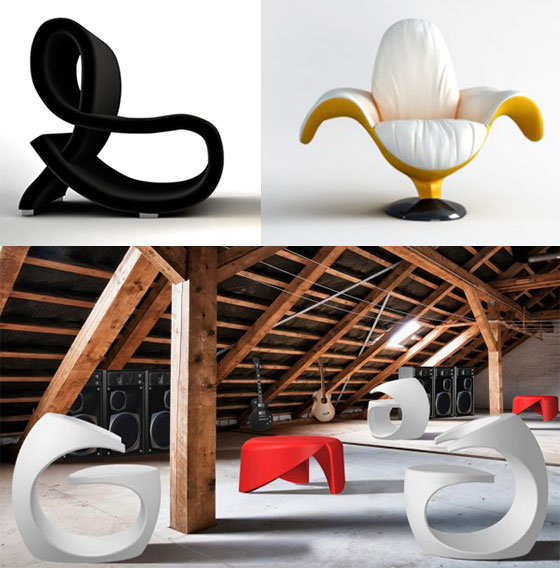 1. Spoon Chair [source]
The main idea behind Philipp Aduatz' Spoon Chair is to bring the beauty of a bent-back leaf into an object by modifying the principle of the cantilever: here the lever, instead of reaching horizontally, extends upward into one direction. It then loops around over the top, back towards the center, to support its own and a person's weight.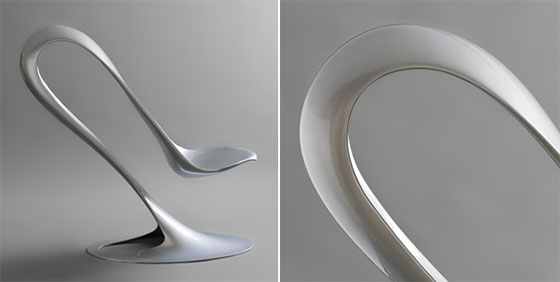 2."Dim Sum" Rocking Chair by Montis [source]
Netherlands company Montis created contemporary rocking chair Dim Sum. The chair looks extremely comfortable and the inclusion of wood in the design, which refers to the traditional notion of a rocking chair, helps to domesticise the feel of the piece. The tagline of this design is "relax with a smile".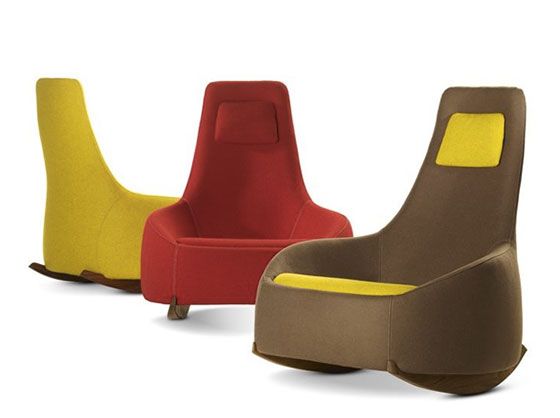 3. "36h" Armchair and "56h" Rocking Chair [source]
These unique two chairs – armchair "36h" and rocking chair "56h" – were created by Italian designer Fabio Novembre for Italian furniture manufacturer Driade. "36h" is an easy chair which has a throne-like quality with a high chair back and gently curved seat. "56h" is a rocking chair. Both are made from an aluminium structure with covered woven plastic. Because they have a weather resistant material, these chairs are ideal for your outdoor environment, to relax and enjoy the atmosphere on the terrace and garden.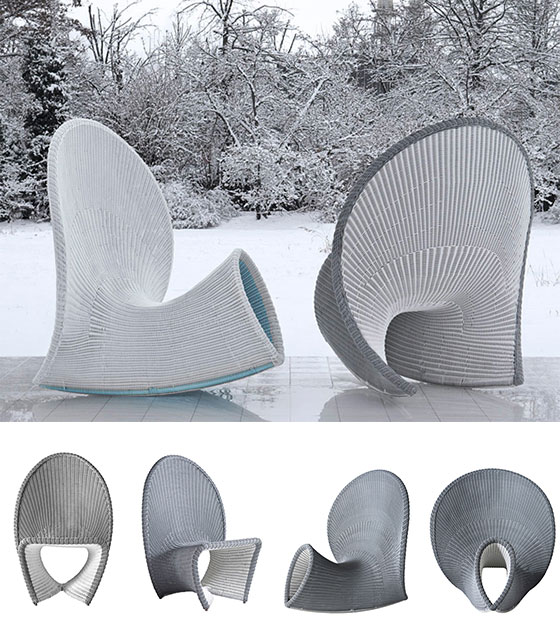 4. The Beehive Chair [source]
Exploring the theme of today's highly portable art and media –interpreted through the analogy of sculpture as frozen music- the form is that of a non portable guitar pick and a gourd that are rendered immovable. Frozen. Constructed from Lakepine Zero low emitting MDF, Beehive has beeswax polish to the edges, and uses Warm White Formica high pressure laminate to the vertical faces.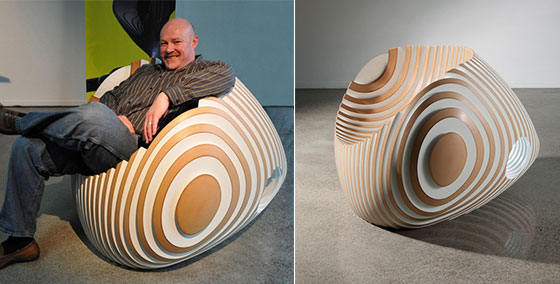 5. Modern Banana Chair "Zjedzony" [source]
This modern is inspired by and looks like a banana. It's actually named Zjedzony, which means "eaten" in Polish. Luxurious and soft chair design brings original aesthetic and functionality into room decor, offering a comfortable shape and a cheerful color combination.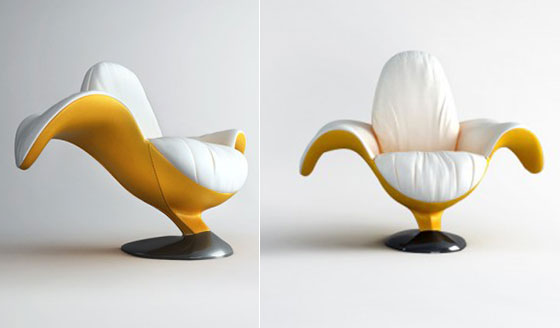 6. "Missix" Armchair [source]
Missix by Di Marzio Design is a small armchair made of rotational molded polythene and featuring a fully modern and clean design. "Missix's name comes from its unique heavy-rounded, number six shape. This small armchair looks compact and monolithic together, yet its sinuous and enveloping line shows its minimal nature, enhanced by a light and soft shape. The chair is made of rotational molded polythene. This fully recyclable material makes Missix a robust, lightweight and handy chair, which is both easy to clean and impact and weather-resistant.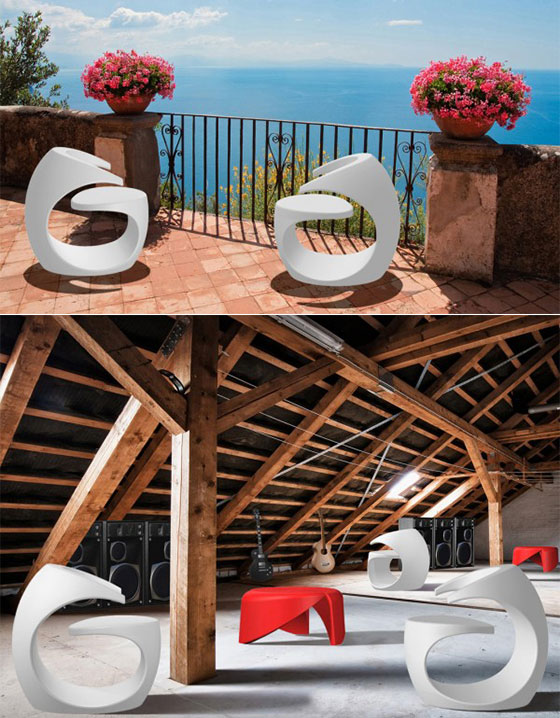 7. "Mr. Smith the Second" [source]
It looks like a piece of some twisted candy, it's called "Mr. Smith the Second". In fact it's an extremely creative multi-colored laminated beech chair created by UK furniture designer Anthony Hartley.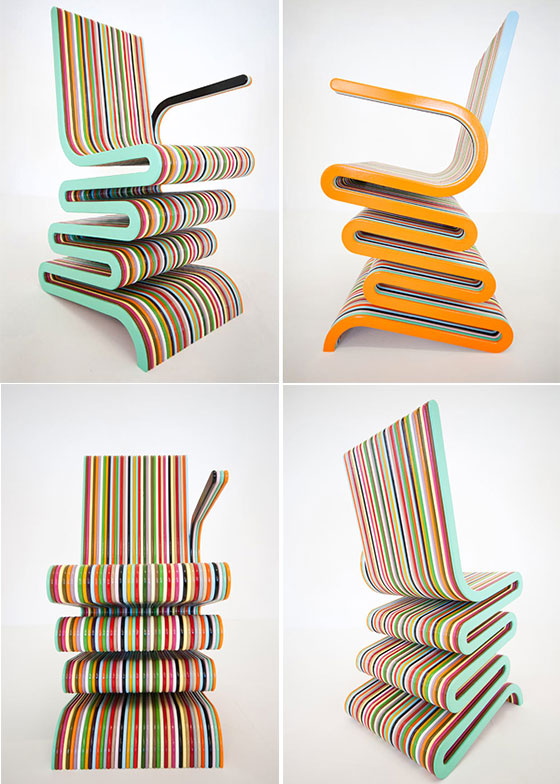 8. Fabulous Animal Charis by Maximo Riera [source]
The Animal Chair collection was designed by Spanish designer Maximo Riera, constituting a diverse range of species, from mammals to reptiles, and even including insects. Each creation retains the animal's natural vitality whilst being totally biological accurate in their appearance. This collection supposes to contain 15 more than fifteen different works.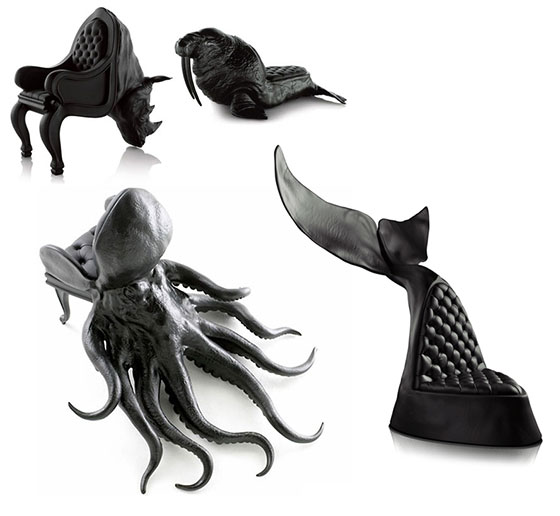 9. HYBRID: stunning Zoomorphic Chairs by Merve Kahraman [source]
Designer Merve Kahraman has created these peculiar and unique chairs called Hybrid which are inspired by the mythologies of parahumans. The Hybrid series of chairs playfully merges with the seated person to create a visually captivating scene – a moose or a rabbit. Sit on this chair and you'll appear like a noble animal in the kingdom- or the cuddliest. It's a clever and unique approach that's sure to be a conversation starter in any room.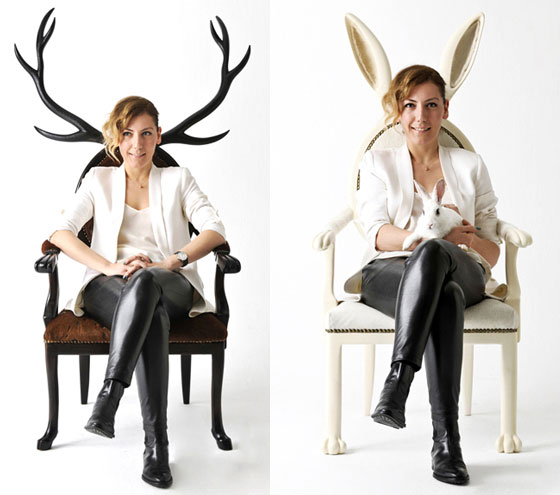 10. Table & Chair "swiTCh" [source]
Ergonomics and versatility – this is today's fashion. Following the fashion Ellen Ectors has released unique piece of furniture – interesting combination of table and chair called "swiTCh". Back side of this semi-circle is a table and the ball inside it serves as chair. Developers of SwiTCh assure that chair is extremely comfortable and you won't feel any discomfort. Ellen Ectors also provides several color variations.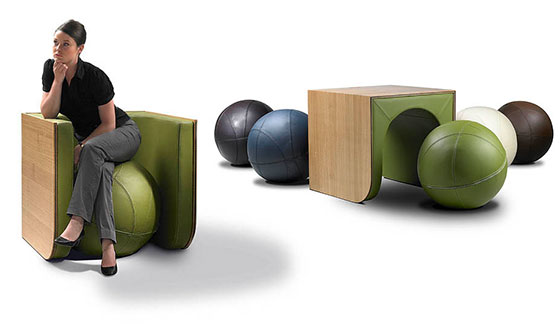 11. Chair & Chair [source]
Chair & Chair is designed by Tatiana Bortkevica, a young professional interior and product designer based in Paris. This modern design handcrafted sofa can be presented in two versions: upholstered with black or mustard color soft suede. Special combination of smoothly flowing form lines, colors and materials creates a truly artistic and dynamic piece of furniture.