There are different kind of postcard design, the most common one would be those postcards you'll see in souvenier stores with beautiful landmarks, landscape and beaches. But we know, postcards can be much unique, creative, meaningful and playful.
Hence, we sorted and created a list of 15 Beautiful and Creative Postcards, which are not only about the travel but other purposes like promotion, public service, notification and so on.
Take a loot and let us know what kind of postcard you want to receive mostly.
Anfisa and Animals – set of postcards [link]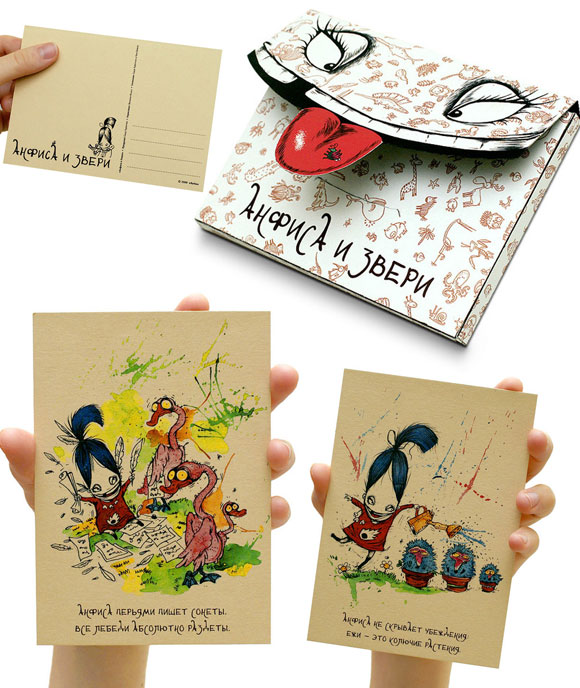 3D Popup postcards [link]

Any coin will help us clean the victims of oil spills [link]
The oil stain was printed as a "scratch 'n' remove" layer, like the ones in instant lottery tickets. With a coin, people could wipe out the oil and literally visualize how the smallest of the donations could help.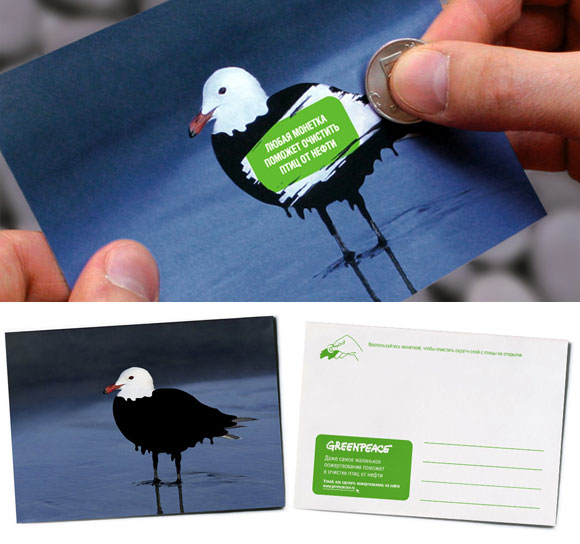 Travel postcards [link]

Yeti-Mailing 2011 – do it yourself Yeti [link]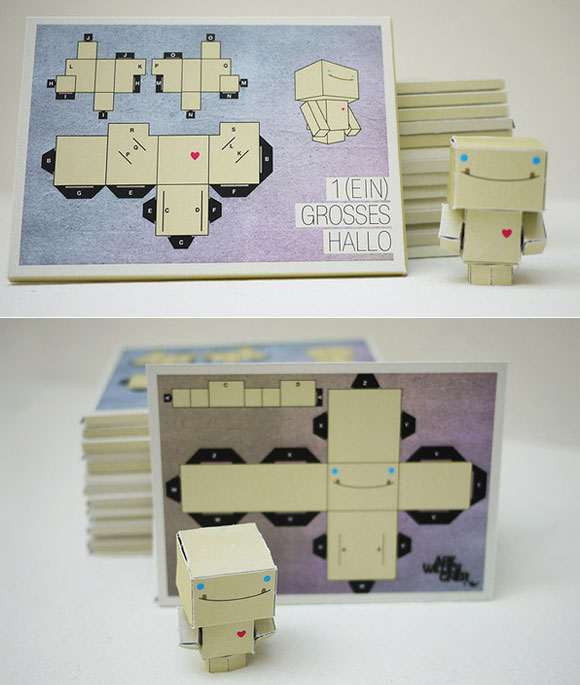 5 days + 4 nights + 4 people + 1 camera = 14 postcards of BCN [link]

PostCarden [link]
The allotment pop up PostCarden will brighten any desktop, windowsill or sideboard. It is enjoyable for all ages all year round. Once opened and unfolded into its garden plot, simply sow the enclosed seeds and add water. In a few days your card will start to grow and will keep for 2 – 3 weeks.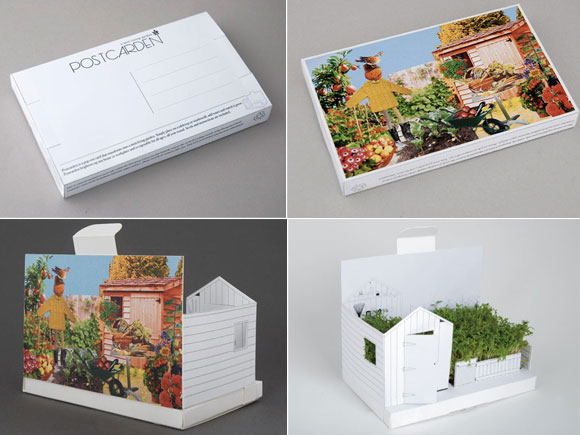 wooden postcards [link]
Creative postcard concept by Finnish designer, Anne Paso. These are completely mailable too! Send them flat to your friend and give them the fun of putting it together!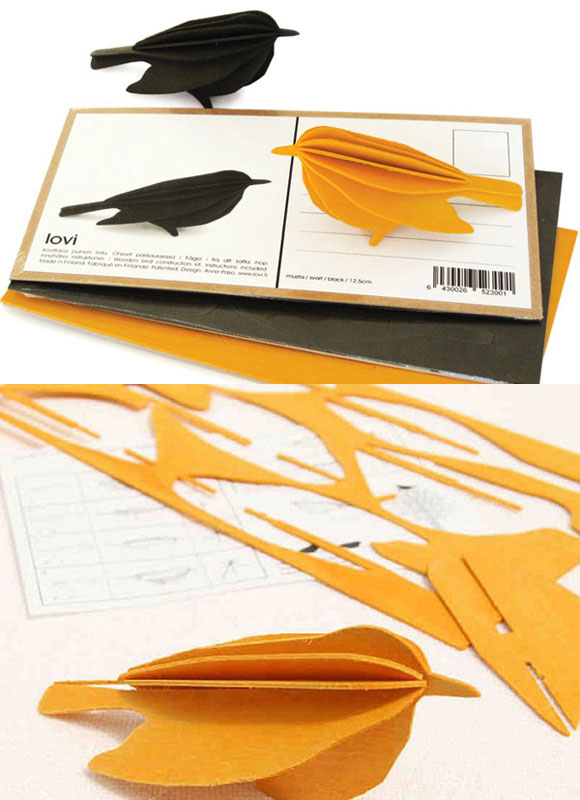 Accent New Year 2011 Postcard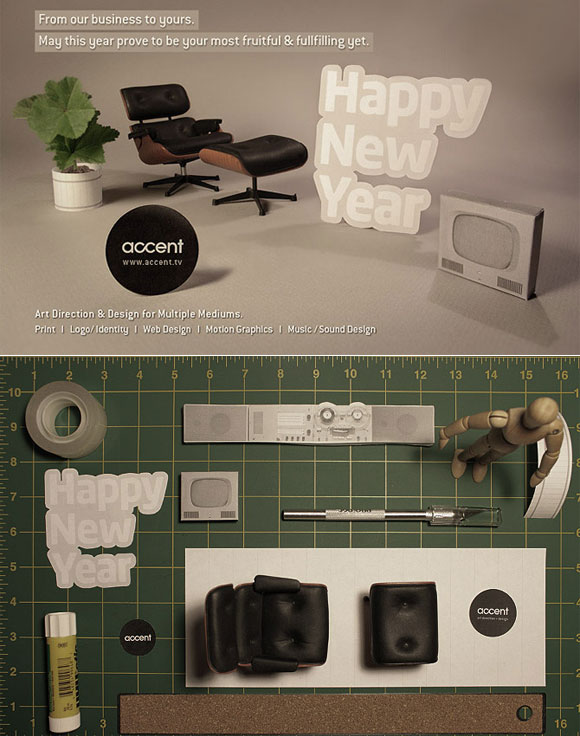 Tangram States Postcards
The United States, made out of tangrams! This set of ten like 4×6 postcards is perfect for sending greetings to geographically-enthused friends & family, as well as for pinning up on your wall or bulletin board.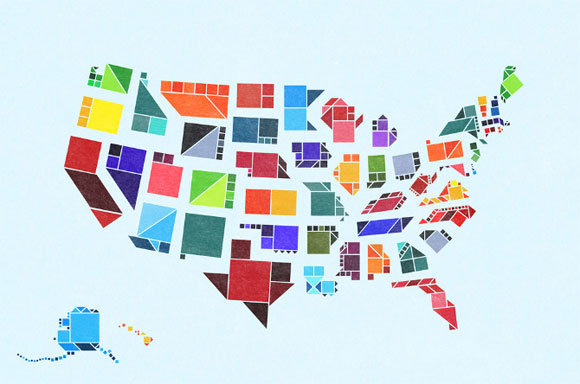 Stitching Postcards
Stitching Postcards – hi laura, long time no see, why you don´t stitch me a line ?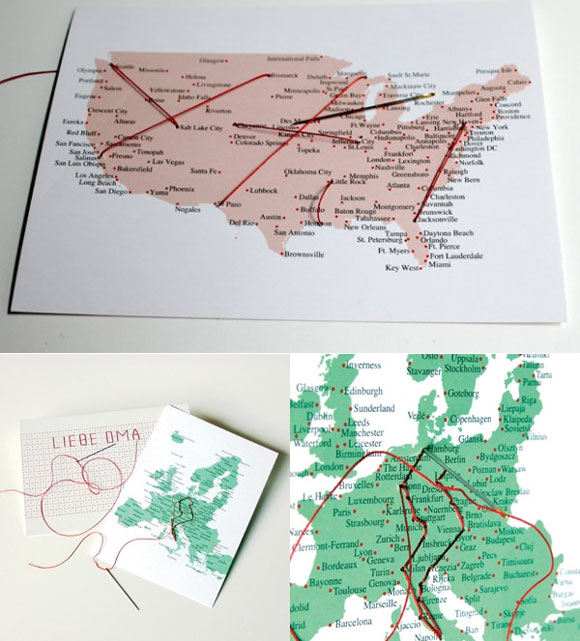 a postcard set for bloggers, artists, superstars and lost souls
A colorful, unconventional gift for bloggers, geeks, hipsters and urbanites, teens, artists, designers, typography addicts, superstars, creatives, introverts, philosopher, thinkers, movers and shakers – the postcard set will fire up anyone in search for aliveness.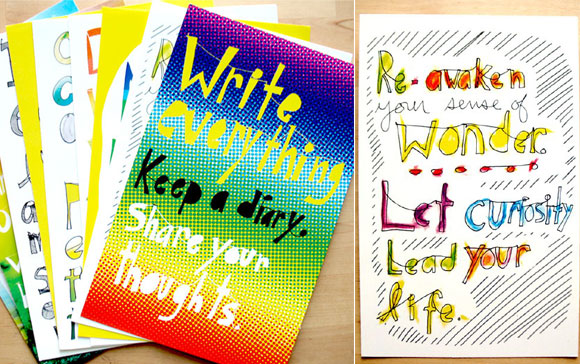 Polaroid Postcards [link]
Polaposts turn regular photos into mailable Polaroid prints by fitting them fashionably snug inside an iconic white bordered sleeve. A built-in seal keeps your print from slipping out and a writable backside makes for easy message scribbling. Just snip your photos to fit, slip 'em inside then send them on their way. Instant happy! Once received, your Polapost shows all the charming wear and tear of a well-traveled friend with stories to tell.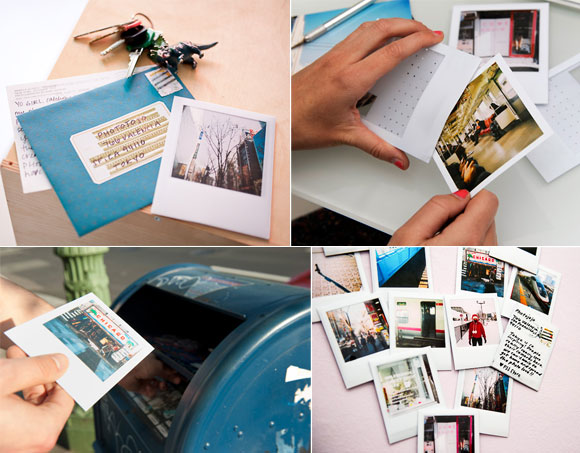 POSTCARD AIRPLANE [link]
Is it a plane? Is it a postcard? No it's a postcard aeroplane! Excellent for kids and grown-ups who are just big kids, it's made from balsa wood and the pieces easily pop out to form your very own loop-de-loop, flying glider. It's much more fun than ordinary mail and once you write a little message on it, it becomes post with a bit more love and personality.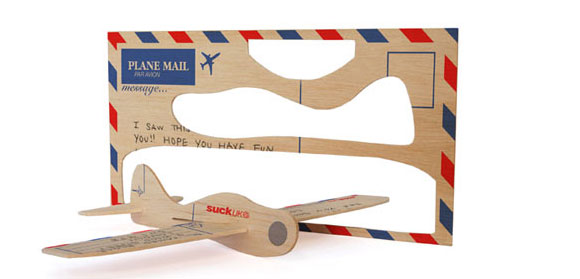 Change of Address announcement Postcards
Simplify the move…a postcard to notify friends & family of your new location.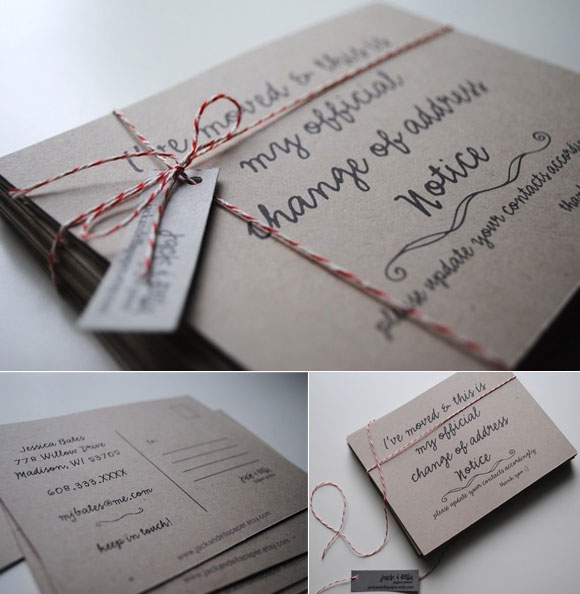 Vintage Postcard Save the Date
Pack your bags and Save the Date! With this Vintage Postcard Save the Date your guests will know to be prepared to attend the wedding of the year! Great for destination or long distance weddings!