Jewelry stands function not only as holders of your most precious items but also to display them beautifully. They provide easy access and viewing of your jewelry, especially ones that may be difficult to dig out of a drawer like necklaces and bracelets. There are many kinds of jewelry display holder out on the market, such as the jewelry trees, ring holders, earring holder, jewelry dish. In this post, we will present you with 15 Modern and Stylish Jewelry Stands, which helps display your jewelry and add decor to your room in an elegant and classy way.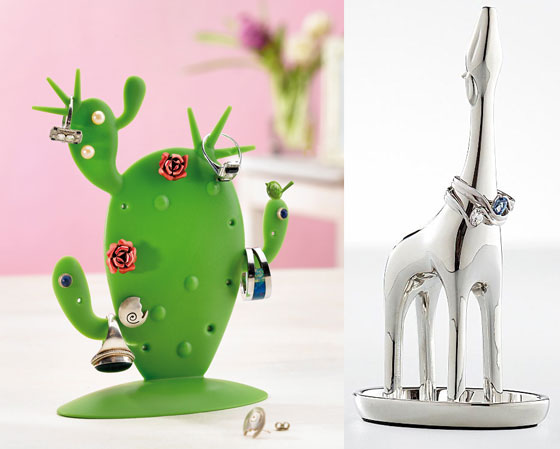 We are a participant in the Amazon Services LLC Associates Program, an affiliate advertising program designed to provide a means for us to earn fees by linking to Amazon.com and affiliated sites.
1. Wall Mounted Jewelry Tree Jewelry Hangers [link]
Hang your jewelry on the wall, so that you always know where it is. Rings, bracelets, necklaces, earrings – everything has a place on the beautiful new Jewelry Hangers. The design is strong and sculptural with its organic shapes, inspired by the nature surrounding us. The 3 Jewelry hangers are different and can be combined by you to create a design. One of them has a hollowing, use it as a mini-vase or as you wish to create a beautiful, feminine environment.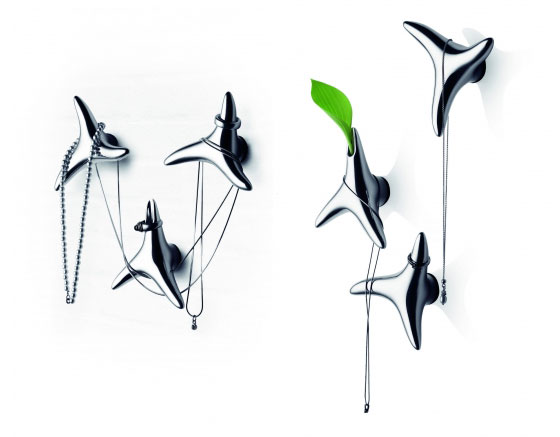 2. Jewelry Board Protect your Jewels [discontinued]
The Jewelry Board "Protect your Jewels", for necklaces, rings, bracelets, etc., is available in a limited edition, individually numbered and signed by the artist.
"Forex" board with 7 metal hooks
screen-printed, 3 colors,
packaged in a high-quality gift box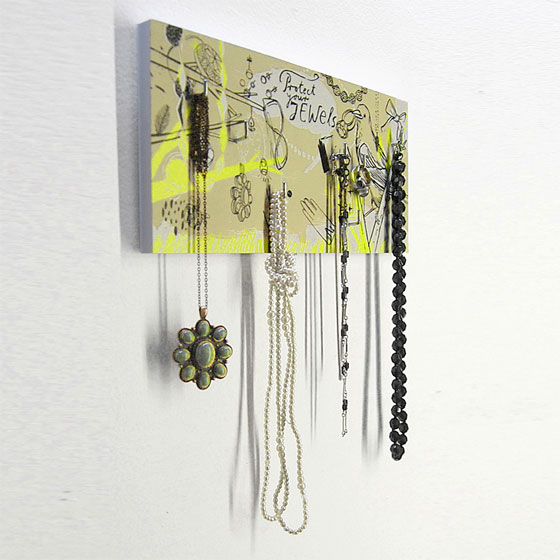 3. Canopy Metal Jewelry Stand [buy on amazon]
Sculpture meets organization with the Canopy Jewelry Stand
Tree branches and birds for hanging necklaces, bracelets, rings and earrings
Stamped metal trees with white finish; die-cast metal, chrome-finish birds
Design: Joel Yatscoff and Umbra Design Group
Size: 5.5 x 5.5 x 12 inches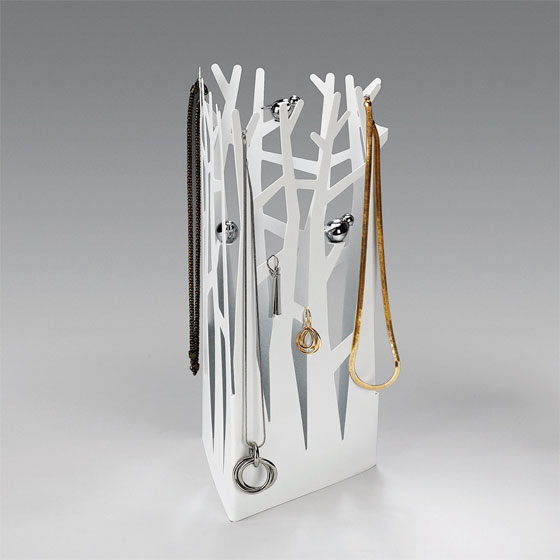 4. Ringling Chrome Ring and Jewelry Dish [buy on amazon]
An attractive way to store your rings and other small essentials, ringling is a die-cast aluminum jewelry dish.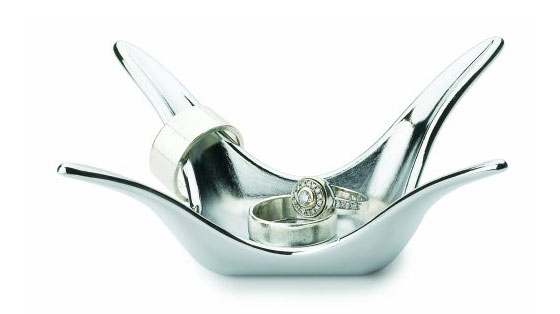 5. Koziol Schmuck-Kaktus Pierce grün [link]
Measures: Length 12 cm, Width 5 cm, Height 15 cm
Weight: 0.06 kg
Color: green
Material: plastic
6. sculpted jewelry tree [buy on amazon]
Provide a place for her jewelry collection to grow. Each branch and leaf has been sculpted to hold rings, bracelets and necklaces, creating a well-ornamented tree.
* crafted of brass and finished in beautiful satin nickel.
* solid mango-wood base holds earrings and other small items; fabric-covered bottom protects furniture
* tree measures 12″ x 14″H overall; base measures 12″ x 4″ x 1″H
* optional shiny nickel plaque may be engraved with up to three initials. Personalized plaque arrives in an envelope with the product and may be affixed by the recipient at their discretion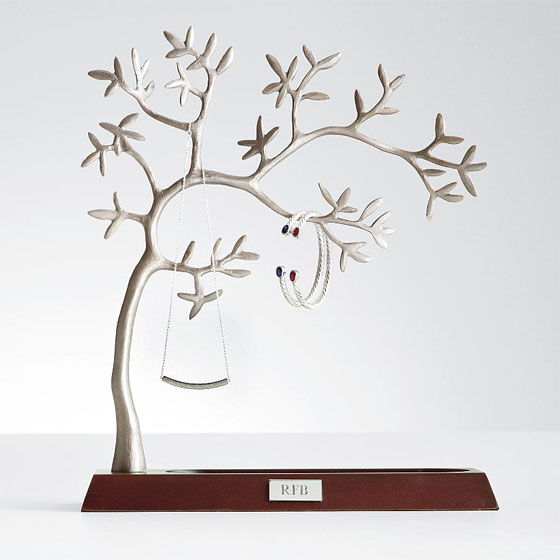 7. 6 inch Vintage Victorian Canopy Style Black Décor Table Top Earrings Necklaces Bracelets Jewelry Holder [buy on amazon]
Sleeping in a fairy tale story is every girl to dream off. This jewelry organizer bed with Victorian canopy style let's your jewelries fulfill your dreams. Embellish it with your earrings, necklaces, bracelets or small items and keep your jewelries free of messy tangles. Save space and display them with this vintage jewelry display rack. A great alternative storage organizer to a jewelry box on the chest, dresser or bathroom counter.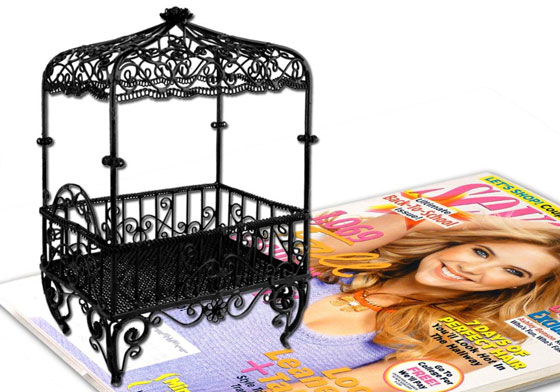 8. 4 Tiers Bird Cage Décor Rotating Earrings Holder Organizer / Bracelets Necklace Jewelry Stand Display Tower [buy on amazon]
4 Tiers 360 degree Rotating Spin Table Top earring holder holds up to 72 pairs earrings while 5 curved hooks organize your necklace and bracelets.
Great as a functional jewelry organizer or as a simple decoration.
A great alternative storage organizer to a jewelry box.
Bronze color finish wire display stand.
Overall dimension: 17″ H x 10″ W x 8″ D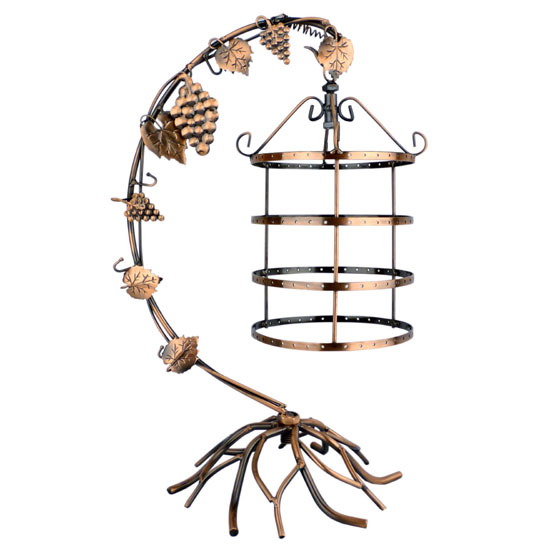 9. Baby Elephant Ring Holder, Elegant Jewelry Stand [buy on amazon]
Made of high-quality shiny metal
Keep your rings in good order
A elegant decoration for your dresser
Great gift for women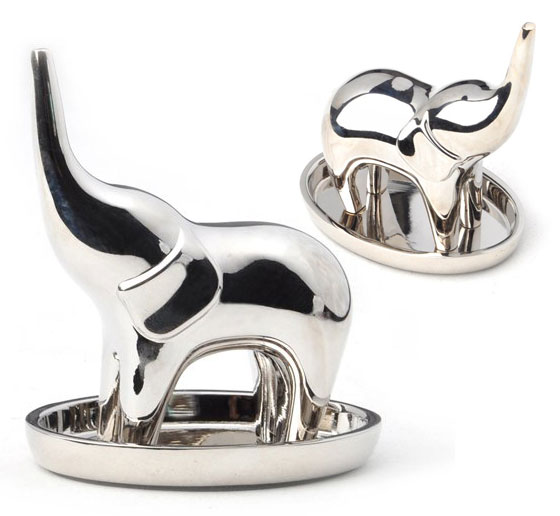 10. lily pad jewelry stand [discontinued]
A trio of graceful lily pads forms the traysof this nickel-plated jewelry stand. Eachorganically shaped leaf has slightly curvededges creating the perfect holder for hereveryday watches, earrings and other accessories. Bottom of stand is covered toprevent scratches. Lily pads: 3″, 3 1/2″ and 4″diam. x 4 7/8″H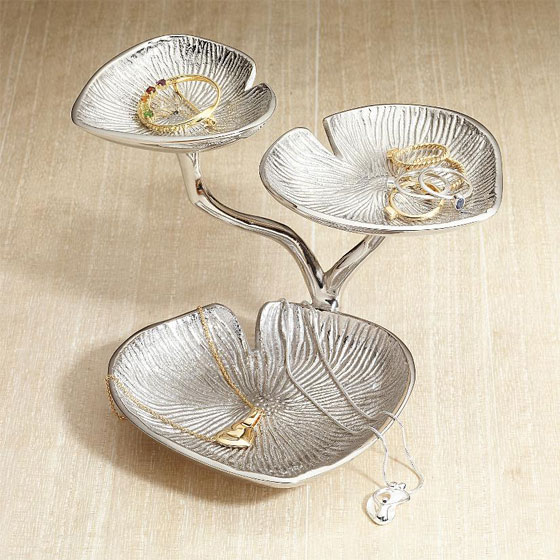 11. Jewelry Hand Display for Necklaces, Bracelets and Rings [buy on amazon]
Utilize this attractive hand display to highlight necklaces, bracelets, rings and other jewelry items. It is a great item to use in jewelry showcases and kiosks, on countertops or in other promotional areas and store fixture layouts. It is also used in the home to organize jewelry on dressers, vanities, etc.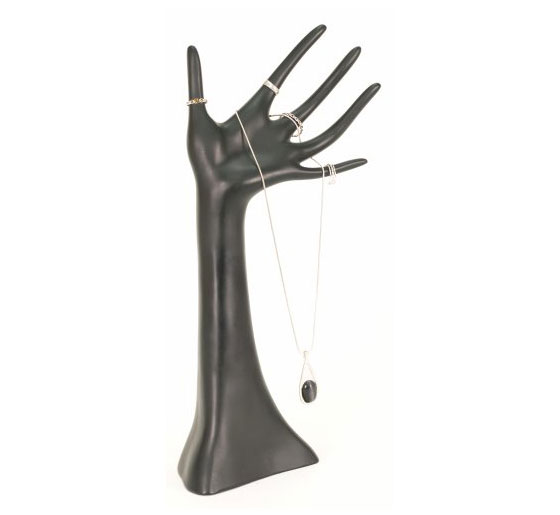 12. Umbra Meadow Mini Metal Jewelry Stand [buy on amazon]
Meadow jewelry stand by umbra displays and organizes small jewelry items such as earrings, bracelets, and rings
White powder-coated steel construction
Three hooks for bracelets and rings; mesh butterfly wings for earring storage; storage tray base
Measures 7-inch tall by 5-inch in diameter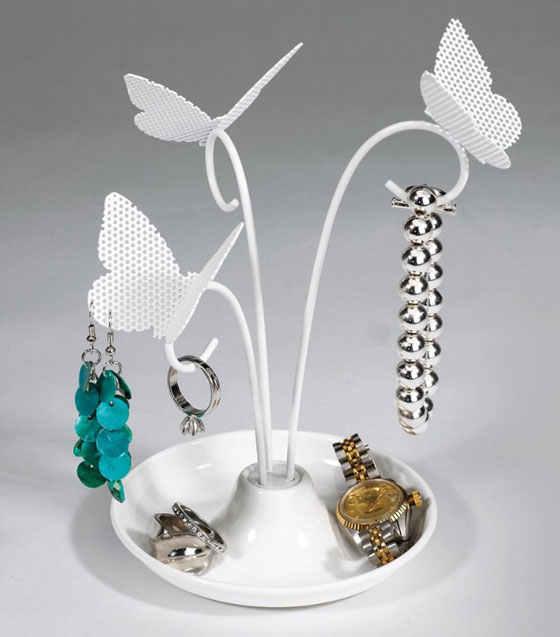 13. Venus Metal Jewelry Stand [buy on amazon]
Dress-form shaped jewelry tree with bar and dish
Perforated mesh bodice for earrings and pins; T-bar for necklaces and bracelets; dish base for rings and watches
Available in bronze and nickel finishes
13.5″L x 5″ diameter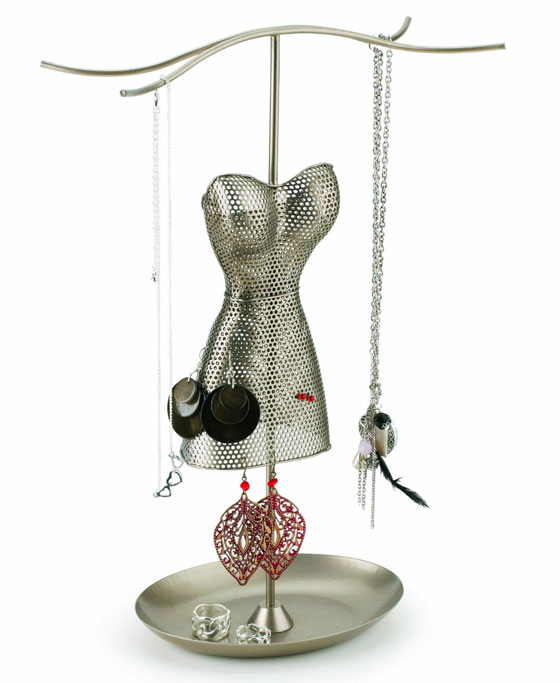 14. baby giraffe ring holder [buy on amazon]
Famous for both its long neck and generous heart, the giraffe is revered in Africa as a symbol of love. Ours makes a charming statue for the rings she adores.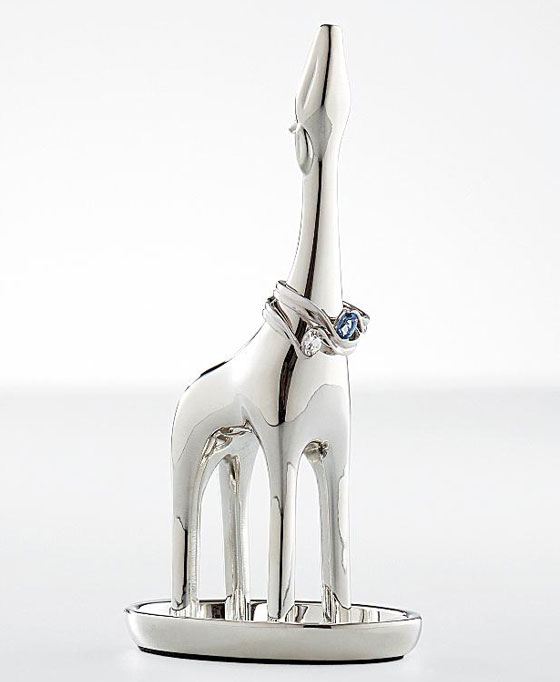 15. Masashi Hanayama: Milk Crown Jewelry Tray [link]
The Milk Crown Tray was inspired by the beautiful yet ephemeral crown-shaped structures created when a drop of milk splashes into a larger amount of liquid. Doesn't your jewelry deserve a tray of equal beauty? This very modern and airy looking jewelry tray will highlight your best jewelry and it will look great on your dresser too.