Using iPhone has been a kind of fashion but if you find lots of people holding the same phone as you on the street, you probably don't think that is cool any more. Hence, many designer and manufactures created those Beautiful and Fashionable iPhone 4 Covers and Stickers, which will not only help you to decorate your iPhone, making it standing out from the rest, but also provide careful protect and extra function like "Extended Rechargeable Battery". Check this phone, and give your iPhone a different looking as Christmas gift.
We are a participant in the Amazon Services LLC Associates Program, an affiliate advertising program designed to provide a means for us to earn fees by linking to Amazon.com and affiliated sites.
1. iPhone4 wood cover Artist Series [link]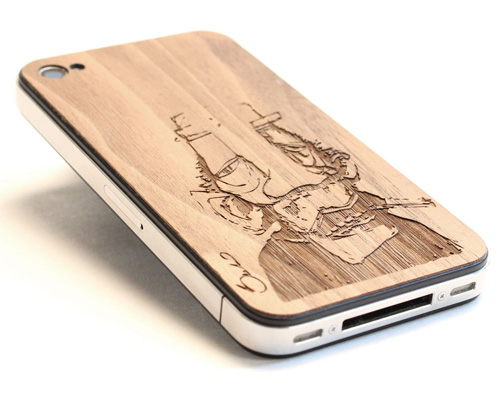 2. iPhone4 wood cover flowers in black cherry [link]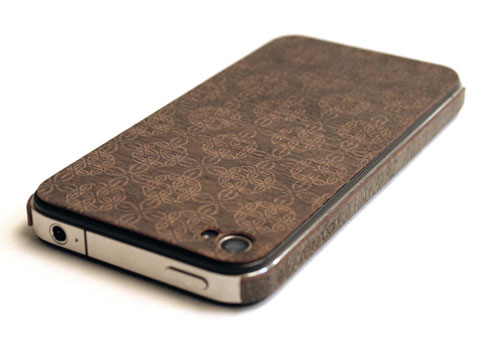 3. iPhone4 wood cover "checker" in Black stained cherry
[link]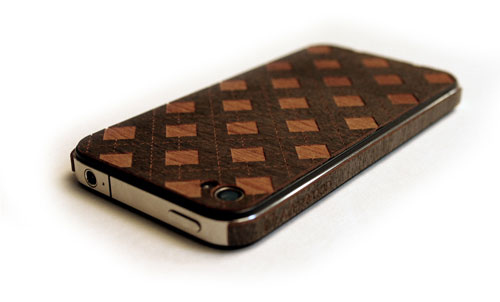 4. SGP iPhone 4 Skin Guard Set Wood Camagon
(discontinued)
* Easy to install and great fitable with new apple iphone 4
* Fully Protects from the scratches for apple iPhone 4
* It comes with front LCD screen protector for Apple iPhone 4
* Reusable
* Perfectly Compatible with Apple Bumper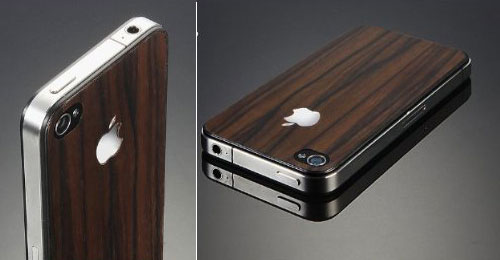 5. Acase(TM) Superleggera milky way fit case for iPhone 4 with 2 Screen Protector
[
buy on amazon
]
The ACASE is the Ultimate iphone 4 Polycarbonate case providing unparalleled comfort and feel while providing your iphone with the ultimate protection from scratch and slip resistance. Protect your investment while simultaneously providing your iphone with the incredible feel and comfort of the best polycarbonate case on the market today. Environmental friendly. The material meets RoHS regulations. Available in 12 Colors (Black, Silver, Red, Pink, Blue, Clear, White, Gunblack, Orange, Green, Sky Blue, Golden) to complement all lifestyles.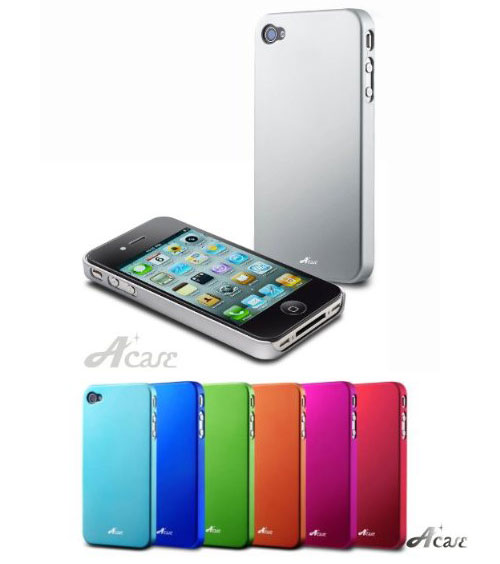 6. Elago S4 BREATHE Case for iphone 4 -Black
[
buy on amazon
]
Elago Design S4 BREATHE for iPhone 4, Carefully designed and constructed with a durable Polycarbonate for your iPhone. Polyurethane coated to protect from scratches and for better grip.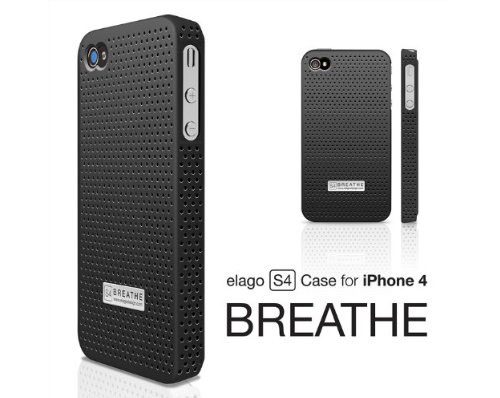 7. Lite Slim-Profile Extended Rechargeable Battery Case for iPhone 4
[discontinued]
The O2 Lite will give you the freedom to use your iPhone 4 without the daily worry of running out of battery life! Enjoy your iPhone 4 for voice, music, video, face-time, games and business applications with extended, stable, and rechargeable power. You can now experience up to two days or more of uninterrupted iPhone power, depending on usage. The O2 Lite is made of with a unique soft touch material which gives it a classy look, and keeps your iPhone 4 looking good.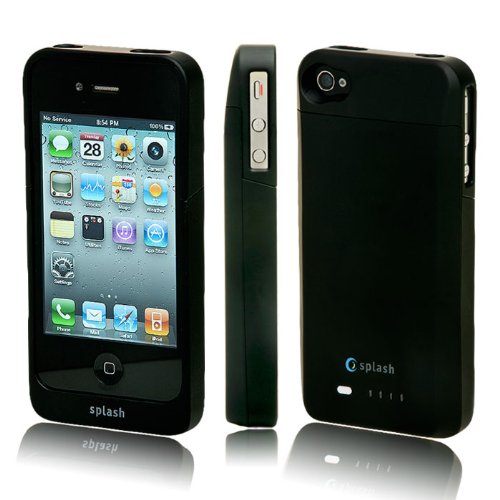 8. Hippo iPhone Case
[[discontinued]]
Counter to the current trend of downsizing electronics, Ark's Hippo iPhone case comes in handy for those accident prone, looking for a combo case/stand, or who spend extended periods chatting on their cell.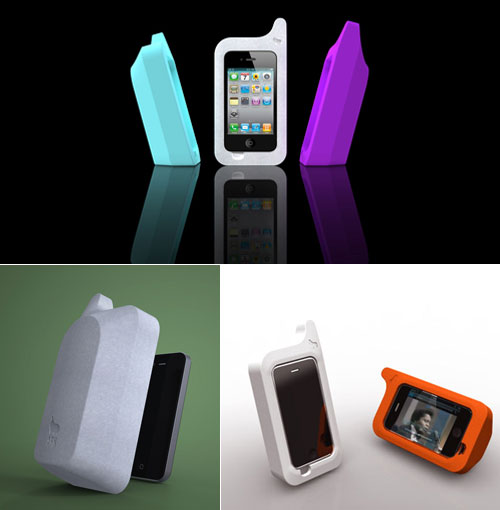 9. iPhone 4 DinoCarbon Skin (discontinued)
* iPhone 4 wrap and backing
* Dinoc Carbon Fiber
* Water Resistant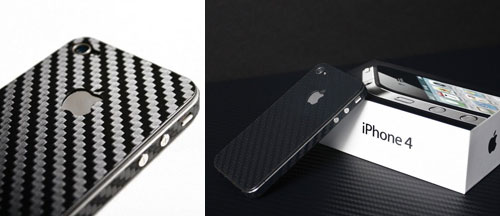 Iphone 4 Sticker Series
---
10. Gameboy Color Skin iPhone 4 sticker [discontinued]
Gameboy color. You can have your run of the mill gray original gameboy.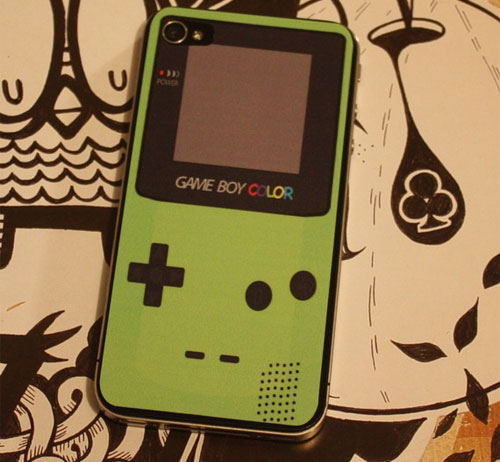 11. Nintendo NES controller iPhone 4 sticker
[discontinued]
Cut and printed on quality gloss vinyl, and run through a series of prototypes to get the cuts and angles just right we bring to you the NES controller. Its made specifically to fit around the iPhone 4 and its rear facing camera and does not interfere with the fancy clash.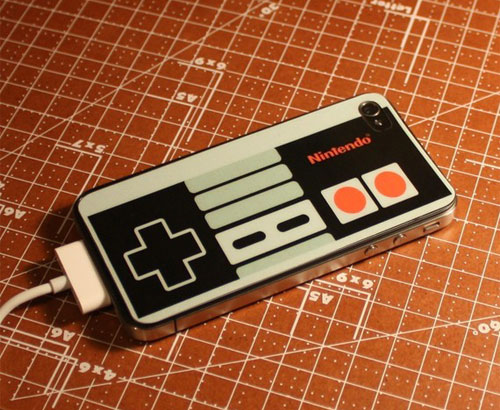 12. Sony Walkman iPhone 4 sticker Cassette
[discontinued]
Sony had the audacity to drop the hammer on their portable tape deck line marking the end of an era. Relive the good old times and shake a defiant fist at the advancement of audio technologies with this skin.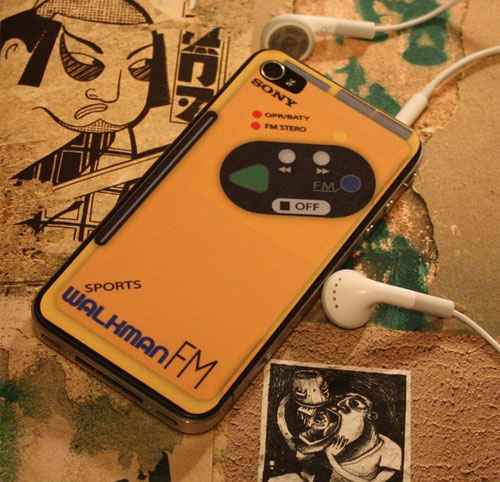 13. Han Solo Carbonite iPhone 4 sticker
[discontinued]
It's the lovable Scruffy Nerf Herder himself, who shot first… Han Solo. Frozen in time so you can play Boba Fett and carry him around on your iPhone like the bounty hunter scum that you are.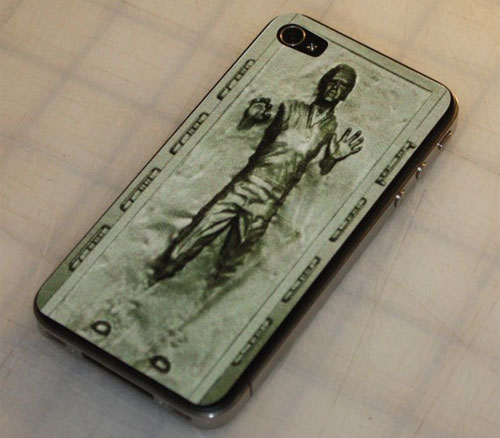 14. GelaSkins Protective Skin for the iPhone 4 "The Great Wave"
[
buy on amazon
]
* Removable art prints designed for the iPhone 4
* Includes access to an online gallery of matching digital wallpaper downloads for the screen
* 3M Technology for easy, repositionable application, and clean removal with no residue
* Compatible with all other iPhone accessories (iTrip, the Dock, Speaker Systems, etc.)
* Durable scratch protection and customization for your iPhone 4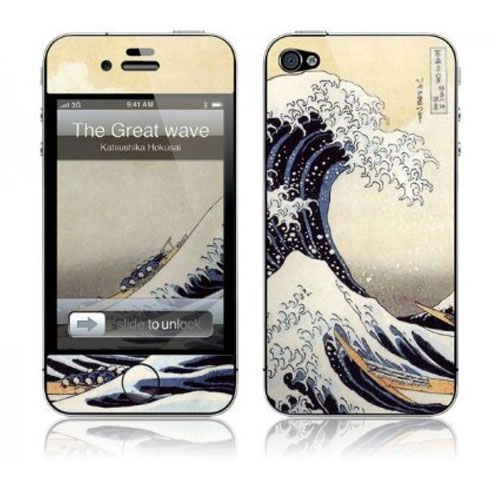 Artistic Handmade Case and Sleeve Series
---
15. Orange Cassette Tape iPhone Case [discontinued]
This orange cassette tape case is a great protection for your iPhone, iPod or any other smartphone. Made from very durable, long-lasting and scratch-free felt with a thin fade-resistant coating on top it has a unique style and will last a lot longer than an ordinary felt case.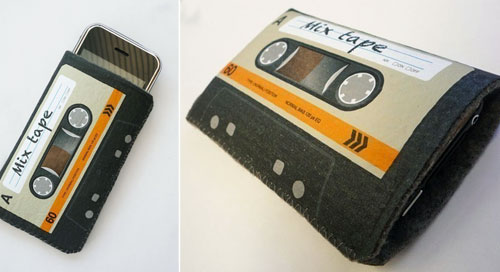 16. Light Grey Hoodie Sweater Case
[discontinued]
This one of a kind zipper hoodie sweater case will provide style and protection for your iPhone 4, iPhone 3G, iPod, iTouch, Blackberry, mp3 player, camera or other electronic gadgets!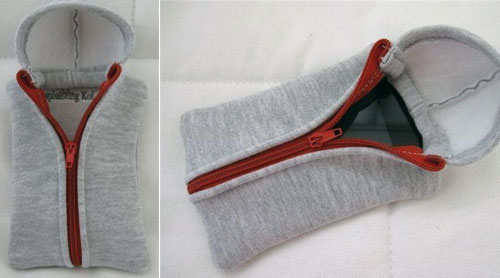 17. iPhone Sleeve – Falling Leaves
[discontinued]
This unique, cute, and cozy style of iPhone/iPod-Touch or BlackBerry case measures approx. 5"H x 3.25 "W or (12.7 cm x 8.2 cm) and is perfect for: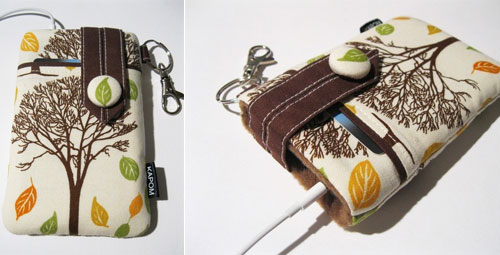 18. SALE Water Resistant and Padded Handmade iPod/iPhone Case-CANDY
[discontinued]
The Original Water-Resistant Sleeve! Can handle spills and active lifestyle.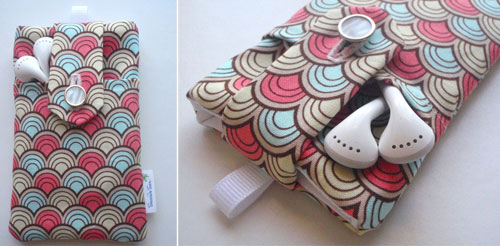 19. Legos Apple iPhone 4G Custom Case Unique Gift
[discontinued]
"Legos Apple iPhone 4G Custom Case" Clear, hard plastic, removable 4 5/8″in x 2 1/2″in (approx)