When coming up with Christmas decorations, Christmas wreaths are usually the most important things in the list, next to the Christmas tree, Christmas tree ornaments and presents. The great thing about a Christmas wreath is that you can place it inside or outside, and you can also choose to hang them on a door, a window, or even a wall. In conclusion a Christmas wreath is one of the easiest ways to bring the spirit into your home. Below are some creative ideas of Christmas wreath decoration, Hope you enjoy!
We are a participant in the Amazon Services LLC Associates Program, an affiliate advertising program designed to provide a means for us to earn fees by linking to Amazon.com and affiliated sites.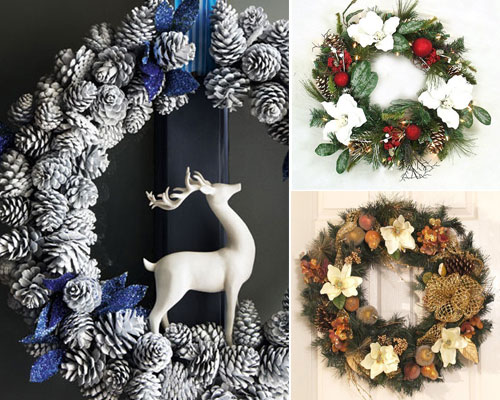 'Cornucopia' Christmas Wreath – 24″ with Fruit
With its warm glow and golden accents, this intricate wreath captures the bounty of the holiday season.
* Accent your home with a beautifully decorated christmas wreath
* Our 24-inch wreath is made of a mix of dense evergreens including pine, cedar, fir and spruce
* Hang indoor or outdoor
* Artificial but lifelike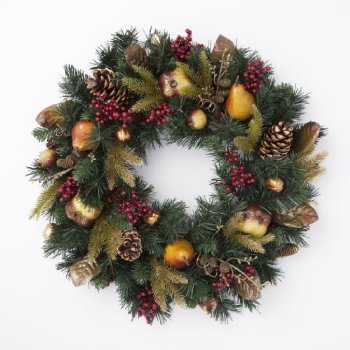 18 inch diameter Red Rose Christmas Wreath [discontinued]
Your love of tradition will sparkle for all to see . . . when you place our red rose Christmas wreath on breathtaking display. This exquisite and unusual design evokes holiday d?cor of the long-ago English countryside. The velvety blooms and buds join miniature lady apples and pomegranates and berries galore amid silken rose and ivy leaves and sprigs of everlasting pine. Nature's own pinecones both gilded and painted add the beauty of the forest to the design . . . as reflective glitter detail adds the festive finishing touch.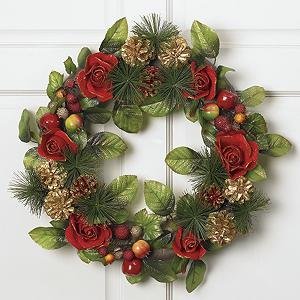 Polar Christmas Wreath
[
link
]
Cute white polar bear hangs on this holiday wreath. The wreath is topped off with red cardinal birds, red berries, and pine cones. Makes a darling holiday display.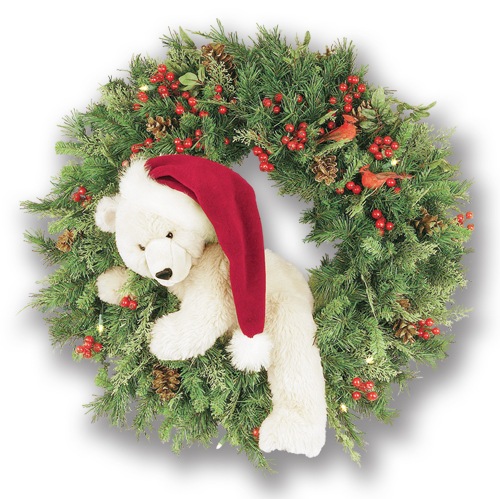 'Sleighride' Christmas Wreath – 24″ Multi Pine Needles Wreath with Dusting of Snow
[discontinued]
Imagine dashing through the snow on a moonlit night, while gazing through tall pines at the twinkling stars. That's the essence of this festively flocked wreath, with a next-to-nature appearance of greenery, pine cones and cranberry ornaments; 24-inches in diameter.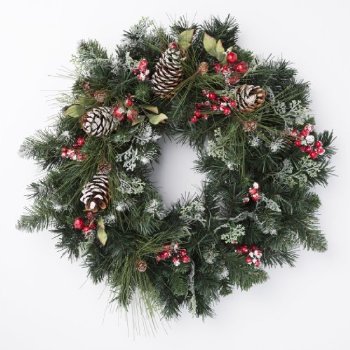 Silver Bells Musical Christmas Wreath
[
buy on amazon
]
* It lights up! 20 golden LED lights illuminate at the flip of a switch
* Arrives ready to display
* Powered by 2 "AA" batteries or AC adaptor (not included)
* Edition limited to 120 crafting days, so order now
* Hand-numbered Certificate of Authenticity
* Measures 14″ in diameter; 36 cm in diameter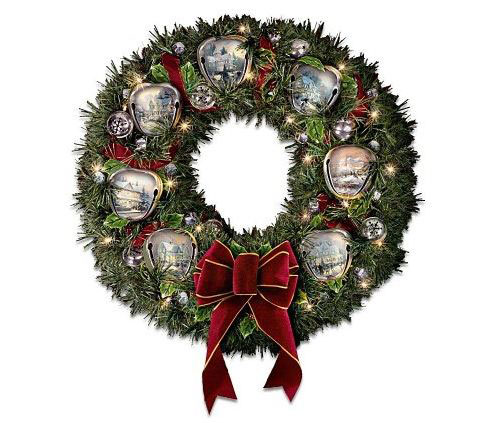 36″ Cordless LED Pre-Lit Christmas Wreath
[
buy on amazon
]
A battery operated Christmas wreath lets you decorate anywhere indoors and out. Use one to light up a hallway, doorway, office, window, or anywhere you want added cheer. And these wreaths are so lifelike, they look fresh cut. Each wreath has long, realistic needles and is graced with pinecones and long-lasting LED lights. Our battery operated Christmas wreath is a festive, smart solution. A built-in timer automatically turns the lights on for six hours and off for 18 hours, making these wreaths truly effortless.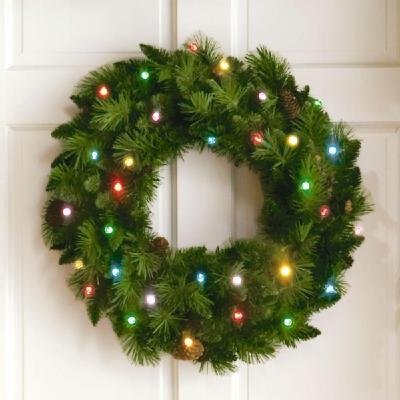 Christmas wreaths
[link]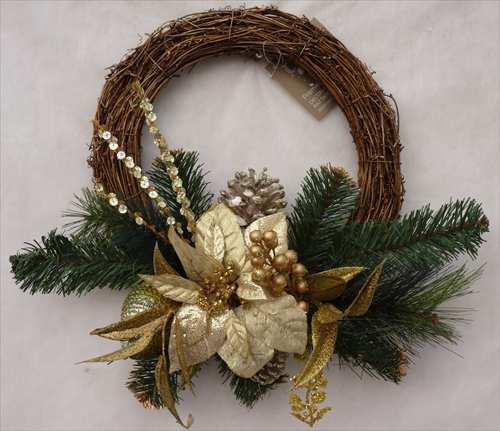 Berry and Pinecones Christmas Wreath Clear & Frost Lights
(discontinued)
* Features pinecones, berries, beaded apples & white magnolia accents
* Pre-lit with clear and frosted mini lights
* Dimensions: 24″ Diameter x 7″ Depth
* Heavy duty double metal frame backing
* No assembly required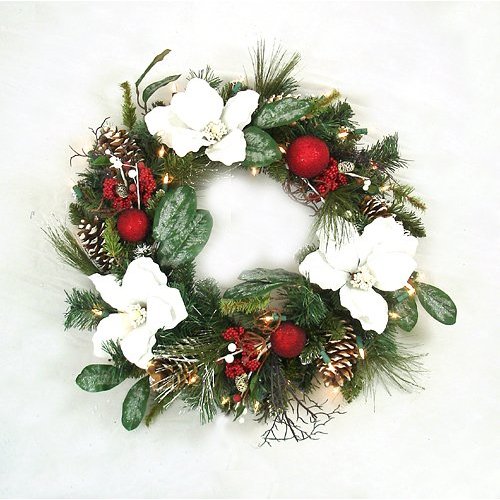 Christmas wreaths
[link]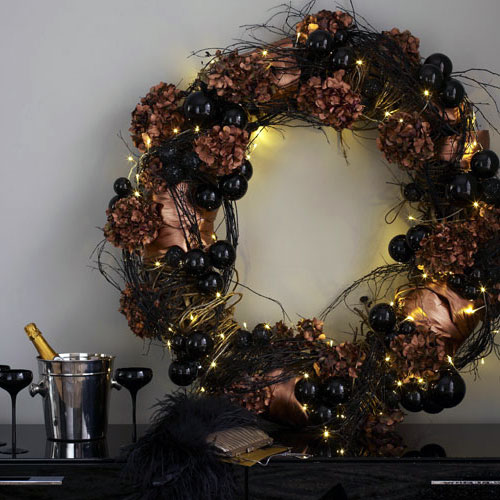 Victorian Christmas Village Wreath
[
buy on amazon
]
* Captivating and intricate 3D details include realistic accents and finishes on every building, heartwarming villager figurines busily enjoying holiday activities, sparkling "snow", lush holiday greenery and decorations, and a magnificent gold-trimmed ribbon
* Hanging device included for immediate display
* Edition strictly limited to 95 casting days, order today
* Hand-numbered with matching Certificate of Authenticity
* Measures 14″ in diameter; 35.6 cm in diameter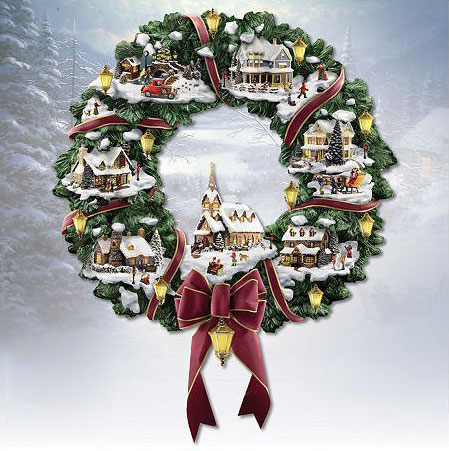 20″ Tiffany Iced Blue Pre-Decorated Artificial Christmas Wreath
[
buy on amazon
]
* Unlit
* Pre-decorated wreath with Tiffany blue and silver glitter drenched ball ornaments featuring snow flocked and sparkling iced leaves
* This sophisticated Christmas decor is accented by light blue feathered birds sitting in nests and sparkling * clear snowflake shaped embellishments
* Hidden round metal frame in back allows for versatile display options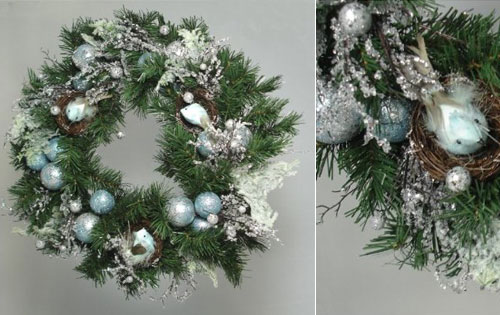 Decorative Lighted Nativity Scene Wreath
[
buy on amazon
]
* Glorious Thomas Kinkade nativity wreath inspired by the beloved artwork of the acclaimed Painter of Light , available only from Hawthorne Village
* This decorative lighted Christmas wreath is adorned with 6 illuminated buildings and more than 25 magnificent figures
* Entire nativity wreath is intricately handcrafted and hand-painted in artist's resin to highlight the sculptural figures, buildings and palm trees nestled within its fully sculpted greenery
* Lights up with the glow of approximately 30 LED lights and an illuminated star suspended in the center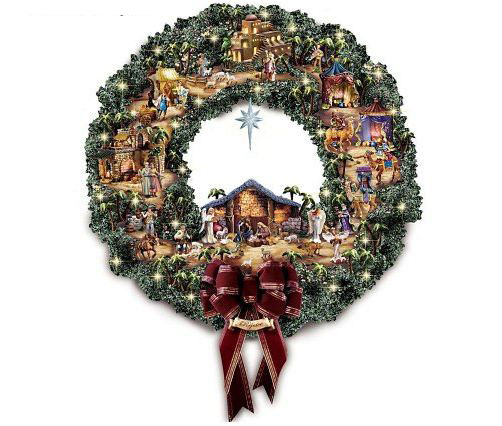 22″ La Costa Red Poinsettia & White Hydrangea Holly Artificial Christmas Wreath
[
buy on amazon
]
Bursting with deep red poinsettias, lush greens, plump berries and white hydrangeas, this incredible wreath embodies the festive delight that is the holiday season. It certainly commands attention, and serves as the perfect holiday welcoming plant on your front door (or anywhere else you wish to bring some holiday cheer!)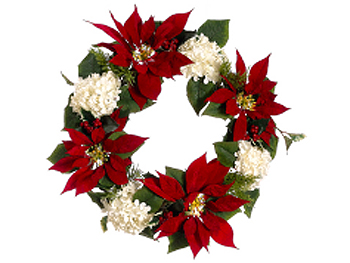 24″ Pre-Lit Retro Silver Laser Tinsel Christmas Wreath
[
buy on amazon
]
This winning pre-lit silver Christmas wreath is done with laser tinsel….so it shimmers from every angle with a radiant glow
Features 180 tips and 35 clear lights
End connector allows you to connect multiple wreaths together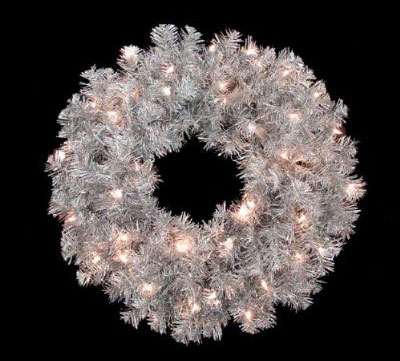 Christmas wreaths
[link]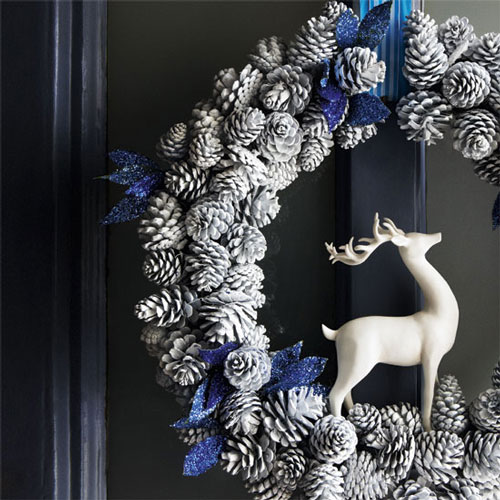 Illuminated Musical Snowman Wreath
[
buy on amazon
]
* With the flip of a switch, 12 LED lights cast a soft glow
* Shimmering glitter and a hand-tied satiny bow add festive finishing touches
* Plays the beloved holiday classic "Let It Snow, Let It Snow, Let It Snow"
* Requires 3 "AAA" batteries (not included)
* Edition strictly limited to 120 casting days, so order now!
* Hand-numbered with matching Certificate of Authenticity
* Measures about 12″ in diameter; 30.5 cm in diameter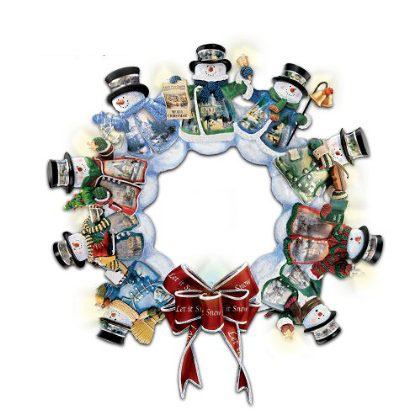 24″ Flocked American Pine Artificial Christmas Wreath with Berries & Pine Cones
[
buy on amazon
]
Stunning faux snow-flocked wreath adds a wintry touch to any holiday decor. Wreath features long and short mixed American pine needles, pine cones and lush, deep red berries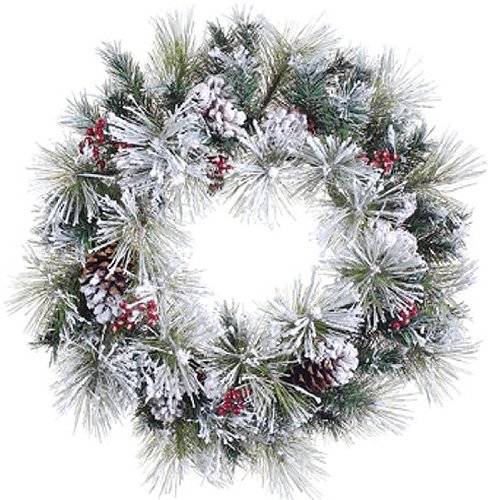 Wreath Console Stand
[discontinued]
Place a wreath on this cast iron stand for a creative way to showcase a wreath on a console or mantle.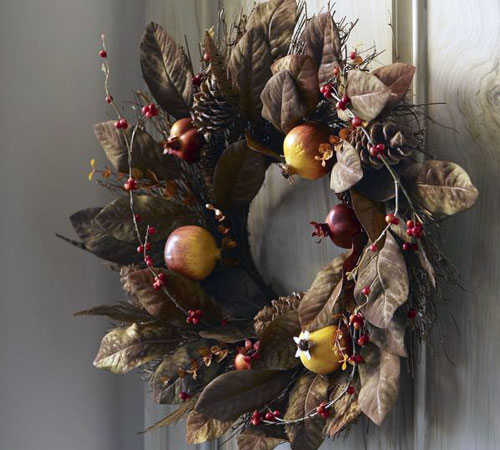 FRESH SILVER, RED & PINK ICE PROTEA WREATH
[link]
Silver tree and red Leucadendron's set off the Pink of the protea in this colorful wreath. Approx 22″ Wonderful Christmas wreath. Can be used as protea centerpiece, just add a pillar candle.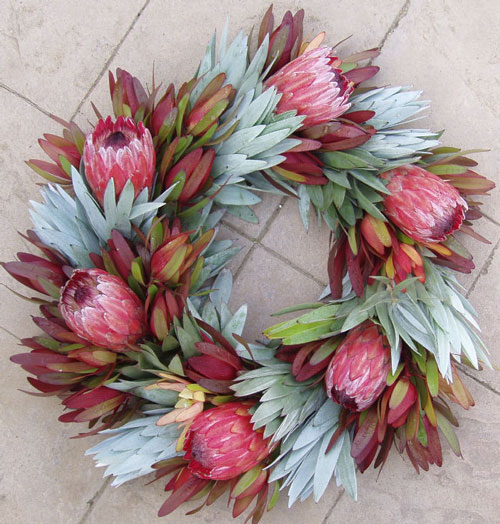 Gilded Gold Christmas Wreath with Magnolias
[
buy on amazon
]
Add a touch of elegance to your home this holiday season with our gilded holiday pine wreath. Decorated with beaded fruit in copper and gold tones, hydrangeas, pine cones, magnolias and gold mesh ribbon woven throughout.