Summer is here and we need something to chill our drink as well as spice up your party. Why not try those awesome ice tray listed in today's post? Easy to use and incredibly effective, this ice cube tray will help your party go off with a bang and certainly impress your guests. Hope you enjoy our creative cooling time.
We are a participant in the Amazon Services LLC Associates Program, an affiliate advertising program designed to provide a means for us to earn fees by linking to Amazon.com and affiliated sites.
1. Skull Ice Tray [amazon]
Not just any ice, though! In an attempt to please pastafarians everywhere, we've released the Bone Chiller skull and crossbones silicon ice-cube tray.
Soft food-safe flexible silicon rubber cranks out 4 skulls and 4 crossbones just as fast as your freezer can freeze them. For crystal clear ice, try boiling the water, letting it cool, and boiling it again before pouring the water into the tray.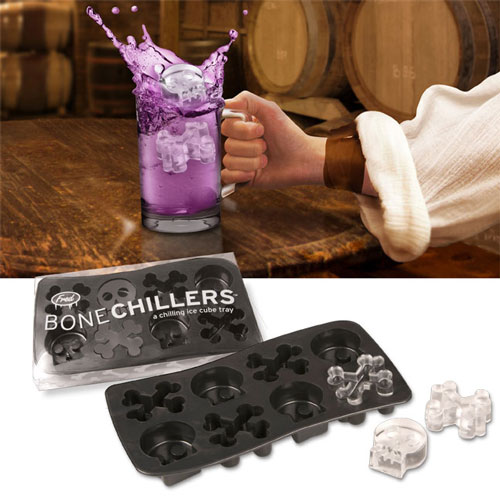 2. Ice Invaders [amazon]
Did you spend a good portion of your childhood (and your allowance) blasting 2-dimensional aliens to smithereens? Now you can freeze those precious moments in time with Ice Invaders.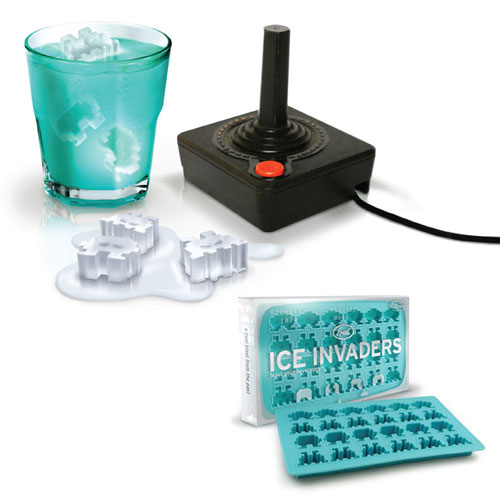 3. tetris + ice cubes = icetris
[
link
]
Given the heritage of Tetris, it's only appropriate that these Icetris ice cube trays would come from Dima Komissarov of Russian design shop Mystake. With enough frozen blocks, you should be able to play a complete game in the confines of your hi-ball glass. The only downside I can see to playing Tetris with ice cubes, of course, is the fact that they might melt before you can even complete a row.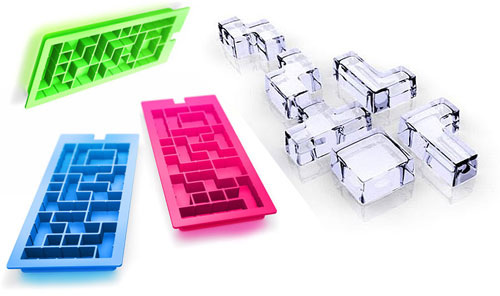 4. Gin and Titonic Ice Cube Tray
[
amazon
]
A novel conversation piece and cocktail party icebreaker, the Gin & Titonic Ice Cube Tray is made of ice blue, food-safe synthetic rubber and features four ocean liners and four icebergs. Created by Fred & Friends, the home design firm whose goal is to "put a smile on your face," this ice cube tray (measuring 5.8 by 1.2 by 6.2 inches) is sure to add some grim humor to your next event—the iceberg shaped ice cube floats while the Titanic-inspired ocean liner gently lists.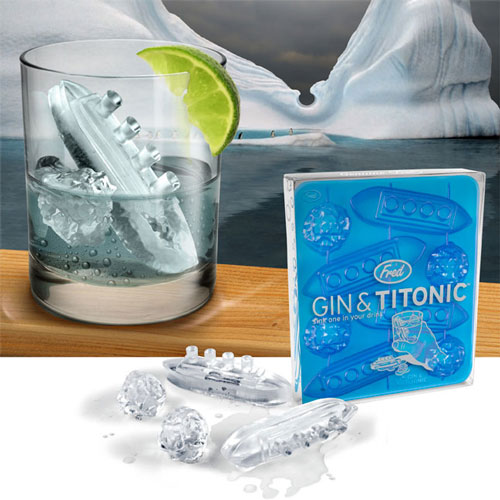 5. Cool Jazz Ice Cube Tray
[
amazon
]
It's time to kick back and chill and here's a cool way to do it! Drop one of these groovy guitars into your drink, and give it a stir. Just the thing for jazzing up your favorite beverage.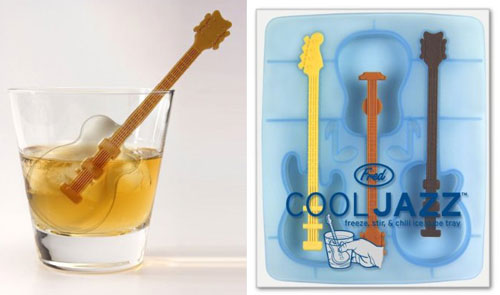 6. Cold Blooded Vampire Ice Cube Tray
[
amazon
]
Twilight descends, beverages are poured. Hmmm, something's missing from the drinks. Maybe they just need a little bite. So drop some stone-cold fangs into your Bloody Mary and feel that chill go right down your spine. Mwaha! Cold Blooded is molded from super-strong, dishwasher-safe pure silicone.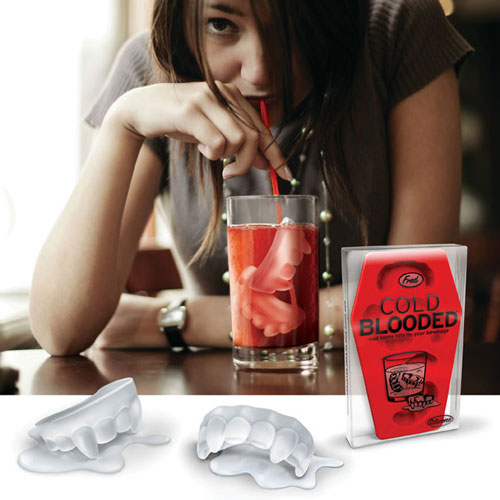 7. Cool Beans Ice Cube Tray
[
amazon
]
Love the chilly goodness of iced coffee, but not the way melted ice waters down the fl avor? Your java jolt will keep stronger longer with Cool Beans made from real coffee. Just brew a batch, let it cool, fi ll your Cool Beans ice tray, and you'll never suffer watery iced coffee again. Our Cool Beans ice tray is molded from super-strong, dishwashersafe pure silicone.
8. Brain Freeze Ice Tray – brain on ice
[
amazon
]
We humans are well known for our highly-evolved sense of humor. This is evidenced by Brain Freeze, the ice tray that makes 4 frosty brains. So let's celebrate our higher powers by raising a glass. Because a brain (not to mention a cocktail) is a terrible thing to waste.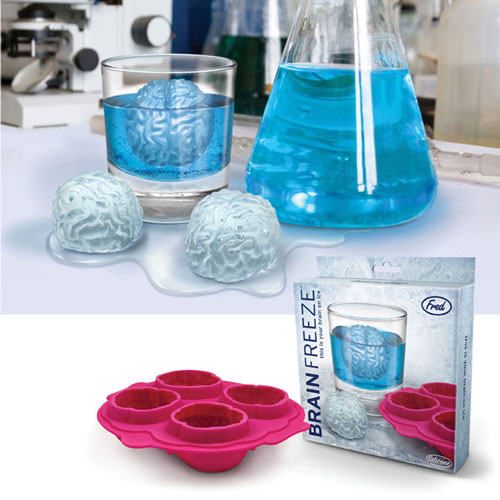 9. Fish bone Ice Tray
[amazon]
Let's face it, ice cubes tend to be, well square! This new Fish bone ice tray is so cool they are in fact frozen!!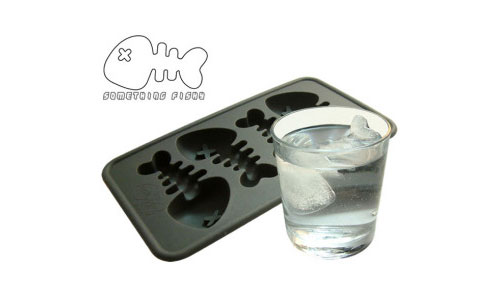 10. FOSSILICED DINOSAUR BONES ICE TRAY
[
amazon
]
Need to dig up a clever party accessory? Look no further than our ice-cold fossils – these two assorted dinos (only one tray per order) will add the perfect Ice Age touch to your modern drinks. Snappy recyclable clear box.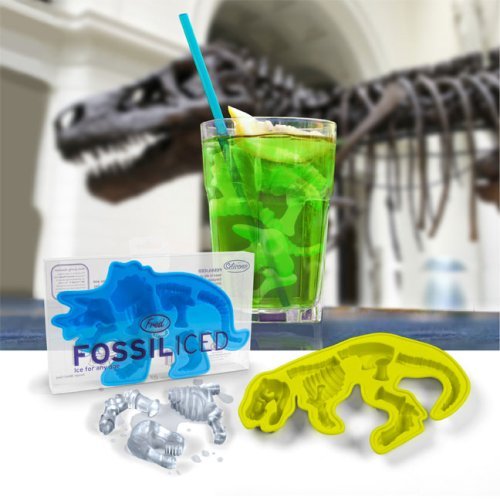 11. Stone Cold Ice Tray
[
amazon
]
Entertain friends and family with whimsical ice cubes in the shape of the famous Moai stone statues. Endow drinks with the statues' mysterious aura and keep them icy cold at the same time. Great for parties, the ice cubes are sure conversation starters. Made of flexible silicone, the tray easily expels frozen ice.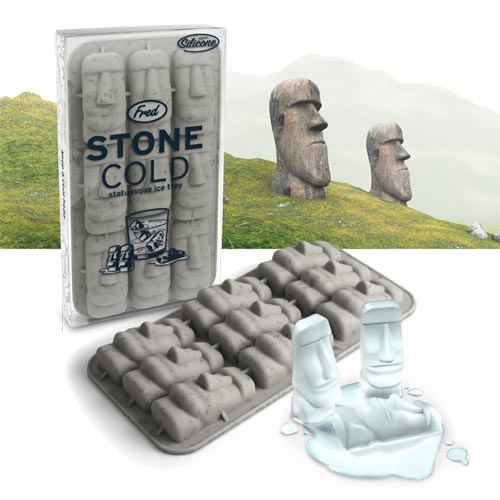 12. ICE KABOBS
[
amazon
]
Ice Kabobs stir up some fun and add a cOoOol touch to your beverages. These extended ice cubes double as handy swizzle sticks. Each food-grade silicone rubber tray makes three skewers. They come in 4 hot colorways. Like so many wonderful FRED products, Ice Kabobs are visually packaged in clear plastic with frosted highlights (sorta like Brad Pitt), and a handy pull-down tab for peg display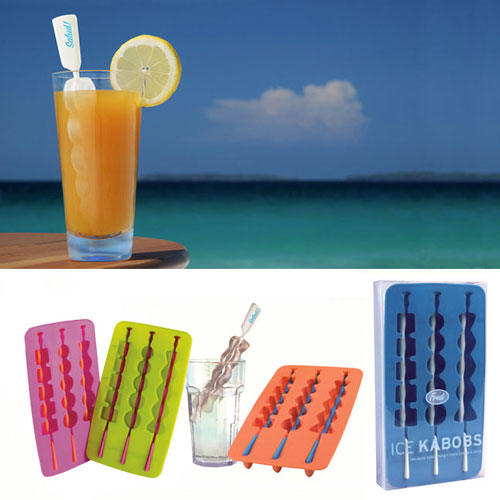 13. Citrus Sippers Ice cubes with a built in straw
[
amazon
]
It's a tropical straw with a frozen twist! Fill the citrus slices with water (add a dash of lemon or lime for some extra zip) and freeze. Drop one into your Mai Tai and take a sip – feel those balmy beach breezes? Citrus Sippers are made from food-safe, freezer-safe, flexible synthetic rubber, packaged in clear recyclable, peggable boxes.
14. Chilly Peppers Ice Cube Tray
[
amazon
]
Fred & Friends Chilly Peppers are reusable ice cubes molded in the shape of chile peppers. Each set contains 5 red and one green chili pepper shaped cubes.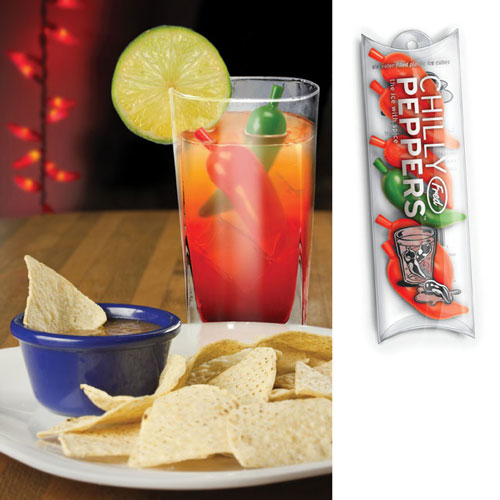 15. Shark Fin Ice Cube Tray
[
amazon
]
The Shark Fin Ice Cube Tray makes floating Shark Fin Ice Cubes! You can make 5 Shark Fin Ice Cubes per tray. The ice tray features a large shark bite out of the side!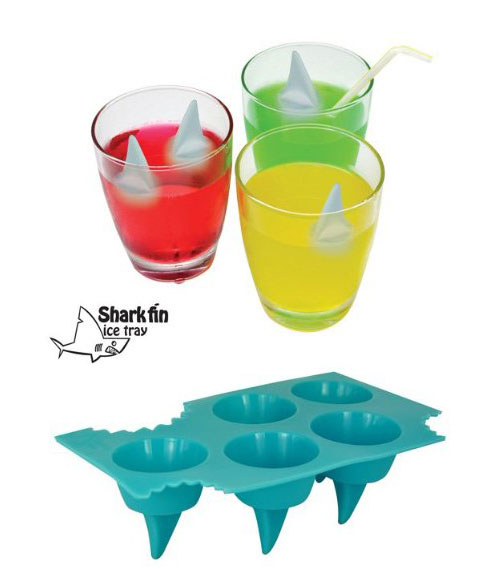 16. Ak Bullet Ice Cube Tray
[
amazon
]
Bullet Ice Cube Tray Freshen up that killer drink with a round from the Bullet Ice Tray! Show James Bond how it's done and add a little sophistication to your parties with this amazing ice cube tray. The AK Bullet Ice Cube Tray is our most popular gift to date and it's no wonder why! Easy to use and incredibly effective, this ice cube tray will help your party go off with a bang and certainly impress your guests.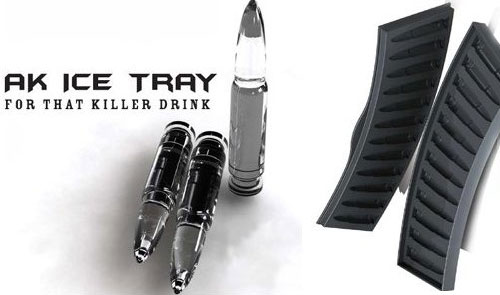 17. Global Warming Ice Tray
[
amazon
]
When things start to heat up at your party and all your ladies are crying, just break the ice with these awesome global warming ice cube trays and you'll be an instant hero.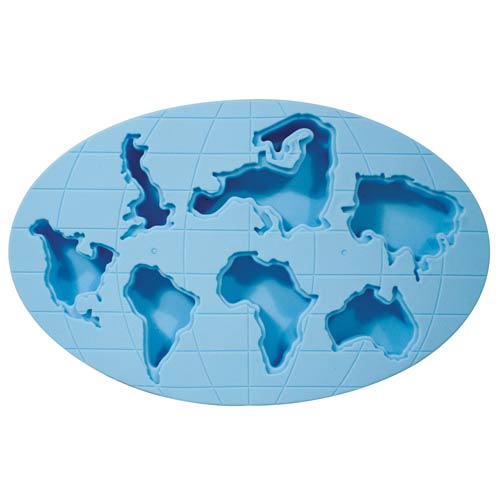 18. Alphabet Letter Ice Tray
[
amazon
]
The Letter Ice Set is fun for all; kids will enjoy them every day and adults will have a blast at parties and holidays. Spell out your name or a special greeting in butter, ice or chocolate. Use juice or colored water and add to drink glasses; add to the punch bowl and see how much fun you and guests will have, each time cups are filled and refilled.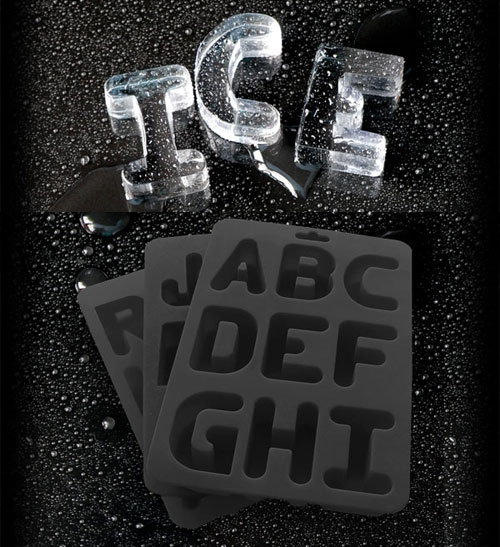 19. Pi Symbol Ice Cube Trays
[
link
]
Silicone ice cube tray creates frozen water in the shape of the Pi symbol , Perfect for simultaneously conveying your knowledge of mixed drinks and math. Great for casting other materials, such as meat loaf, in the shape of the Pi symbol.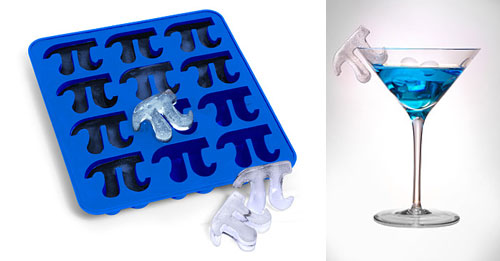 20. Macabre Ice Cubes
[
link
]
Death Chill is a product to send icy shivers down your spine, and into your booze. The reusable Death Chill ice tray has plastic swizzles that look like a spinal cord and a orb-like mold at the end which turns your ice cubes into the shape of human skulls.
Imagine freezing jello or a red juice or, best of all, freeze some chocolate and just lick the skull.
21. Coldfish Flexible Koi Goldfish Ice Cube Tray Mold
[
amazon
]
Slip into your own idyllic scene every time you open your freezer door with the Cold Fish ice cubes. Splash a couple of koi into your libation of choice and feel your stress melt away. Simply fill the flexible rubber mold with water, juice, or add some drama to your drink with a dash of food coloring in the water. For bubble-free, clear cold fish, try using distilled water. You'll get eight cold fish per freezing. Next time life's stresses have you hot under the collar – chill out and tell the world you've gone fishing.