If you always travel with your dog or your dog doesn't like go out during raining and cold days, the Shake Dog Potty is a great help. Its unique design enables you to effortlessly seal the unit tight for mess-free cleanup and provides a comfy, familiar spot for your dog to go when you're on the go. It's so simple to fold, you won't think twice about stowing it away or taking it on the road.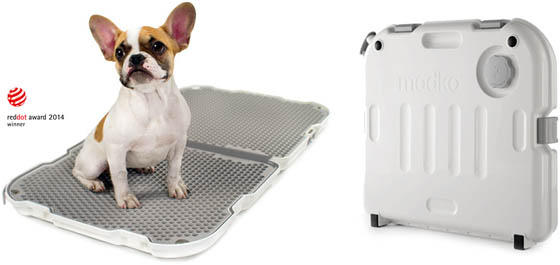 We are a participant in the Amazon Services LLC Associates Program, an affiliate advertising program designed to provide a means for us to earn fees by linking to Amazon.com and affiliated sites.
The cleaning is super easy. Lock it shut using its four hide-away latches, add water, shake from side-to-side, up and down, flip and repeat and then empty into the toilet. For occasional more-thorough clean ups, use the included brush with mild detergent or enzyme cleaner to get into those hard to reach places. When comes to number two, Shake's grates pop right off, allowing for safe, mess-free disposal. Treated with ultra-fresh antimicrobial protection, it's also hygienic, stain and odor resistant. So, no more wasteful, expensive wee pads again!
Sounds like a prefect gift for any dog owner who needs that. You can get it from amazon or modko now.