Although we usually say "spring cleaning", for a mom with younge kid and have to work full time, it is very hard to keep up cleaning. Hence, I do winter cleaning mostly during the holiday and this year, my most focus is the bathroom. Living in a large city, small condo, limited space is always a problem. Especially when you have kids, their stuff just invade any corner of your life. Hence, I decided to invest some money to add more storage in a nice way. The end result is pretty good, and I found my bathroom is clean and clutter-free. Not sure how long I can keep that. But below is what I did and found. Just listed them below so any one has bathroom storage issue can use as an inspiration.
Slim Bathroom Storage Cabinet
I have a quite debut between the Spirich Home cabniet and AOJEZOR one. The Spiric home one has more capacity but in returning, it is much deeper than the AOJEZOR cabinet. I love both of them but considering the place I will put cabinet I chose the AOJEZOR one in the end. But these two are both great for making use of small area to provide some extra storage.
AOJEZOR Small Bathroom Storage [amazon]
The tissue cabinet is a beautifully discreet solution for bathroom storage.
This exquisite toilet paper stand fits in narrow spaces with strong storage functions: organizing tissue papers, toiletries, bathroom cleaners and more!The top panel can be opened for replacing the roll paper, when you replace it ,just make sure paper towel will be pulled out from below,which the direction will be much easily to pull the paper out.The top panel also can be put for mobile phone ,tissue paper and decorations.The interior has 1 piece fixed shelf, which can storage 4 paper rolls in all, 2 paper rolls in each, or storage for 3 bottles of medium capacity shampoo and shower gel for each shelf at the most .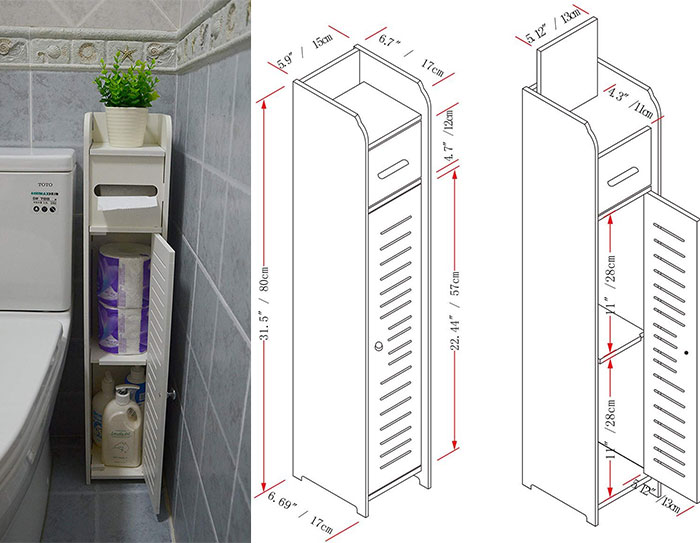 Spirich Home Slim Bathroom Storage Cabinet [amazon]
The Slide-Out Bathroom Floor Cabinet, with a narrow footprint but large capacity that adds organization and storage to a tight bathroom space, is ideal for snug powder rooms or storage-starved bathrooms. This bathroom cabinet has a large slide out drawer with multiple compartments for your daily storage needs. The bottom drawer rolls out to reveal a tall cubbyhole for stacks of toilet paper(up to 12 rolls) or a plunge .The cabinet top conceals a nook for medication and other essentials that need to be accessed easily yet hidden from view. The small drawer of the cabinet helps arrange all small items that keep cluttering the bathroom. With a clean white finish that blends with any décor.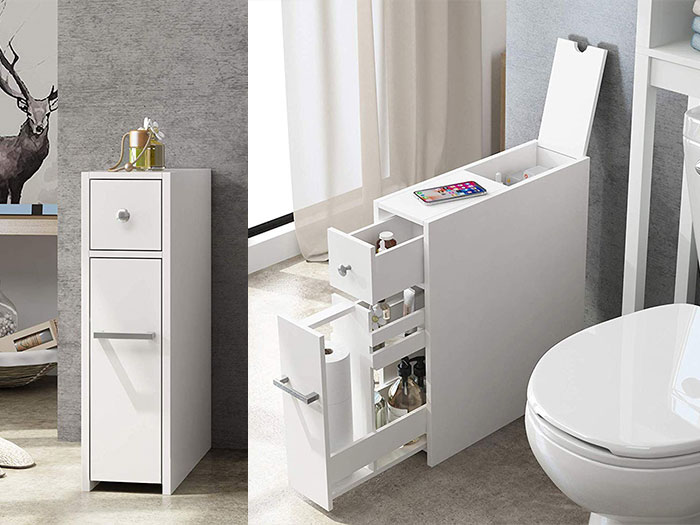 Wall mount storage
I already had a medical cabinet on the wall besides my sink but honestly, that small cabinet just not enough. I want to have an extra wall mounted cabinet to provide me more storage using vertical space. The Mirror storage cabinet seems a pretty good option, which provides you a full body mirror as well as a large storage space. Also, it can integrate to the existing door hinge hardware so you don't really need to drill a hole to hang this one. But due to the awkward position of my bathroom door, I gave up this option and goes with the Flip Frame Art to Counter. It is small and can be hung over toilet. Moreover, it not only can hold 30 lb items but doubles as a wall art display and a counter top!
Flip Frame Art to Counter [amazon]
The Innovative, patented wall unit by My Flip Frame transforms from an attractive picture frame into a temporary counter-top instantly. Combine this with hidden storage and you have a 3-in-1 product ridding you of unsightly clutter by using vertical organization.
Instant Counter Holds 6 pounds / Cabinet Holds 20 pounds
Simple and Quick Installation, Using French Cleat System
3 Adjustable Tempered Glass Shelves with 10 Height Options
Dimensions: 17″W x 21″H x 4″ Interior Depth x 5.25″ Total Depth
Mat opening standard 11″ x 14″, without Mat opening is 12.5″ x 16.5″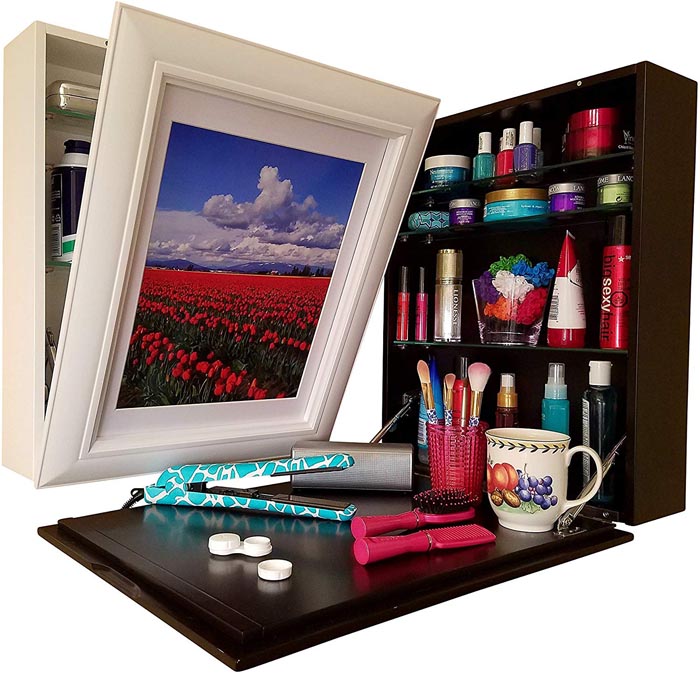 Mirrored Bathroom Storage Cabinet [amazon]
The Cabidor deluxe mirrored behind the door storage cabinet is beautiful framed mirror with customizable interior storage. The Cabidor deluxe creates additional storage in your home without sacrificing any floor or wall space. The Cabidor conveniently mounts to any standard door simply by using your hinge pins and the Cabidor patented hanging hardware. The proprietary mounting system enables you to hang the storage cabinet on any door within minutes without requiring any special skills or tools. The Cabidor offers the storage capacity of five standard medicine cabinets, yet can be quickly and easily moved to another door if you decide. The Cabidor is a natural in the bathroom, especially for bathrooms with pedestal sinks and No vanity storage.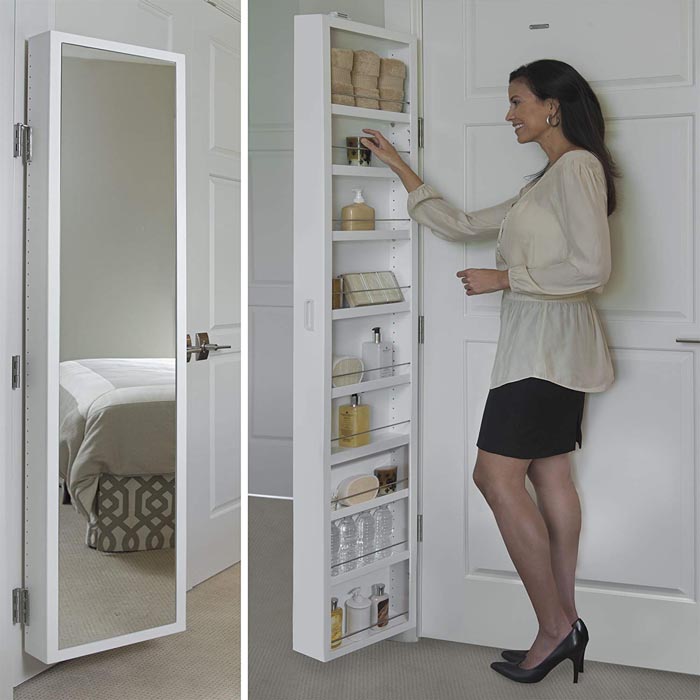 Under Sink Rack
The under sink area is a bit awkward to use due to the pipe. A normal two tiers storage won't work with the pipe unless it is slim. Hence, I got two choices when I planned to get an under sink rack. Two slim ones put on both sides to avoid the pipes or a configurable one allows pipe goes through. After measuring, I pick the second option to save some moneny. But if your under sink area is pretty limited, the slim one is a good choice as well.
Under Sink 2 Tier Expandable Shelf Organizer Rack [amazon]
Born to under sink space (kitchen/bathroom), varied configuration allow you get stuff organized around the pipes under the sink
. Expandable Rail length from 15" to 25"
. Adjustable tier height allow you configure two tiers at different four levels: 2, 5.5, 9, 13 inches from bottm.
. Beautiful Perforated Steel Panel is sturdy and hold very well. Include 3 large panels (6-3/8") and 4 small panels (3-1/8")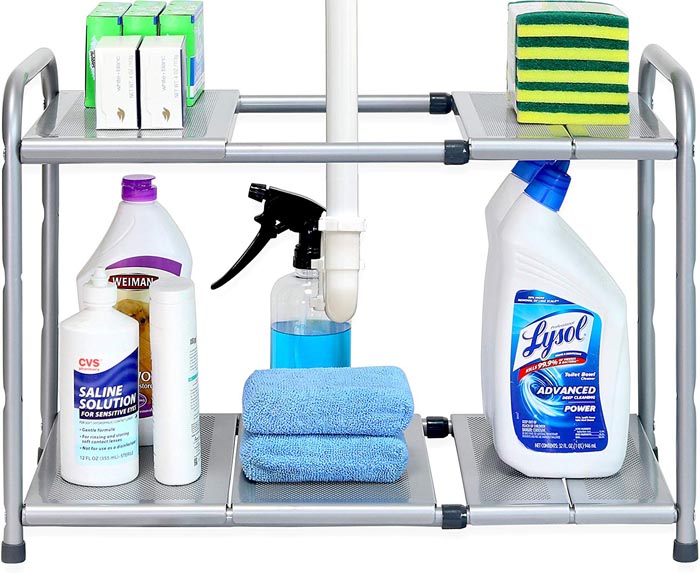 Mesh Storage Organizer with Pull Out Drawers [amazon]
Whether you're storing cleaning products, everyday toiletries, or an overload of office supplies, the Sorbus Cabinet Organizer Drawer Set maximizes your space so you can focus on what matters most. The attractive sleek mesh 2-level design makes it perfect for the pantry, counter-top, cabinet, vanity, work-space, and more. Create extra storage space virtually anywhere and bring items front and center with pull out sliding drawers.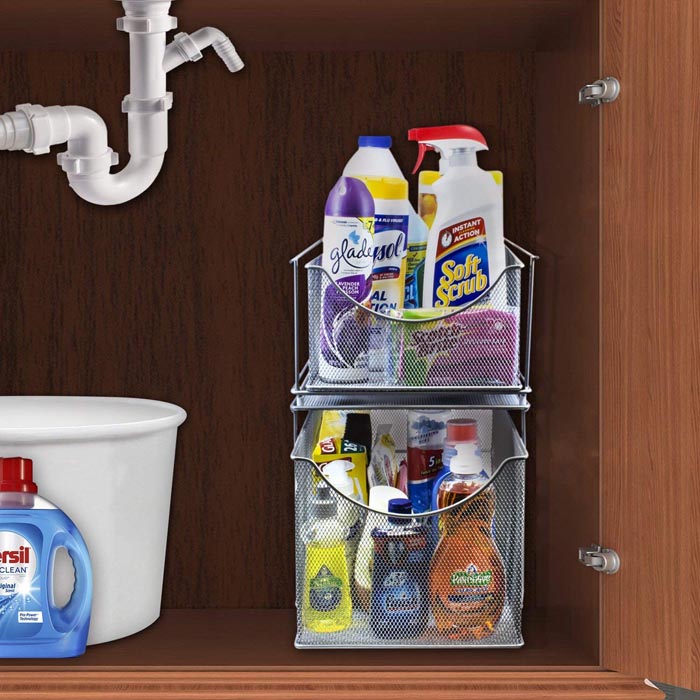 Under The Sink Mat [amazon]
Like or not, our under sink area is easily to get unknown stain, water. Hence, I also picked the Under The Sink Mat before I put my under sink rack. The mat has two layers. The upside can absorb liquid or other stain, thereby prevent liquid or stain from spilling out. The waterproof layer on the back side can prevent liquid penetrating into the cabinet, thus keep the cabinet dry and clean. I also put it under my kitchen sink and so far so good.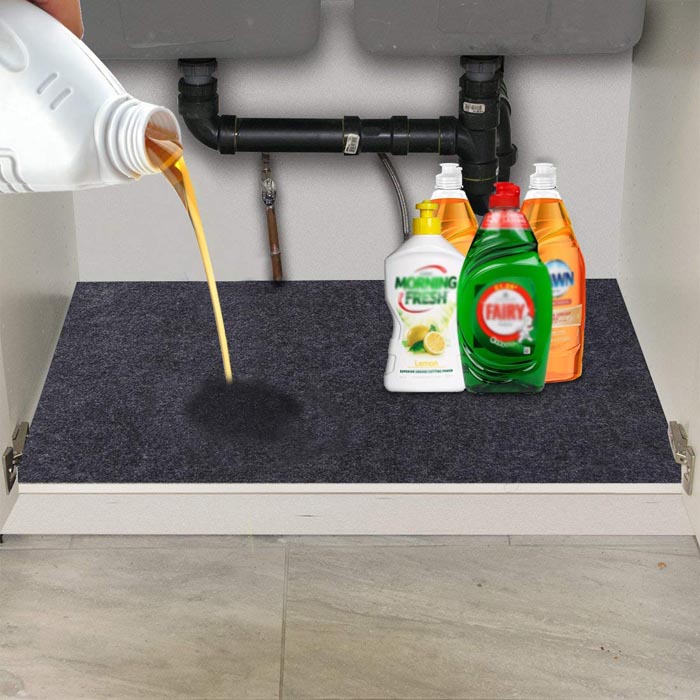 Counter-top Storage [amazon]
There are lots of counter-top storage but personally, I don't like the fully open shelf. Because I need drawer like space to keep something dry which bathroom sink is one of the place most easily get wet. And luckily, I found it. Made of plastic which is the perfect material for bathroom usage. And its $15 price tag makes it totally acceptable to keep my counter-top clutter-free!
This Makeup Vanity Organizer is the perfect choice because it gives you so many options for holding bottles, jars, brushes, lotions, hair spray, perfume, cosmetics, cotton balls—the options are limitless. Easily contain daily essentials in the 9 compartments including two deep drawers. Dividers on the right compartments make it convenient to store smaller items. The large compartment is ample enough to store and organize multiple large makeup palettes along with several brushes.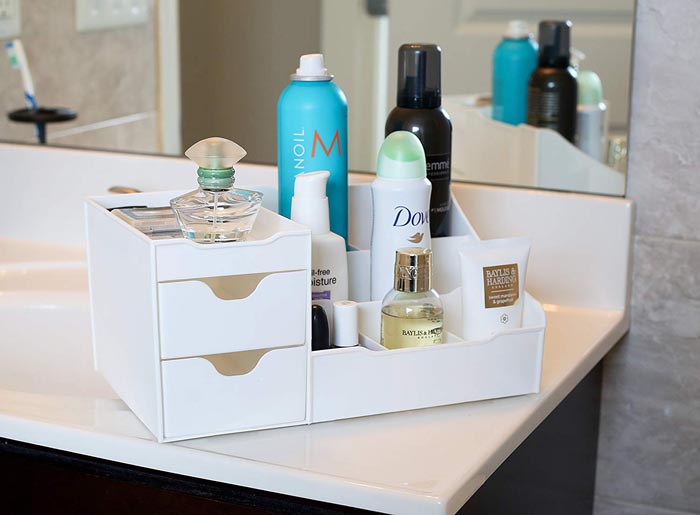 Hair Dryer Holder [amazon]
And the last thing, hair dryer holder. I washed my hair everyday which means I have to use the hair dryer everyday. Hence, it has to be easy accessible. I can't stand taking it out of somewhere every time I need to use it. Before, I just leaved it on my bedside table but I decided to put it back to where it should belong to. Hence, I need a hair dryer hold. There are such counter-top storage which can hold hair dryer as well. But I try to avoid put electronics on the place can potentially get wet. A wall mounted holder is my choice. The iHEBE Adhesive Hair Dryer Holder is what I chose. This adhesive holder is the perfect solution for apartment and dormitory which has limited space, it will provide you extra capacity to storage hair care and brushes.