10 creative concept shoe design
"Concept" designs are hot in cars, furniture, tech, etc. Fulfilling that need to fix that addiction to novel design ideas for those who also have shoe fetishes are these concept shoes. Most of concept shoes look so unreal and futuristic. Although some of the shoes do not look comfortable to be wore. But the designs are definitely fantastic, cool and creative! Want to see? Check this post.
The Invisible Shoe [ link]
This shoes has a mirrored surface, creating a deceptively obscured optical effect with every step taken. The chameleon-like facade blends in perfectly with any environment.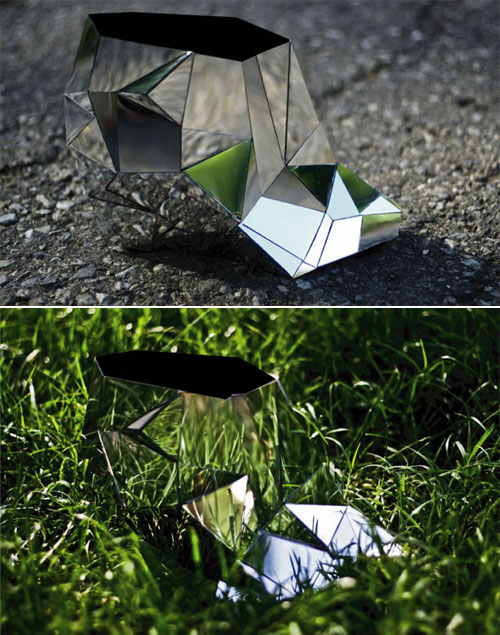 shoes with no foot plate by Julian Hakes [ link]
The design consists of a single piece that wraps around the wearer's foot, forming support for the heel and ball. In his mind, the foot naturally forms a bridge between the two. With a high heel providing the heel is supported, even by standing on a wooden block the foot naturally 'spans' the gap naturally, with bones and tendons.The foot has its own inbuilt strength and support so why duplicate this. You would not have a jumper with rigid arms between elbow and wrist.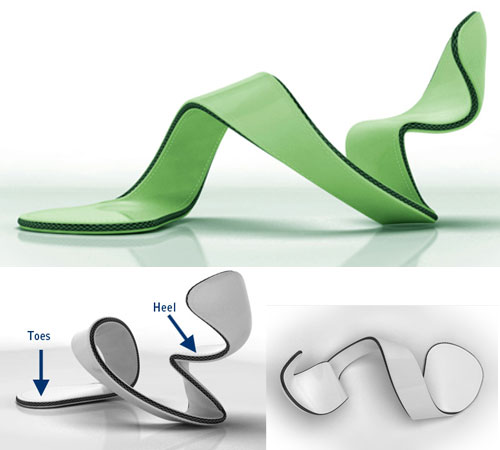 The Prism Shoe
"The Prism Shoe" is a fascinating structural design that by itself looks like an intricate work of origami – casting beautiful kaleidoscopic shadows against the ground. Here we can clearly see Chaves' chaotic – yet orderly – paradox coming to life through her shoe designs, resulting in dramatic silhouette.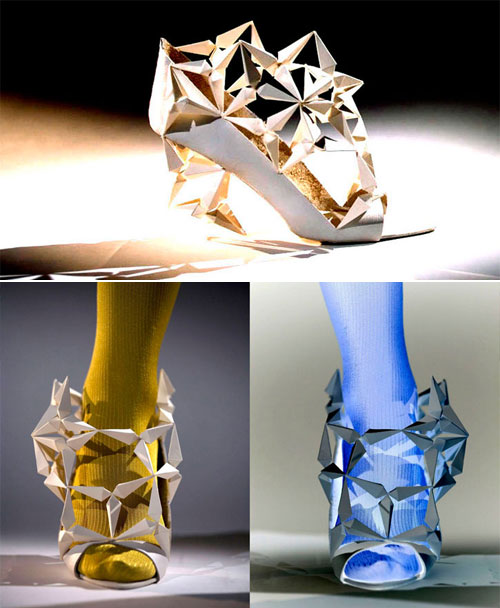 Ndeur Concept Paper Shoes
This one has the same origami idea like "The Prism Shoe", but more colorful.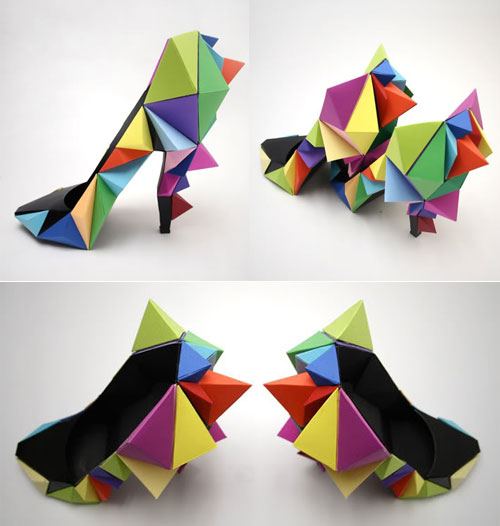 Form & Texture Shoe [ link]
The "Form & Texture Shoe" exhibits a disciplined study of form and material while keeping just enough chaos to stay interesting. The contradiction here is the seemingly indestructible framework fused with the disorderly arranged leather and sycamore wood cubes. The contours create a theatrical statement nothing short of impressive.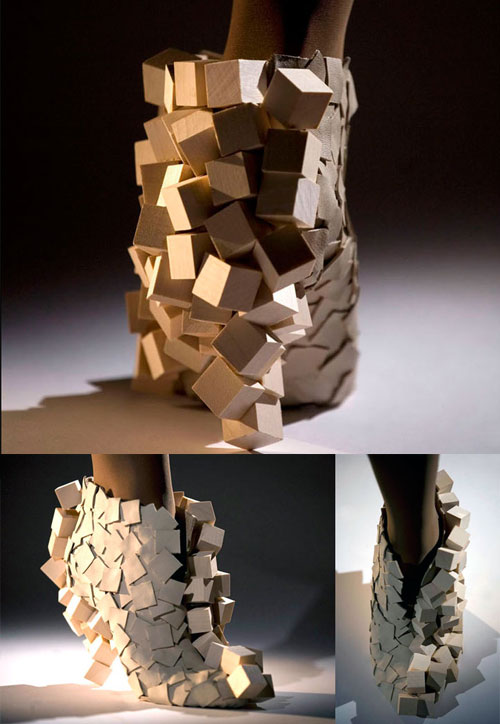 Double-Sides Slippers [ link]
The idea is to be worn from both the top and the bottom side by a central slit cut, so called double-slides slippers. We always leave slippers unorganized, always up side down or way round. It can be an inconvenience when you wake up. Sometimes it may lead to frustrations.
Here comes the solution. By making of a thin sheet of rubber with a cut in the middle, Double-Sides Slippers are designed to enable the user to wear the slippers from both directions, which the design concept is inspired from the traditional Chinese Yin and Yang philosophy. It is in harmonious form, color design, soft and flexible material provides comfort.

Twirled
These cheese-graters look like they'll slice up your feet, but if you look closely, the metal appears to be kept at bay by clear PVC (also seen in the wedge heel). Architectural in the Gehry-esque use of metal (those sinuous curves!), these shoes might be hell to wear but the attention they'll draw will feel pretty heavenly.

Shoes from Keren Peretz – clog-like slippers [ link]
Keren's shoes translate
the idea that footwear needs to be connected to your feet only while the foot is in the air. When you step on the ground, it can be disconnected. Her clog-like slippers open up when u step on them and then close right back.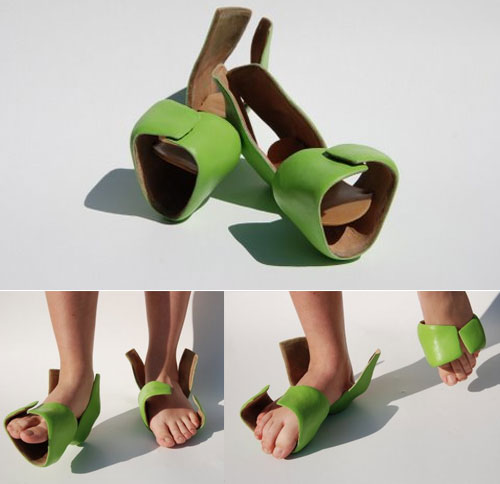 Mouldedleathershoe [ link]
Materials: Vegetable tanned leather and carbon fibre
Sections of vegetable tanned leather, pre-formed on a variety of shoe lasts (mould that is shaped in the form of an abstracted foot), are cut and assembled to create a fractured shoe. Even though its form is distorted, one can still recover the shapes of the lasts that the parts were constructed on initially.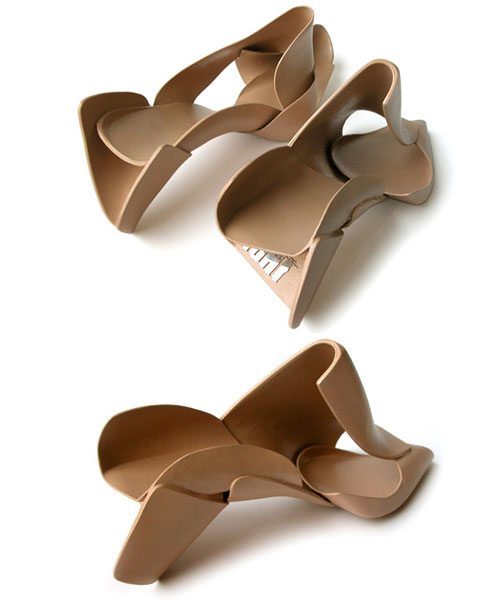 Safety of Life Fireman's Boots by Sun-Woong Oh & Jin-hee Kim [ link]
One of the most important factors in cutting down the risks of the job is the gear that the firefighters use. Safety of Life Fireman's Boots is a clever attempt to ensure that fighters can keep a tab on their partners and locate them instantly, in case of disorientation or the likes. The fireboots make an illuminating footprint on the floor of a room, leaving a trail of the user. Following the glowing footprints, the backup team can trace & reach the rescue worker, should he require it.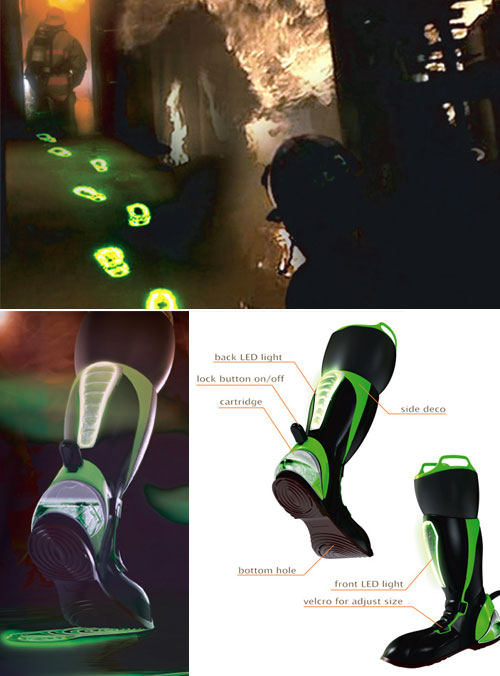 if you like those unusal shoes design, you might also like my previous post about Unusual and Creepy Shoes Design
Thank You for Reading Our Posts. What's Next?
Share this post:
Follow our updates:
Read related posts on our site:
Leave us a Comment:
One Response already, click here to leave your comment.
Other Design Articles You May Find Interesting
Loading...