When I was a little girl, a music box with a little fairy in the middle was one of my favorites. Always be amazed by the little spinning figures and the beautiful melody coming out from that little box. And nowadays, music boxes are designed not only for children, but for grown ups too. Besides those cartoon styled ones, they are also combined with jewelry box, or work like a piece of unique decoration. Hence, if you are trying to look for a unique gift idea that's beautiful to the eyes and a delight to the ears, this post is for you.
We are a participant in the Amazon Services LLC Associates Program, an affiliate advertising program designed to provide a means for us to earn fees by linking to Amazon.com and affiliated sites.
1. Victorian Gramaphone Floral Music Box [buy on amazon]
Wind up this music box and it plays Greensleeves . Gold-tone gramaphone with antique gold-tone trim and delicate multi-colored roses on three sides. Resin. 5 3/4″L x 4 1/4″W x 6″H…

2. Butterfly Whispers Turtle Music Box
Heartwarming garden inspiration is yours with this first-ever turtle music box adorned with award-winning artist Lena Liu's cherished floral and butterfly art, only from The Bradford Exchange
This collectible Limoges-style music box is handcrafted of triple-fired Heirloom Porcelain for lustrous beauty
The turtle's delicate shell is adorned with Ms. Liu's floral art and silvery accents; turtle shell opens on a lovely Limoges-style hinge decorated with a flower-shaped clasp set with a twinkling Swarovski crystal
Plays the enchanting melody of "What a Wonderful World" at the turn of a key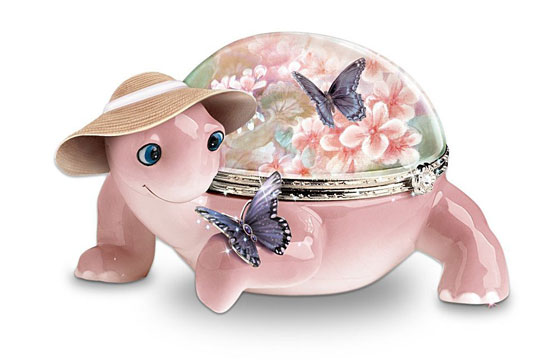 3. Disney Tinker Bell's Cottage Masterpiece Music Box [buy on amazon]
Peek inside the magical world of Tinker Bell with this charming Disney Fairies music box, available from The Bradford Exchange
Licensed by Disney
Exquisitely handcrafted in solid wood with a mahogany finish, this masterpiece music box collectible opens to reveal Tinker Bell nestled within her fascinating fairy home
From the coat rack made of forks to the desk that is an old blacksmith's anvil, each detail is hand-painted for extra charm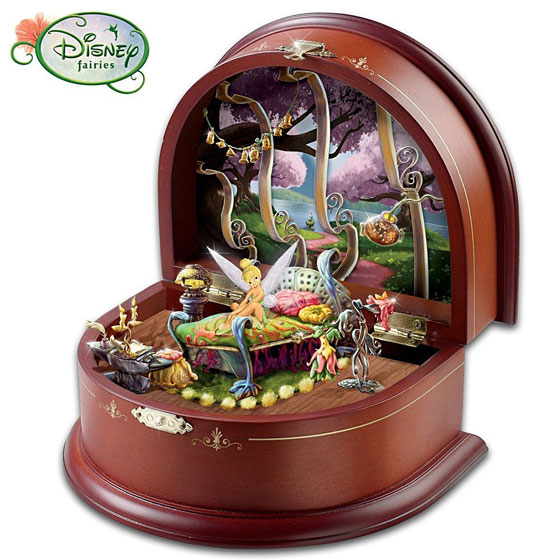 4. Red Egg Music Box Jewelry Box [buy on amazon]
Jewelry trinket boxes derive from Limoges with sparkling crystal accents and finished with enamel.
2-1/2″L x 2-1/2″W x 3-3/4″H
Collect them as keepsake box or jewelry box as they still represent romance, love and style.
Jewelry trinket boxes are hand-painted and decorated painstakingly with sparkling crystals.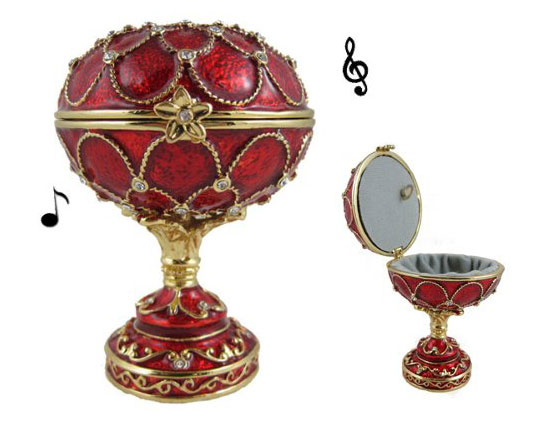 5.Butterfly Silver Plated Swarovski Crystal Music Box [buy on amazon]
Beautiful Silver Plated Music Box Includes beautiful Swarovski Crystals. Will stand out in any decor. Silver is Lacquered and tarnish resistant. Not an actual box – Does not open up to use for storage. Packing box dimensions: 4 inch high x 3 inch wide x 2 inch. Item is not manufactured by Swarovski, Product includes Swarovski Crystals.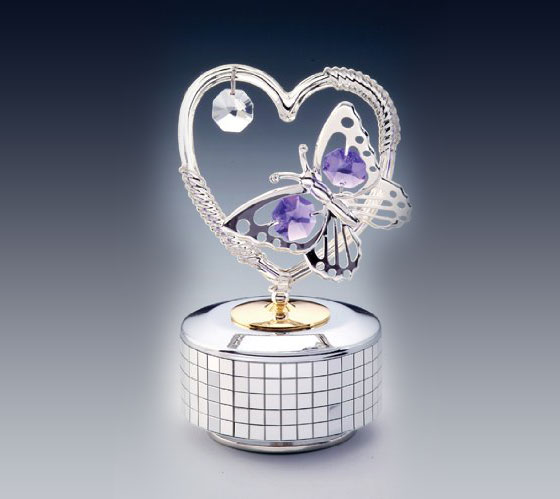 6. Tinker Bell Egg Shaped Porcelain Music Box [buy on amazon]
A sparkling tribute to imagination and pixie magic, this Disney Tinker Bell music box is an Ardleigh Elliott special design created in conjunction with Disney artists
Peter Carl Faberge-style egg-shaped music box showcases Tink posing at the center of the open "egg" that also bears the inspiring inscription, "Believe," in gleaming platinum
Handcrafted of triple-fired Heirloom Porcelain , with hand-applied glazes and rich details in the classic Peter Carl Faberge style, including sparkling simulated gems and gleaming platinum accents
The outside of the egg is adorned with pastel floral art while the music box base displays authentic Disney art panels featuring Tinker Bell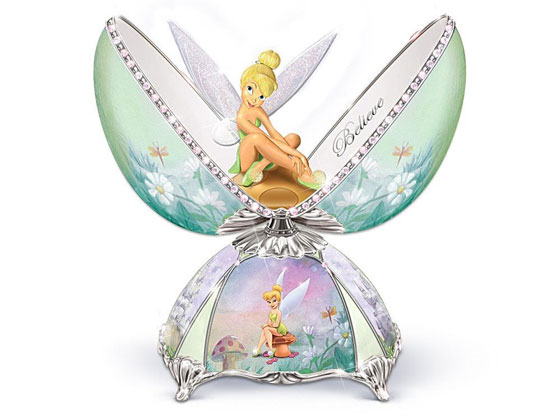 7. Studio Ghibli Music Box [buy on amazon]
Plays a familiar tune from Kiki's Delivery Service called "Yasashisa ni Tsutsumareta Nara"
Twist the dial on top, and Kiki's Delivery Service plays its tune
Shipped directly from Japan
Also dances inside the music box.
8. Spirits Of Love Native American Style Dreamcatcher Music Box [buy on amazon]
Artist Lee Bogle's interpretation of a couple in a joyous celebration of true love in this exquisite Native American inspired dreamcatcher music box, available only from Ardleigh Elliott
This limited-edition Native American style dreamcatcher music box is meticulously crafted of hand-underglazed Heirloom Porcelain , triple-fired for luster
The unique swirl design and warm earth tone finish of this collectible porcelain music box is crowned by two symbolic eagle feathers
The music box's swirl design embraces a gleaming platinum-finished Native American style dreamcatcher accented with turquoise enamel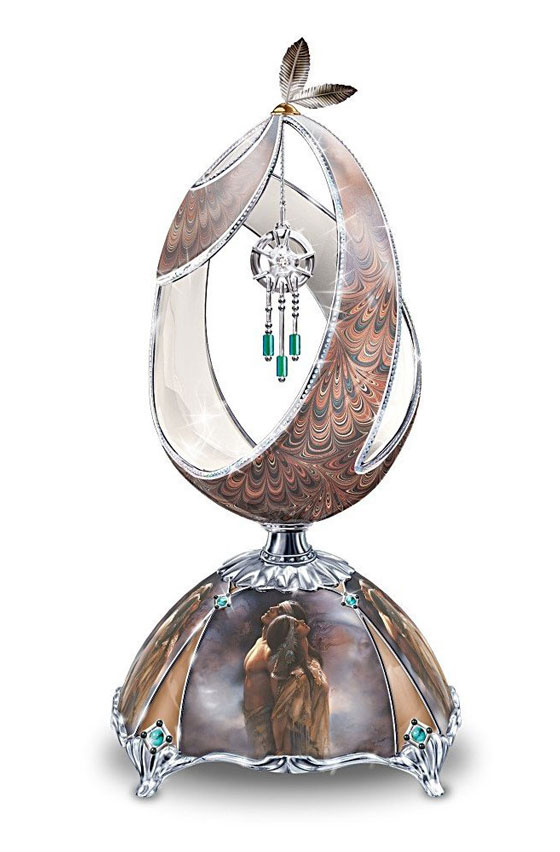 9. Louis Comfort Tiffany-Style Beauty Takes Wing Collectible Butterfly Music Box [buy on amazon]
Hand-crafted entirely in Heirloom Porcelain
Stained glass design inspired by the era of Louis Comfort Tiffany
Hand-underglazed in luminous colors and opalescent tones
Sculptural, hand-glazed butterfly topper in hand-painted porcelain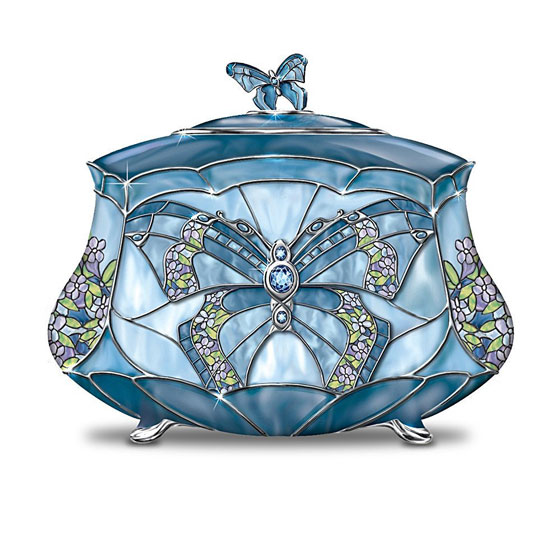 10. "Fur Elise" Small Crystal Piano Music Box [buy on amazon]
Music piece: "Fur Elise"
Material: (K9)100 % crystal and 100% Lead free
Dimensions: Small:135X135X100 (mm), Keyboard: 100 (mm).