Want to hydrate in style while still going green? Take a look at the 10 Cool and Eco-friendly reusable Water Bottles we rounded up here for you. Engineered to change people's drinking habits by decreasing the mass consumption of single-serve water bottles. These water bottles are not only reusable but alos coming with many cool features like freezable 'icycle' ice sticks, fruit infuser for extra flavor, built-in filters and juice extractor. Let's turn back to single-serve water bottles and use one of these to carry our very own water wherever we go.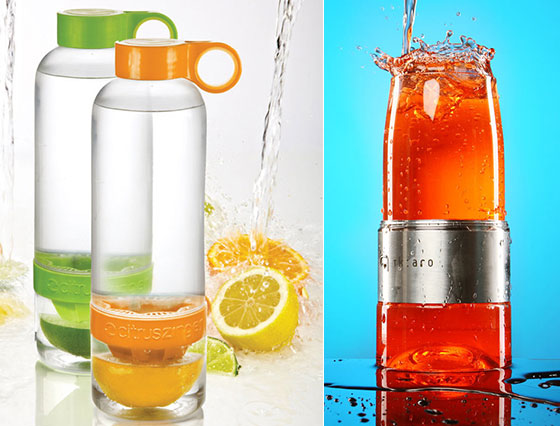 We are a participant in the Amazon Services LLC Associates Program, an affiliate advertising program designed to provide a means for us to earn fees by linking to Amazon.com and affiliated sites.
1. JAM-PROACTIVE water bottle [source]
Specially designed with superior ergonomics and aerodynamics for cycling, the JAM-PROACTIVE water bottle has a cap on the bottom for a streamlined form, plus an extra-wide opening for filling and adding ice. Freezable 'icycle' ice sticks keep the water cool longer. The angled, flexible spout lets cyclists remain in a natural riding position while drinking water, so they don't have to throw their heads back to drink, staying focused on the road.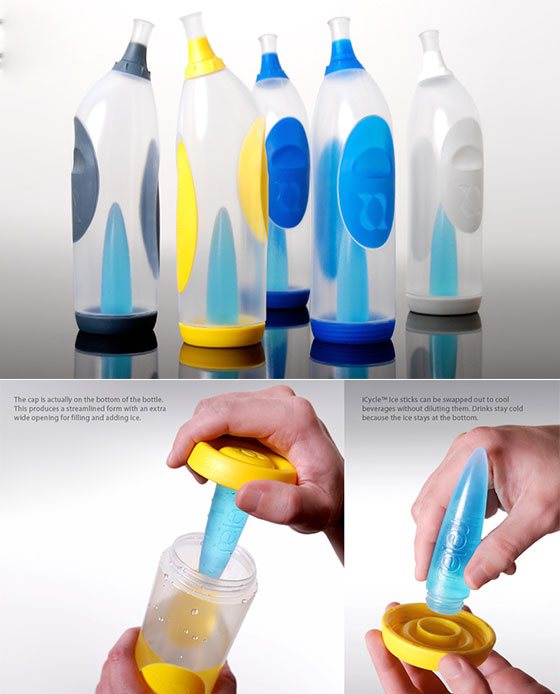 2. Eau Good Bottle [buy on amazon]
Bpa free tritan bottle for durability and elegant 'glass-like' appearance
Other materials: cork, stainless steel, silicon & nylon
Includes 1 binchotan active charcoal filter (6 month lifespan)
It reduces chlorine, mineralises the water and balances the pH
The binchotan active charcoal can be used for up to 6 months and amazingly recycles for many secondary uses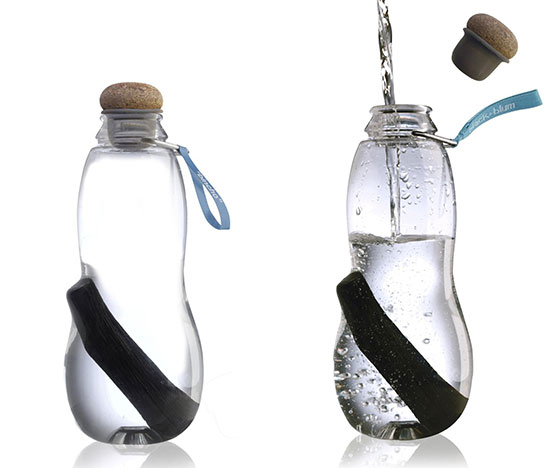 3. Flavour It Glass Water Bottle with Fruit Infuser [buy on amazon]
The Flavor-It Water Bottle lets you add a fruity splash by flavoring it with the fruit infuser. To add fruit to infuser, remove screw top lid, pull on the metal tab and pull the infuser out of the glass bottle. Fill bottle with water then unscrew the top of the infuser and insert your preferred fruit. Add lemons, limes, strawberries, cucumbers, apples or even fresh mint. Screw on lid and insert back into the water bottle. The silicone ring gives the infuser a snug fit. Dishwasher safe. Avoid using cleaners containing chlorine or bleach. Clean with non-abrasive sponge or cloth.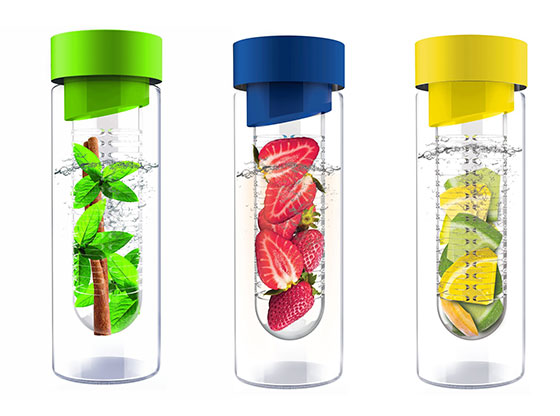 4. KOR Delta BPA Free Water Bottle [buy on amazon]
It's an on-the-go vessel with a confident personality and groundbreaking new features. The versatile Delta features an easy-to-open, push-button cap with ergonomic handle, KOR's "perfect spout," and new safety-latch for worry-free closure. The cap and bottle separate with a simple twist for easy cleaning.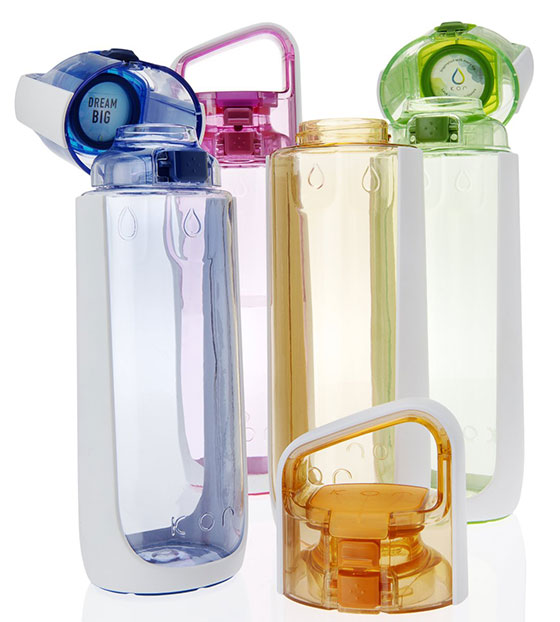 5. Full Circle Wherever Water Lemon Water On-the-Go Glass Bottle [buy on amazon]
When life gives you lemons, squeeze 'em, mix 'em with water, and chug away. This is a great way to make your eight daily servings more palatable, without the added sugar, cost and waste of prepackaged beverages. The built-in lemon reamer makes it easy to add flavor, and our glass container keeps your water healthier and better tasting. BPA-free, no leaching, no aluminum taste. Comes with booklet with unique flavor infusion recipes! Comes in four colors. 20 oz. Materials: glass, Tritan(tm), plastic, silicone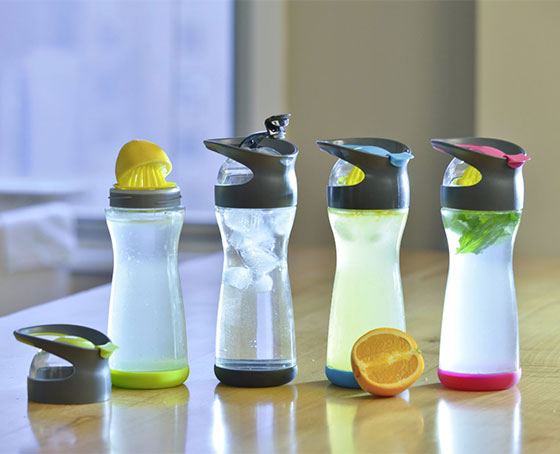 6. Aquatina Water Bottle [buy on amazon]
The Aquatina is an innovative water bottle. It holds 500ml and can be used as a water bottle, a cup at a fountain or for other drinks (such as protein shakes) and when you are done, just fold it up and put it in your pocket. It is BPA and PET free.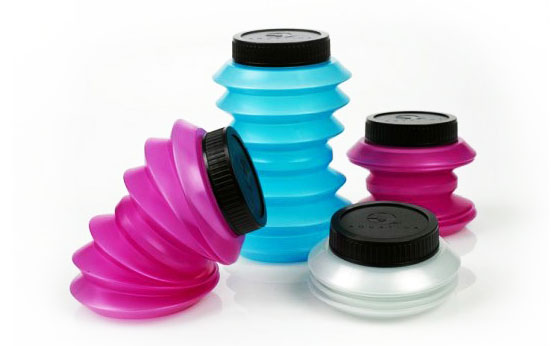 7. Reflect Klean Kanteen [buy on amazon]
Made of just three materials — sustainably harvested bamboo, food-grade silicone and stainless steel—the Reflect Klean Kanteen is the ultimate in minimalist design. There's no paint or plastic involved, and the whole thing should last for years and years of hiking.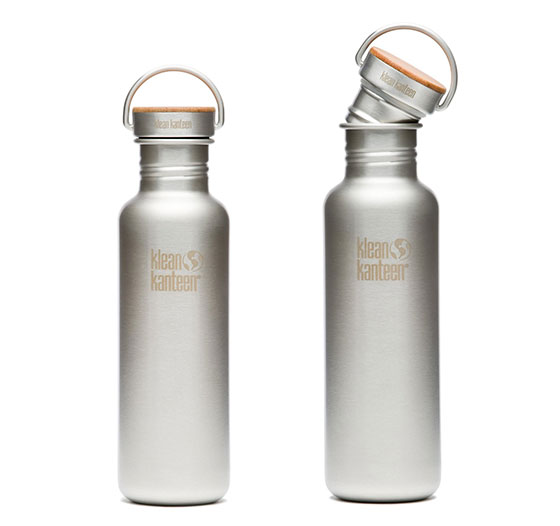 8. Bobble BPA Free Water Bottle [buy on amazon]
bobble is a reusable filtered water bottle that filters as you drink. bobble comes in two different sizes (18.5oz/34oz) and in a range of different filter colors to pick from. Its carbon-based filter eliminates chlorine and other organic contaminants from the water as you sip.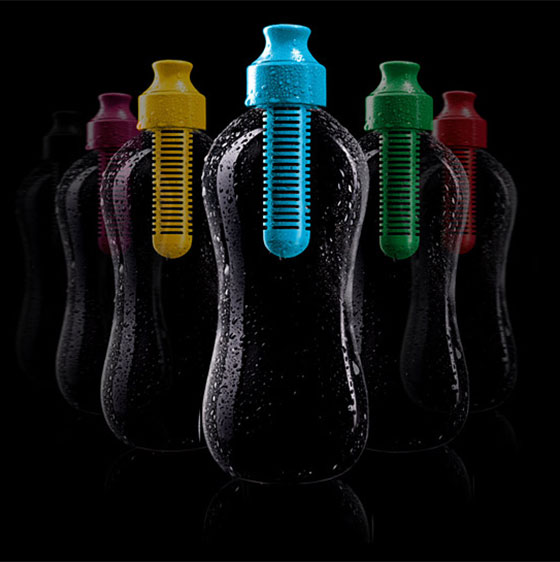 9. Tkaro Glass Water Bottle [buy on amazon]
To keep your glass safe and shatter resistant, they've made it with this incredibly cool stainless steel sleeve that covers the glass, and keeps it from spilling in transit.
Glass, steel and silicone construction water glass
Unscrew the stainless steel cowling to reveal the gracefully tapered glass inside
BPA Free, dishwasher safe
6.5 inches tall, 3 inches in diameter
500 mL liquid volume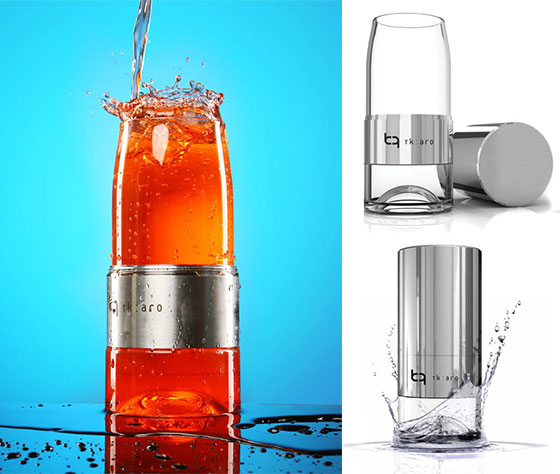 10. Citrus Zinger Water Bottle [buy on amazon]
The Citrus Zinger offer an easy way to extract juice and flavor from citrus fruits and infuse them directly into your water bottle.
Finger hole provided for easy carrying,wide mouth top allows for easy filling and ice cubes, if needed.
Cushioned base through a soft rubber base pad to prevent slippage.
Health-safe materials – BPA/EA-free Tritan Plastic from Eastman.
Easy to clean and reusable. Excellent Citrus Infuser