with the approaching of Christmas, you probably have already seen plenty of gift guides, for her, for him, for kids… How about for pets? Our furry friends. Maybe it is time to get them a new bed? a new scratcher? or even just a new feeding bowl? Here we rounded up 10 Cool Pet Furniture, which are well designed with full love of pet. Take a look and hope you find it helpful no matter for your own pets or your pet lover friends.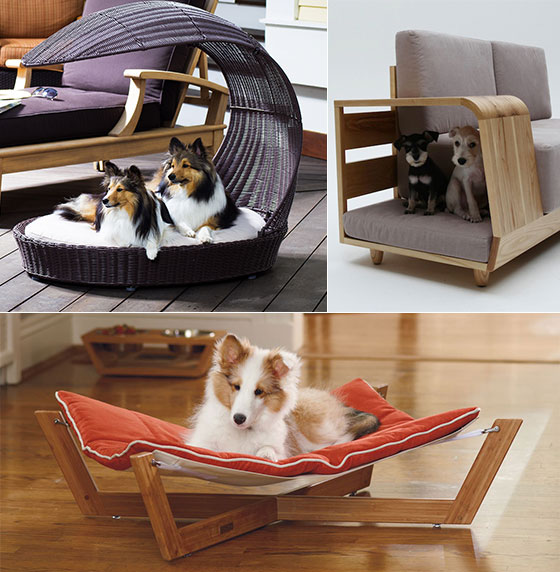 We are a participant in the Amazon Services LLC Associates Program, an affiliate advertising program designed to provide a means for us to earn fees by linking to Amazon.com and affiliated sites.
1. The dog house sofa [source]
The Dog House Sofa by Korean designer Seungji Mun was created in collaboration with m.pup as the first in a line of an emotional pet furniture brand. As the number of pet owners continues to rise, there is a higher need to adjust living quarters for all types of family members. This sofa, built with solid ash wood and canvas fabric, provides adequate space for people to sit on the main cushions, while pets tuck away in a cozy corner that results in a satisfying communal space for everyone. And if you want to cuddle up with your pet, they can sneak underneath the arm of the couch and pop up into your lap in a quick second. It's a perfect compromise for the whole family.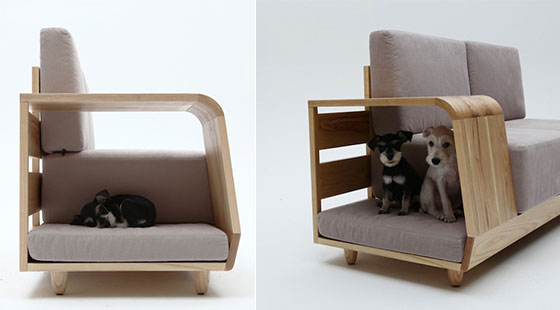 2. Bambú Hammock [buy on amazon]
The Bambú Hammock's combination of clean lines, unique sleeping surface and rich Eco-friendly materials make it our most sought after design. The unique sleeping surface responds to your pet's body weight which helps relieve many of the pressure points that create discomfort and often lead to arthritis. The Hammock is designed with a solid bamboo frame and a removable/reversible ultra-suede cushion which is inherently stain resistant and hypoallergenic.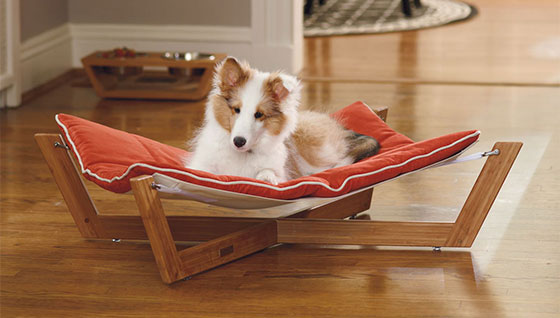 3. Couchette Modern Recycled Paper Cat Perch [buy on amazon]
The Couchette is a double-sided chaise lounge providing both a sleeping environment as well as a hiding spot underneath. Multiple sides and angles for sharpening claws. Signature wave-edge texture gives added pleasure for kitty, better handling for owner. The Couchette stands tall and is designed to attract your cat so they may do what comes natural…scratch, sleep, and play.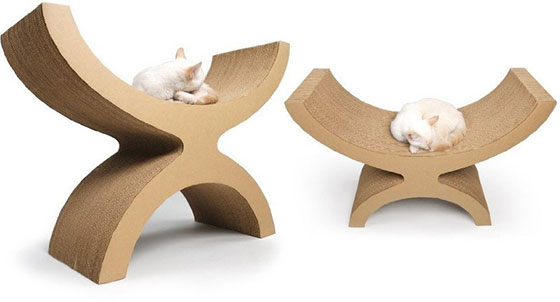 4. SmartCat Bootsie's Bunk Bed and Playroom for Cats [buy on amazon]
Fun, secure unit great for playing and sleeping
Heavy-duty wood construction will last for years
Ideal for cats of all ages
Easy assembly with no tools needed
Includes comfortable quilted pad and 2 spring-action toys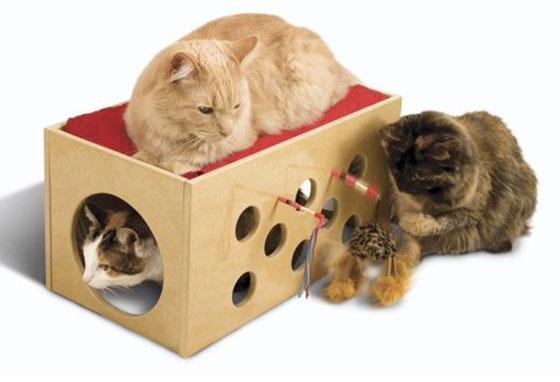 5. Good Pet Stuff Co. Hidden Litter Box [buy on amazon]
A unique litter box system that looks like beautiful clay pottery. This is the one litter box you don't mind your guest seeing and they'll never even guess it's a litter box unless you tell.
Made of durable polypropylene
Comes complete with a quality silk type phoenix palm plant and florist moss topping for a finished look
Large capacity pot great for large cats and multi-cat households
Filtered vented system works to control dust and odor
Assembly required
Dimensions: 14″ – 38″ H x 19″ W x 19″ D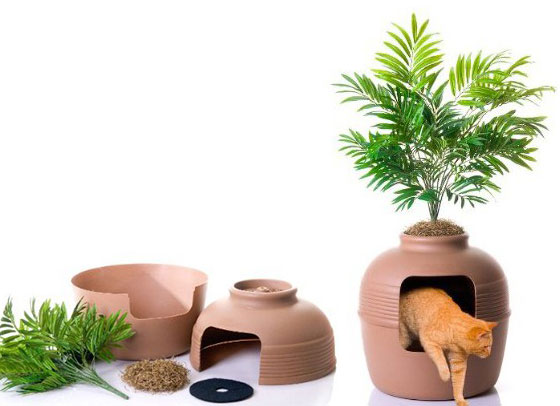 6. The Refined Canine Outdoor Dog Chaise Lounge [source]
Enjoy your time in the sun while your dog relaxes in the shade. The Outdoor Dog Chaise Lounge is a stylish dog bed that perfect for any deck or poolside patio.
Features:
Dog chaise lounge
Color: Espresso
Constructed in poly rattan
3″ cushion with pillow top
Cushion raised off ground
Machine washable
6 month warranty
Minimal assembly required, tool included
Dimensions: 34.5″ H x 28″ W x 37.5″ D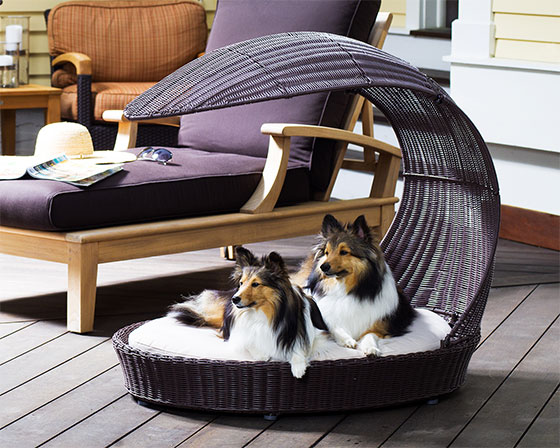 7. Feline Cat Cloud Cat Shelves [buy on amazon]
2 large platforms 20″ x 10″ each; total size 38″ wide; left facing
Shelf supports 70 lbs
Heavy duty wall anchors included; Wall beam or dry wall installation
Powder-coated Steel construction
Pads have magnetic bottoms and can be replaced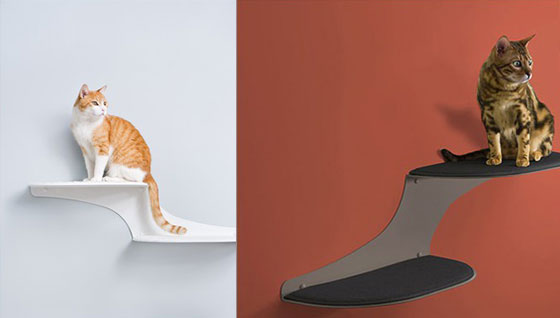 8. Replus Meshidai Elevated Double Diner [buy on amazon]
Medium Diner Dimensions: 22x10x6
Bowl Dimension: 7.25″x7.25″x3.25″
Black wood veneer with fresh, white heavy-weight ceramic bowls (lead-free and dishwasher safe by the way)
Wood veneer is water repellent and easily wipes clean
Stand has anti-slip cushioned feet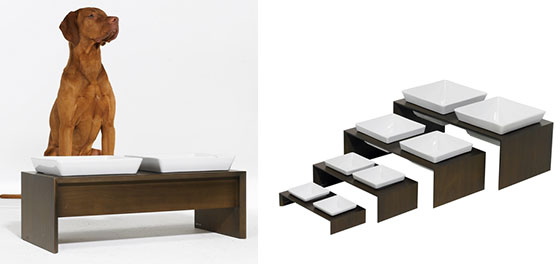 9. A di Alessi Tigrito Cat Bowl [buy on amazon]
Applying new, fun designs to everyday household items, Alessi has done it again with this pet food dish
Crafted from PP resin with 18/10 stainless-steel inner dishes that are removable and dishwasher safe
Tail is a handle for picking up and moving the dish; designed by Miriam Mirri in 2005
Available in a choice of colors; peruse all A di Alessi household items to find like-minded, whimsical pieces
Measures 13 inches wide by 6 inches long by 11 inches high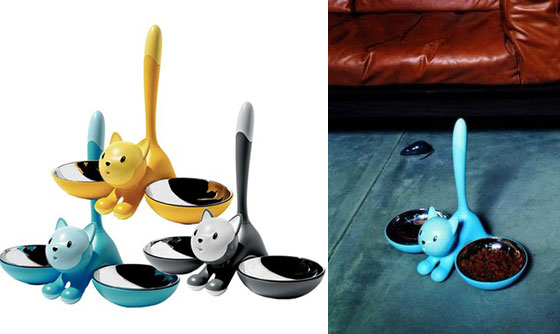 10. Cat Eye Modular Cat Bed and Corrugate Scratcher [buy on amazon]
The Cat Eye Bed provides cats with the privacy, comfort and entertainment that they crave in one compact setup. Plus, the natural sisal scratching surface deters cats from clawing furniture.
Stackable to accommodate multi-cat households
Includes a removable, machine washable 100% plush polyester bed and a detachable wand toy
Some assembly required
For cats up to 25 lbs.
Dimensions: 11″ H x 21.25″ W x 21.25″ D