If you're ready to make your kitchen explode with awesome, you do definitely check these cool Star Wars themed kitchen products. Millenium falcon, BB-8, R2, Darth Vader or Lightsaber? All these cool things from Star War Movie find their ways and get into your kitchen. Now it is your decision, would you want to have a Darth Vader toast? or drink some special coffee supplied by R2?
We are a participant in the Amazon Services LLC Associates Program, an affiliate advertising program designed to provide a means for us to earn fees by linking to Amazon.com and affiliated sites.
1. Star Wars Death Star Silicone Ice Ball [buy on Amazon]
UNCLE MARTIN silicone ice mold is not only for making ice, cupcakes and chocolates as well. Made from heat and cold resistant silicone, freezer and oven safe for freezing and baking (-40℉ to 446℉).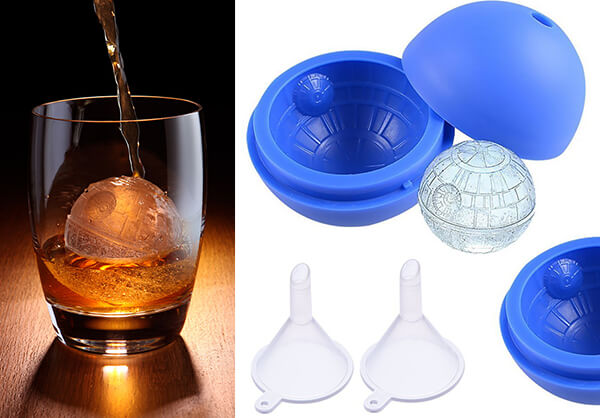 2. Star Wars Death Star Waffle Maker [buy on Amazon]
The Death Star lets you create evil waffles for your breakfast, or anytime that you crave them. Plug it in, warm it up, and pour the batter onto the non-stick cooking plates. In just minutes, you'll have golden, delicious waffles, good enough to destroy a planet for.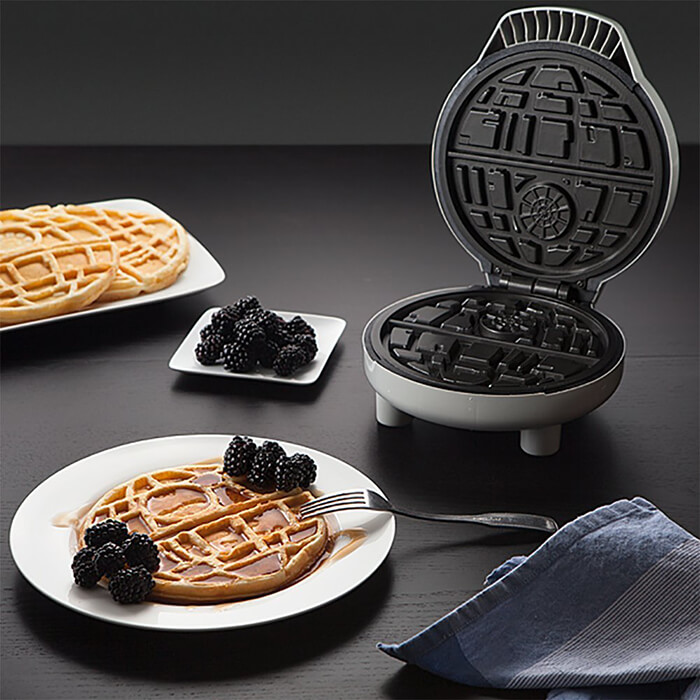 3. Millenium Falcon Metal Bottle Opener [buy on Amazon]
Made in a galaxy far away, this super cool falcon metal opener will open any bottle you want.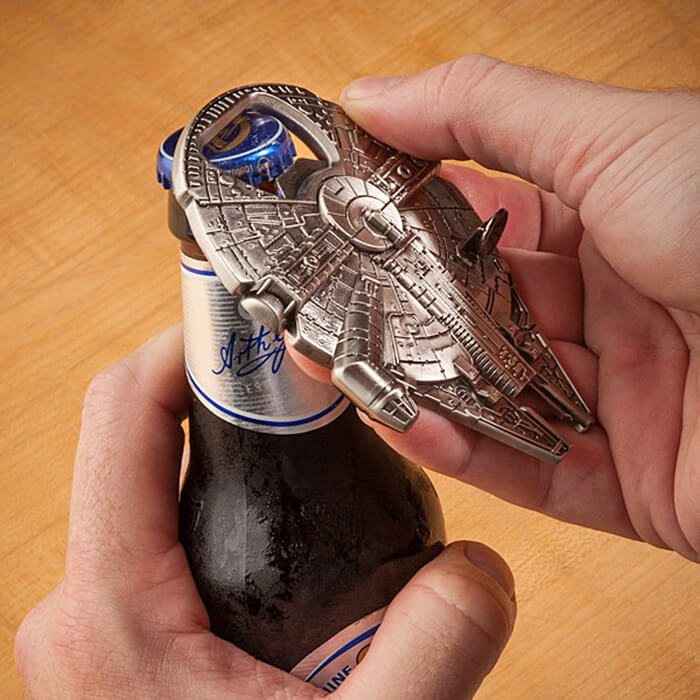 4. BB-8 Measuring Cup Set [buy on Amazon]
Astromech droids are so handy. Now they can even roll into your kitchen will help you bake those brownies. These cups are proof that BB-8 doesn't just have a lighter in that ball of a body, but a whole set of cups you can use for cooking.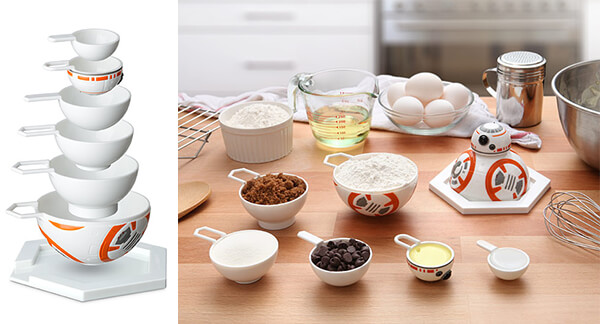 5. Star Wars Coffee Press [buy on Amazon]
Let R2 help you navigate your mornings more successfully with this Star Wars R2-D2 Coffee Press. Put your grounds and boiling water in his glass body, brew for a few minutes, plunge, and he'll serve up 32 oz. of piping hot coffee.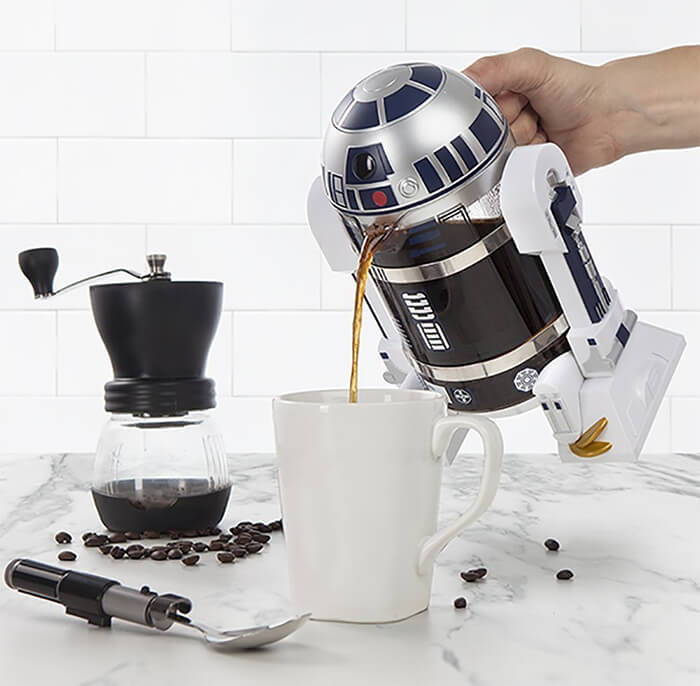 6. Star Wars Darth Vader Stein [buy on Amazon]
The Darth Vader Signature Stein stands an impressive 9in tall and can hold up to 22oz of the aforementioned beverage. Crafted in the highest quality ceramic with painstaking attention to detail, the innovative design features a head-hinged lid with genuine pewter thumb lift.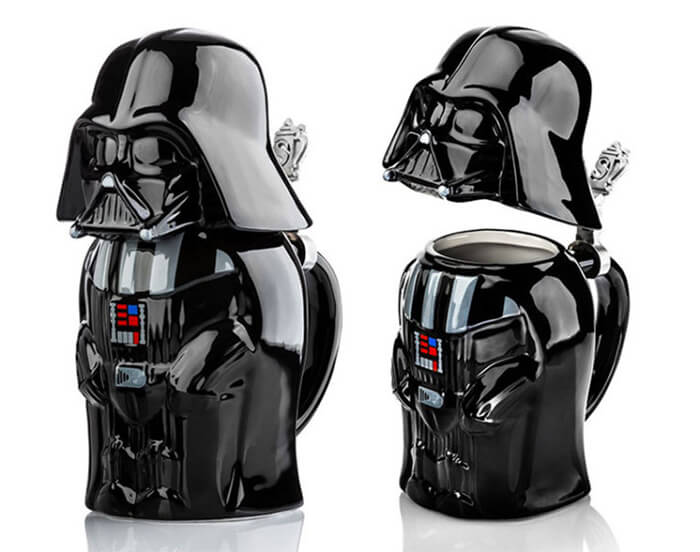 7. Star Wars Lightsaber Salt and Pepper Shakers [buy on Amazon]
Not as clumsy or random as a regular salt and pepper shaker, these elegant grinders have a ceramic mechanism you can adjust from fine to coarse. These mills are made from high-quality stainless steel, and their exteriors are durable ABS plastic molded to look like your favorite Jedi weapon.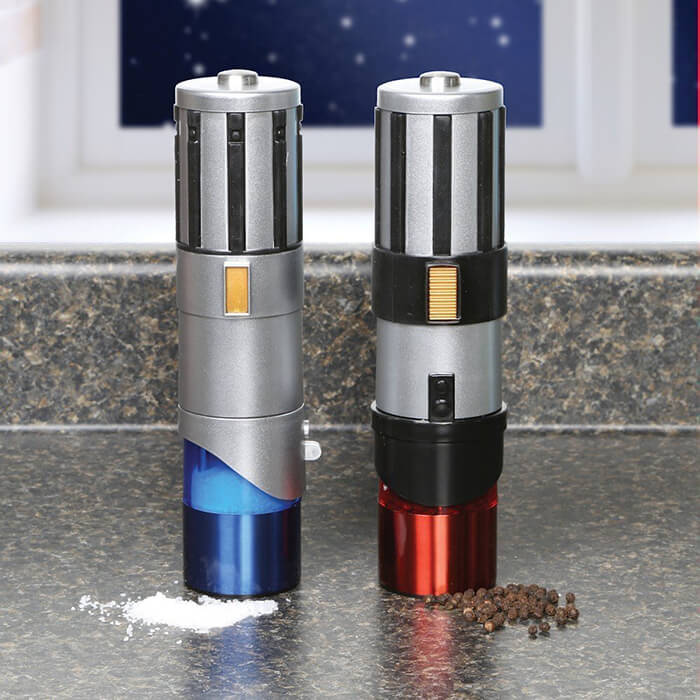 8. Star Wars Darth Vader Toaster [buy on Amazon]
Molded in sturdy black plastic and meticulously detailed, the Darth Vader Toaster will make a striking addition to any kitchen counter. Pop in two pieces of bread, frozen pancakes, hamburger buns or English muffins, and in moments Vader ejects them with the Star Wars logo toasted right on them.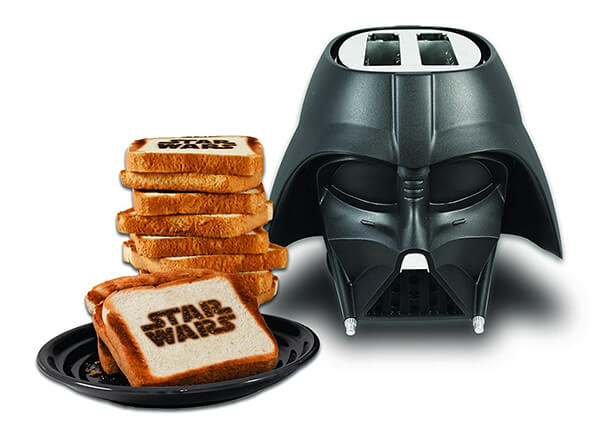 9. Star Wars Pizza Cutter [buy on Amazon]
Now you can cut your pizza in true droid style with this functional, Officially Licensed Star Wars pizza cutter. As your press and cut through your pizza, the BB-8 pizza cutter will make movie themed noises and sounds from Star Wars: The Force Awakens.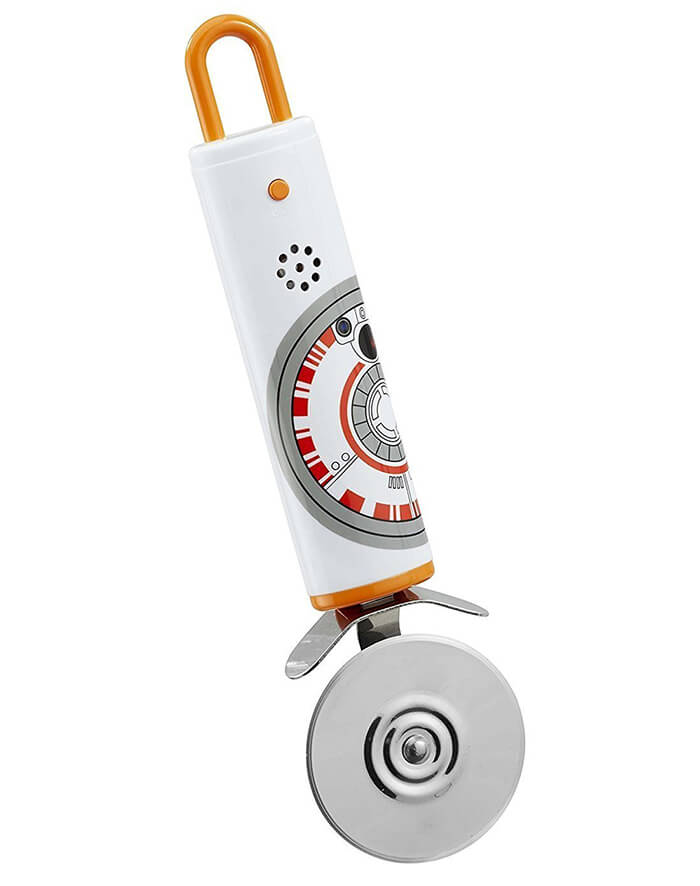 10. Star Wars Darth Vader Teapot Set [thinkgeek]
Rife with personality, this set includes a teapot, two saucers, two mugs, and even a sugar jar for the perfect flavor. Coming in all black, this teapot set is sure to stand out from the crowd.