Vampire, an imaginative creature appeared in many great movies, novel and legends has a large market in these days. Many people have been seduced by this dangerous blood-sucking lifestyle. They are not only dress up like vampire during special day like Halloween, but also decorate their home with these monster-inspired products. There are many interesting options available, from tiny ice tray to a sculptural side table, from wine holder to tabletop fountain. Take a look at these blood-curdling monster products and you might find them useful in the coming Halloween season.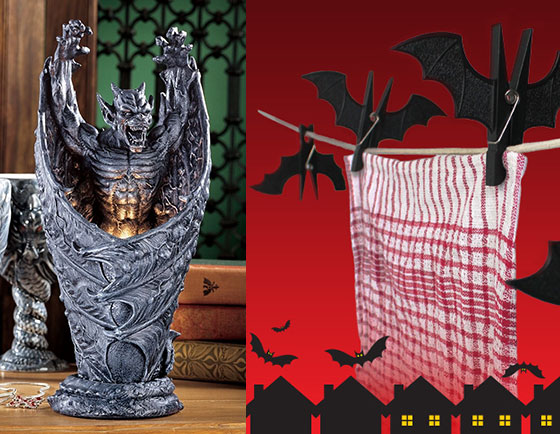 We are a participant in the Amazon Services LLC Associates Program, an affiliate advertising program designed to provide a means for us to earn fees by linking to Amazon.com and affiliated sites.
1. Cold Blooded Ice Cube Tray [buy on amazon]
Create vampire-themed, fang-shaped ice cubes for Halloween
Perfect for adding to your Bloody Mary while watching True Blood or Twilight
Molded from super-strong, pure silicone
Coffin-shaped mold with 5 fangs
Dishwasher safe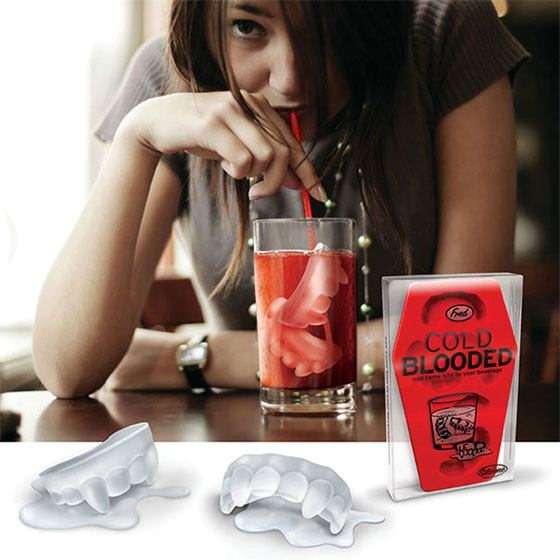 2. Vampire Guzzler Wine Holder Figurine [buy on amazon]
This cool new Vampire Wine Bottle Holder depicts a boozy vampire sucking down on your favorite bottle of vino or any other spirit in a standard 750ml bottle. A hilariously spooky way to store your wine this Halloween season.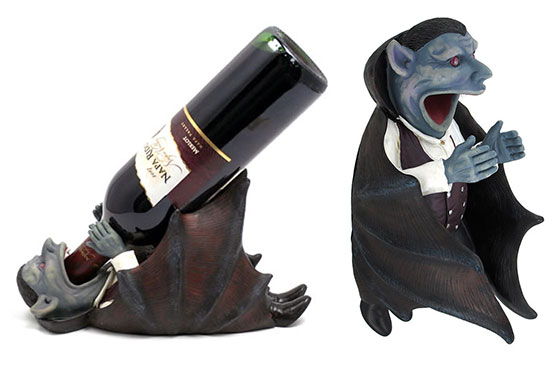 3. Spooky Bat Clothespins [buy on amazon]
These cool new Spooky Bat Clothespins are little vampire bat-shaped clips that hang upside down when not in use and upright when hanging wet/blood-soaked clothes from a clothes line or just anything around your haunted house.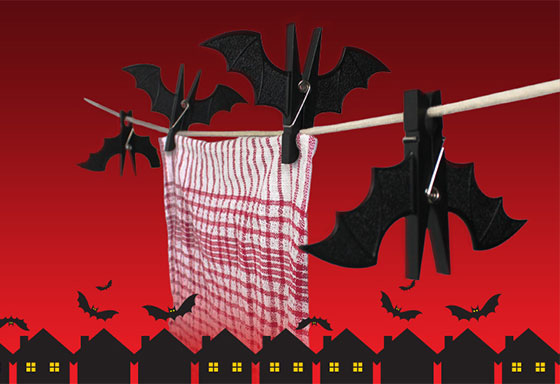 4. Count Ketchup Spread Heads-Tomato Sauce Bottle Top [buy on amazon]
Simply screw it to the top of your bottle of tomato sauce and squeeze! The Ketchup will come through the fangs, for a horrifyingly good effect.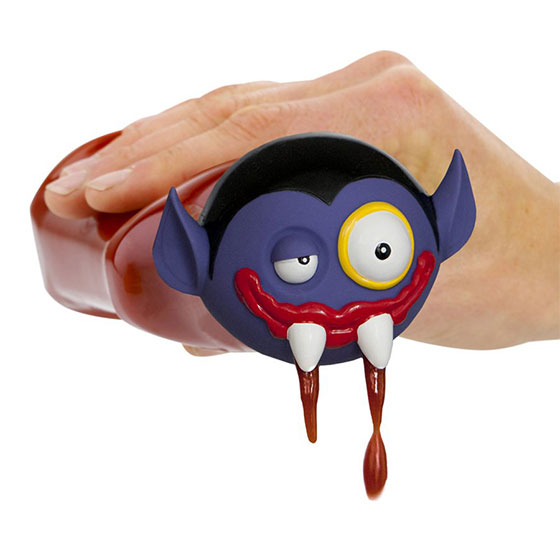 5. Small Gothic Vampire Skull Tabletop Fountain Evil [discontinued]
This ultra cool vampire skull table top water fountain is the perfect addition to medieval decor, and its small size makes it perfect for any table, nightstand or bookshelf. Made of cold cast resin, this fountain features an evil looking skull, its open mouth holding the glass orb from which the water emerges. LED lights under the orb change in color from green to red to blue. It measures 5 inches long, 5 inches wide and stands 7 inches high, with incredible detailing in the features of the skull.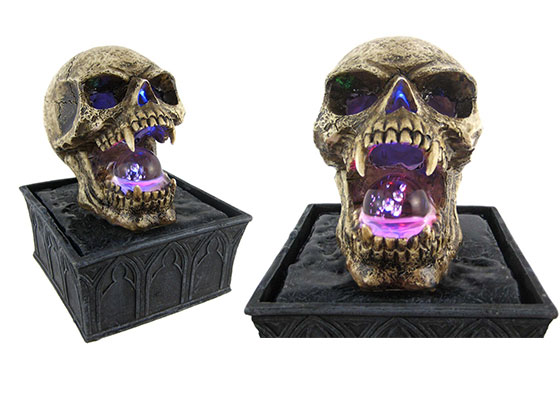 6. Vampire and Coffin Ceramic Magnetic Salt and Pepper Shakers Collection Set [buy on amazon]
Salt and pepper shakers
There is a magnet on the lips of each shaker, so they "attach" together as if kissing
They easily pull apart when you want to use the salt and pepper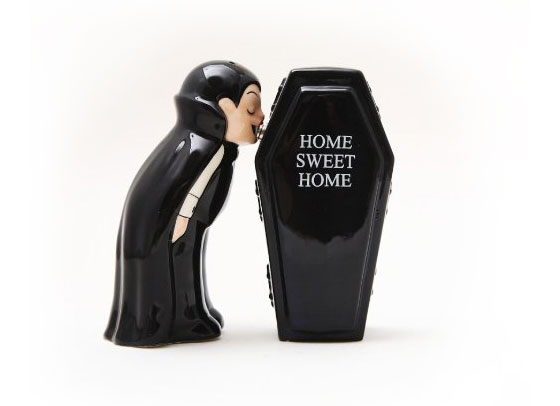 7. Hanging Vampire Bat Taper Double Candle Holder (discontinued)
This incredibly cool Vampire Bat double candle holder hangs from the ceiling by a J hook (not included). It makes an excellent Halloween decoration, but also makes a great gift for anyone into the macabre. Measuring 11 inches long, 11 inches wide and 3 inches deep, the bat has amazingly realistic features, from the pupils in his eyes to the blood on his lips. The metal candle holder trays have spikes to hold the candles firmly in place.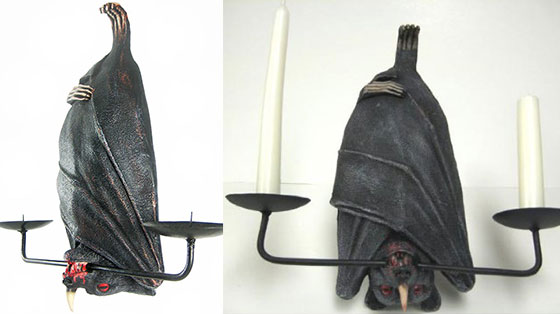 8. Exotic Vampire Medieval Gothic Dragon Gargoyle Sculptural Lamp [buy on amazon]
Uniquely lit from the inside, this lamp creates eerie shadows as it casts a macabre glow from behind the menacing creature?s bat-like wings and onto your walls.
Switch-on cord.
15-watt bulb.
6″Wx5″Dx13½"H. 5 lbs.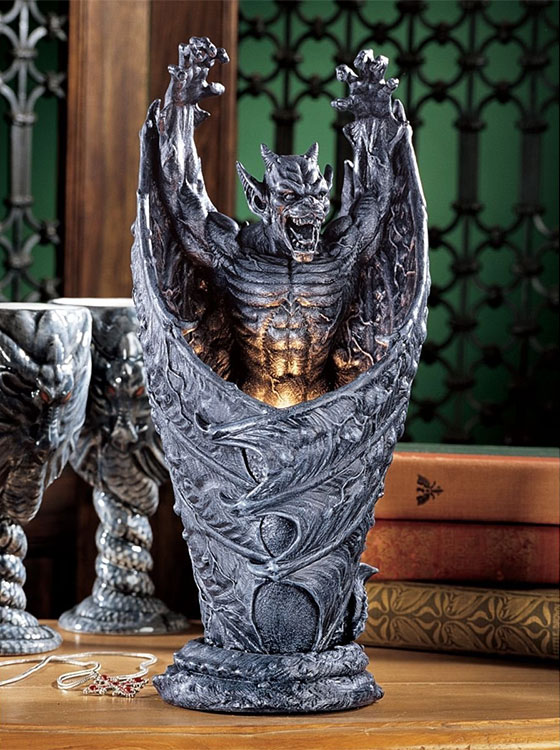 9. Vampire Bat Tea Light Candle Lamp Wall Hanging (discontinued)
When lit, this ghastly vampire bat candle lamp will dispel the shadows with a warm flickering glow. Made from cold cast resin, the figure has a black matte finish with blood red accents in its bared fangs and bony wings. The black metal candle fixture holds tea light candles up to 1 1/2 inches in diameter and is covered with a translucent plastic shade which glows over a flame. The sinister lamp hangs from any wall via a hanging slot on its flat side. This stunning piece will make a great addition to any gothic art collection.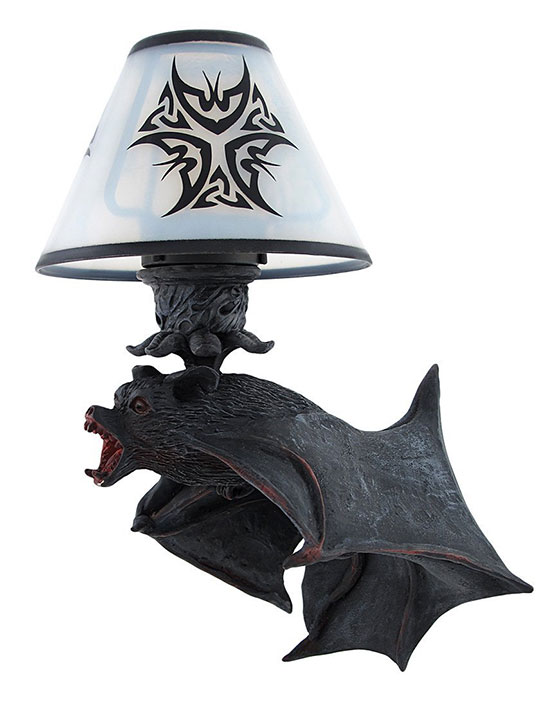 10. Blood Moon Vampire Furniture Side Table with Glass [unavailable]
The king of vampires, kneeling with his arms crossed across his bare chest, wearing traditionally gothic red & black sarong. His claw tipped wings supporting the clear glass round top. Base black, grey & red 54cm