10 Fun and Cute Animal Shaped Tableware
Alessi is one of our favorite company who applies new fun designs to everyday household items, like the animal shaped tableware featured in this post. Funny monkey, cute birds, lovely bunny, it's fun to see the normal tableware like spice holder, toothpick holder, bowl and jug in the shape of animal. Take a look at these designs and think about spicing up your home with these lovely designs.
We are a participant in the Amazon Services LLC Associates Program, an affiliate advertising program designed to provide a means for us to earn fees by linking to Amazon.com and affiliated sites.
1. Banana Band Spice Holder [buy on amazon]
This little trio of monkeys is happy to serve up spices, delighting friends and family every day or on special occasions
Made from durable PA resin; heads lift off to reveal sifters for easy dispensing of spices
Magnetized bases keep the pieces from falling off when they're carried
Peruse the full stock of A di Alessi household items to find other Banana/monkey pieces from Giovannoni
Set measures 6 inches wide by 6-1/2 inches high; hand wash for care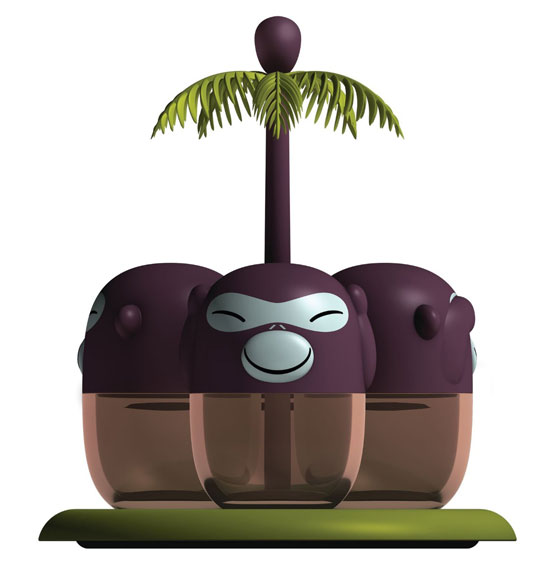 2. Banana Bros Salt and Pepper Shakers [buy on amazon]
Banana Bros salt and pepper shaker in PA designed by Stefano Giovannoni in 2008
Two little monkey riding a banana boat, openings on the bottom of the monkeys allows for easy refill
Handwash only
A di ALESSI collection
2 inches wide, 6 inches long, 2 inches high

3. Chin Banana Toothpick Holder [buy on amazon]
Applying new, fun designs to otherwise mundane household items, Alessi has done it again with this toothpick holder
Crafted partly from fine bone china and hand-decorated plastic; measures 3 inches wide, 2 inches long, 4-1/4 inches high
Pull the hat up to reveal the toothpicks hidden inside the monkey
Available in a choice of colors; peruse all A di Alessi household items to find like-minded, whimsical pieces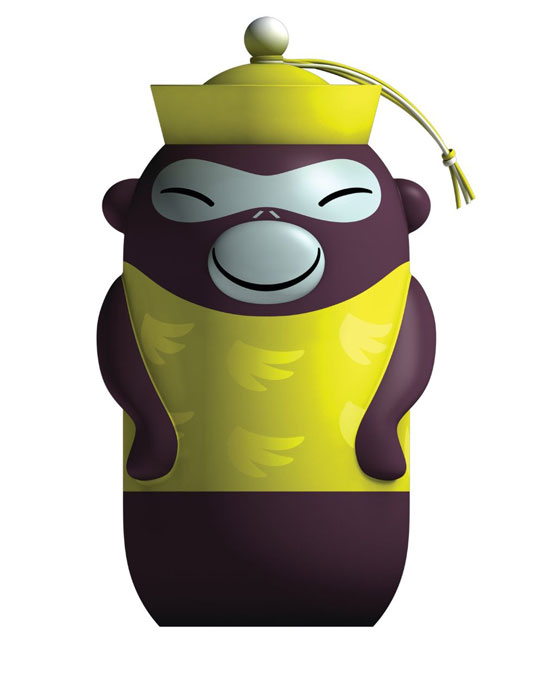 4. Banana Kid Sugar Bowl and Spoon [buy on amazon]
Applying new, fun designs to everyday household items, Alessi has done it again with this bowl and spoon set
Crafted partly from fine bone china and hand-decorated plastic; measures 3 inches wide, 4 inches long, 2 inches high
Great for morning cereal or mixed nuts on the hors d'oeuvres table, the bowl is sure to delight
Peruse all A di Alessi household items to find like-minded, whimsical pieces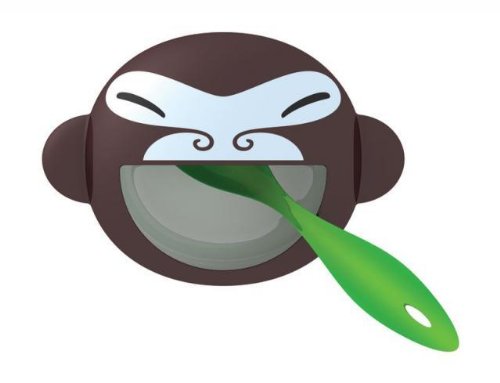 5. Forest Gump 3-Piece Condiment Server [buy on amazon]
Forest Gump condiment set in PA designed by Stefano Giovannoni in 2008
Salt and pepper shakers in the shape of trees with hedgehog shaped toothpick holder
Magnetized base so the pieces do not fall off when being carried, hand wash only
A di ALESSI collection
6-inch wide, 4-inch long, 4-inch high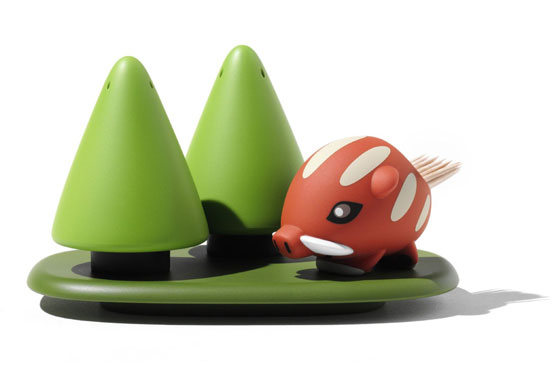 6. Lily Bird Soy Sauce Container [buy on amazon]
Lily Bird soy sauce container in bone china designed by Stefano Giovannoni in 2008
Adorable mate for your sushi set, soy sauce pours out of bird's beak, hand painted
Dish washer safe
A di ALESSI collection
2 inches wide, 4 inches long, 3 inches high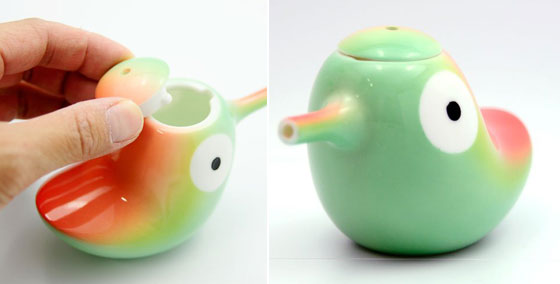 7. Paradise Birds Salt and Pepper Shaker [buy on amazon]
Paradise Birds salt and pepper shaker in thermoplastic resin designed by Stefano Giovannoni in 2008
East to refill through opening on the bottom of each bird
Hand wash only
A di ALESSI collection
5 inches wide, 6 inches tall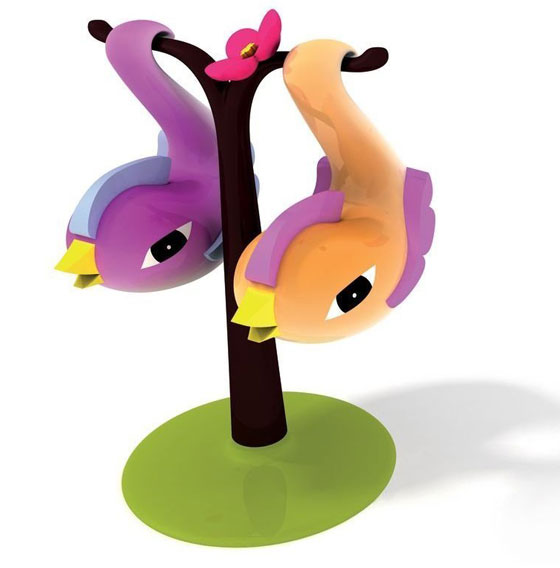 8. Bunny and Carrot Paper Towel Holder [buy on amazon]
Applying new, fun designs to otherwise mundane household items, Alessi has done it again with this paper towel holder
Crafted from ABS, PP, and Surlyn resins; measures 6 inches wide by 8 inches long by 13 inches tall
Bunny rotates to keep end of the roll from flapping free; rubber bottom keeps holder secure on surfaces
Available in a choice of colors; peruse all A di Alessi household items to find like-minded, whimsical pieces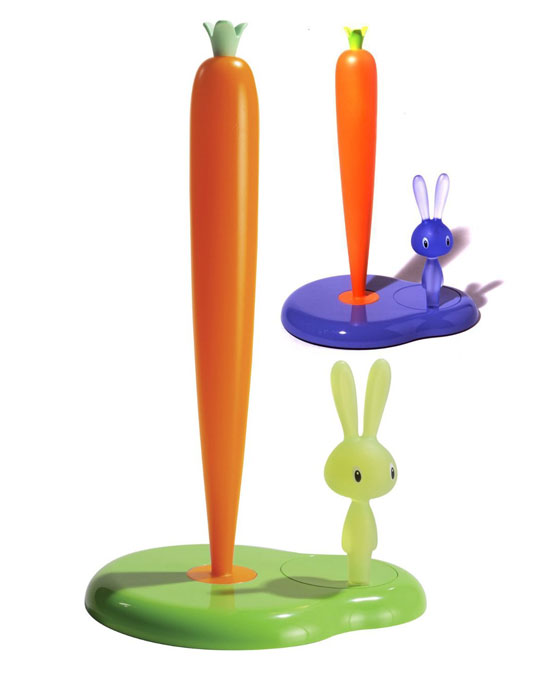 9. Paradise Bird Milk Jug [buy on amazon]
Applying new, fun designs to everyday household items, Alessi has done it again with this bird-shaped jug
Crafted from bone china and hand painted; dishwasher safe
Brightens any table or countertop; pair with matching salt and pepper shakers or Fruit Sugar Bowl
Peruse all A di Alessi household items to find like-minded, whimsical pieces
Designed by Stefano Giovannoni; 3.9 inches wide, 2.3 inches deep, 3.7 inches high and holds 2 ounces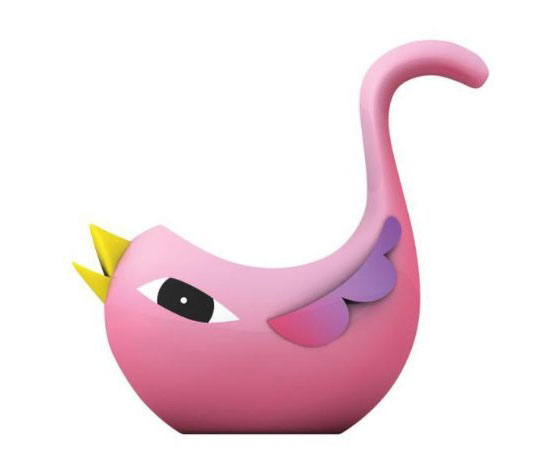 10. Banana Boys Wine Stoppers [buy on amazon]
Banana Boys set of 3 bottle caps on PA designed by Stefano Giovannoni in 2008
Based on the motif of "hear no evil, speak no evil, see no evil"
3 pieces in each box
A di ALESSI collection
1 inch wide, 1-1/4 inches long, 3 inches high