iPad is one of the most popular gadgets on the market, so does its accessories, such as stand. we have been keeping collecting cool and beautiful iPad stands since it was launched; and today, we will introduce you another set of Cool iPad Stands and Docks just came around these days. Go hands-free whenever you need to and stick around to tell us which one is your favorite iPad Stand.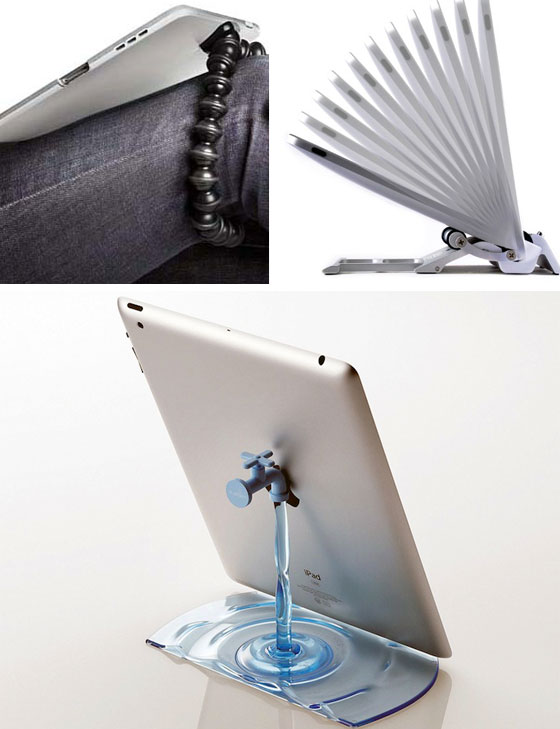 We are a participant in the Amazon Services LLC Associates Program, an affiliate advertising program designed to provide a means for us to earn fees by linking to Amazon.com and affiliated sites.
1. Running Water iPad and iPhone Stand [link]
What a cool illusion! Designed by Japanese studio Nendo for Elecom, Jaguchi (or faucet) is a unique line of stands for smartphones and tablets. They're made of polycarbonate plastic with ABS faucet parts and they come in blue, black, white, and clear. Wouldn't you want your smartphone to be supported by something as cool and "refreshing" as this?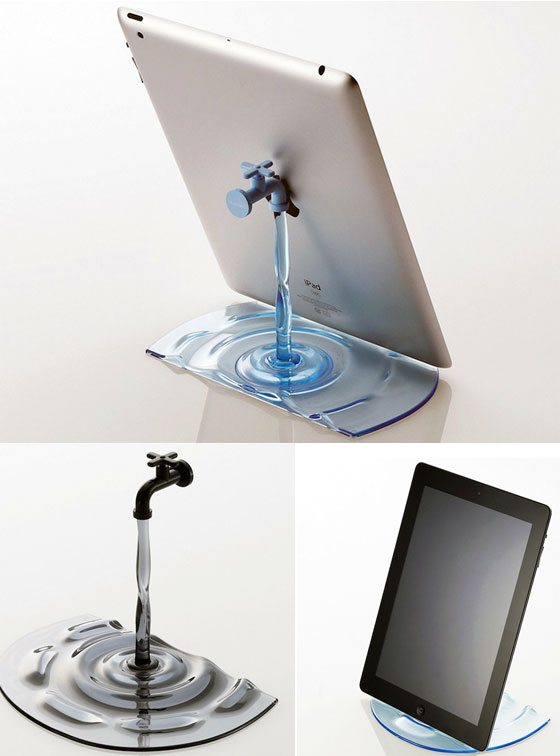 2. Joby Gorilla Mobile Yogi for iPad [buy on amazon]
Flexible legs bend and curl into an infinite number of poses – stabilize the iPad on your lap and any uneven surface, or hang from fixtures
Adjustable viewing angle and diverse camera perspectives –
Position your iPad to frame the perfect shot when taking photos, shooting video or chatting on FaceTime
Modular clip design – quick-release clip with removable legs secures to the case in portrait or landscape orientation.
Legs can be stored separately to maximize case portability
Materials: Durable polycarbonate case, high-quality ABS plastic legs and TPE grips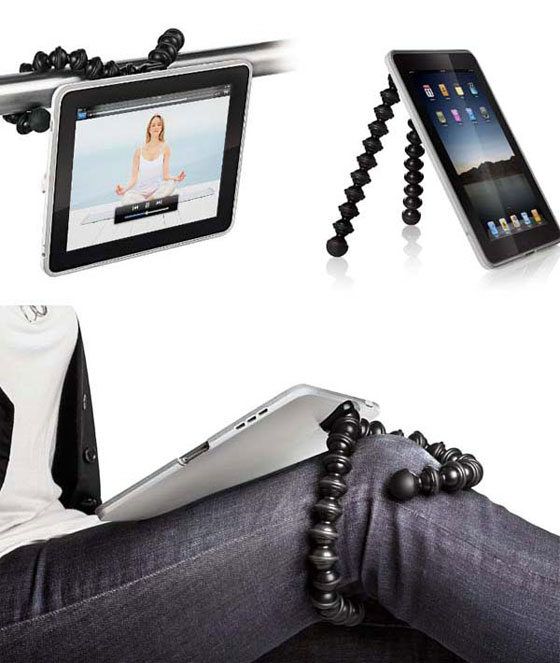 3. The Sommet Stand [link]
The Sommet (pronounced soh-MAY) is an elegant desktop stand for the iPad or iPad 2 that is not only highly functional, but also a handmade work of art that is equally gorgeous on your desk when your iPad isn't around.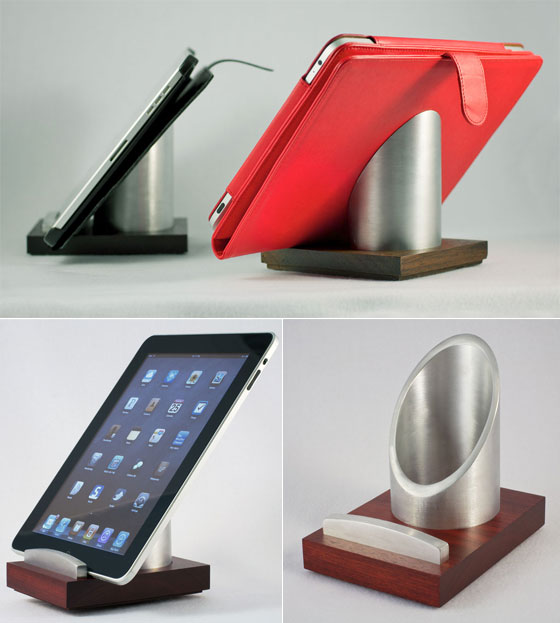 4. JBL OnBeat loudspeaker dock [buy on amazon]
Dual Phoenix full-range transducers with computer-optimized DSP equalization deliver legendaryJBL sound
Docks with iPod, iPhone and iPad with rotating dock connector to orient iPod and iPhone screens in portrait or landscape mode for optimal viewing
Composite video output connects to TV for big-screen viewing
USB connects syncs and charges devices when connected to the iTunes music library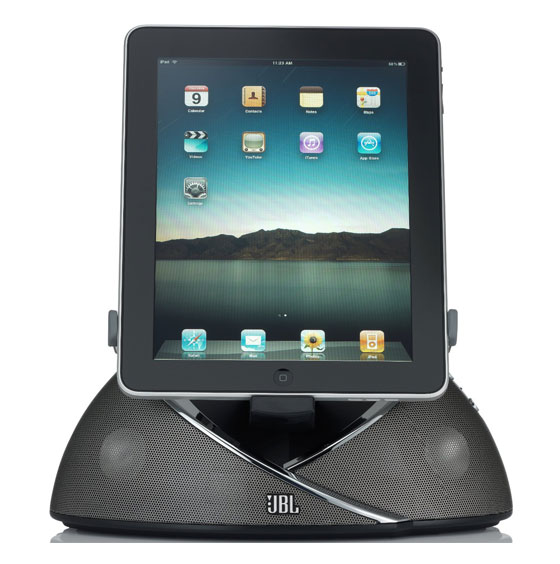 5. The Griffin Technology Loop [buy on amazon]
The Griffin Technology Loop is about 7.8 inches from front to back and 5.9 inches wide. According to the manufacturers, the stand is: "a clean, simple stand, weighted and shaped to hold your iPad upright for viewing, or laid back for surfing and typing, in landscape or portrait mode. Loop cradles your iPad in soft, cushioned inserts to protect it from scratches and from unwanted movement while you use it."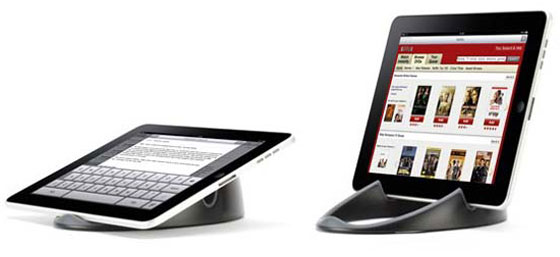 6. Belkin Flip Blade for Apple iPad [buy on amazon]
Use your iPad anywhere with the stand that transforms from small and portable to safe and supportive at the push of a button.
Holds your iPad in either landscape or portrait view.
Durable material provides a firm base for your device that won't weigh down your bag or backpack.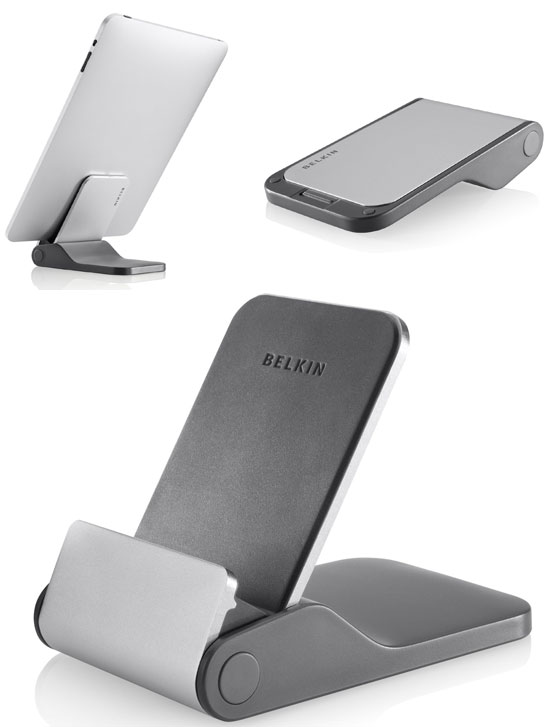 7. Joby GorillaMobile Ori for iPad 2 [buy on amazon]
Adaptable display height for optimal ergonomics –
Position your iPad screen for comfort, whether you?re watching videos, reading, typing or chatting with a friend by FaceTime
Continuous hinge for adjustable viewing angle and diverse camera perspectives.
Simply tilt the screen to maximize visibility or frame the perfect shot
Quick swivel to pivot orientation – rotate seamlessly between landscape and portrait views
And polypropylene composite for extreme durability and stability, while maintaining a thin and lightweight profile.
Sleek protective folio case with microfiber screen cover – magnetic sensor wakes and sleeps iPad automatically when cover is opened and closed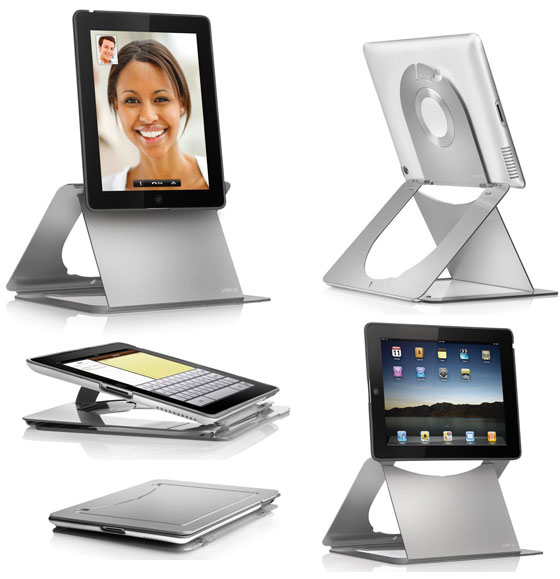 8. ViewLounge for iPad 2 [buy on amazon]
Use and view your iPad comfortably anywhere in your home with the Belkin ViewLounge. Featuring a weighted beanbag base, the ViewLounge secures your iPad on soft or uneven surfaces like a bed or sofa armrest. Use it with or without an iPad case in either landscape or portrait mode. Easily adjust the angle of your iPad to switch between typing and watching videos. With an attractive design that lends itself to any home decor, the ViewLounge is a stylish and practical solution that will help you get the most from your iPad.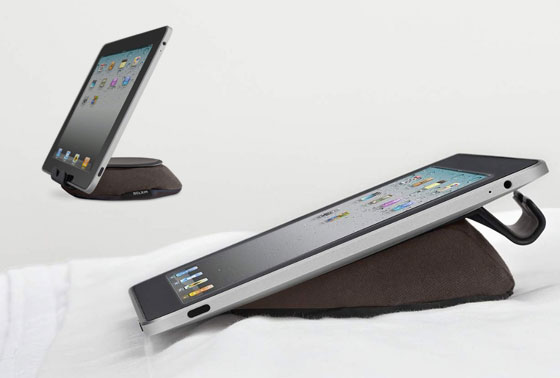 9. iBallz Harness iPad Stand [buy on amazon]
Four shock-absorbing foam rubber balls provide 360-degree drop protection
Enhances iPad stability and handling for work, play and gaming
Unique design allows iPad to hang like a picture frame or orient into the perfect tilted typing position
Elevates iPad above spills and sticky surfaces
Works perfectly with the full line of iBallz sleeves and cases (sold separately)
Adding comfort and improved handling for every day use, you can also hang your iPad like a picture frame or remove one ball to orient into the perfect tilted typing position
Dropped from any angle, it never touches the floor and is elevated above spills and sticky surfaces
Easy to attach and remove, iBallz provide ultimate drop protection without adding weight or concealing your iPad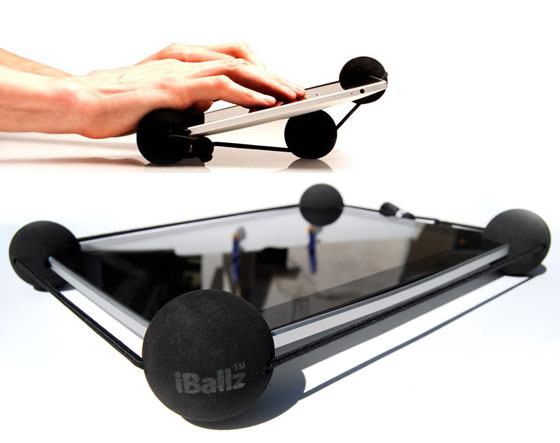 10. PadDock 10 Stand for iPad with Speaker Charge and Sync Rotate [buy on amazon]
Custom-designed oval (40 mm x 55 mm) speakers with high-energy neodymium magnets for room filling sound.
PadDock 10 is a powerful stereo system that has been electrically and acoustically tuned to produce lifelike vocal presence and instrument tonality.
Give your iPad a home with PadDock 10. Its unique design features a simple switch to change between charge and sync modes.
A unique passive radiator extends the bass frequency for a natural full range sound quality.
It uses the power supply that comes with the iPad to provide the quickest charge.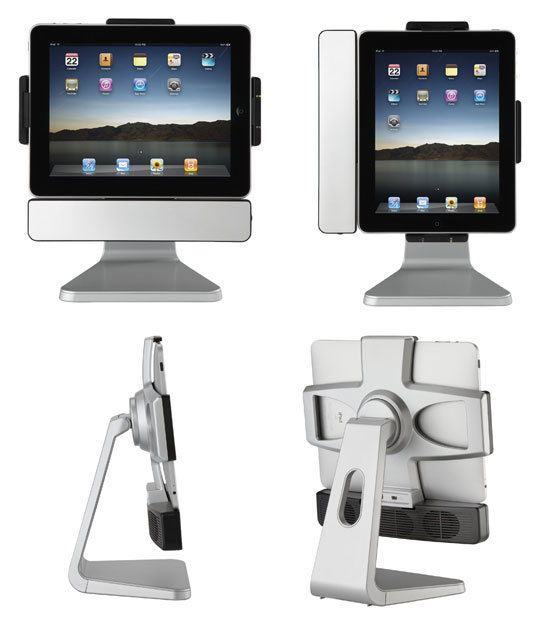 11. Adjustable Skadoosh stand for the iPad and iPad 2 [buy on amazon]
Grips the iPad with rubber pads creating a firm and stable stand.
Easily adjusts to nearly a dozen angles and locks into place, perfect for FaceTime.
The low pivot point makes it ideal for typing on the iPad.
The Skadoosh will hold bare iPads and iPads in thin cases that add up to 1/8″.
Solid aluminum stand with a beautiful finish that matches the iPad.