For me, nothing is better than to have a iced lemon tea in this hot summer. To get fresh lemon juice, lemon squeezer is a godd help. As a small but useful kitchen utensil, lemon squeezer is designed to separate and crush the pulp of the fruit in a way that is easy to operate. In this post, we rounded up 12 Cool and Innovative Lemon Squeezers and there are more on the market. It is kind interesting to find out some of us do think hard to get fresh juicy.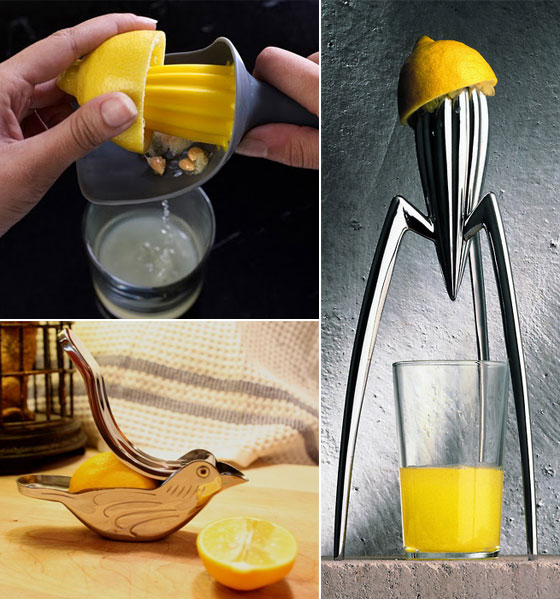 1. Rosendahl Lemon Squeezer [discontinued]
Insert this Lemon Squeezer in to the end of any lemon or citrus fruit to squeeze and use, or serve fresh juice with ease.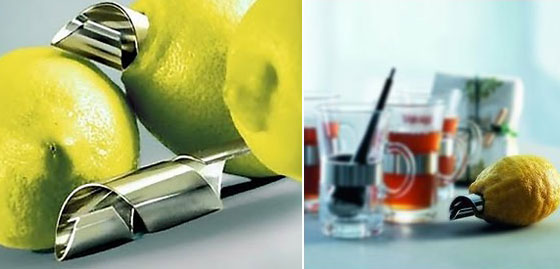 2. Alessi Mysqueeze Squeezer [buy on amazon]
Citrus-squeezer in stainless steel. "My squeeze", designed by Roland Kreiter, is a citrus squeezer is designed for use directly in your hand.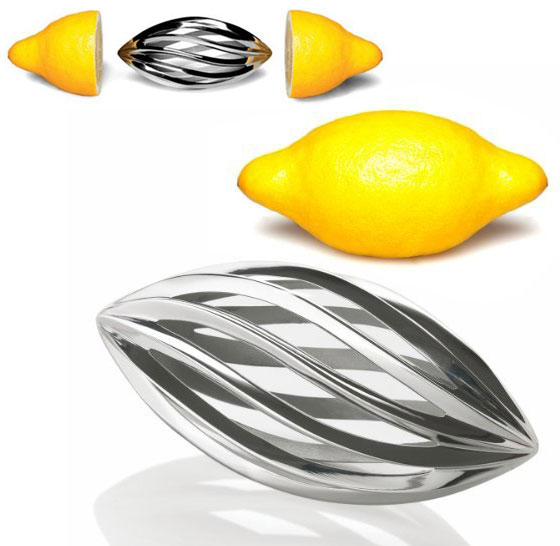 3. Joseph Joseph Catcher, Citrus Reamer [buy on amazon]
Cleverly designed citrus reamer in green with soft rubber cup under the reaming head
Catches pips and other debris while allowing juice to drain through
Avoid extra step of having to strain extracted juice
Rounded ergonomic handle more comfortable than horizontal hand juicer
Dishwasher safe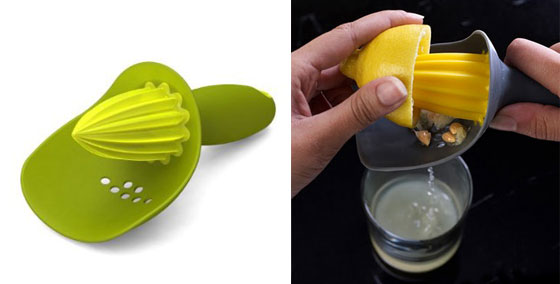 4. Amco Enameled Aluminum Lemon Squeezer [buy on amazon]
Enjoy fresh-squeezed lemon juice without electricity, batteries, or hard-to-operate juice squeezers
Easy to use in 3 quick steps, Amco's squeezer provides pure juice without any seeds or pulp
Crafted from sturdy aluminum and enameled in a fun citrus-inspired color
Makes a great gift for kitchen enthusiasts who already have everything else
Dishwasher safe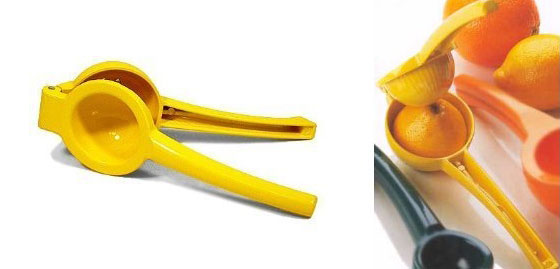 5. Mandarin Citrus Squeezer with Goblet by Stefano Giovannoni Color [buy on amazon]
Mandarin Juicer by Alessi, is a modern household product
Fun, functional juicer with slits at the top that lets only the juice through
The face is a big cup you can drink from, use it for serving, or stand on the countertop
Available in Orange, Blue, or Yellow
Dimensions: Diameter 6.69 in. Height 8.27 in
6. Squeeze-Me [link]
Squeeze lemon without squirting juice and pips in all directions. Contains pip retainer. Scented with lemon.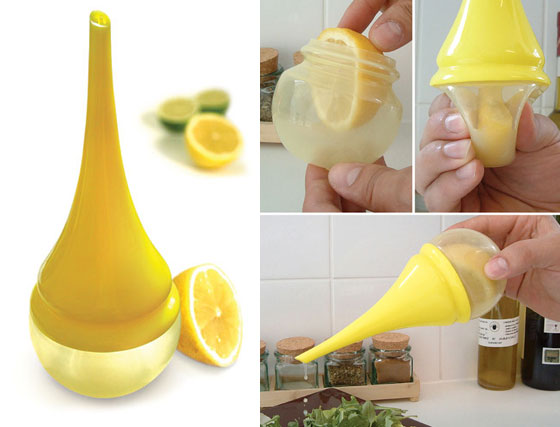 7. Lekue Lemon Squeezer [buy on amazon]
Squeeze exactly the amount you desire
Squeeze free of seeds, without risk of spatters
Set contains Two (2) Lemon Squeezers
Protects the lemon halves in the refrigerator retaining maximum freshness
Dishwasher safe, Made in Spain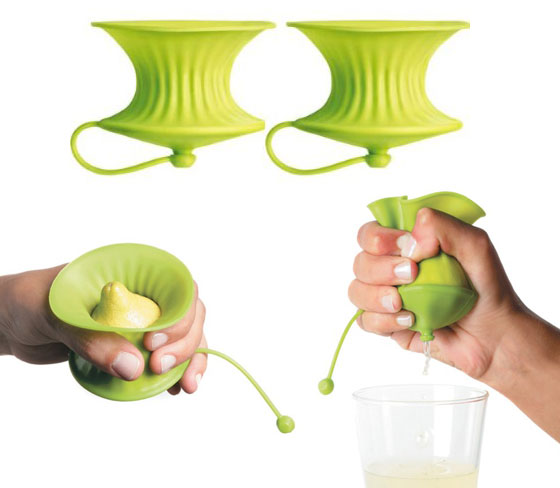 8. Chef'n FreshForce Citrus Juicer, Lime [buy on amazon]
Makes short, easy work of pressing juice from halved lemons and limes
Unlike other juicers, this has an extra gear mechanism increasing juicing power and minimizing hand strain
Easy-to-squeeze handle makes it comfortable to use; basket makes it easy to catch pulp and pits
The lime-colored finish makes the tool easy to spot in drawers
Dishwasher safe for easy clean up; also available in lemon color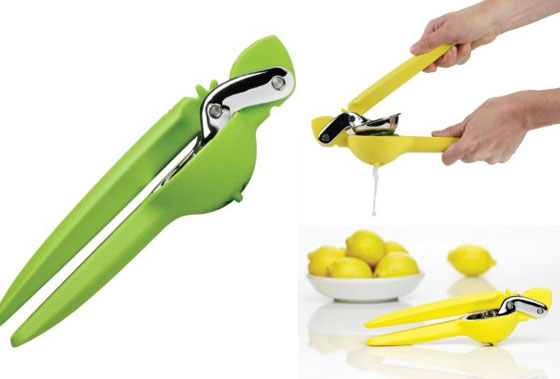 9. Bird Shaped Lemon Squeezer [buy on amazon]
Enables you to insert a wedge of lemon into the squeezer and obtain pit-free fresh lemon juice
Buy a few squeezers and add them to your table setting, so that each guest can have their own
Stainless Steel
Dishwasher safe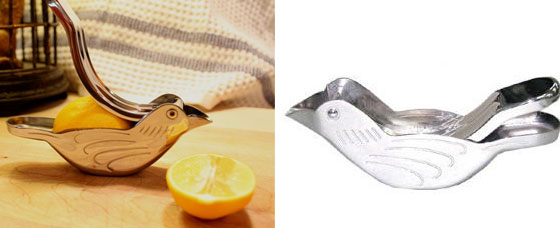 10. Alessi PSJS Juicy Salif Citrus Squeezer [buy on amazon]
Juicy Salif citrus squeezer in aluminum by Philippe Starck in 1990
Iconic design of the 20th century that graciously welds form and function, with humor.
Packaging: 1 piece in a box
ALESSI collection
5-1/2 inch diameter, 11-1/2 inch height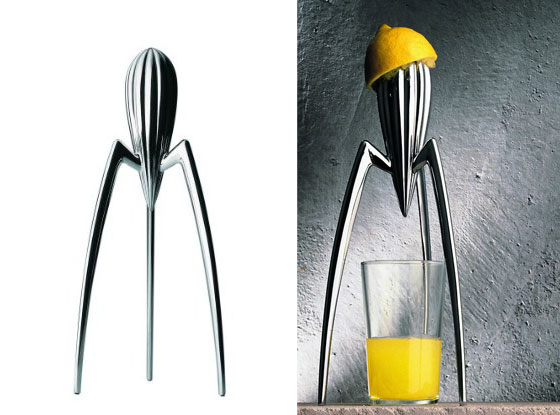 11. Blomus Stainless Steel Lemon Squeezer [buy on amazon]
With its unique form and durable stainless steel construction, this helpful tool is a great addition to any kitchen.
Features:
-Stainless steel
-Stylish modern design
-Made in Germany Overall
Dimensions: -Base: 0.8" H x 2" W x 2" D -Insert: 0.6" H x 3.9" W x 0.8" D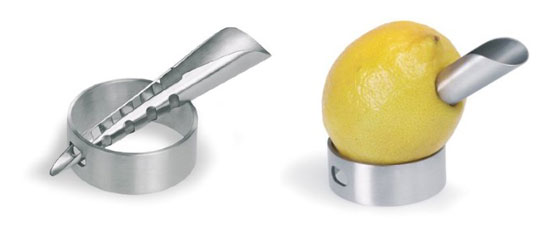 12. Tonfisk Lemon Squeezer [link]
The Tonfisk lemon squeezer offers you fresh lemon juice in a neat and sophisticated form. The ceramic bowl features a raised ridge on which to grind your lemon, while the high sides captures every drop and ensure that no erratic squirts attack your table and friends. The small spout allows you to neatly pour out your fresh juice, while keeping pips in the bowl.