A pillow is a small and soft support for the head, usually used while sleeping in a bed. While in today's post, we will present you some Cool and Unusual Pillows, which can help to create a "Wait, is that a Pillow?" atmosphere for whoever enters your room. Take a look and hope you enjoy this collection.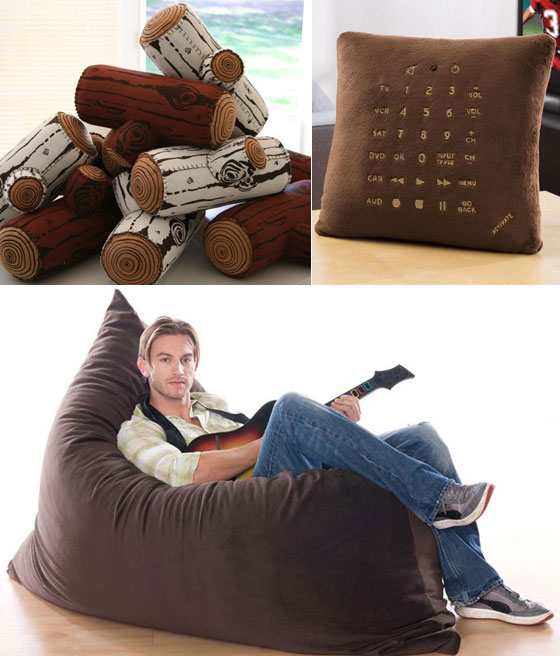 We are a participant in the Amazon Services LLC Associates Program, an affiliate advertising program designed to provide a means for us to earn fees by linking to Amazon.com and affiliated sites.
1. Pillow Remote Control (discontinued)
The sofa pillow with the distinctive difference–its also a remote control. Never again will you have to ask, "wheres the remote" And you'll never lose this remote in between the cushions. Because it IS a cushion– with a built-in 6-in-1 universal remote control! Fast, easy set-up with per-programmed automatic code searching. The Pillow Remote Control has databases containing codes for over 500 remote control devices. Its easy-to-click fabric buttons make changing channels a breeze. Power-saving auto shutoff feature shuts off remote functions after 60 seconds of inactivity. Remote has a wide-range transmitter with infrared LED built in. A fun way to watch TV or home theater, and a real conversation-starter. Uses 2 AAA batteries (not included). Never lose your remote again with the fun 6-in-1 Pillow Remote.
2. Light Pillow [designswan]
Linas Kutavicius' Light Pillow is all about warmth and softness. This pillow shaped light can be placed on the floor (or bed), hung on the wall or used as a chandelier. Any way you use it, you're sure to have a unique lamp.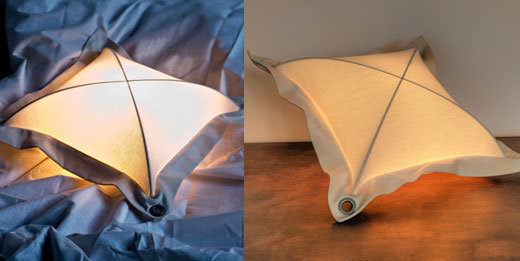 3. Jaxx – Microsuade Pillow Sac [buy on amazon]
Microsuede in designer colors
Removable machine washable outer cover zips off for easy cleaning
Inner protective liner supplied with a locking tamper-proof zipper
Filled with granulated foam micro-cushions, vacuum compressed to save on freight
Two EcofoamTM capsules expand to full size within 24-48 hours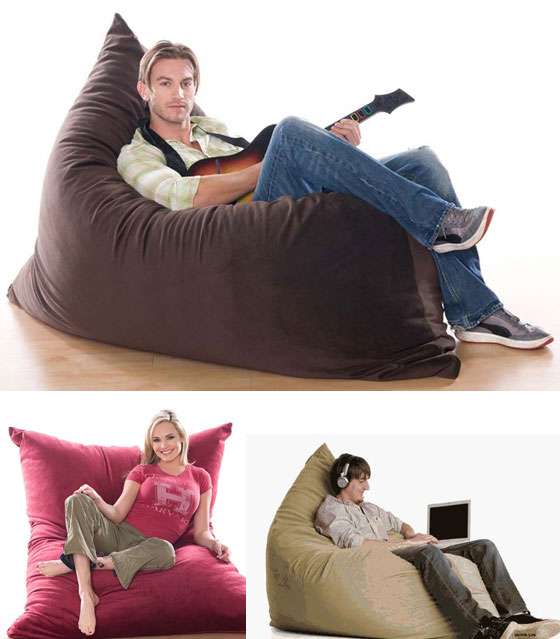 4. Shark Peek-A-Boo Plush Transforming Pillow [buy on amazon]
1. Fiesta consistently works to provide the highest quality, innovative designs, best pricing, and commitment to outstanding customer service
2. Fiesta considers safety of its products as well as value to the consumer paramount, desires to be in total compliance with certification requirements
3. Peek-A-Boo plush is a pillow that unzips and becomes a stuffed animal
4. This stuffed animal is great for imaginative play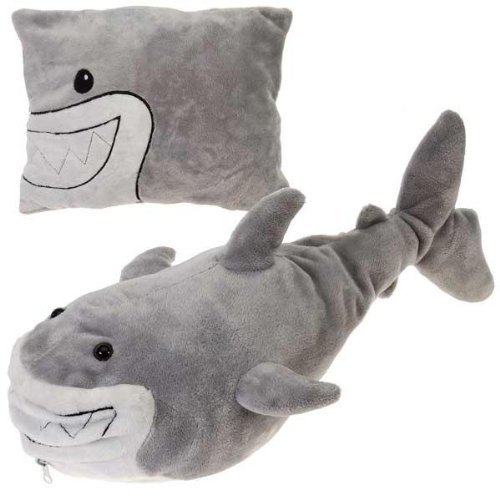 5. Ellery Sound Asleep Comfort Pillow with Built-in Speaker [buy on amazon]
Unique built-in speaker is positioned deep within the pillow so you can enjoy total comfort and optimal sound
Detachable 46-Inch stereo cable plugs into most audio systems including iPods, MP3 Players, Smart Phones, Radios, TV's etc
100-Percent cotton cover, hypoallergenic polyester fiber fill
Standard pillow 20 by 26-Inch
No batteries Needed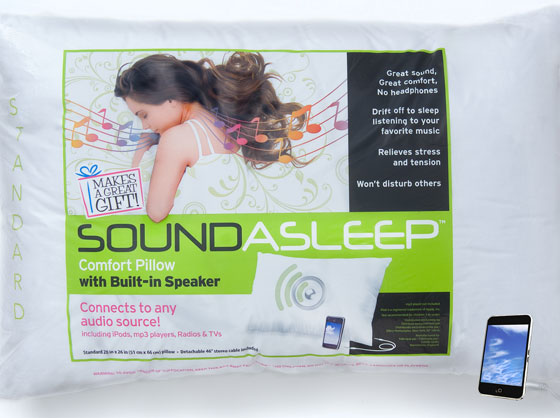 6. Comfort-U Total Body Pillow Full Support Pillow [buy on amazon]
Filled with FusionTM Fiberfill
One Year Warranty
Measurements: Each Side is 64″ Long; Pillow is 10 1/2″ Thick
Comes with one white pillowcase

7. Beating Heart Stress Relief Pillow [buy on amazon]
A soft, huggable, heart-shaped pillow with a soothing heartbeat inside you can actually feel.
Designed to help you relax, meditate, and take delicious naps.
When hugging the heart, the tactile heartbeat reminds you of holding a pet or loved one.
Hold the heart a moment and you'll begin to sense your own heartbeat slowly syncing with My Beating Heart's carefully designed rhythm.
Each time the heart is turned on, a internal micro-computer creates an entirely unique rhythm, which subtly changes over time, modeling the human heart in a deep meditative state.
8. Log Pillow [discontinued]
Pillow kits contain screen printed wool felt, embroidery floss, a needle, and instructions to make your own log. Just add stuffing. Each one is unique. . . like nature's logs! Finished logs measure 12″ long with a diameter of 5″and have an, optional, small stump that's 2 1/2″ around and 4″ long.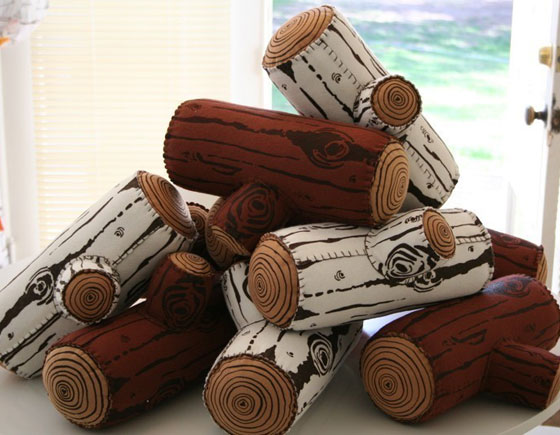 9. OSTRICH: Nap Pillow [link]
OSTRICH offers a micro environment in which to take a warm and comfortable power nap at ease. It is neither a pillow nor a cushion, nor a bed, nor a garment, but a bit of each at the same time. Its soothing cave-like interior shelters and isolates our head and hands (mind, senses and body) for a few minutes, without needing to leave our desk.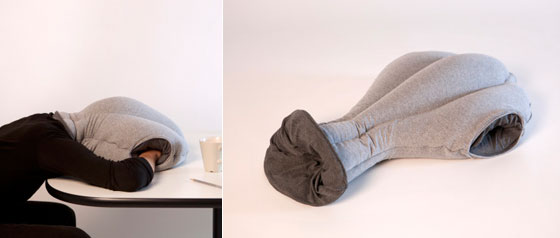 10. Mustard Pillow and Spill [discontinued]
Mustard Pillow comes with a separate "spill". The spill is flat, more for decoration, not so much a pillow itself.Made from Eco-Felt (100% recycled Plastic bottles!) this 14″ x 22″ (56cm x 36cm) pillow is soft yet durable. Pillow back has an envelope enclosure so the insert can be removed for easy washing. Machine wash cold with like colors then tumble dry on low.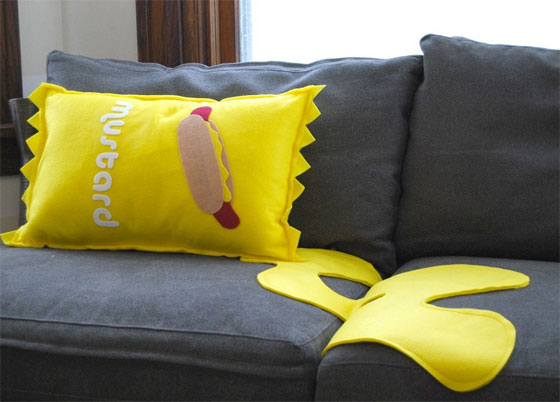 11. Boombox Pillow Set [link]
Set of 3 pillows (1 Boombox + 2 Speaker)
Microfiber fabric.
Filled with polyester fibers.
Washable without fading.
Dimensions: 42 x 42 cm / 15.7 x 15.7 inches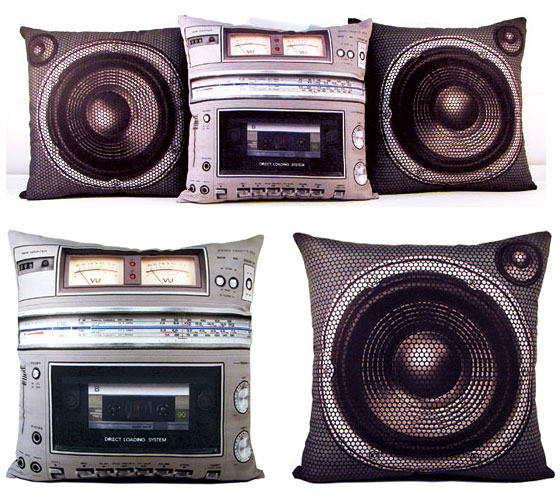 12. LED Lighted Glow Pillow [buy on amazon]
Multiple color changing LEDs
Soft white plush
Completely safe
Battery pack is tucked inside zippered seam
Runs on 3 AA batteries