Wherever staid, boring kitchenware may dwell. The 12 Cool Sugar and Creamer Sets in this post are ready to save the day with its forward-thinking design sensibility. Made from various material and interesting shapes, these Sugar and Creamer Sets are not only helpful to keep the cream cooler and the sugar dry, but also fit almost any tabletop decor. Hope you like them and enjoy perfecting your cup of coffee with these sugar and creamer vessels.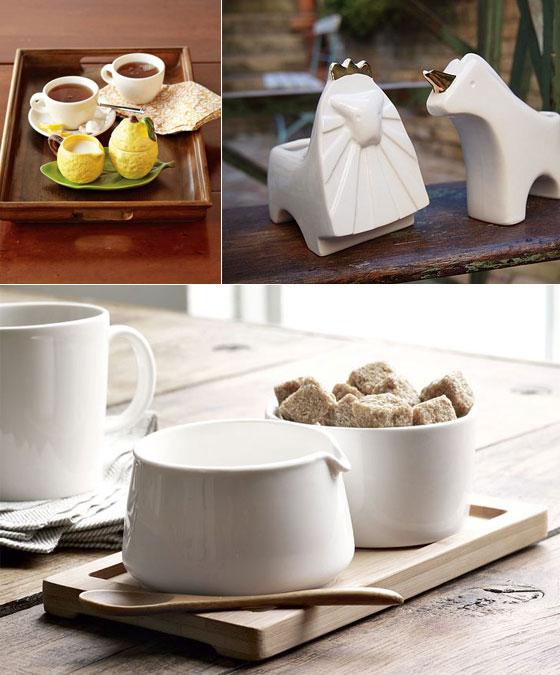 We are a participant in the Amazon Services LLC Associates Program, an affiliate advertising program designed to provide a means for us to earn fees by linking to Amazon.com and affiliated sites.
1. Tea Rules The World Sugar Bowl And Creamer [source]
Designed by Takae Mizutani
Made in Cornwall, England
Earthenware clay, available in white or natural finish.
Lion sugar bowl: H11cm X W6.5cm x D10cm
Unicorn creamer: H10cm X W3.5cm x D12cm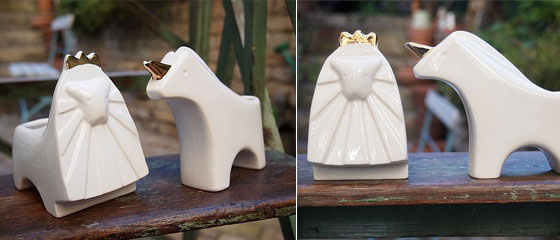 2. Boston Warehouse Zooology Whale Cream and Sugar Set [buy on amazon]
Cream and sugar serving set
Made of beautiful and durable porcelain
Whiteware; goes with all decors; fun zoo animal motif
Set includes sugar holder with lid, spoon, creamer and tray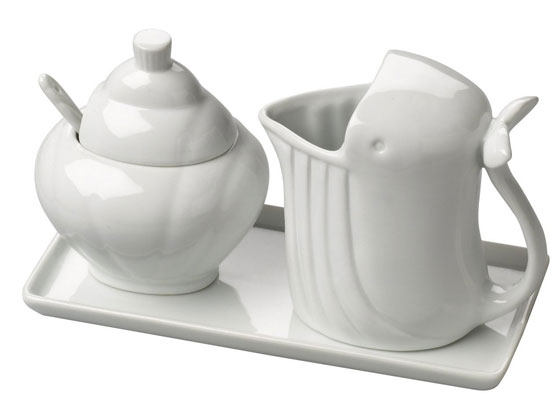 3. Sugar + Creamer Set on Bamboo Tray [source]
Set in ceramic. This elegantly simple creamer and sugar set in glazed white porcelain comes with a spoon and a lightweight bamboo tray that makes it easy to carry from counter to table or kitchen to dining room.
• Porcelain; natural bamboo tray and spoon.
• Set of two; sugar and creamer.
• 8″w x 4″d x 2″h.
• Tray: Wipe Clean. Ceramic pieces: Dishwasher and microwave safe.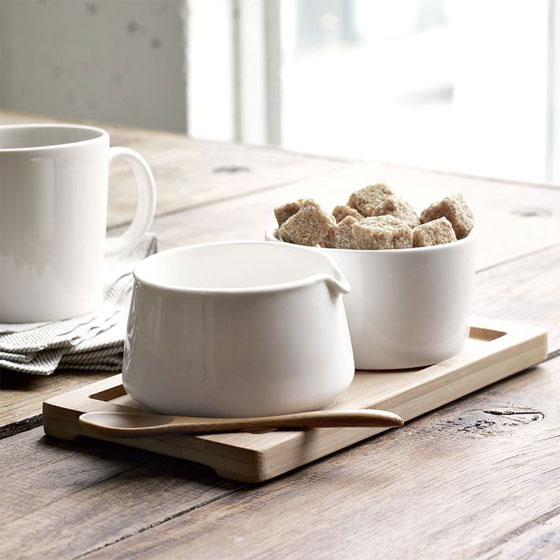 4. Bird Sugar & Creamer Set [buy on amazon]
Hight quality fine porcelain and ceramic
Hand painted and polished
NO Expedited shipping. Regular shipping ONLY
Size S 4 3/4*2 3/4*4 3/8″H C 4 3/4*2 7/8*5″H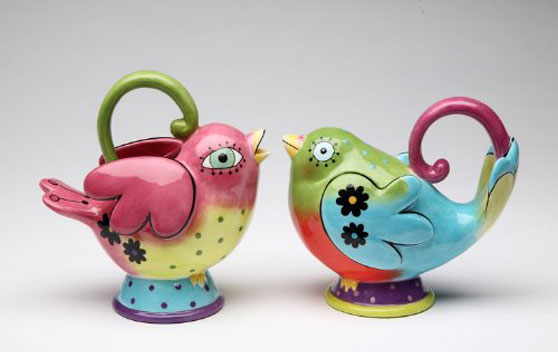 5. Red Vanilla Summer Sun Sugar And Creamer Set [buy on amazon]
Creamer and sugar
Bone china
White with pattern
Warm-oven, microwave and dishwasher safe
Chip and stain resistant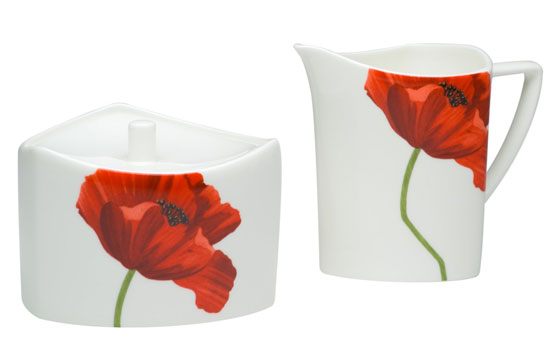 6. 3 -Piece Set Porcelain Sugar, Creamer and Spoon [buy on amazon]
One sugar and creamer and one spoon.
Material: porcelain
Fun, whimsical design to help you around the house, entertaining and decorating
Hand wash recommended
Great for porcelain beauty; Hand-painted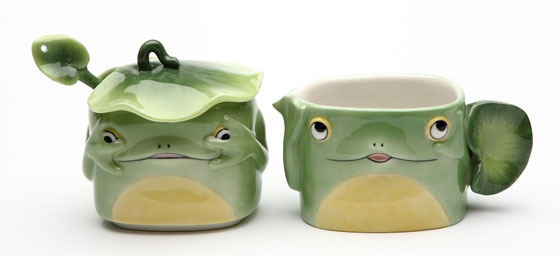 7. Blomus Desa Sugar And Creamer Set On Tray [source]
Porcelain , Silicone
H 10 cm,W 20 cm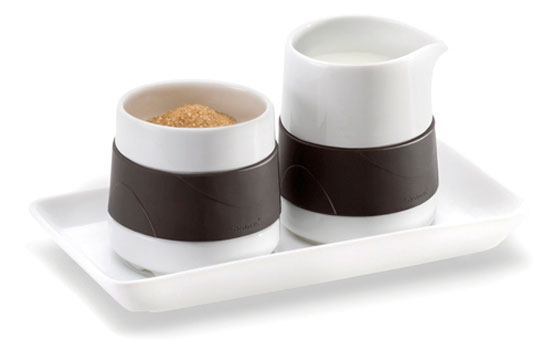 8. Sugar High Social Sugar and Creamer Set [buy on amazon]
Ceramic construction
Individually hand-painted
Functional use
Handwash only, do not put in dishwasher
9. Nambe Kurl Sugar and Creamer Set [buy on amazon]
Resembling miniature curling stones, these metal alloy pieces would make a wonderful housewarming or wedding gift. Everyone will enjoy perfecting their cup of coffee with these sugar and creamer vessels – such an attractive departure from the usual open-pour models everyone has in their cupboards.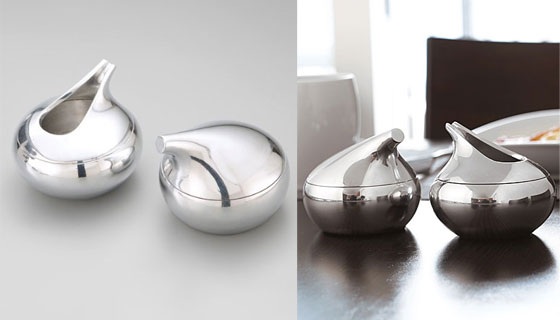 10. "Flying Saucer Sugar And Creamer Set" [source]
Wheel thrown and hand-built stoneware sugar and creamer set, with pinched small sugar spoon. Glaze was carefully layered and brushed with fun colorful combinations in mind. Glaze is food safe, dishwasher safe and microwave proof.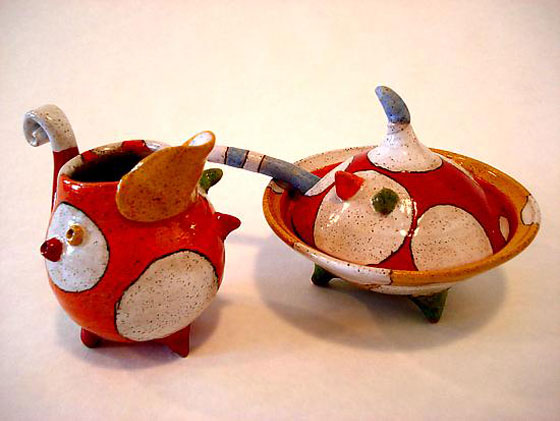 11. Vagabond House Bird Creamer Set [discontinued]
Vagabond House's Song Sparrows are part of their Feathered Friends collection. The Bird Creamer Set is perfect for a brunch or tea table any time of the year. A darling pewter sparrow sings sweetly from the sugar dish, while surrounded with beautiful flowers. Made with fine ceramics and polished pewter, this set makes a fabulous gift for the tea and coffee lover. Size: 12.25″ L x 8″ W x 8″ T. 4 pieces in set, including sugar spoon.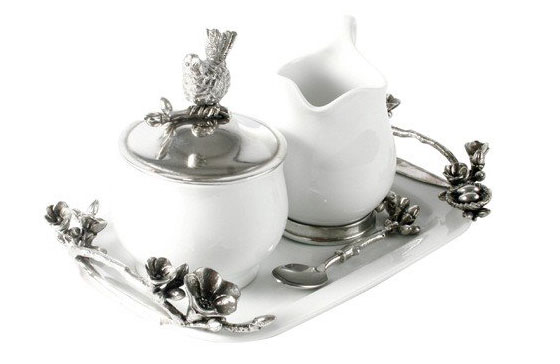 12. Lemon Shaped Sugar Bowl & Creamer Set [discontinued]
This playful earthenware set is designed by Barbara Eigen, a ceramic artist famous for her lifelike botanical silhouettes. It's a classic for springtime gatherings – from breakfasts, brunches and garden parties to a leisurely afternoon tea. Creamer: 8-oz. cap.; 4 1/4″ diam., 2 1/4″ high. Sugar Bowl: 8-oz cap.; 3 1/4″ diam., 4 1/4″ high. Tray: 8 1/2″ x 4 1/4″. Dishwasher safe.