TabletTail – all-in-one Handle and Stand for your Tablet
If you are tablet user, you probably get lost in the tons of accessories on the market as me. There are so many different cases, stands, handlers, and it takes a lot to get my interest in any of them. TabletTail, the black whale tail dock is definitely one of the most interesting tablet accessories that easily capture your eyes.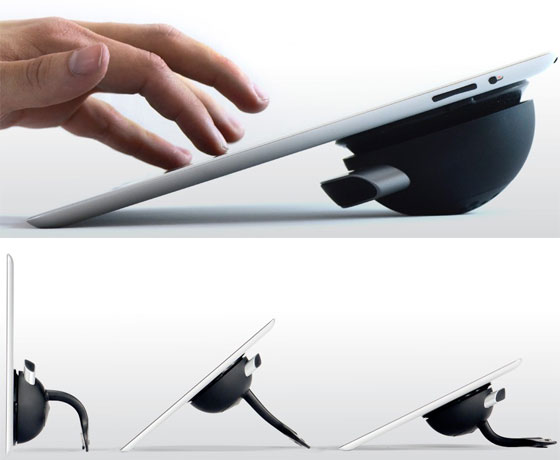 Inspired by nature's beauty, the TabletTail is comprised of two separate components: the Vacuum Dock and an interchangeable TabletTail. The rigorously engineered Vacuum Dock suctions to most tablets and e-readers for for days, and when coupled with the WhaleTail attachment, becomes both a multi-angle stand and an easy-to-grip handle. It may look a funny, but it actually works. Especially the whale tail, which is fully bendable allowing you to hold the tablet upright at every angle you can think of. Moreover, it fits in your hand perfectly and comfortably, preventing your tablet from falling. So you can safely use your tablet while working, walking, traveling, multitasking, reading, or watching a movie. How awesome that is! You can find more information on its official site Octa and if you are interested in buying it, the price of it is $49.95. Take a look at the pictures below and enjoy the video at the end of the TabletTail in action.