Whether you are hosting a large dinner party or a few friends are dropping over for the afternoon, putting out a olive tray is a great way to offer a casual appetizer that does not require much preparation. Here we included 9 Elegant and Beautiful Olive Tray and Dish Designs, which will be perfect gift for olive lover or a great conversation piece at your home.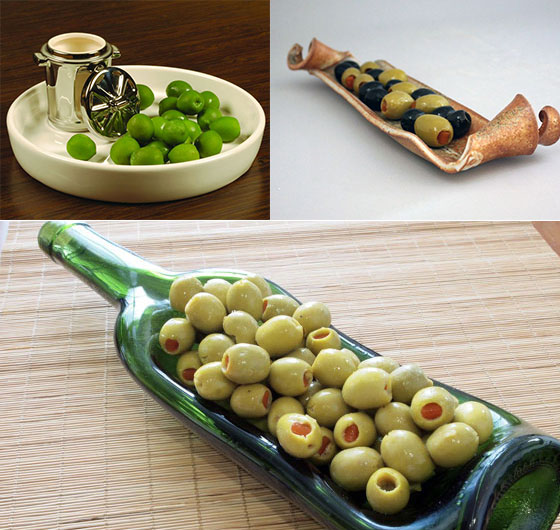 We are a participant in the Amazon Services LLC Associates Program, an affiliate advertising program designed to provide a means for us to earn fees by linking to Amazon.com and affiliated sites.
1. Optical Illusion Olive Tray [source]
An eclectic and cool cocktail accessory
Provides a fabulously fun way to present your cherries, olives, and roly poly drink garnishes
This ceramic tray holds up to 30 large green olives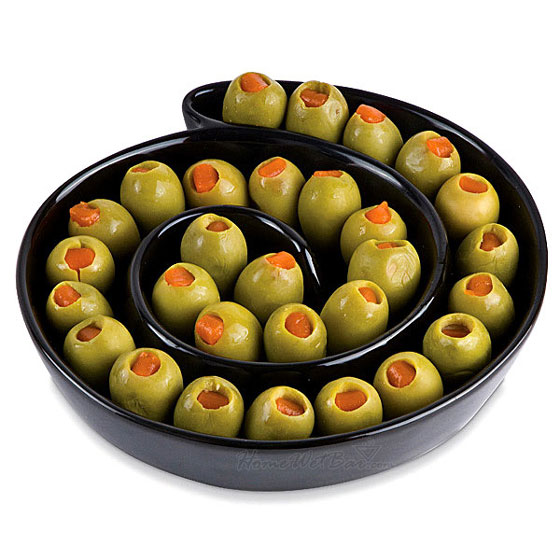 2. I LIVE FOR OLIVES DISH [source]
The bright, intuitive design on this party pleaser anticipates the pits of olive snacking, so you don't have to. This three-part dish features nooks for toothpicks and pits so your guests aren't left juggling waste on their plates. Handmade in Palencia, Spain in a factory that employs the disabled.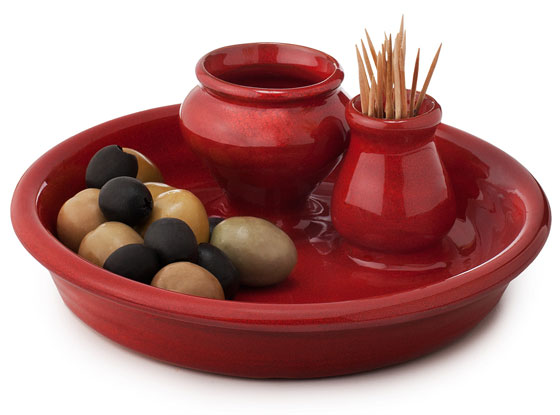 3. Olive Dish with Picks [buy on amazon]
Measures: L:7″, W:5″, H:1.75″
Made of white porcelain with stainless steel picks
dishwasher safe
Basic accent for year round entertaining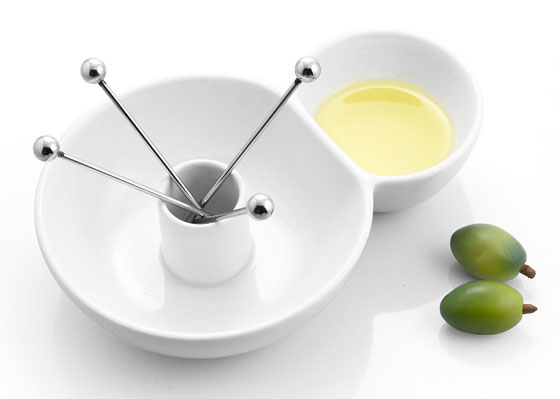 4. America Retold Olive Triple Dish [buy on amazon]
Trio of olive-shaped oval dishes, embellished with handle of olive, twig and leaves. Cast of solid brass with a no-polish nickel finish. Made in India.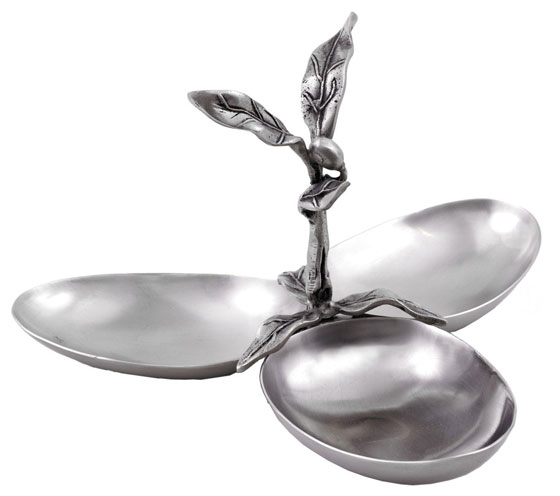 5. Michael Aram Olive Branch Olive Branch Dish [buy on amazon]
The Olive Branch Collection is one of the best known and most loved of Michael's motifs, representing both peace and victory. Size is 2″ high; 4.5″ dia. and made of Stainless Steel, Oxidized Bronze. Each Michael Aram metal object undergoes a series of grinding, buffing and polishing techniques. Variations or 'imperfections' in the product's finish are characteristic of the creation process. Due to this handmade nature, no two pieces are ever exactly alike and special care is required.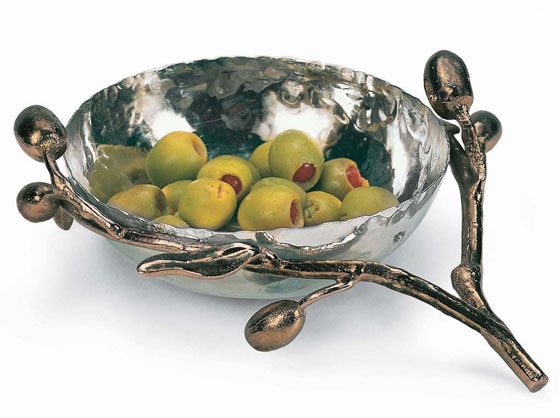 6. GAMAGO Clean Plate Olive Tray [buy on amazon]
Keep olive pits tidy with a tiny ceramic trash can with removable lid.
Dishwasher safe, includes dish, trash can and lid. 8 inches diameter.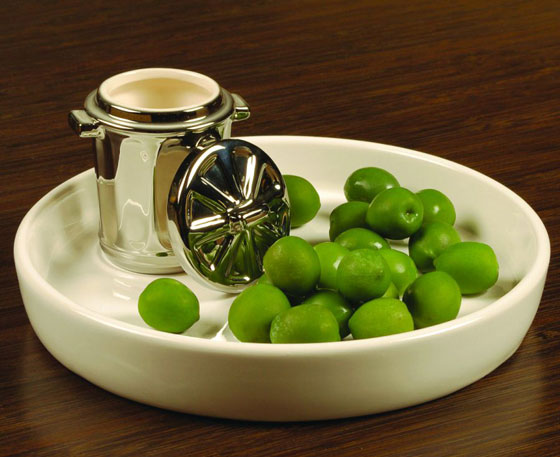 7. HIC Porcelain Olive Tray 15.75-inch [buy on amazon]
Olive tray; perfect for special occasion and holiday entertaining
Made of fine porcelain
Whiteware; will match any d?cor; puts focus on the food
Durable; oven, microwave, freezer and dishwasher safe!
15.75″ long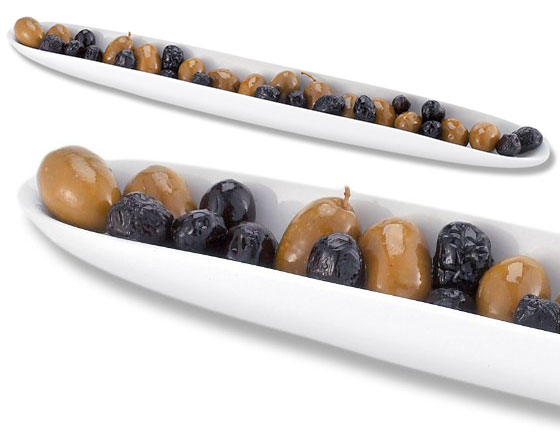 8. Slumped Wine Bottle Olive Dish [unavailable]
This is a wine bottle that has been slumped in a kiln. It makes a great conversation piece and can be used as a serving dish for olives, salsa, dips and more. It measures 12 inches long and 3.5 inches wide. The bottle is a deep green color.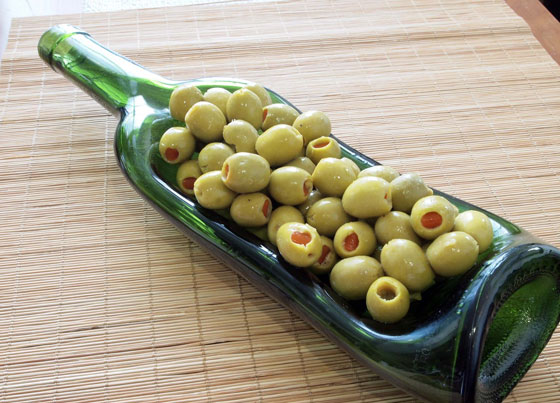 9. Olive Tray [unavailable]
An organic tray perfect for serving up some savory olives on the side. This tray was lovingly hand built using a stoneware clay body and then fired to cone 10 in a gas reduction kiln.
Measures approx: 11 1/2″ long x 3″ wide