If you're one of those people who likes birds or happen to know someone who is, then here is a nice round-up for you – 8 Cool and Modern Bird Feeders. These cool feeder can not only provide enough food for our feather friends, but also give you a chance to watch them at the same time. To meet different requirement, our collection comes with different shape, material and ways of placement. So not matter what you have: a large garden or a small balcony, as long as you want, you can set up a lovely bird feeder and bring birds into your life.
We are a participant in the Amazon Services LLC Associates Program, an affiliate advertising program designed to provide a means for us to earn fees by linking to Amazon.com and affiliated sites.
1. Ceramic Tire Swing Bird Feeder [buy on perpetualkid]
Remember the idyllic summer fun of a tire swing hanging from a big oak in the backyard? The cool new SwingTime is a whimsical little bird feeder shaped like an old-fashioned tire swing. It may look like a tiny rubber tire, but this one is realistically crafted from ceramic. Just fill the inner part of the tire with birdseed and watch as your feathered friends stop by to eat and swing around.This 5.5 inch diameter ceramic tire is supplied complete with a hanging rope.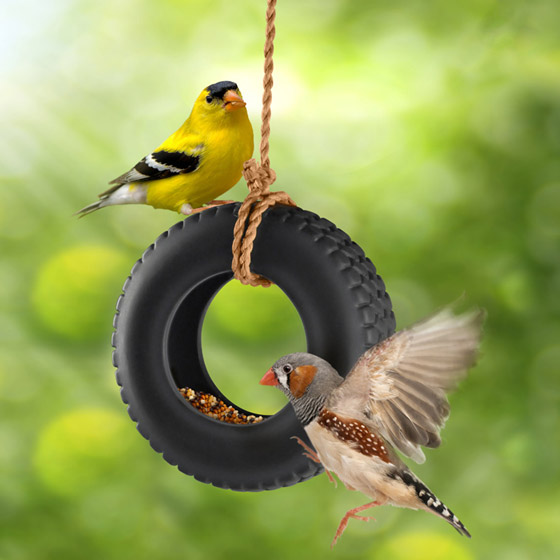 2. Venetian Bronze Heart Fly-Thru Bird Feeder [buy on amazon]
Designed to show birds you love to feed them … from the bottom of your heart! The Heart Fly-Thru Bird Feeder by Good Directions lures birds in for a snack, and helps birders' favorite activity last all day long! Featuring a charming heart shape, and a long-lasting Venetian Bronze finish, this bird feeder is the perfect addition to any garden setting.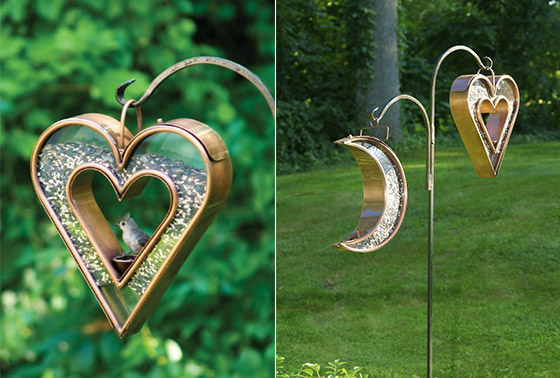 3. Pinecone Bird Feeder [buy on amazon]
This cute bird feeder can easily blends into your landscape decor because it looks just like a real pine cone. At the bottom of the cone, there are five small bowls can hold bird seed. Made of durable hard plastic and includes chain and hook for hanging. Really unique looking, the only thing might get your concern is its seed capacity. Those small bowls don't look like can hold many seeds.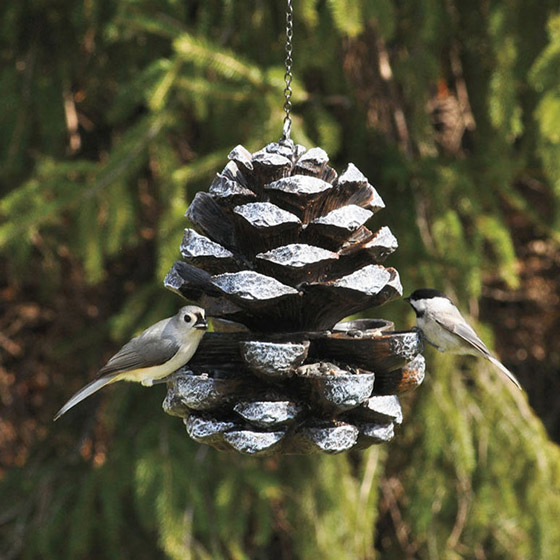 4. Umbra Bird Cafe Hanging Bird Feeder [buy on amazon]
This brid feeder from Umbra reminds me of its similar fish bowl design. Doesn't look like traditional bird feeder, this modern feeder lets birds enjoy a fine dining experience from a unique architectural structure and features a removable lid for top loading, tiny holes in the tray for water drainage and clear windows to easily monitor the seed levels.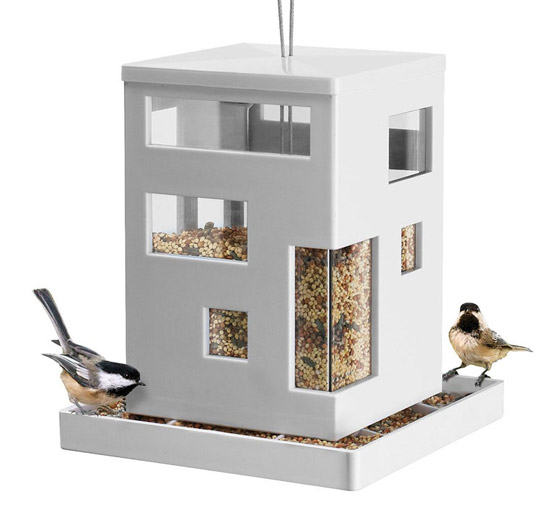 5. Eva Solo Bird Table [buy on amazon]
This bird feeder probably the most stylish feeder we've ever seen. It has 5 liters capacity and the stainless steel rod is easily pushed into the ground. seed is held in an inverted 10″ mouth-blown glass feeder and a conical hub stopper automatically dispenses just enough seed to fill the tray. It is more like an artwork instead of a bird feeder. Of course, it is quite expensive compared with normal bird feeder. But if you are looking for some special, it might be a good choice.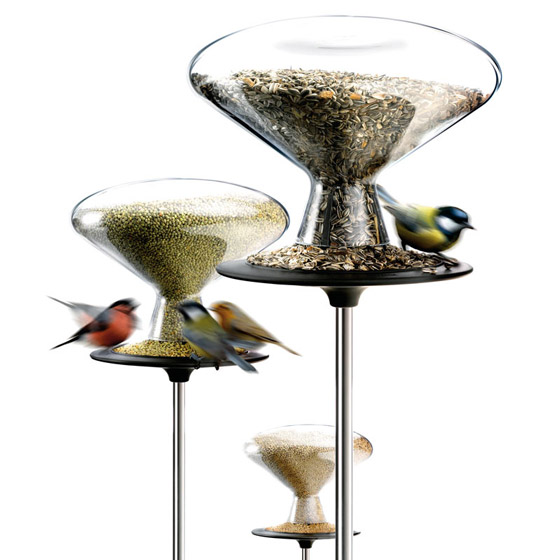 6. Fortress Bird Shelter Squirrel Proof Wild Bird Feeder [buy on amazon]
Feeding birds while keeping squirrels from raiding the birdseed. The large plastic cover protects your smaller songbirds while they are feeding, prevents moisture from rotting the seed and maybe keep them dry when it is raining. The weight sensitive design of this feeder allows small songbirds to dine on mixed seed, but the feeding stations close when a larger animal attempts to perch on the base.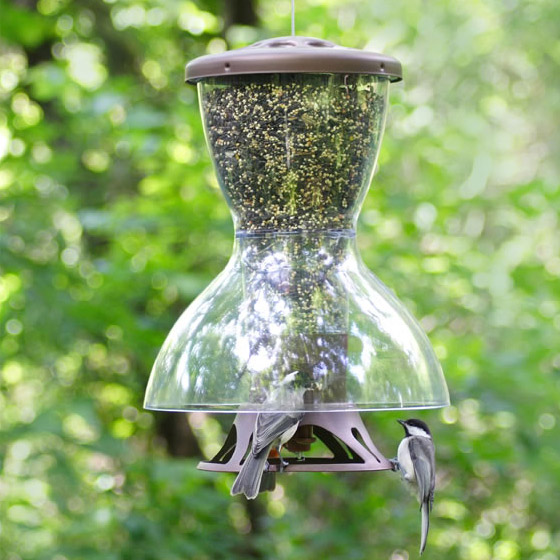 7. Window-Mounted Birdfeeder [buy on amazon]
Made by the new design house Born in Sweden, the bird feeder is perfect for anywhere–but especially the urban garden. Attaches via a strong suction to yur window, thereby making it virtually squirrel proof. The bubble is made of a recyclable plastic that can withstand extreme temps and UV rays. Care is a snap, too: Every 3-4 months, disassemble and wash. It's even dishwasher-safe in the upper basket.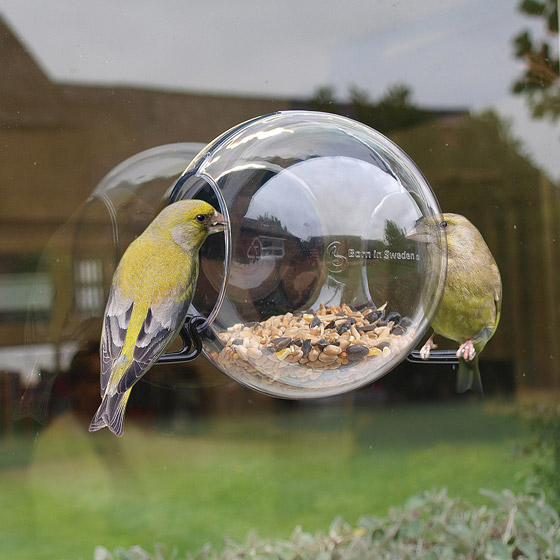 8. Eva Solo Hanging Bird Feeder [buy on amazon]
Another beautiful bird feeder from Eva Solo. This round glass bird feeder is easy-to-use and adds a modern accent to your garden. Made from mouth-blown glass, it is designed to withstand wind, weather and beating wings. Measures 4.92-inch by 5-1/21-inch by 9.65-inch. It can easily be suspended from bushes, trees, and the eaves of your house. Simply fill the glass with the bird seed of your choice and watch the birds flock to your feeder.