Lamp can not only provides us light, but also some stylizes our home, brings us convenience and create some special atmosphere. In this post, we will showcase 12 Creative and Unusual Lamp/Light Designs, some of them are still concept design, while some of them are already can be purchased on amazon. Personally, I love the mushroom lights most, it just looks so lovely and sweet. How about you?
We are a participant in the Amazon Services LLC Associates Program, an affiliate advertising program designed to provide a means for us to earn fees by linking to Amazon.com and affiliated sites.
1. The Great Mushrooming Lights [link]
Yes, your eyes are playing tricks on you. What looks like a mythical treasure one would stumble upon in a storybook tale, is in fact a beautiful eco-friendly combination of reclaimed wood and LED lights. Great Mushrooming is taking inspiration from the world's best designer, Mother Nature, to create these luminous mushrooms whose only magic lies in their ability to charm.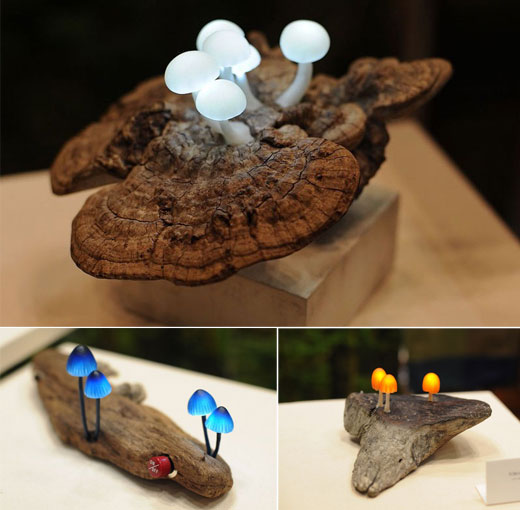 2. RING-GE-ROO LIGHT by OWA Innovation Design Group [link]
The Ring-ge-roo Light shuttles between innovative, unique and kitsch! It definitely takes the sting out of a hospital drip, which is loathsome yet essential. The water in the PVC bag softens the LED beam of light inside to create a subdued ambient light source. The color of the light can be changed by changing the color of the water inside the bag. I wouldn't mind hanging this off my arm; just to get some special effects I'd use colored water, as recommended by the designer.
Somehow, this looks a bit creepy for me… maybe just me.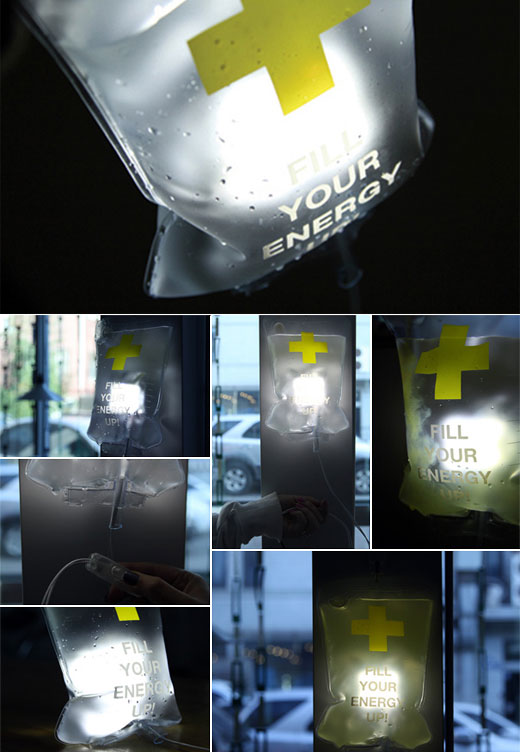 3. Live Lamp
[
link
]
LIVE LAMP is a glowing nest of eighty live Fuschii v Gracillis tillandsia air plants mounted to a blown glass orb. Illuminated internally by a CFL grow lamp, these epiphytic plants survive with no dirt – just UV, air and a little moisture. Remove the dome and run the plants under water or mist liberally once a week.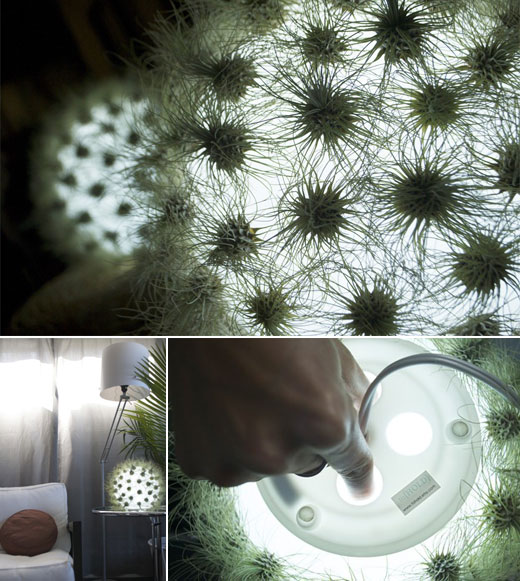 4. FIAT LUX
[
link
]
FIAT LUX is a lamp whose switch levitates when the light is on. When the light is off, the switch is an autonomous sphere that can be stocked onto the lamp thanks to a magnet system. The user becomes an illusionist by turning the lamp on, just by approaching the switch.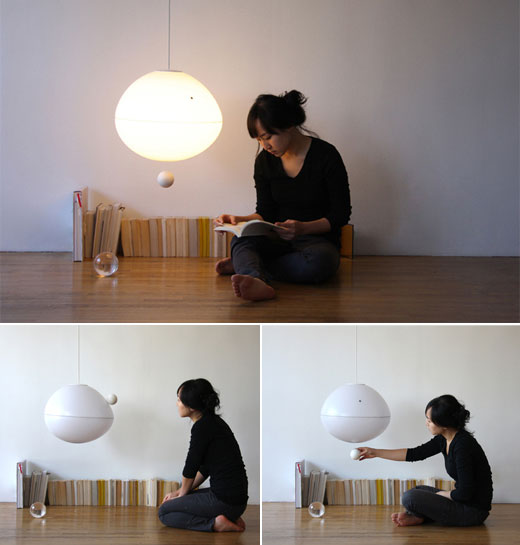 5. A can of Light?
Tin Can; best used for beans, worms, fruits…but apt for light? Yes! If you make it as simplistic as the Tin Can Lights! A sealed surprise just like your can-o-pickles! Peel open the lid to welcome a soft glowing lamp that creates a pleasant ambiance. Strum it as a night lamp or show it off as an eccentric collectible in the living room.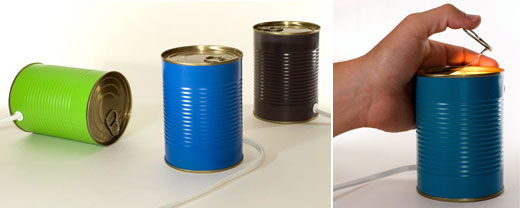 6. Light PEG
[
link
]
The main idea of the lamp is to combine functions of pegs with light, because usually when you buy a lamp it suits one part of your interior, this lamp was created for having light wherever you want to illuminate something. Independent pegs with 6 LED-lams inside each and two rechargeable batteries can be attached to any of the surfaces and can be charged from the wireless charger in a shape of a tree. There are a lot of situations you can use this lamp some of them you can design by yourself.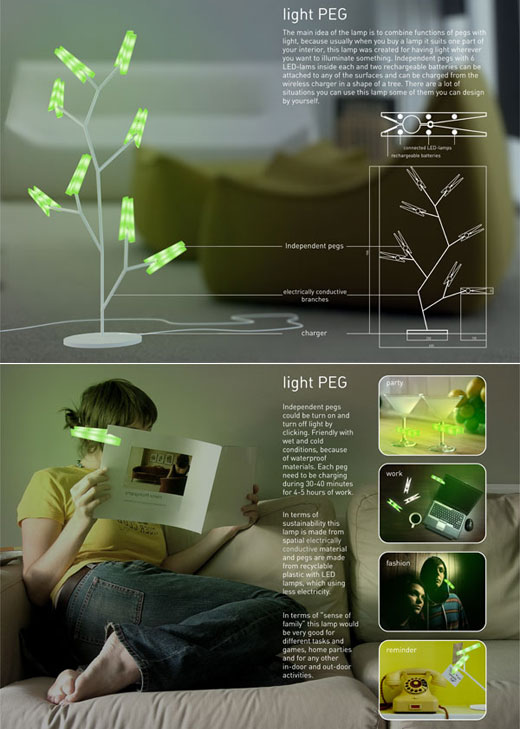 7. Glowing Pillow – d°light Huggable
[
buy on Amazon
]
The d°light Huggable takes home furnishings to a new level as an innovative combination of ambient lighting and comforting pillow. The soft fuzziness of the wispy, mohair-like cover conceals 12 LEDs that do the glowing. The d°light Huggable can glow brightly for around 4 hours on four AA batteries, after which it dims gradually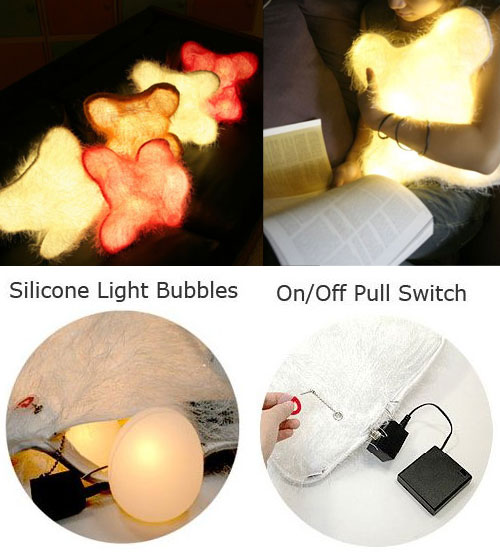 8. Shadow Clock Light
[link]
This is one is a lamp and only be a clock when it is turned on in dim room.
Designed by Hanhsi Chen and Chiyu Chen, the Shadow Clock concept is some kind of modern sundial. The clock features a conventional halogen bulb and a quartz clock movement mechanism. It is capable of using the shadow created by its built-in halogen lamp to project a giant clock on your wall. From the light comes three different shadows: one each for hour, minute, and second hands of the clock. (I bet I can't never figure out the time)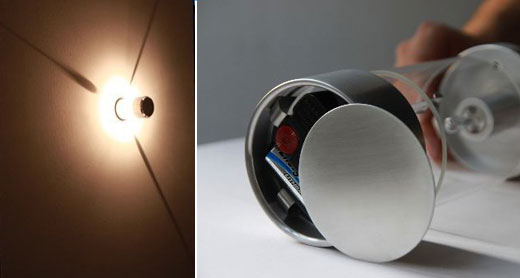 9. Moonwalk – Cool Lamp
[
link
]
Moonwalk is the name of this fun and cool lamp made by Thomas De Lussac, a French designer of furniture, light fittings and sofas. The lamp is described as a "playful wink in the universe of the creator". It's made of lacquered aluminum and available in several colors and adjustable positions.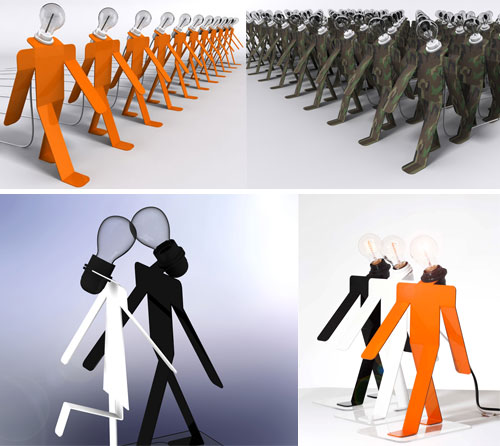 10. Oxo Candela Luau
[
buy on Amazon
]
Lizzy, this is the big one. Luau turns bright tabletop lighting into a robust, portable, tactile product that is equally useful indoors and out. The Luau can be lit while on the charger, and lights up automatically when lifted from the base. It can be dimmed or turned off to conserve the charge until you need it. Luau's discreet charging pod has an integral, bi-color charge status indicator. Great for nighttime strolls, outdoor dining, or even bed-side.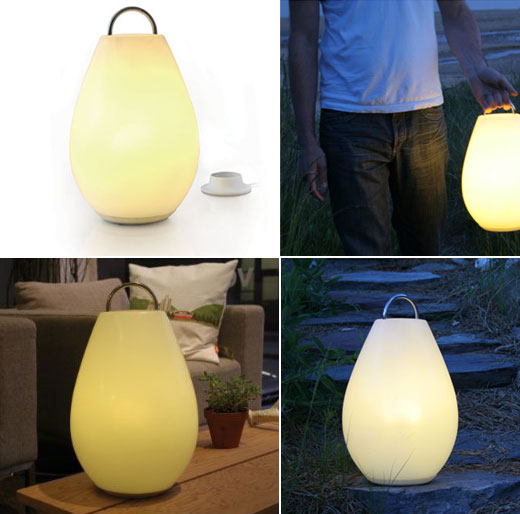 11. Tooli Rechargeable Lights
[
buy on Amazon
]
Kids delight in lights. Candeloos make great bedside sentinels to ward off the dark, or in make-believe adventures and dining room forts. Plus, the SafeCharge system eliminates exposed electrical contacts, making them safe for inquisitive little hands. Candeloo is safe, portable and reusable… but most of all, it's perfect for brave trips to the bathroom at midnight
12. Good Grips Candela Guardian Light
[
buy on Amazon
]
Power gone, lantern on. The Guardian is two lights in one – the charger has an integral EL panel that's always lit, and the lantern is portable and illuminates instantly when lifted and during power failures. The Guardian is always ready when you need it; fusebox searches, late-night feedings… and it stands with upright readiness to be at your fingertips.