Every home cook needs a well-stocked kitchen, complete with sets of sturdy, well-made potholders and oven mitts. Creative oven mitts and potholders add personality, color and interest to a kitchen's decor as well as provide protect to keep your hands from being hurt. Check 12 Useful Oven Mitts and Potholders in this post, golver, mitt, holder and grips! It will be a perfect gift to kitchen lover or yourself in this busy season. as anyone who has spent any time in the kitchen knows, being burnt is not fun!
We are a participant in the Amazon Services LLC Associates Program, an affiliate advertising program designed to provide a means for us to earn fees by linking to Amazon.com and affiliated sites.
1. Fred Bananahandle Gripper [buy on amazon]
You've never seen a chimpanzee burn himself on a hot pan, have you? Of course not. That's because BananaHandle's heat-resistant silicone construction protects hands, both human and primate. Slide the ripe yellow peel onto any pan handle and you're fully protected, hands down.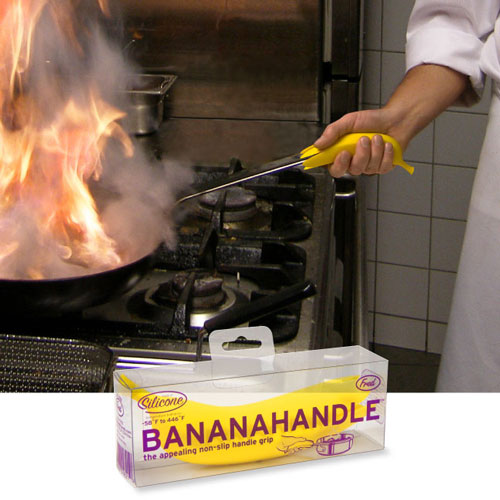 2. Trudeau Stay Cool Silicone Pinch Holders [buy on amazon]
Trudeau's Stay Cool Pinch Holders will change the way you cook and serve. These innovative devises are made of heat resistant silicone and are perfect for handling hot plates and small pans. They'll give you a safe and secure grip while protecting your hands from the heat. Material is safe to use in temperatures up to 482 degrees Fahrenheit. Cleanup is easy because the Pinch Holders are dishwasher safe. Five year warranty. Set of two.
3. Built Milo Pot Holder [buy on amazon]
Add an attractive yet highly functional tool to your kitchen's repertoire with the Built Milo Pot Holder in micro dot, which fits either hand and is heat-resistant to 500 degrees F. Flexible and insulated, it's made of durable neoprene (the same material used for wetsuits) and it stretches to fit your hand and protect it from hot pots and pans. It textured for an excellent grip and it stores flat or rolls up for convenient packing and storage. This stain-resistant tote is machine washable for easy care; let drip dry.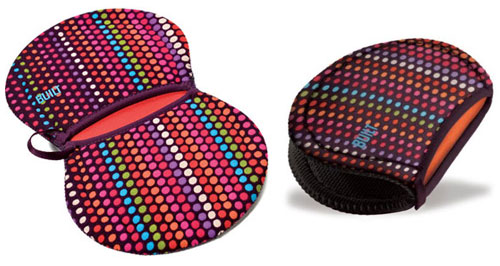 4. Evriholder Silicone Pot Handle Holder [buy on amazon]
Designed to fit easily over any standard cookware handle, this Pot Handle Holder is the ultimate cooking tool. This flexible silicone handle holder is heat resistant up to 500 degrees F. More convenient than a standard pot holder, this exceptional silicone sleeve slips onto your pot handles and stays in place while you cook. No more searching for a pot holder every time you need to touch hot handles. The exceptionally slip and skid resistant design provides a safe and comfortable grip.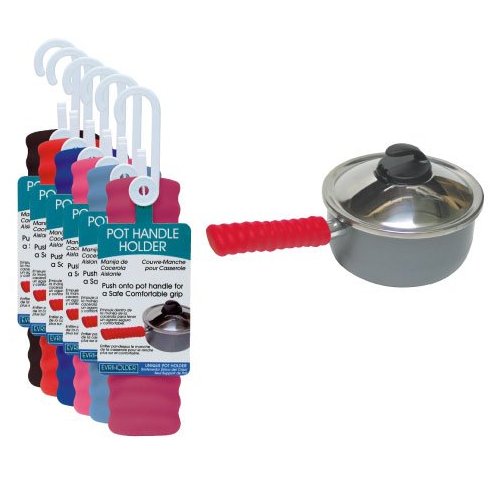 5. Fred and Friends Hot Head Pac Man [buy on amazon]
He's a mouth with a new mission. Pac-Man is back, and he's ready to gobble up your hot pots and pans. Our newest all-silicone Hothead is happy to hang out in your kitchen and bring abck fond memories of your misspent hours at the game console.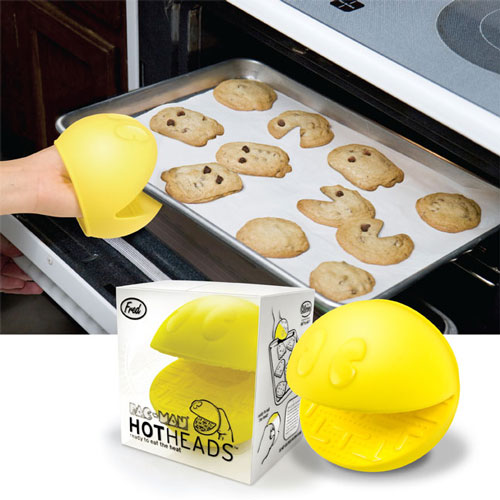 6. Built Renzo Oven Mitt [buy on amazon]
With Built's Renzo Oven Mitt you'll be able to grab what you need out of the oven without the fear of burn (or the dread of dropping that delectable dinner on the floor). The Renzo Oven Mitt is made of neoprene-the wetsuit material-so, it's durable, flexible and insulated. It's textured, so you'll have a sure and secure grip, every time. Extended length to keep forearms safe. Heat resistant up to 500 degrees Fahrenheit. For left and right handed use. Stain resistant; machine wash cold; drip dry. Nolita Stripe exterior and Aruba Blue interior.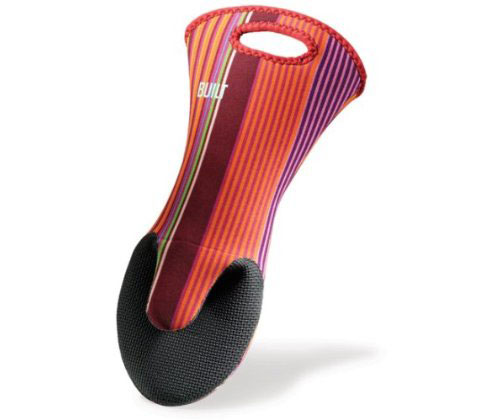 7. Oven Glove-Made of Nomex Heat resistant Fiber [buy on amazon]
# Flexible glove structure provides tremendous protection for hand and qirst, excellent for kitchen; BBQ; around kitchen hot resistance; yard and picnic
# 100% Cotton liner for more comfort and perspiration free
# Heat Resistant; made of Nomex brand fiber withstand up to 480 Degree
# very soft and pliable for an easy grasp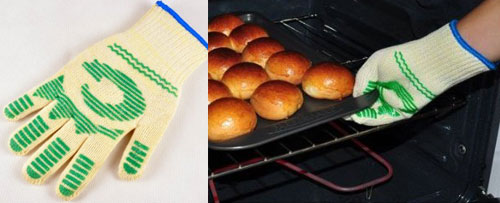 8. OXO Good Grips Silicone Oven Mitt with Magnet [buy on amazon]
The OXO GOOD GRIPS Silicone Oven Mitt is the best of both worlds: 600°F heat resistant silicone on the outside and cool, comfortable fabric on the inside. Protect your hands from heat, spills and burns with non-flammable, stain and steam resistant silicone. The thick, multi-layer fabric liner brings additional thermal insulation, yet lets your hand breathe to prevent sweating. OXO's unique silicone rib design improves flexibility and dexterity, and provides a secure grip even on slippery surfaces. At 13 inches long, the Mitt is long enough to protect the wrist and forearm and fits either your right or left hand. To easily store and find your Mitt in the kitchen, simply use the embedded magnet to hang on steel surfaces or place the silicone hanging loop on a hook. To clean, just wipe the Mitt with a damp sponge, or wash and dry in the laundry machine.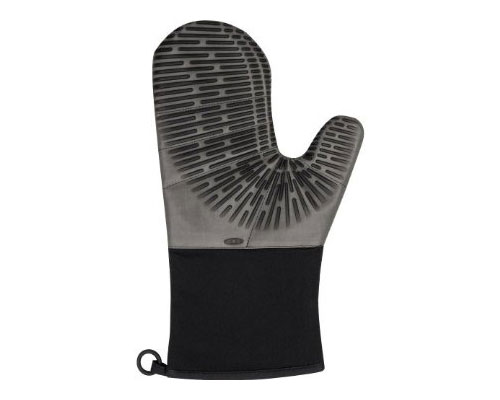 9. Trudeau Set of 2 Silicone Pinch Grips [buy on amazon]
* Set of 2 all-purpose pinch grips
* Made of durable silicone; heat resistant to 482 degrees Fahrenheit
* Ideal for lifting hot pots, pans and covers
* Finger and thumb guard
* Easy to clean; dishwasher safe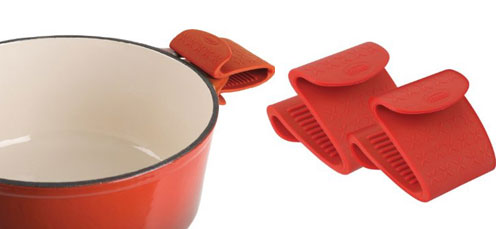 10. Orka Pro Silicone Oven Mitt 17-Inch [buy on amazon]
* Heat resistant to 480§ F
* 17″ in length
* Non-porous, won't stain
* Slip-resistent
* Waterproof – safe to use if wet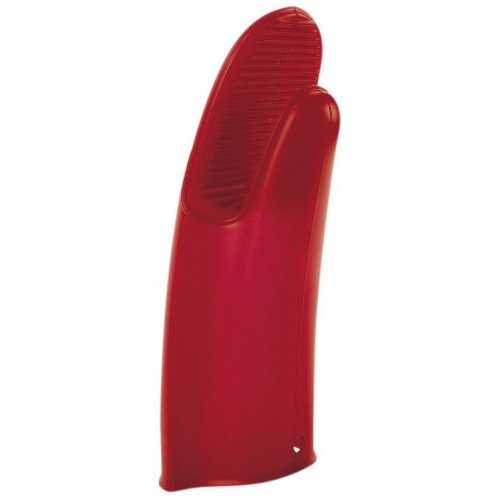 11. Mario Batali Silicone Pot Grip [buy on amazon]
This silicone pot grip fits handles on the the following Mario Batali cooking pieces: 9-quart oval braiser, 7-1/2-quart cioppino and stew pot, 6-quart Italian essentials pot, 4-quart Italian essentials pot, risotto pot, and panini grill. The silicone grip is heat-resistant up to 500 degrees.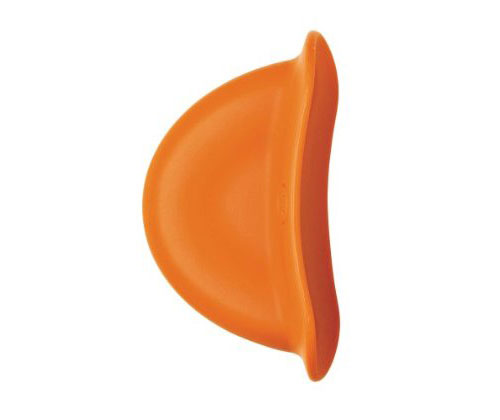 12. Fusionbrands Love Silicone Handle [buy on amazon]
Snap it, grip it, rest it, love it. Everybody needs a little extra to hold onto. fusionbrands' Love Handle fits over pan handles and conforms so you can grip securely. Because of its unique design, it fits over all handle shapes and sizes. It offers slip resistant groovy grips, so your grip will be secure. Since it's made of silicone, it's heat-resistant up to 500 degrees Fahrenheit. Plus, the Love Handle has a built-in utensil rest, so spoons and other utensils won't mess up your stovetop and counters.