It is summer time and it is BBQ time. Are you ready to be the king of grill, holding court in your backyard? You don't need much to be a great griller, but there are a few things that make grilling easier and more successful. One of them is to have right tools. We've selected a handful of cool grilling tools and accessories to bring you the best of what's out there to create the ultimate summer grill set up.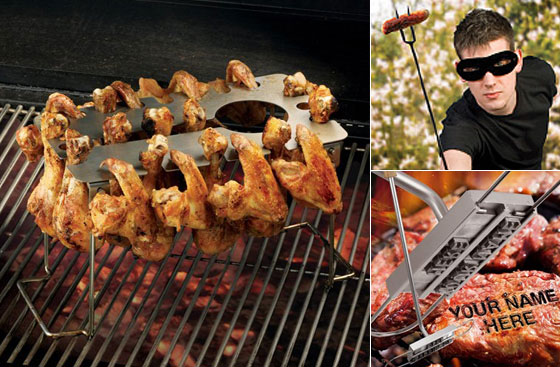 We are a participant in the Amazon Services LLC Associates Program, an affiliate advertising program designed to provide a means for us to earn fees by linking to Amazon.com and affiliated sites.
1. Bbq Sword For Grilling [buy on amazon]
Comes with free pop out musketeer mask
Strong steel construction with real wood handle for comfort
Balanced for ease of use
Euroslot for hanging or can stand free on shelf
Measures 19-inches long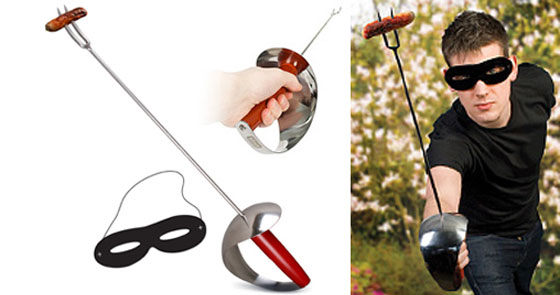 2. Bbq Branding Iron For Personalized Grilling [buy on amazon]
Metal branding iron with wooden handle
Includes every letter of the alphabet, plus extra letters and spacers
Easy to use–just slide letters onto the letter track, no tools needed
Hand wash in soapy water after use
Measures 18 x 3.5 x 1.5-inch
3. Charcoal Companion Gourmet Corn Grilling Set [buy on amazon]
Basket is height adjustable and holds up to 4 ears of corn
Latches securely shut
Rosewood Handle has loop for hanging
Corn holders with stainless steel prongs
Basting Brush with Rosewood handle and natural bristles;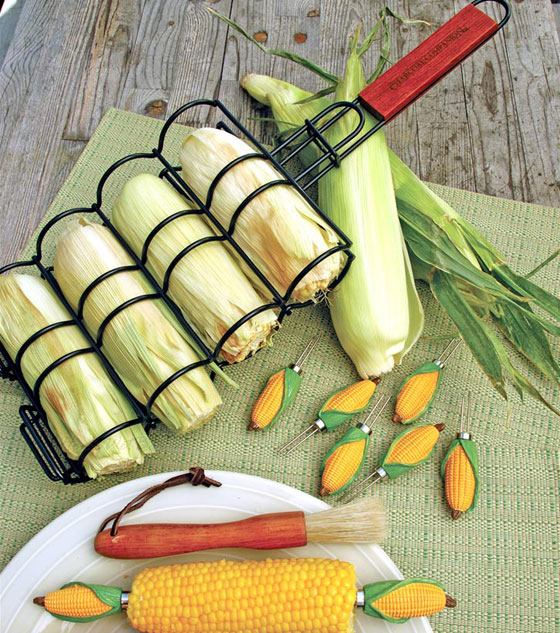 4. Digital BBQ Tongs and Thermometer [buy on amazon]
Quick 5-second response time
Digital instant read thermometer built in
7 Preset meat types
Detachable device for dishwasher safe cleaning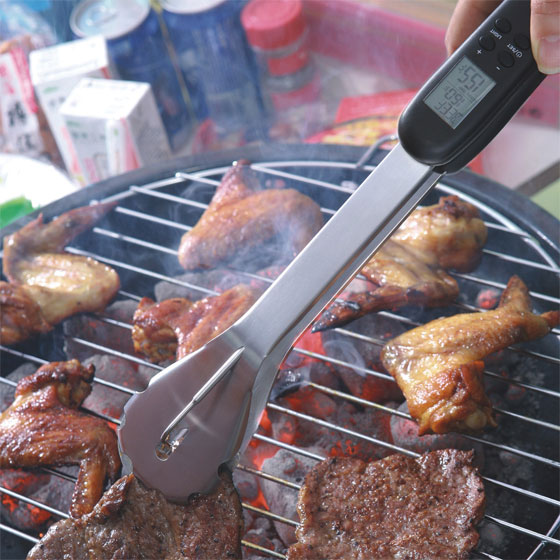 5. GUN Picnic Party Great for BBQ sauce Ketchup or Mustard [buy on amazon]
One condiment gun and two reusable cartridges
Gun measures 6″ H x 9″ L
Works best with non-chunky condiments and sauces
No batteries required
Hand wash in soapy water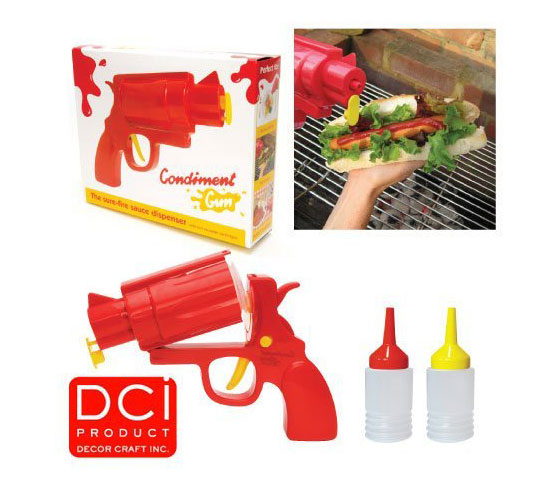 6. Double Prong Coastal Grilling Kabob Skewers [buy on amazon]
Double Stainless steel prongs keep food from spinning
Finely detailed coastal design heads
14-Inch length
1 Each icon: crab, lobster, scallop and fish
7. Cuisine Stainless-steel Set of Four Grill Skewers and Stand [buy on amazon]
This set includes 4 grill skewers and a stand. The skewer, designed to go straight from the grill to the table, usually holds assorted foods to create a dish by itself. It is made of stainless steel.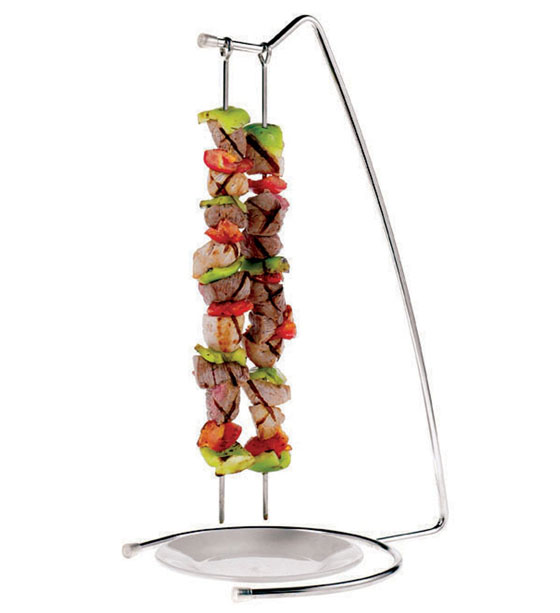 8. BBQ Accessory Organizer [buy on amazon]
The BBQ Accessory Organizer will have you cooking like a pro with all your accessories grill-side and close at hand
Features four double-sided hooks for holding your most important barbecue tools
Includes a mounted paper towel holder, a must-have when grilling up your favorite messy sauce or marinated recipes
Attached shelf to hold spices, food, and all your cooking gadgets; shelf also functions as a cover for the paper towels against the weather
Large 3-1/2-Inch screw clamp mounts to any grill or table; made of painted steel for strength and durability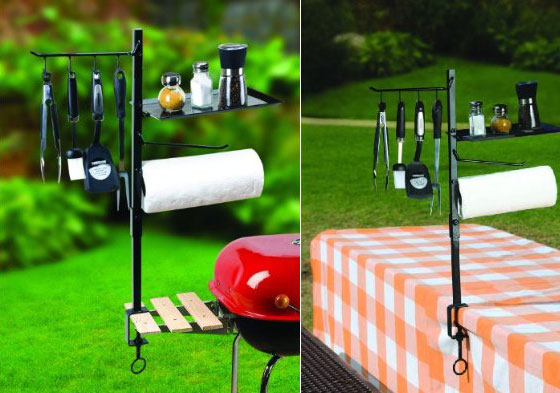 9. Cuisinart 14-Piece Deluxe Grill Set [buy on amazon]
Set includes chef's spatula, grill tongs, silicone basting brush, 4 pairs of corn holders, cleaning brush and extra brush head
Set includes deluxe aluminum storage case
Durable stainless steel tool construction
Elongated handles and convenient handle rings to help hang tools during grilling
Perfect for the on-the-go griller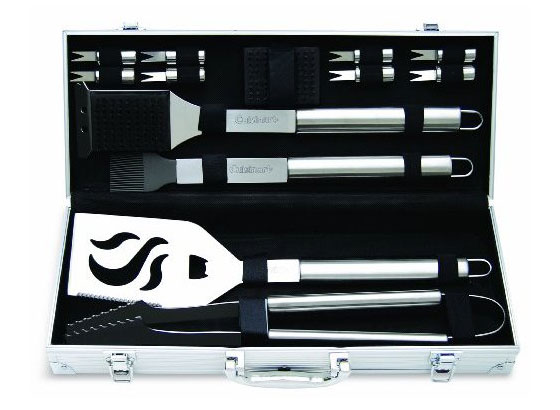 10. Mini Burger "Sliders" Grilling Set [buy on amazon]
Durable, nonstick basket holds 9-burgers at once
Basket latches closed to hold burgers in place, turns easily with one flip
Triple mini burger press ensures that burgers have attractive uniform shape
Included bun cutter ensures that you have perfectly-sized slider buns
Basket has an attractive and comfortable rosewood handle;
11. Mr. Bar-B-Q EZ Legs and Wings Rack [buy on amazon]
Grill or oven-bake chicken legs and wings without turning, burning or sticking
Rack hangs up to 20 chicken legs and wings above the grate on a grill or elevated above a pan in the oven
Legs and wings secure into the circles and slots
Poultry is cooked uniformly on all sides
Remove all pieces at the same time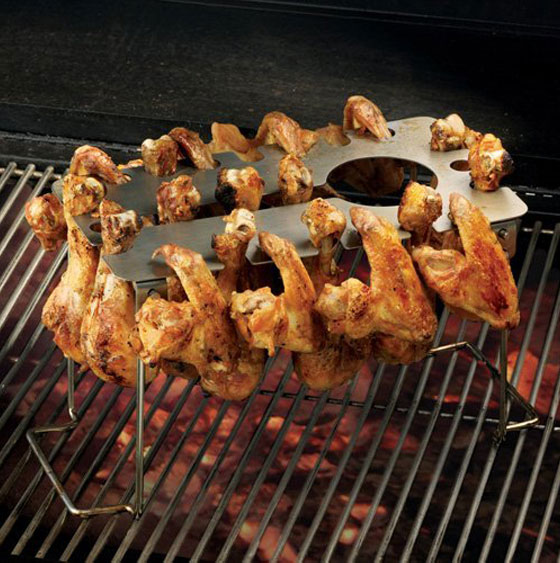 12. Stainless-Steel 36-Hole Jalapeno Rack with Corer [buy on amazon]
36-hole jalapeno rack for evenly roasted peppers
Durable stainless-steel construction washes easily
Stainless-steel coring tool enables fast, effortless preparation
For use with smokers, grills, or ovens
Measures 9-1/5 by 9-1/5 by 1-4/5 inches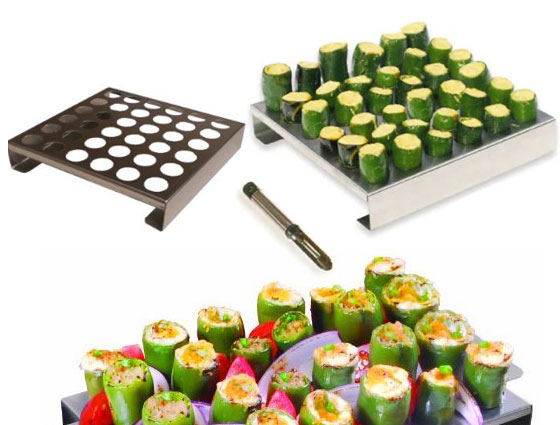 13. Rib-O-Lator Barbecue Rotisserie [buy on amazon]
Cooks your food with the indirect heat of your barbecue so your food won't burn or dry out — always tender, moist, & full of flavor
Almost no flare-ups because juice stays locked in your food instead of dripping on your grill.
Stainless Steel construction — The Rib-O-Lator will fit medium and large gas grills and 22.5 Weber-style kettle grills as well as 55 gal UDS — Trays are 17″L x 5″W =340sq inches of cooking surface and detach for easy dishwasher clean-up