Today portable fireplaces are very popular for the various advantages. They impart a trendy and stylish look and minimize the hassles of maintaining a fireplace. They can be carried from one room to another and placed according to personal preference. Portable fireplaces are usually vent less and require no installation. They are used with gel fuels, resulting in a smoke free, odor free and no fumes environment. In this post, we will showcase a collection of 13 Cool Portable Fireplaces that will heat your house in style.
We are a participant in the Amazon Services LLC Associates Program, an affiliate advertising program designed to provide a means for us to earn fees by linking to Amazon.com and affiliated sites.
1. Real Flame Personal Fireplace [[discontinued]]
Real Flame Personal Gel Fireplaces offer the warmth and crackle of a fireplace without the hassle. Enjoy your own personal fireplace anywhere – indoors or out! Adds ambiance to any setting and great for entertaining. Includes snuffer to conveniently extinguish flame.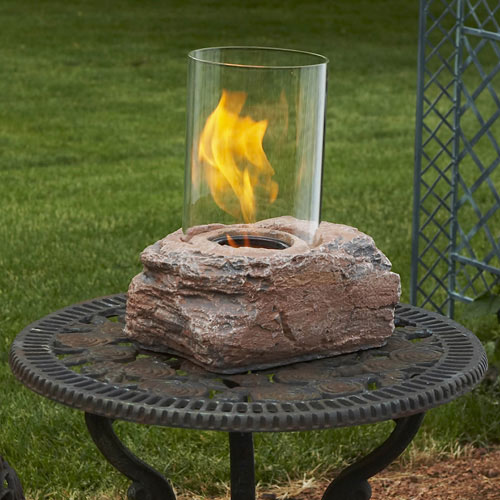 2. Diamond Personal Fireplace [[discontinued]]
Add class to any room of your home with this elegant, contemporary personal fireplace. The sleek design and beveled glass creates an eye catching piece – the perfect addition to any tabletop.
# Made from powder-coated steel and heat tempered glass.
# Comes complete with fireplace,decorative tumbled glass, burn cup and snuffer.
# Burns Real Flame Pour Gel fuel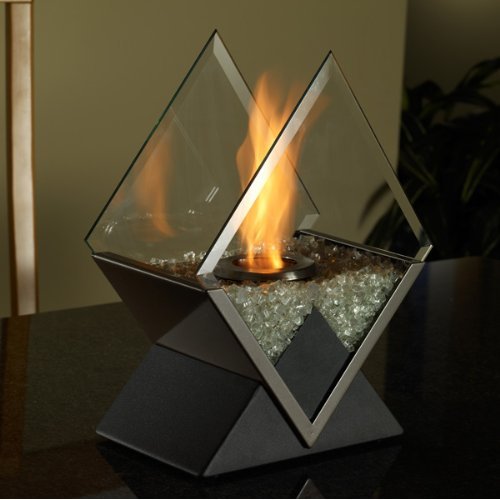 3. Metropolitan Tabletop Fireplace
[
buy on amazon
]
This new super chic, Anywhere FireplaceTM Metropolitan model brings the ambiance of fire to small spaces. Its sleek tempered glass front and back and stainless steel fuel burner can be put on any steady surface – a table top, a stand, the floor or inside non-functioning fireplace to finally allow you to see the beautiful dancing flames of a fire where you previously could not. Its clear glass design allows you to view the dancing flames from any angle so you can put it virtually anywhere in a room be able to enjoy the ambiance created by the real fire. It uses liquid bio-ethanol fuel and gives of no smoke, soot, ash or ash. No installation, electric or gas connection needed. Its relatively small size makes it suitable for placement in a large number of places and it is very easy to move from one place to another.
4. Zen Personal Fireplace
[
buy on amazon
]
A tabletop personal fireplace, perfect for entertaining indoors and out. The Zen comes complete with base, decorative tumbled rock, and stainless steel burn cup with scraper/snuffer tool. Burns Real Flame Pour gel fuel or Real Flame Junior gel fuel.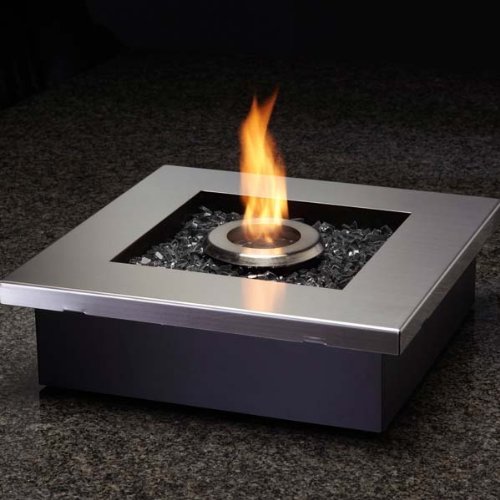 5. Convert-to-Gel Log Set
[
buy on amazon
]
Convert your existing gas or wood-burning fireplace into a Real Flame gel-fueled fireplace and never worry about hauling wood, messy ashes, or soot again! The six-piece realistic log set burns up to three cans of Real Flame gel fuel. Lift assembly allows for easy access to place and remove cans. This log set does not neet venting, there is not need to open the flue, and can be used in dormant fireplaces. Product Dimensions: 25 inches L x 14.5 inches W x 12 inches H. Fits most existing wood burning fireplaces. Made from hand-painted cast concrete and steel. Comes complete with 6 piece log set, grate, and decorative lava rock.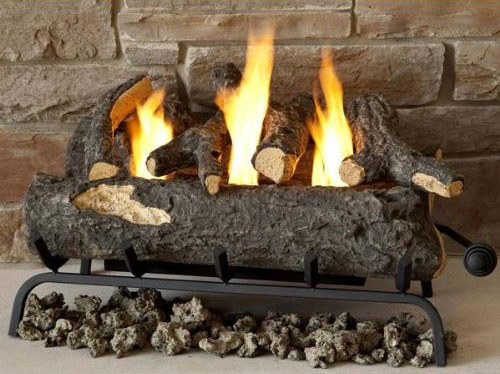 6. Portable Indoor/Outdoor Fireplace
[[discontinued]]
Enliven any space with this portable metal gel fuel fireplace. This unique design sits conveniently on a patio, floor, or table for instant relaxation. Finished with a painted black finish with copper edges, this fireplace will hold up to 2 cans of gel fuel providing a rich fiery glow perfect for relaxation. Each can lasts up to 3-hours on a single burn and puts off up to 3,000 BTU's. Gel fuel must be purchased separately. This portable fireplace also makes a convenient and unique space for burning and displaying candles simply by placing the included snuffer cover on top of the gel fuel can openings.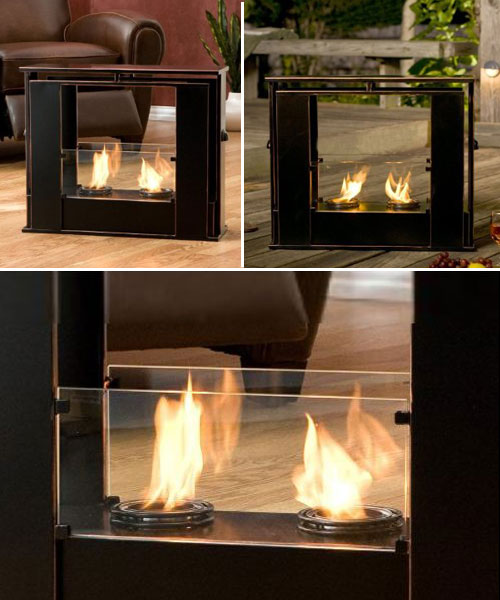 7. Mediterranean Personal Fireplace
[
buy on amazon
]
Cast concrete base and hurricane glass create an elegant personal fireplace. Burns Real Flame Junior cans or Real Flame Pour Gel. 10 inches Diameter x 11.5 inches H. Made from hand-painted cast concrete and glass. Perfect for indoor and outdoor use. Real Flame gel fuel sold separately.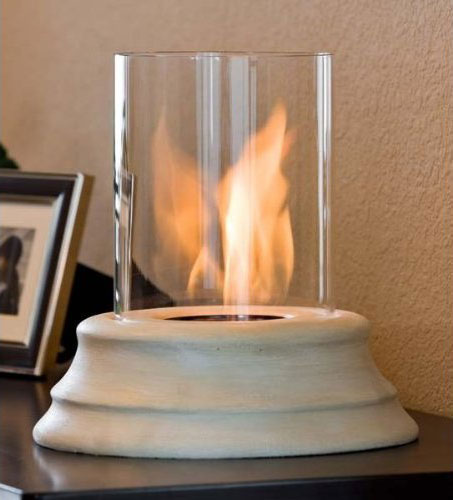 8. Weber Wood Burning Fireplace
[[discontinued]]
Create atmosphere anywhere…. Now it is easy to have the warmth and atmosphere of an outdoor wood burning fireplace or campfire. Use the Weber Fireplace camping, on a patio or in the garden – anywhere you want to enjoy the fun of a fire without leaving a trace of it. Bring warmth to cool nights and an inviting glow to any occasion. Made of heavy-gauge steel construction, the lid and bowl are porcelain enameled, that won't rust, fade or burn. The heat shield is made of rust-resistant aluminum, and the support ring is galvanized steel.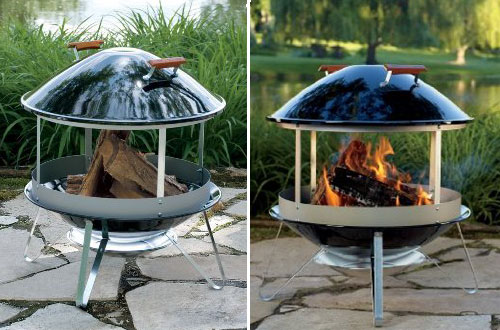 9. Coleman Pack-Away Portable Fireplace Grill
[
buy on amazon
]
You can bring the fireplace with you when you bring Coleman's Pack-Away Portable Fireplace & Grill. Its 22″ bowl is constructed of durable stainless steel, with an included steel cooking grate. Also included are a convenient lifting tool for placing and removing the grate, and a decorative ember screen for safety. The Pack-Away Portable Fireplace & Grill sets up easily, no tools required: the stand is collapsible and stores inside the bowl when not in use. It all comes with a carry bag for easy transport.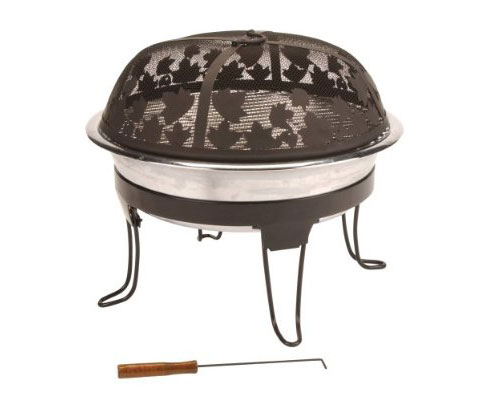 10. Camp Chef FP29LG 30-Inch Del Rio Copper Gas Firepit
[
buy on amazon
]
This beautiful propane-powered copper fire pit has a 60,000 BTU gas ring. Ceramic logs and lava rock make a perfect flame for an evening under the stars on the patio or at your favorite camp ground. Gas fire pits are a great way to bring your family together for a fun evening with wonderful ambience. The fire pit simply connects to your bulk propane tank and will burn for hours.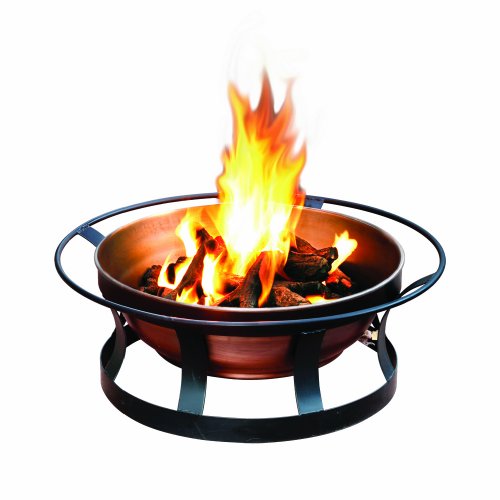 11. Pipe Biofuel Table Top Fireplace
[
link
]
* Biofuel sold separately
* 304 Stainless Steel Burner
* Brushed 304 stainless steel base
* Burn time: 4-5 hours per 32 ounces
* Weight: 3 lbs
* Dimensions: 30L x 15W x 16.5H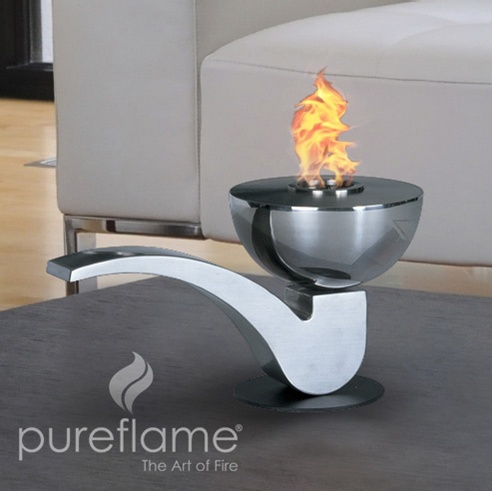 12. Apollo Table Top Firepit
[
buy on amazon
]
APOLLO-K Apollo Table Top Firepit Features: -Venturi Flame Technology uses a proprietary turbo disc combined with a glass cylinder to create a unique "spinning" aesthetic when using these portable fire pits, indoors or out.. -Burns on an alcohol based "gel" fuel, similar to a sterno can.. -Glass Tubes are made of Tempered Glass and are made specifically for this product. -Indoors or outdoors.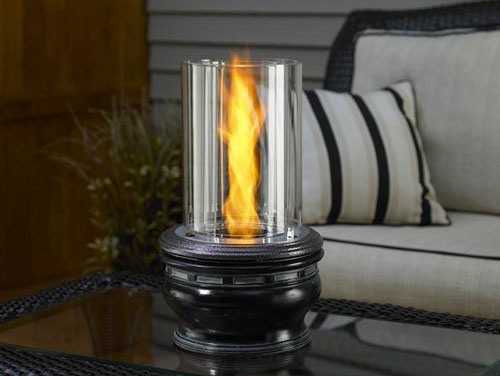 13. Gido Wahrmann 2 Satin Oil Lamp Tabletop Fireplace Base
[
buy on amazon
]
This Tabletop Fireplace makes a sophisticated alternative to candles, utilizing oil to produce an inviting flame for the tabletop. The Tabletop Fireplace features stainless steel logs and a natural slate base or a walnut base. Base dimensions are 10 by 14 inches.