Having a bath can be such a relaxing treat when you're in the mood. However, once you've sat for a bit and the water starts to go a bit cold, the whole experience can become boring. That is the reason why we need these Creative and Playful Tub Plugs and Drain Stoppers, which are sure to make one smile & are great fun too.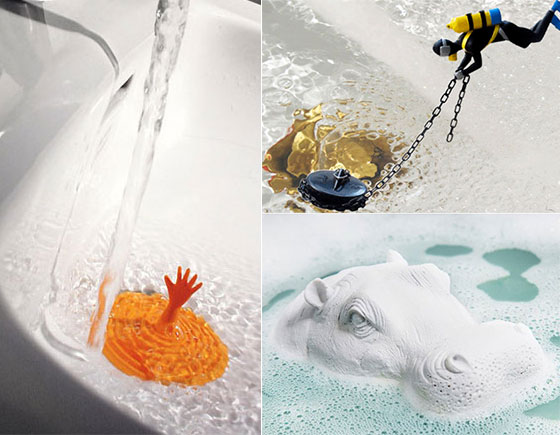 We are a participant in the Amazon Services LLC Associates Program, an affiliate advertising program designed to provide a means for us to earn fees by linking to Amazon.com and affiliated sites.
1. Donkey Products Bathtub Plug Joe the Hippo [source]
Even the most passionate big game hunter loves to bathe – and must not give up his beloved hippo while doing so. Thanks to the floater one can easily locate the bathtub plug when the foamy fun is over with.
Measures: Diameter 4.5 cm
Weight: 0.12 kg
Category: Bathtub Stopper
Color: white
Material: metal; plastic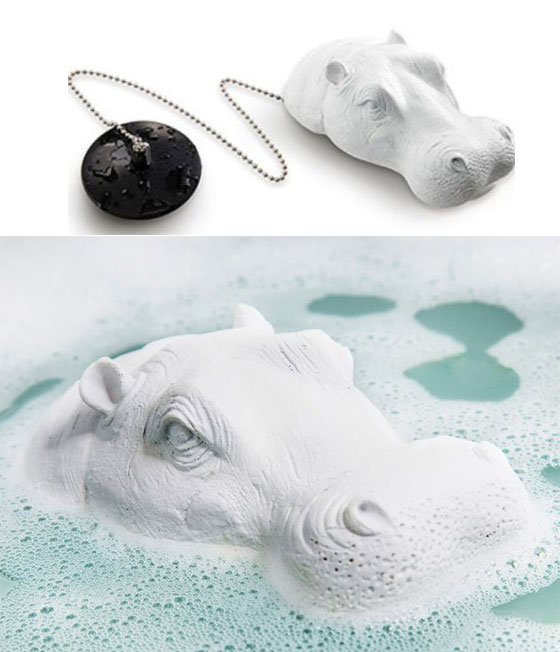 2. Rubber Shark with Bath Plug Stopper [source]
This excellent novelty bathtime shark will take in a little water and then sit below the water with it's fin sticking out the top – just how it should do. The new and improved shark has a plug attached so that means your bath water is in capable fins. It also means an end to plunging your hand into scorching/freezing water to empty the tub.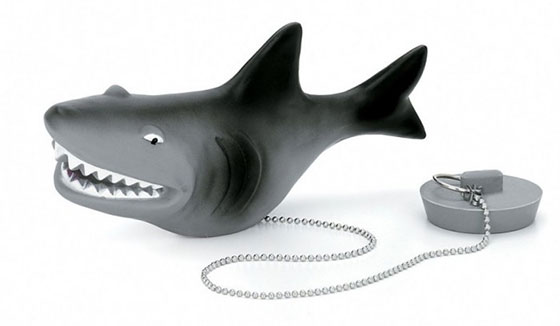 3. Bathtub Plug Swimma [source]
Bathtub plug in the shape of a fishing bobber, made of plastic. The funny, colorful bobber Swimma, attached at the end of the bathtub plug, casually floats on the water surface and gives the impression of being on a relaxing fishing trip. Swimma remains visible up to a water level of 65 cm.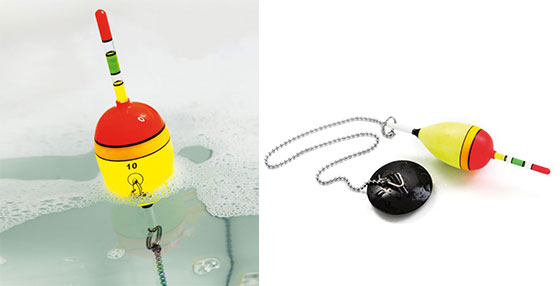 4. SOAP BOAT & TUB PLUG [buy on amazon]
Kids will love splashing around with this great rowboat, and you'll love all the good, clean fun !
The stopper is attached to the boat by a metal chain
Floating plastic boat measures 4″ H x 7″ L
Tub stopper fits drains from 1 1/2″ to 2″ diameter
Recommended for ages 3 and Up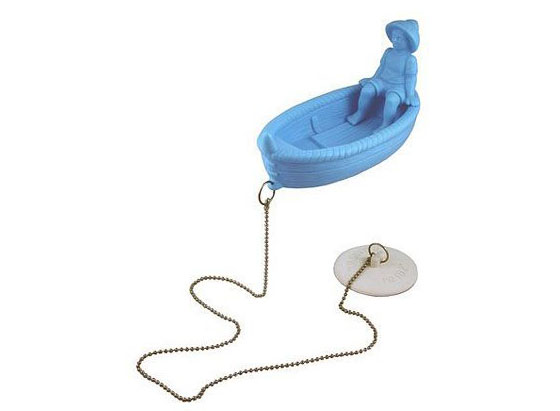 5. Creative Imaginations Anibath Tub Plug – Duck [discontinued]
Too cute for words
Rubber bathtub plug has a duck that will float up on a chain
Phthalate free
Great gift for anyone of any age who likes to take a bath
Comes packaged for giving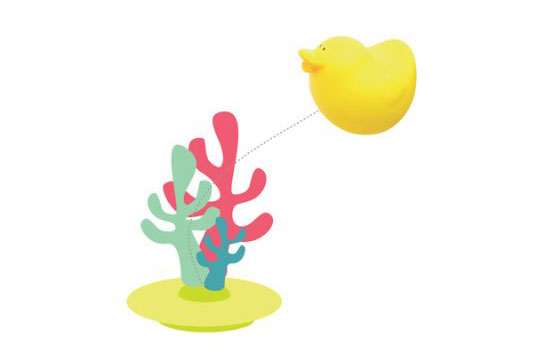 6. Tubtanic Novelty Bath plug [buy on amazon]
Tubtanic Novelty Bath plugIceberg dead ahead!'; Ok, so it's just bubble bath… The Tubtanic Bath Plug is a hilarious bathroom accessory that will look like a miniature scene from the Titanic movie. Throw in a couple of Lego people and recreate weepy scenes of Leo DiCaprio and Kate Winslet losing each other in a wave of poor acting and CGI madness. Bath time has never been so dramatic!Whether you are using Tubtanic as a bath plug or sink plug, it makes a great Birthday gift or stocking filler. If you have a nautical themed bathroom, why not add a touch of humour? Who knew you could accommodate a cruise ship in your bath tub! Scrub your poop deck with an aptly themed bath plug as company, thanks to Tubtanic!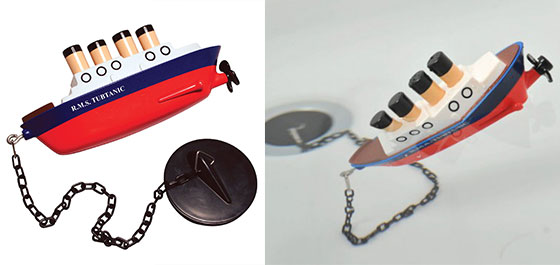 7. Lotus floating bath plug [discontinued]
Make your own bubbly zen garden with this Lotus Leaf floating bath plug… Lay back and let the ambience takeover, maybe even let out a gentle "Om" – or not! Its chain allows it to stay attached to the plug and its foam base allows it to float. Its fairly simple really. If only life was as simple as a Lotus Leaf!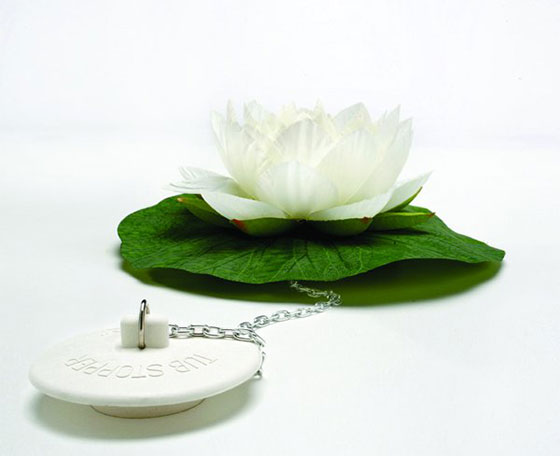 8. DOGGY BATH PLUG [source]
Man overboard! Oh wait.. that's not a man, it's an adorable puppy to keep you company in the bathtub. Think you're too grown up to take a bath? Never! Grab your Mr. Bubble, floating battleship, and rescue the puppy!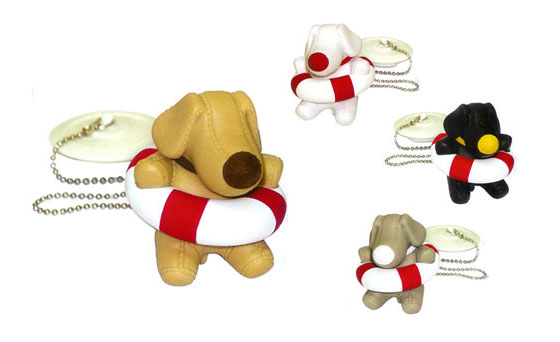 9. Scuba Diver Bath Plug [source]
What better person is there to plug your bath than a scuba diver? The Scuba Diver Bath Plug is an expert at stopping major leaks and will competently plug your bath whenever you need him to. He'll even hang around whilst you have your bath and let the water out after you've finished. Fits all standard sized bath and sink plug holes. Comes on a chain so will float around around whilst you scrub yourself.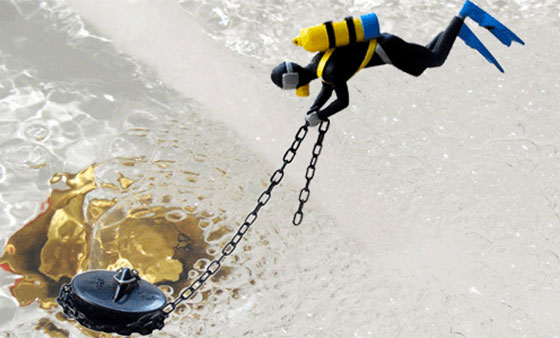 10. Polar Bear Bath Plug [source]
Do you marinate in the bath worrying about melting ice caps and the plight of the polar bear? Well you should because despite the claims of Clarkson and co, it's your fault! So why not cheer yourself up and simultaneously compound your angst by plugging your tub with the Polar Bear Bath Plug.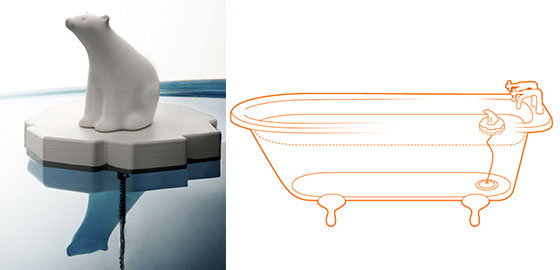 11. Mr. Suicide Bathtub Plug [buy on amazon]
Once your start to fill your bath with water, Mr Suicide starts to float whilst chained to the plug. It's a curious idea, and could maybe prompt some interesting conversations with the kids, but it's definitely not dull which is always a good thing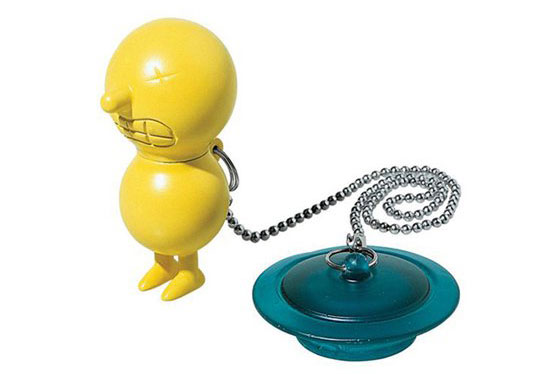 12. Fish Bath Plug [buy on amazon]
Universal size fits all plug holes
Made from durable rubber
Fishy fun fior bathtimes
Place fish in plughole, run bath, relax and enjoy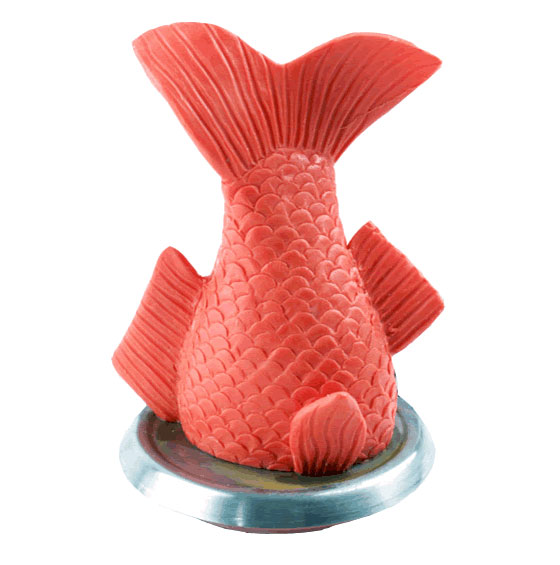 13. HELP! Drain Stoppers [buy on amazon]
Help! Drain Stoppers
Assorted Colors
Standard Size will fit most bathtubs.
For 1.5″ Inside Diameter Drain Orifices.