Admire Mr. Bond's advanced equipment in 007? Check this post, you might find some interesting spy gadgets installed on daily stuff, like shirt, belt, sun-glass, belt and ect,. I am not sure the recording quality of those gadgets, and maybe they are annoying products for someone. But I bet they are great toys/gifts for those geeks.
We are a participant in the Amazon Services LLC Associates Program, an affiliate advertising program designed to provide a means for us to earn fees by linking to Amazon.com and affiliated sites.
1. Spy Camera Shirt [discontinued]
It's what 007 wears on laundry day.
* T-shirt with a built-in spy camera
* Classic spy style artwork on a blue shirt
* Click the control box in your pocket to take pictures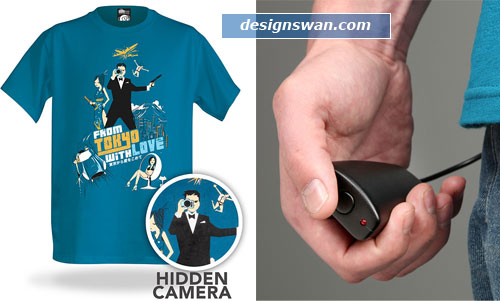 2. DBTech Mini DVR Video Pen [buy on amazon]
Built-in the smallest micro DVR in the world inside, this pen can never be just used to write smoothly, it is also endowed with the function of recording video and voice. That is, it is the world's first pen-based video micro DVR with such functions.High sensitivity of the microphone recording the clear voice in the 15 square meters, coupled with high-definition camera effects enable this pen to be a perfect choice while you are studying, listening to a speech and doing business negotiations.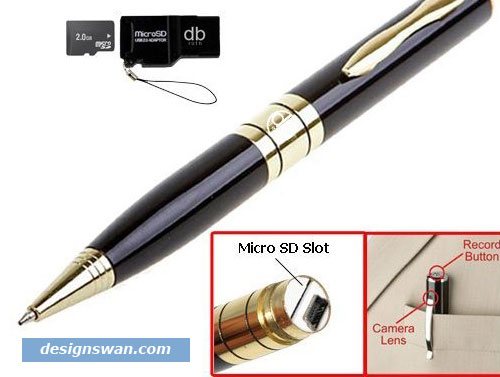 3. GSI Handsome Waterproof Watch, Hidden Pinhole Camera/Camcorder
[discontinued]
This state of the art watch will get you noticed, but will conceal the built in high resolution spy camera which records video, DVR and sound from 2-3 meters away. With a whopping 4gb of built in memory, you will never run out of recording space. This is a complete surveillance sysytem packed into a watch, and is extremely user friendly.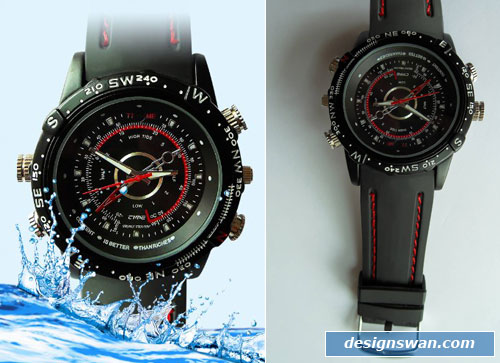 4. 4gb spy mp3,mp4 sun glasses recorder video vidicon camera DV
[
buy on amazon
]
* Support 1gb-4gb memory card.
* Resolution 640*480 1.3Image photo :1280*1024
* Video Format AVI Recording Speed 30fps Quality Polaroid Lens from brand makers
* User friendly operation button for easy control With extended memory slot for TF/MicroSD Card Easy
* connection with PC/Laptops, no driver needed
* 5 hours video recording
* Sleek and elegant design suits for both men and women users
* Real time recording Recommended for journalists, traffic police, travelers and students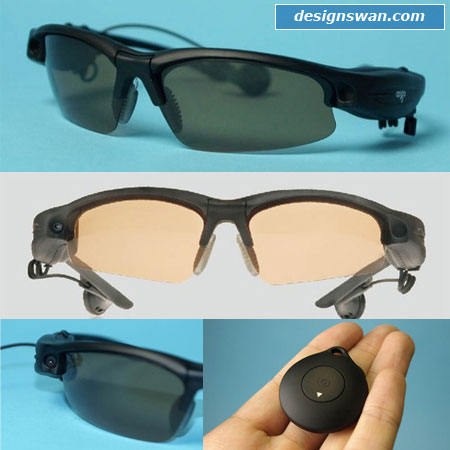 5. uCorder IRDC150 Wearable Video Camera / Recorder with 1 GB Built-in Memory
[
buy on amazon
]
* Wear it, Watch it: At 3.5-Inch high, 1-Inch wide, and 0.5-Inch thick, uCorder is the most portable video camera / recorder combo available
* Video and Audio Capture: Crystal clear color picture with audio recording, VGA quality (640 x 480) at 25 fps (real-time appearance)
* USB Interface: Easily connects to any laptop or PC for file transfer, compatible with Mac and Linux
* Internal Flash and SD Memory: Built-in Flash memory (1 GB) plus optional Micro SD (up to 8 GB, not included) can retain up to 6 hours of recording
* AVI Capture: Recordings are captured as AVI standard files, easily readable on any media player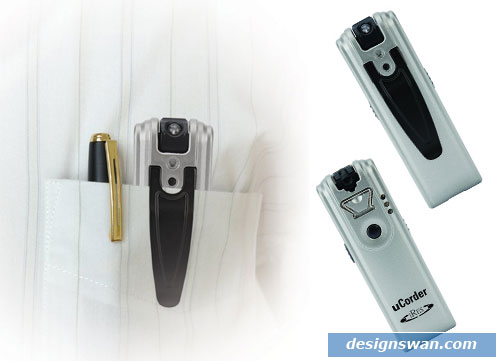 6. Erector Spykee – The Spy Robot
[
buy on amazon
]
Recommended for ages eight and up, Spykee is far more than your ordinary toy robot. Perfect for audio-visual surveillance, Spykee has the ability to move, watch, speak, and hear. With a built-in video camera and microphone, the robot takes real-time pictures with video and with sound effects. When motion is detected, Spykee activates an alarm or sends a picture by email. Compatible with Skype 3.0 (PC) technology, Spykee can also be used as a VoIP (Voice over Internet Protocol) phone and web camera. Best of all, this motorized robot is equipped with a WiFi card, which means kids can access and control Spykee via the Internet from anywhere in the world.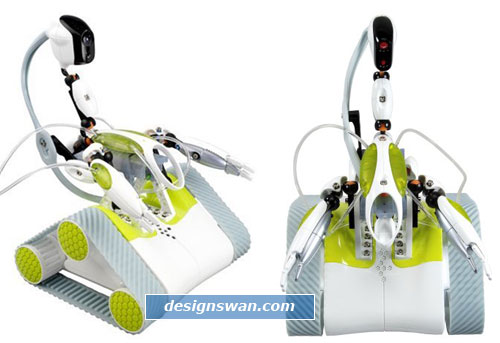 7. 8-LED Flaslight Mini DVR Camera
[
buy on amazon
]
Here you have a beautiful metal constructed 8-LED flashlight with built-in High Definition digital camera with memory expandable to 8gb, has built-in 800mAH lithium battery that can work for hours without being recharged.
* Powerful 8-LED Flashlight
* Built-in HD Digital Camera
* Can be used as a Webcam
* Captures Video with Sound
* Captures Photos
* Video Resolution: 640×480
* Video Format: AVI
* Photo Resolution: 1600×1200
* Photo Format: JPG
* Built-in Rechargeable Lithium battery (800mAH)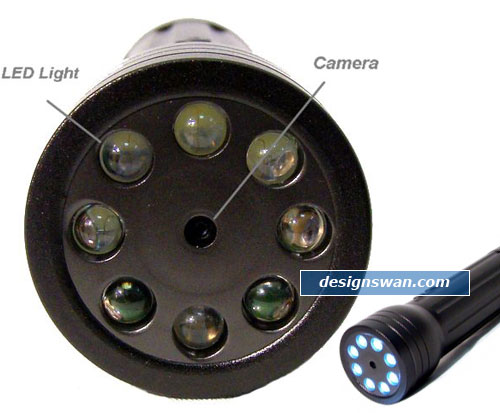 8. Minox Digital Belt Camera
[discontinued]
The Minox Belt Camera enables videos to be taken without being noticed. The micro-optics are perfectly concealed on the front of this ingenious camera, allowing undercover surveillance to be recorded inconspicuously in 3GP format. The controls are arranged on the underside of the buckle and are within easy reach.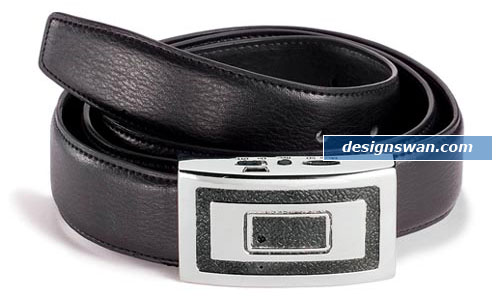 9. Mini DVR ID Card Camera
[buy on amazon]
* Lens: 1.3 Mega pixels
* Internal memory capacity: 4Gb
* Video resolution: 352 x 288@25pfs
* Static picture resolution: 1280 x 288
* Video format: AVI * Standby time: 10 hours
* Power: Rechargeable Li-on battery
* Dimension: 7 x 5.3mm Features:
* Innovative design (credit card size)
* Covertly ID card shaped design for secret video recording
* Combination of video recorder, digital camera, voice recorder, and a ordinary ID card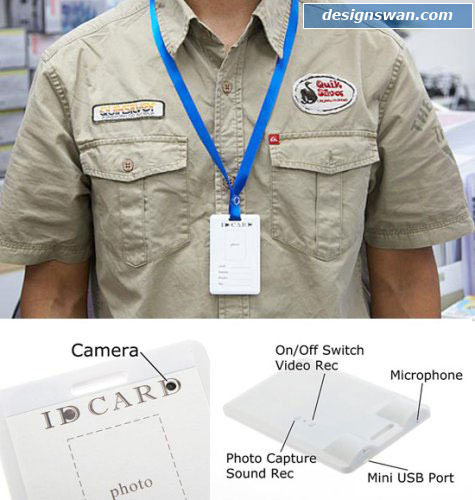 10. Mini Micro Spy Keychain Video Camera/Camcorder
[
buy on amazon
]
* Easy connection with PC/Laptops, no driver needed
* Easy to use "One Touch" record button
* USB Plug & Play Compatible
* Real time record any video and audio evidence instantaneously
* Support system: Windows98SE/ME/2000XP/Vista/LINUX2.4 above and automatically distinguish operating system.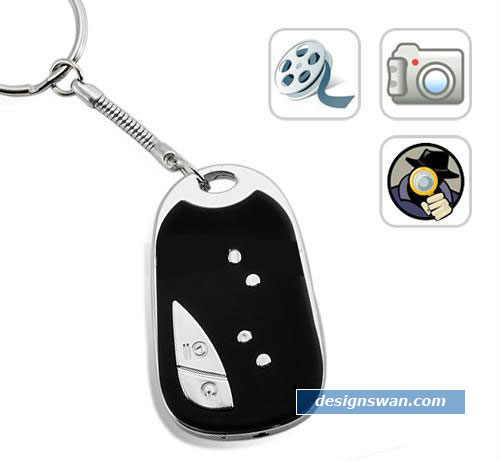 11. High Definition Cap Style Spy DVR Camera Remote Control with 4gb Buit-in Memory
[discontinued]
Highlights It holds 4GB of memory, and comes with a remote control and is installed with a vibrating mechanism programmed to activate for set reminders. Specification? Memory: 4GB Synchronous: Video Resolution: 640*480 Typical Microphone Range: 3m File Format: MP4-AVI Sensor: CMOS Motion Sensor Power Source: Internal Rechargable Li-Battery Construction: Mental Accessories: User Manual, Portable Easy-charge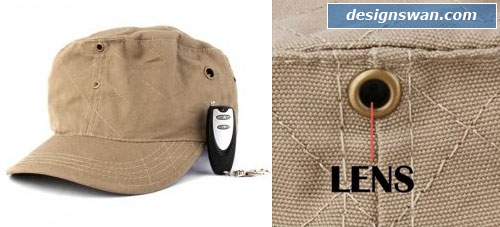 12. Wired Spy Necktie Camera
[
buy on amazon
]
Pin-hold camera penetrated into your Life! This one now is hidden in the TIE pattern, and you may need to check it carefully to find it out. The pin-hold camera can be controlled by a remote, it's easy to press-and-record and no extra technique is required.
# Pinhole Lens
# Resolution: 352 x 288 pixel
# FPS: 12 frame per second
# Recorded file format in AVI
# Color Video and Audio
# Built-in 4GB Memory
# Rechargeable Li-ion battery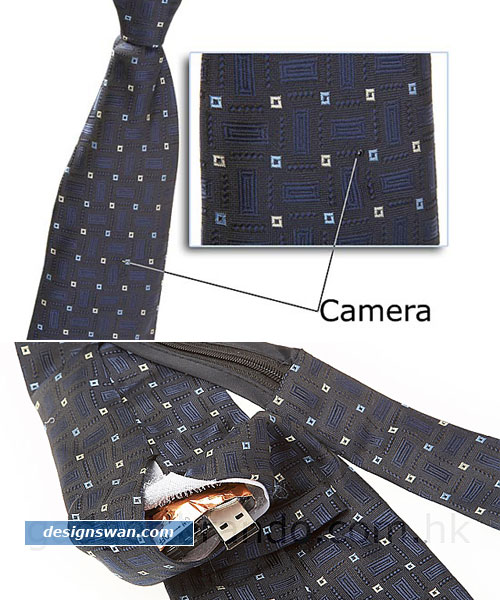 13. Fake Lighter Micro Video Camera
[discontinued]
This is a Micro camera first in it's kind. You get a Mini DVR in shape a Generic Lighter. Captures High Resolution Image and Video with Sound. Has built in Sound activation, when sound activation is active it will automatically start capturing when the sound level reaches 65 decibels, it will stop after 3 minutes and save the video, then it will restart if the noise level is reaches 65 decibels.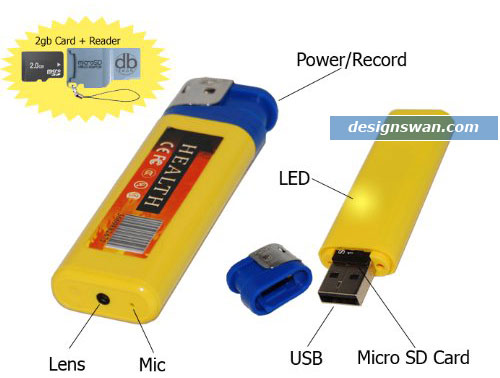 14. Superior Chewing Gum Camera with Built In Flash + Mic -1GB
(discontinued)
Mini spy camera with audio and video recording, perfectly sized to be put inside a chewing gum wrapper for almost undetectable covert surveillance.
Video is recorded on to a 1GB Micro SD card in 3gp format which can record 15 frames per second with 33 hours of recording storage. The battery is charged via USB which also allows transfer of video files.