We all know that one of the easiest ways you have to light a dark corner in any room or add some atmospheric lighting to your living-room area, is to place your choice of lamp. Hence, today we want to represent you collection of 14 Stylish and Cool Table Lamps. Some of them you can buy via various online-stores. But some of them for now are just a concept. Check out those creative designs, hope you can find one to complete the decoration of your home.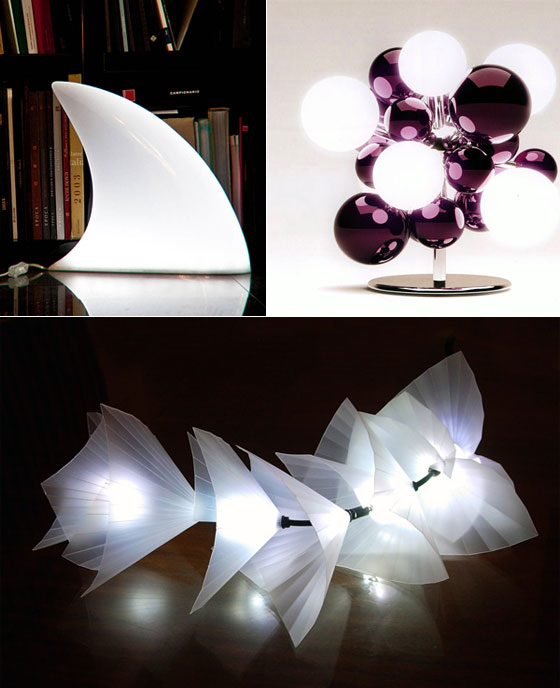 We are a participant in the Amazon Services LLC Associates Program, an affiliate advertising program designed to provide a means for us to earn fees by linking to Amazon.com and affiliated sites.
1. Ultramodern Silhouette Floating Lamp [source]
This unique lamp was designed by Angela Jensen and engineer Ger Jansen. The Silhouette floating lamp based on the iconic table lamp looks ultramodern thanks to its floating top part. The floating effect is possible due to it´s electromagnetic components and a sophisticated control system.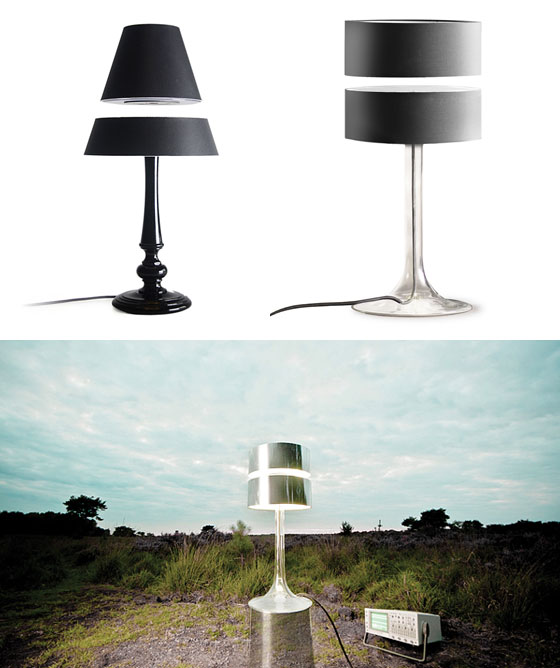 2. Creative Lamp Shark [source]
Lamp Shark. Elegant Lamp. Excellent and cheerful decoration of interiors and exteriors. For fans of the risks and thrills.
3. Balanced Stone Lamp [buy on amazon]
Mary-Kate And Ashley- Ceramic Body- Natural Stone Finish
Shade Color: Beige Hardback Shade with Rolled Edges
Lamp Dimensions: W: 14-Inch H: 23-Inch
Shade Dimensions: W: 14-Inch H: 9-Inch
Lamp: 1 – 3 Way 150 Watt Med.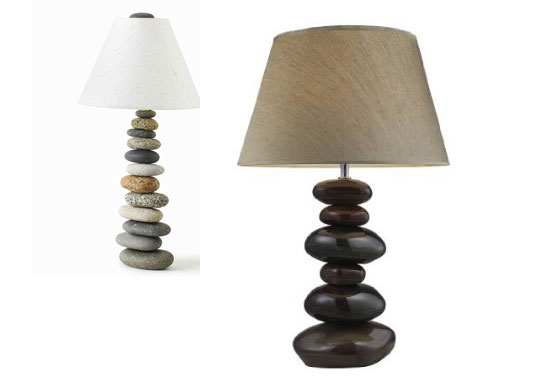 4. Digit Lamp [source]
Digit table lamp by Studio Babled in collaboration with Tingo Design gallery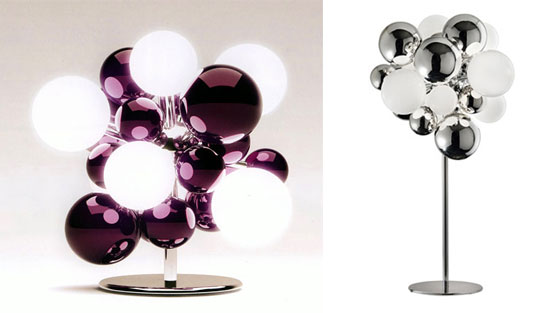 5. Mushroom Lamp [source]
An example of ultra low wattage LED lighting technology, the Mushroom Floor Lamp uses just a fraction of the power standard light globes use. The adopted shape of a mushroom combined with turbine like gills is symbolic of the union between sustainable design and new technology assisting us to reduce the impact we have on our planet.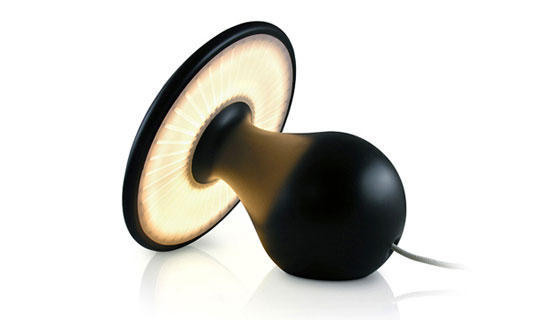 6. Element Arc Touch LED Accent Desk Lamp [buy on amazon]
Take your desk or office design to the next level with this sleek and modern LED lamp. Perfect for illuminating reading material or computer keyboards. The arc base comes in a chrome finish and houses a long-lasting, highly efficient 3 watt LED bulb. Best yet, just touch anywhere on the base to turn the lamp on or off.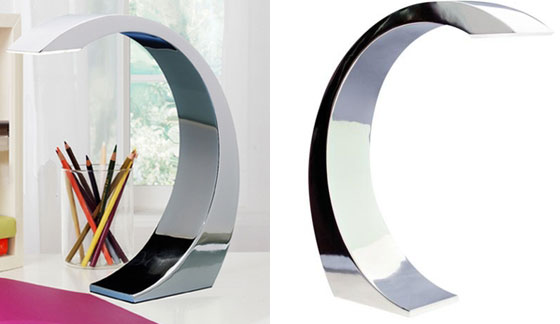 7. Jellephish Mood Lamp [buy on amazon]
Infinite palette of color
4 settings including static, scrolling, sound-reactive lighting and pearlescent
Adjust the speed and color intensity from the remote control
Free-standing base
Option to mount the dome flush against a wall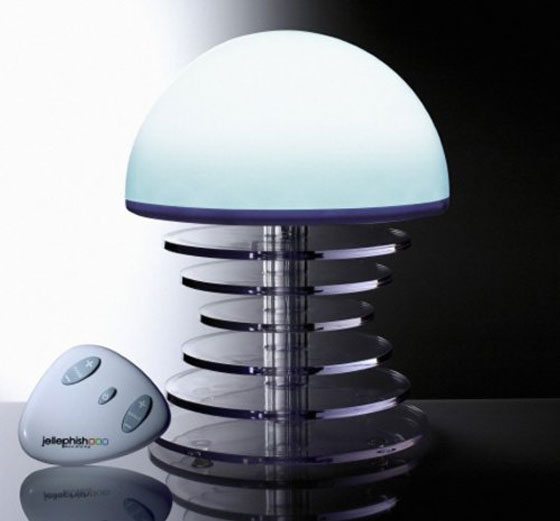 8. Alien Lamp [source]
Invasion from another world. It seems as if a strange creature is sliding down a rope. Gently and almost weightlessly, radiating a warm and graceful light. Alien. Available in two different sizes and four variations, as pendant, table, floor lights. The version "easy" also can be ordered for outdoor. It comes with a choice of textile cables in red and silver. The lower cover is variable, too, enclosed in red and white. An Alien formation to illuminate your room.
9. George Kovacs Apple Green Desk Lamp [buy on amazon]
As seen in "Velocity" magazine, this supple and organic contemporary lamp design is from the imagination of designer Karim Rashid. A chrome base supports a clear glass orb with an apple glass inner shade. Has an on-off, in-line switch.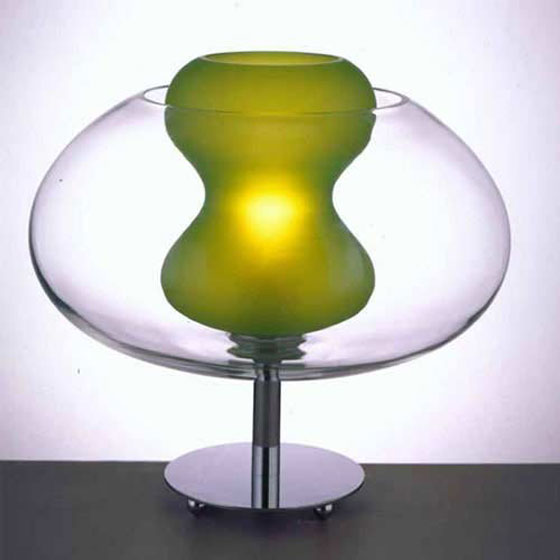 10. Criminal Desk Lamp [source]
The Criminal Desk lamp is a tribute to the King of Pop Mickael Jackson. This lamp is a reminder of his dancing genius, especially in the Smooth Criminal song, for which he patented special shoes, designed to perform a 45degrees leaning. The way of lighting on and off the Criminal Lamp follows the gesture of MJ when moving up and down his hat with one hand. The Aluminum base make it a thin, stable and refined object, while the white & black white shade is a strong icon to refer to MJ's clothes. The delicate thin aluminum stick on the shade allow a good usability for switching on and off and change from the traditionnal push button.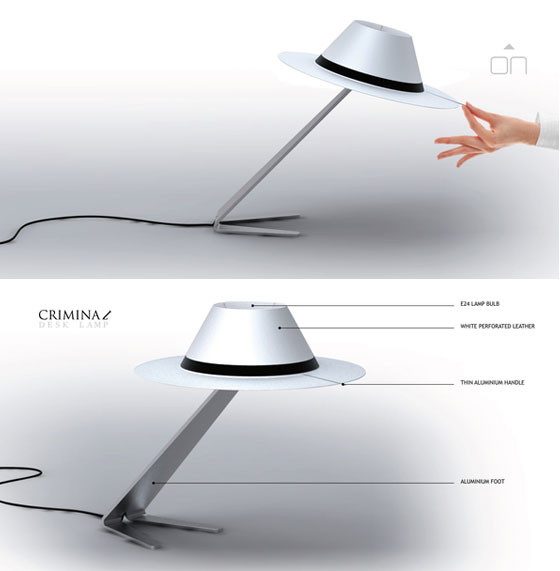 11. Alien Abduction Lamp – UFO Lamps [buy on amazon]
The Alien Abduction Lamp is a U.F.O shaped lamp with a glowing tractor beam and light up cockpit!
Main powered with UK plug. The lamp measures approx 23 cm x 27.6 cm x 23 cm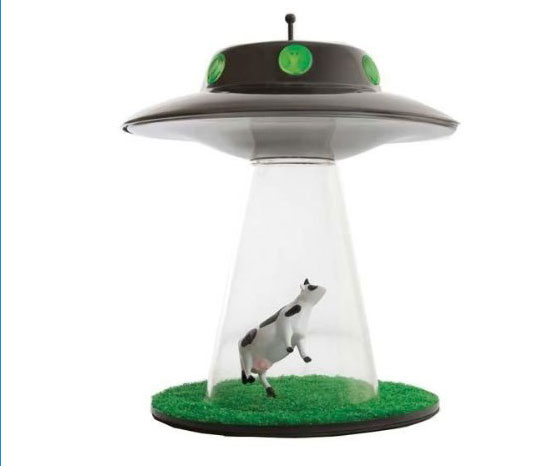 12. ON/OFF Lamp [source]
ON/OFF is not operated by the usual switch on the electric wire, but by a movement of the hand which moves it into its two positions of balance. It can be placed on a table, bedside-table or floor. If dropped or knocked it does not break, because it is made of soft thermoplastic. It is advised for the children's bedroom because when turned off, its green light is easy to find in the dark.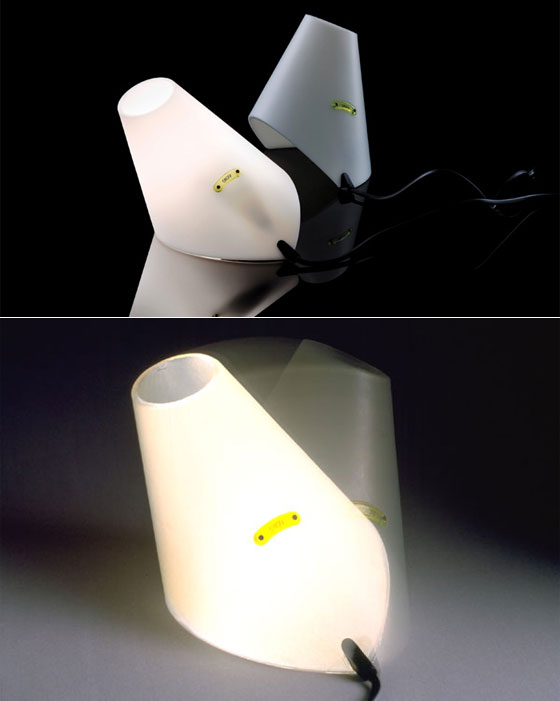 13. Book Table Light [source]
The Book light by Studio MS combines delicately pleated paper with a traditional fawn-colored book cover to create a beautifully glowing table light. The pleats conceal a compact bulb which is easy to change and the light comes with an attractive silky red cord. The Book light is hand-made in London and no attention to detail has been spared in its construction.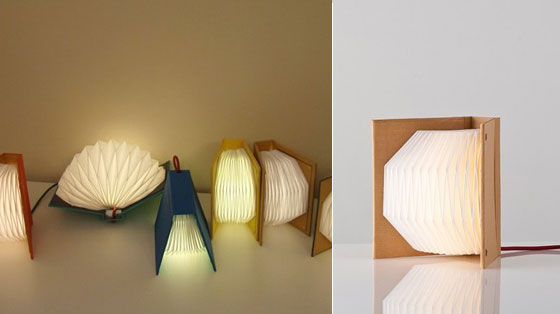 14. The Blossom Light [source]
The Blossom Light by designer Ewa Sendecka features four modular LED components that can be bent and molded thanks to the flexible construction of the tubing that encases the power cable (the same used in goose-neck microphone holders). For further modification the components can be used in any order or number and plugged in for power on either the first or last module. Lay it down, stand it up, or hang it from the ceiling- a great modular lighting system that only requires a little imagination.