Wine is something can't be missed from most parties. There are lots of wine accessories and gadgets to help preserve/server wine better. In this post, we will present you 15 Cool Wine Accessories and Gadgets, covering wine chiller, wine opener, wine stopper, wine decanters, wine saver and even wine coat. Although some of them are not necessary, they do look cool so we still put them here for those wine aficionados.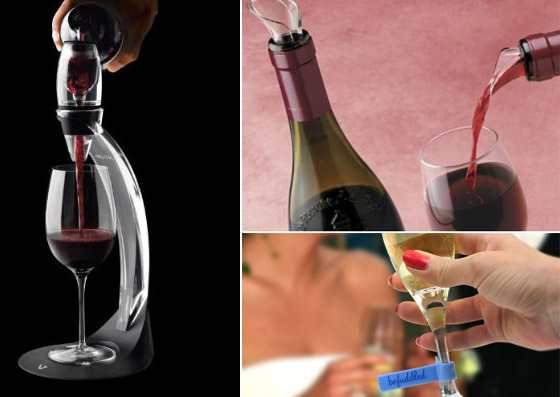 We are a participant in the Amazon Services LLC Associates Program, an affiliate advertising program designed to provide a means for us to earn fees by linking to Amazon.com and affiliated sites.

1. Stem Glass Tray [link]
The Stem Glass Tray is basically a tray with little holes in which you place the wine glass stems and a ninth hole for your thumb.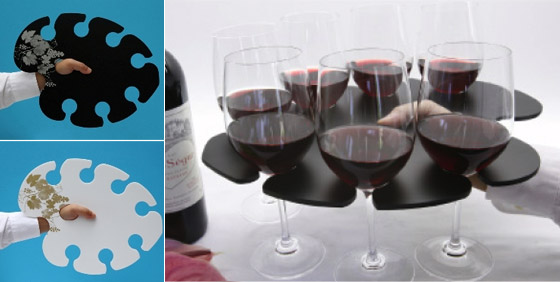 2. Vinturi Deluxe 6-Piece Wine Aerator Set [buy on amazon]
Stylish 6-piece set includes the Vinturi red wine aerator, tower arm, tower base, no-splash grate, and sediment filter
Wine aerator mixes wine with air to enhance flavor, bouquet, and finish of any red wine
Curved acrylic 2-piece tower floats aerator, secures wine glass, and provides a dramatic presentation
No-splash grate eliminates mess
Easy to clean and dishwasher safe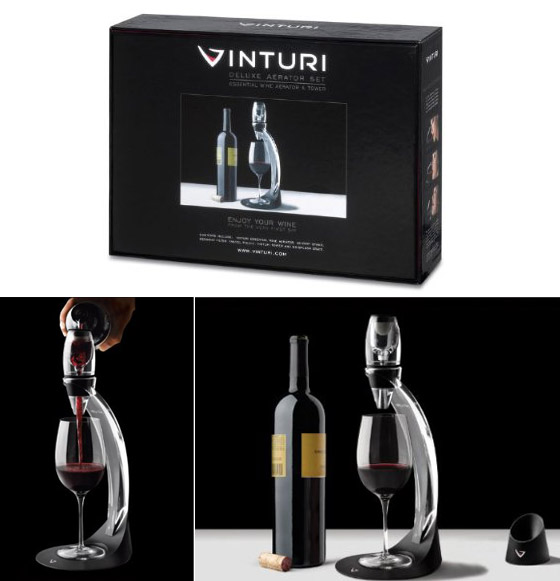 3. Ozeri Maestro Electric Wine Opener with Infrared Wine Thermometer and Digital LCD Display [buy on amazon]
The first rechargeable electric wine opener with an infrared wine thermometer and digital LCD screen.
Non contact sensor instantly displays wine bottle and room temperature on its Digital LCD screen.
New improved 2nd generation battery and motor effortlessly opens up to 80 wine bottles on a single charge.
Digital battery meter displays on an LCD screen so you never run out of charge.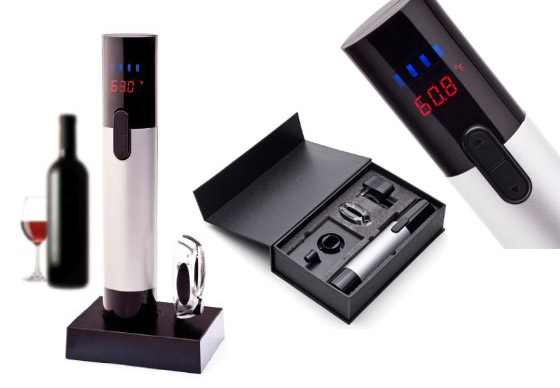 4. WINE LINES [buy on amazon]
Wine Lines – I.D. tags for your stemware.
Soft, stretchable, washable, reusable synthetic rubber.
Easy to slip onto a wineglass and unobtrusive once in place.
12 different color tags in a party pack.
12 witty and amusing vocabulary expanders.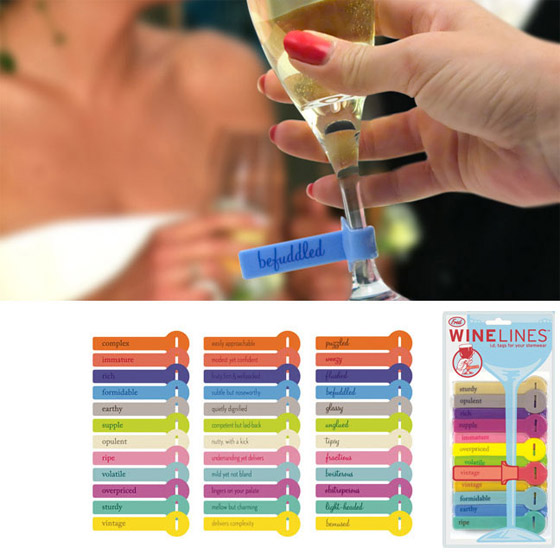 5. Hibiscus Stay on Coasters [discontinued]
Coasters and wine glass taggers in one simple design! Slip these on before you fill your guests glasses and they can carry their drinks around and put down on your favorite piece of hardwood furniture or wherever they want without causing you any stress. Your guests will find their drinks easily and the host can relax and enjoy their own party. Mix this set with Citrus – a different but matching shape of slip on coasters in same colors for set of 12, and if your party is really big this set also comes in another color combination.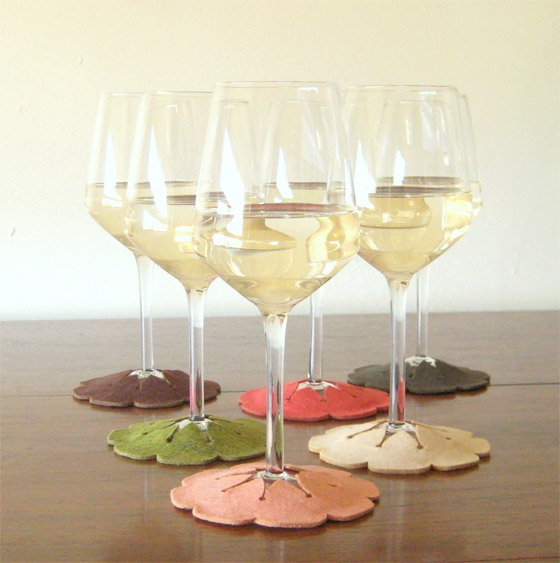 6. Metrokane Rabbit Wine Opener Tool Kit [buy on amazon]
This model of the Rabbit has a velvety, silver finish, as do the four tools accompanying it. The tools include a squeeze-and-twist foil cutter to strip away the foil covering a cork, a drip-stop ring that fits onto any size wine bottle to prevent stains on table linen, a sealer that twists so tightly into any size bottle's neck it preserves even Champagne bubbles, and a "wax whacker" that flips the wax tablet off a wine cork. Also included is a replacement worm–the installed worm wears out after 20,000 or so corks. The set fits into a handsome presentation case with lucite cover for gift-giving and permanent storage of wine tools.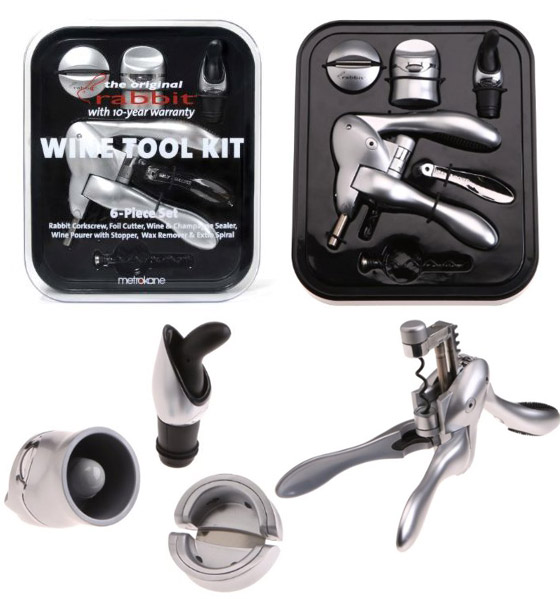 7. Vacu Vin Stainless Steel Wine Saver Gift Set [buy on amazon]
Stainless steel vacuum pump, 2 reusable rubber stoppers, and 2 crystal-like pourers
Extracts air from opened bottles to slow down the oxidation process and keep wine fresh for 7 to 10 days
Ingenious ?click? sound tells you when optimum vacuum level is reached
Dishwasher safe
Vacuum pump measures 5 by 3 inches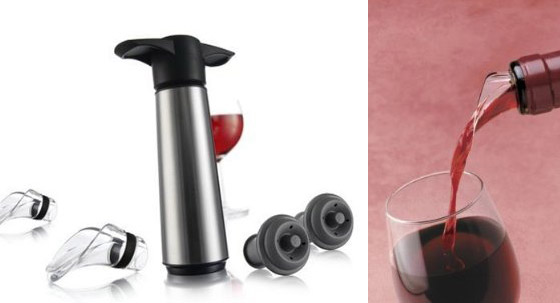 8. Metrokane Rabbit Wine Aerating Pourer [buy on amazon]
Sturdy plastic pourer with transparent aerator
Aerating pourer inserts easily into bottleneck; no decanter needed
Wine swirls through aerator before it reaches the glass, improving flavor and bouquet; no need to wait for wine to breathe
Separates for easy cleaning; hand wash; storage case included
Measures 2.5 by 2.2 by 7.6 inches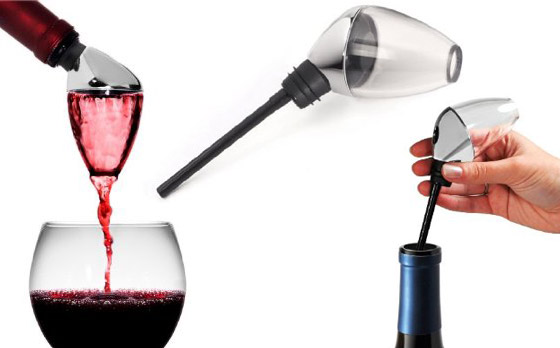 9. Ozeri Nouveaux Electric Wine Opener with Removable Free Foil Cutter [buy on amazon]
Features a European inspired curved design that stands vertically without the need for a separate base
Patent-pending easy release removable lid that converts into a foil cutter
Opens up to 60 bottles on a single charge, all with the single push of a button
Unique transparent shell makes the entire cork removal process visual
Illuminates with a soft blue light when in use and while recharging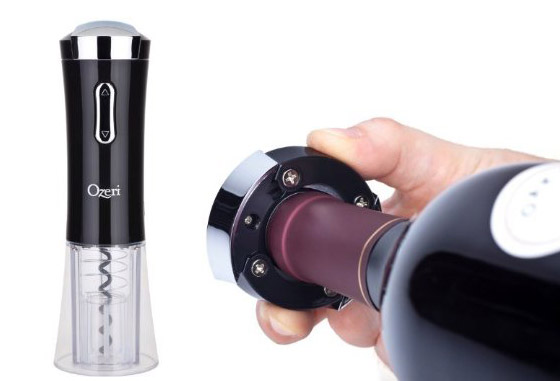 10. Cooper Cooler Rapid Beverage Chiller [buy on amazon]
Electric machine chills cans in 1 minute and wine bottles in 6 minutes
Beverages rotate while being sprayed with ice water; also heats baby bottles
Automatic touchpad features preset times, extra-chill setting, and add-ice indicator light
Removable lid for long wine bottles; no-spin option; auto-off when done
Measures approximately 16 by 10-1/2 by 8 inches;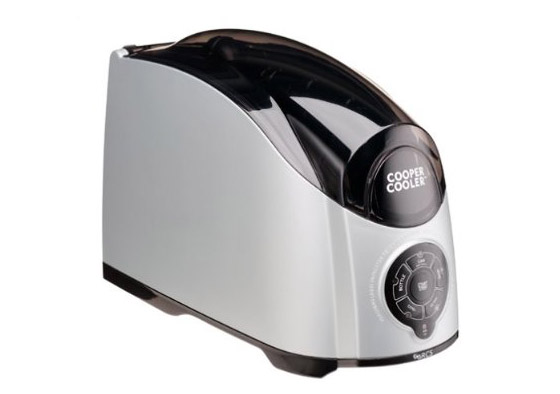 11. Nambé Tilt Decanter Set with 2 Double Old-Fashioned Glasses [buy on amazon]
Nambé Tilt decanter with stopper and 2 double old-fashioned glasses
Crafted of full-lead crystal by skilled European artisans
Tilt pieces lean playfully yet elegantly to the side; heavy, thick bases add stability
Matching Tilt stemware and other barware also available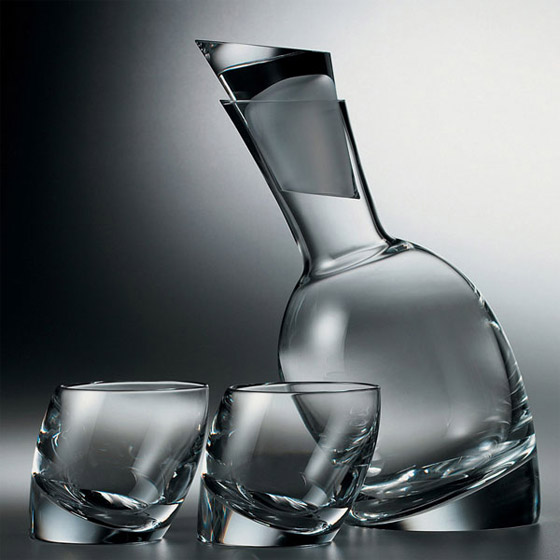 12. Skybar Wine Chill Drops [buy on amazon]
Sleek Attractive Shape
Red Wine is Chilled in 90 seconds
White Wine is Chilled in 60 min
Each drop cools 2 glasses of wine
Handy resting cups keep drops at the table and in the freezer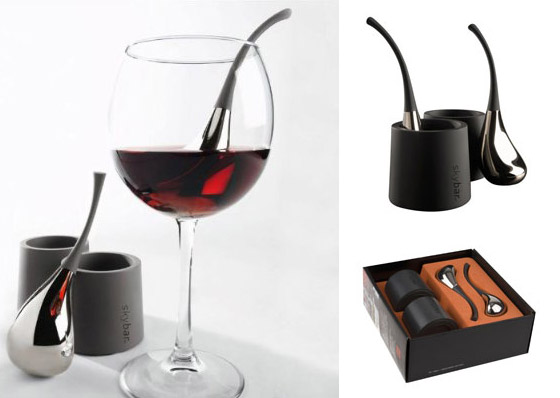 13. Wine or Spirit Bottle Lock – Combination Lock Bottle Stopper [buy on amazon]
Combination Lock Bottle StopperThis Bottle Lock is a great idea for those who are safety conscious with their drinks. Whether you are sick of people swigging your home bar when you are on holiday or the kids have been nabbing your vodka and topping it up with water, the Bottle Lock will help keep them secure!Have you ever been to your drinks cabinet only to find the bottle that contains your favourite tipple is empty? Well now you can stop this happening again with the Combination Bottle Lock.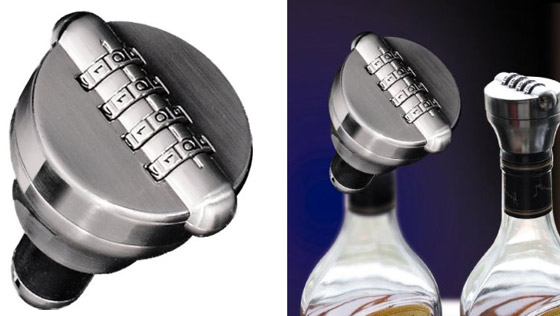 14. Oenophilia Porto Decanter Set [buy on amazon]
Guaranteed conversation pieces. These hand-blown serving accoutrements date back to 17th century Europe, where they were known as Schnapps Pfeiffen. An especially enjoyable way to savor port, dessert wine or liqueurs.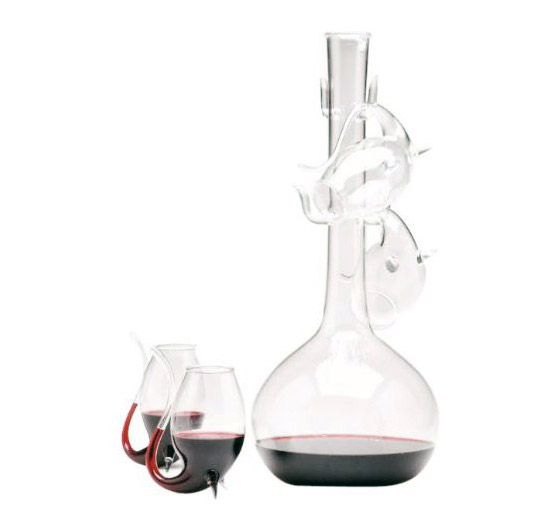 15. Menu Cool Coat [buy on amazon]
The Cool Coat consists of two layers of textile and a removable inner coat with baffles filled with cooling gel
Put the inner coat in the freezer and back into the coat before you dress the bottle
Then the cool coat will keep your wine cool for about an hour. Enough time to serve and enjoy the first course, or a bottle of white wine on the terrace.