I have written lots of posts about the "creative advertisement design about xxx product/service". In my mind, lottery might be the last things need to be advertised. I guess those big number jackpots are their best self-advertising. But, apparently, I am not correct at this point. When I did make some research on lottery advertising, I actually found a lot. Of course, all of them give me beautiful illusion of my life after winning. Some of them are also pretty funny and smart. Hope you enjoy… (and I am going to buy my ticket tomorrow…. and cross my finger….)
Loto Chilean lottery: Secret
Tagline: The secret of attraction.Loto. Fulfilling what advertising has always promised.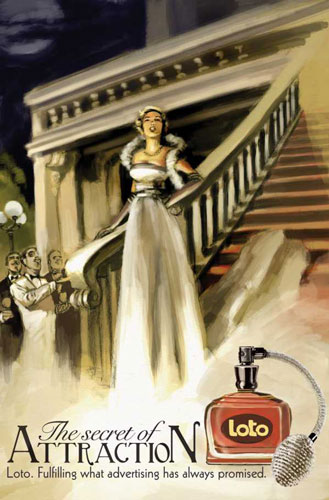 Loto: Shower and Bedroom
Tagline: Yes, it can happen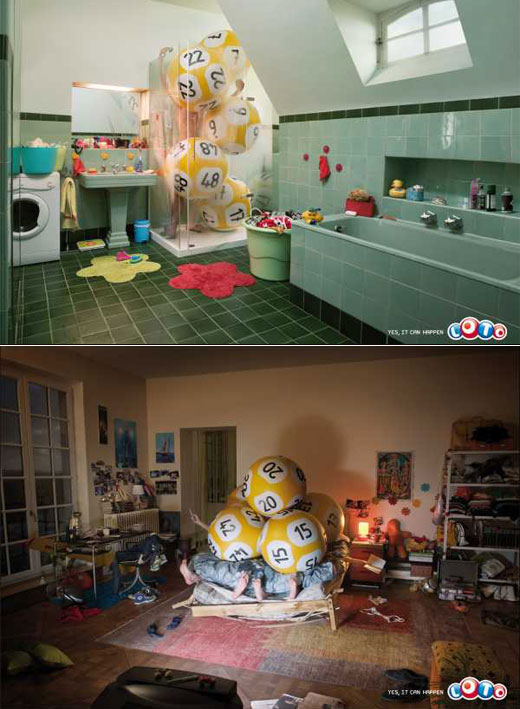 Riksgalden lottery bonds: Space (first) and Riksgalden The Swedish National Dept Office (second)
Riksgalden The Swedish National Dept Office: Hunt
Tagline: Don't risk losing. Buy lottery bonds. Your money is guaranteed and you may win millions.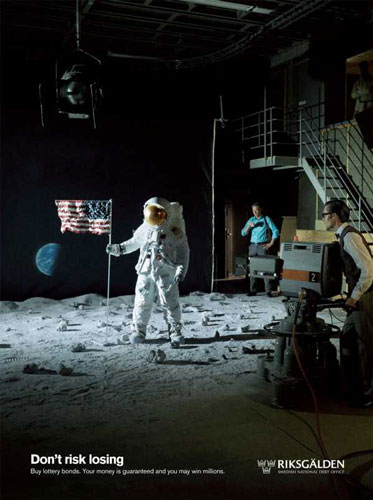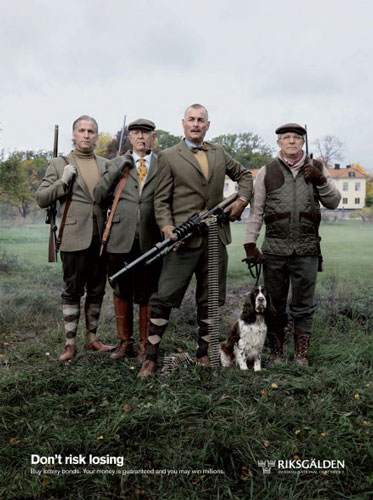 Jackpot-Select Lottery: The Building Lot Board
Tagline: Under construction. Mr. and Mrs. Wilson's new family home.
An information board that announces the construction of a one-family house at a huge building site demonstrates the high chances of winning with FABER lottery games.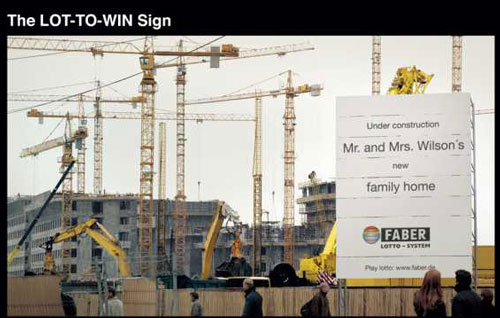 Pony and Flamingo
Tagline: Daily Draws. Daily Winner.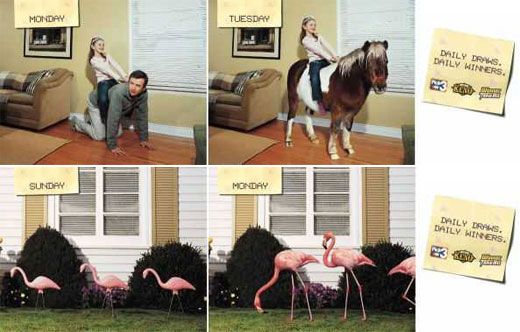 Its billboard version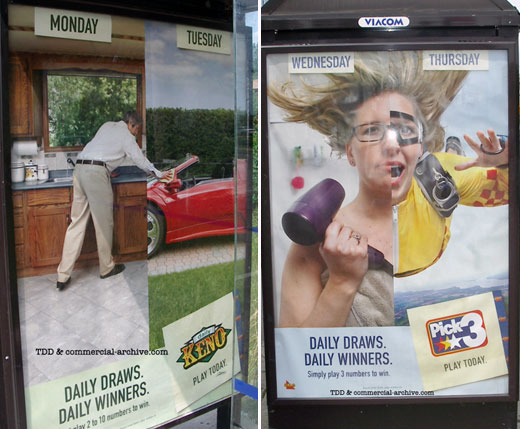 Door Drop and Chair Wedge (2001)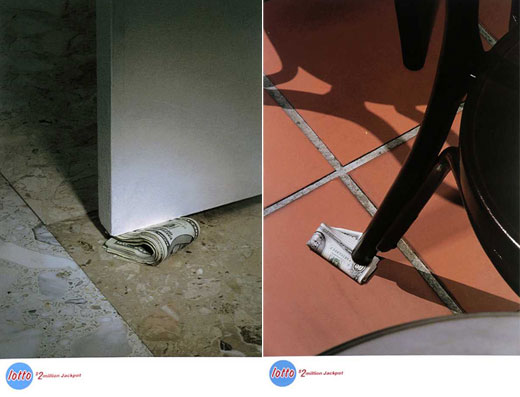 EuroMillions : Lottery (2007) Similar like the one above, Chair Wedge again.
Tagline: Buy the lottery and become outrageously rich.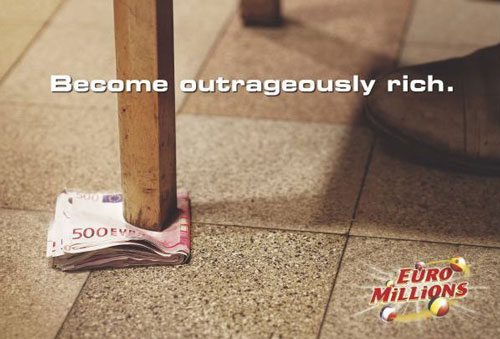 BC Lottery Corporation – Lotto Super 7: Rainbow
I guess this idea is originated from: "The fortune at the end of the rainbow". So the company acutally create an artificial rainbow.
Very Nice idea.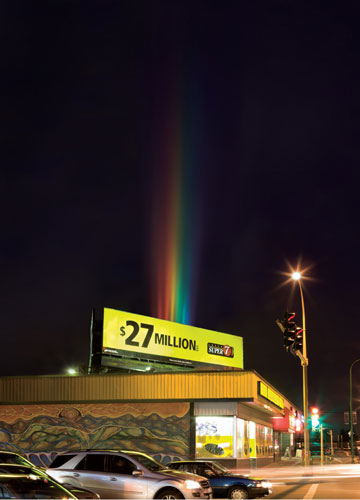 Cash and Cars Lottery: Pontiac
Tagline: Every prize is grand.
Would you like those 9th and 27th prize?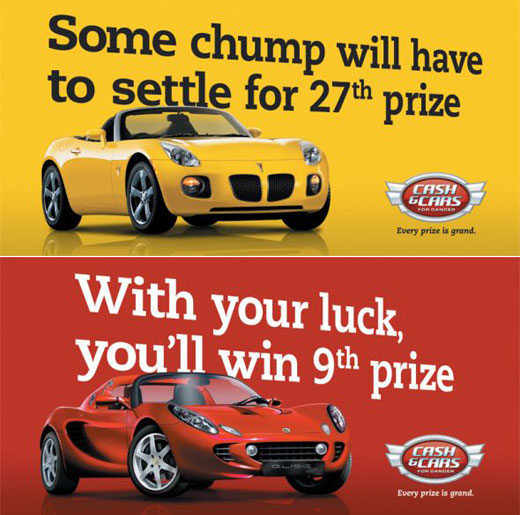 Loto: Grid
In this interactive ad, the block shown is identical to the original French lotto playing sheet. Instead of choosing six numbers, people are invited to cross out six undesirable things in their lives.
Really great thinking and execution. For me, it looks like if you win, you can change most of those thinks that you don't like. It's like if you chose them for the very last time!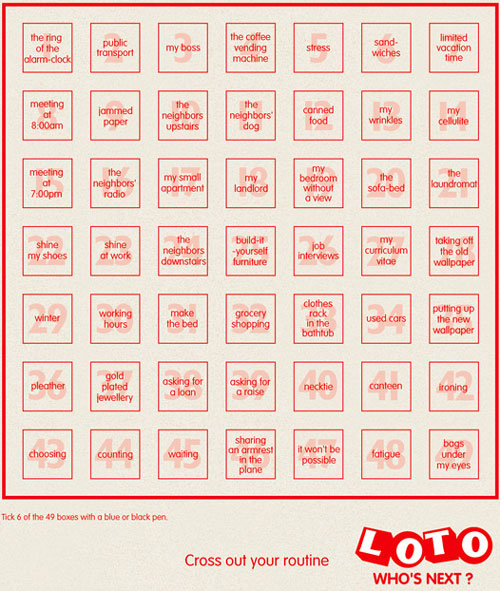 Junta de Protección Social Lotto: Lightning
Headline:
"You can expect anything fall to the sky, not money"
signature line:
"If you want it, play lottery"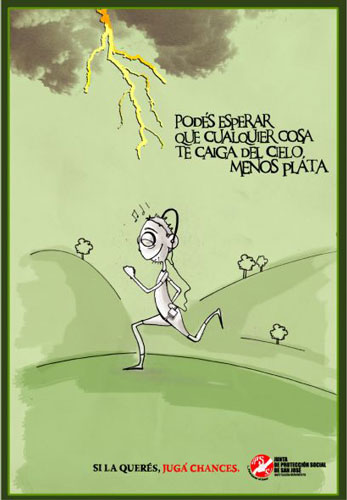 Delaware Lottery/Multi_Win: Out of lin
Sometimes it pays to get a little out of line. Win by matching numbers straight or across lines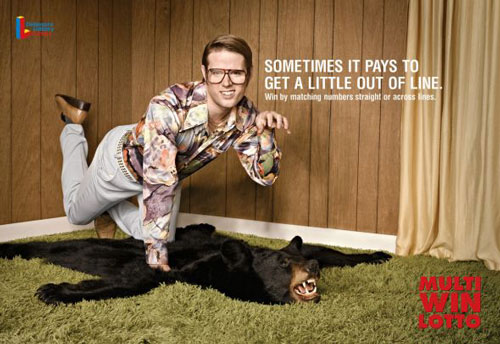 New Born Millionaire
This one is designed for The National Lottery's new product – New Born Millionaire.
I guess that is understandable to see the "giant baby" there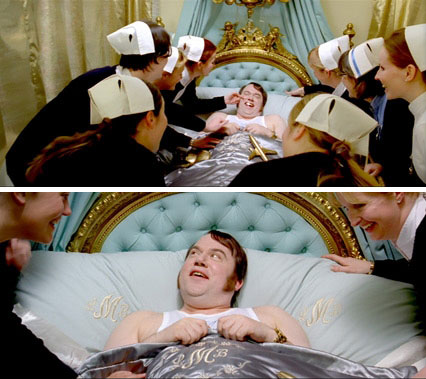 safari trip is simple, just scratch!
And the last one is not about the lottery, but it is definitely a smart lottery inspired ads design.
Nova Schin Beer: Beach
After playing the lottery for 26 years. Big Joe (now Sir Joseph) won. In other words: Nova Schin Beer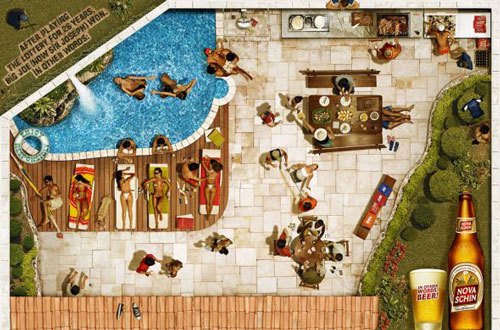 [via]