No dining table is complete without a salt and pepper shaker. We've rounded up more than 20 Creative and Stylish Salt and Pepper Shakers from square to round, wooden to glass, that are sure to Add a dash of modern in your kitchen to your tabletop. Hope you enjoy!
We are a participant in the Amazon Services LLC Associates Program, an affiliate advertising program designed to provide a means for us to earn fees by linking to Amazon.com and affiliated sites.
Music Notes Salt and Pepper Shakers [link]
Add some musical spice to your cooking and dining experience with MicroWorks Note salt and pepper shakers. Made of white ceramic with black musical notes attached to the holes in the top. Refill the musical shakers anytime through holes in the base.
These uniquely designed shakers are made in Japan and come in a black gift box with silver notes on the lid.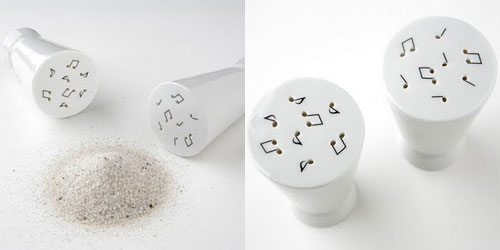 Mr + Mrs Salt and Pepper Shakers [buy on Amazon]
"Hilarious Mr + Mrs Salt and Pepper Shakers by Jonathan Adler from his iconic Muse Collection. Made in porcelain with a matte surface, these feel great in your hand.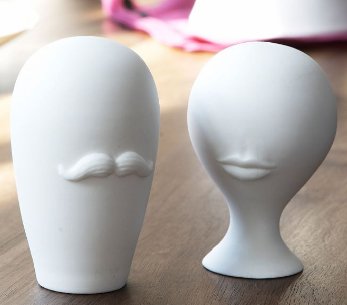 Switch Me Some Salt n' Pepper [link]
Switch Me is a humble salt and pepper shaker concept which allows one to switch between salt and pepper at the press of a button. The body has two chambers to avoid mixing and definitely has a different look to it… for all the salt and pepper shaker collectors out there.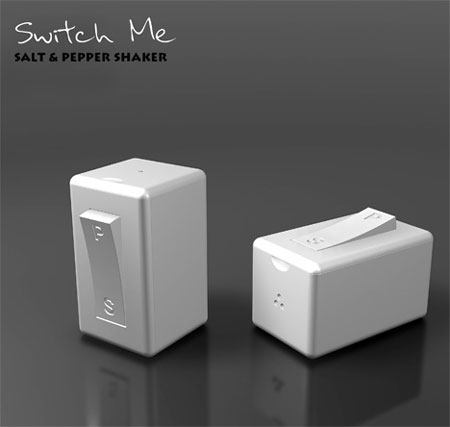 Salt & Pepper R'bots Salt and Pepper Shakers [link]
Passing the salt will never be the same. We all knew it was inevitable.Luckily the condiments have come to life! They will waddle wherever you tell them to,so the next time someone wants the pepper, wind up the key, and pepper they shallhave! Mercilessly marching towards them like the terminator, more of a threat to dull-tastes than the human race.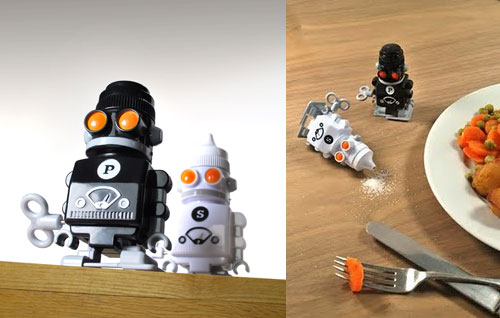 See them in action:
egloo Salt and Pepper Shakers
The "egloo" design is based upon an architectural idea and aims to turn the tabletop into a landscape, a piece of Tabletop Architecture.
The inner graphic also adds another edge to the piece, revealed only when the product is in use. These graphics are ever evolving and offer stark contrast to the minimalist outer appearance of the piece.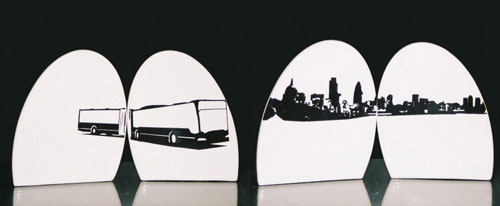 Hoodies Salt and Pepper Shakers [link]
The Hoodies are a characterful salt and pepper set made in ceramic. In this Floral pattern, some of the butterflies make up the pouring holes, helping to create a subtle and enticing centerpiece. The size of the pepper holes is best suited to coarse ground pepper.
They look a bit creepy and funny to me.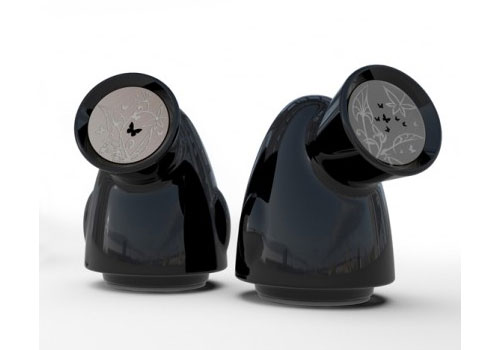 COCAINE & HEROIN Salt and Pepper Shakers [link]
Yup… drugs are cool! You can even buy them in small containers now. Not really. These are nothing but salt and pepper shakers . I'm not able to figure out why 'Heroin and Cocaine', and which would be the salt and which the pepper? What I do know is that these shakers are quite pricey ($195) but they come in a limited edition of 600 only. Created by artist David Shrigley.
Not sure who would like to put those to shakers at their tables.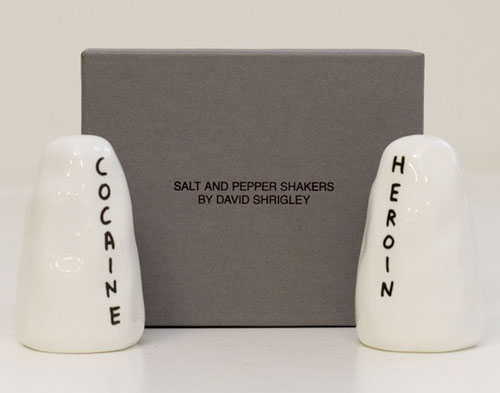 Salt & Pepper Cell [link]
Created by Antrepo Design Industry as "Salt&Pepper Cell" and it is like a D size battery also the dimensions too. Material used is stainless steel and glass, the power indicators on the sides correlate to the amount of spices left in the shakers, before refill time. The color options are Red&Turquoise or Black&white.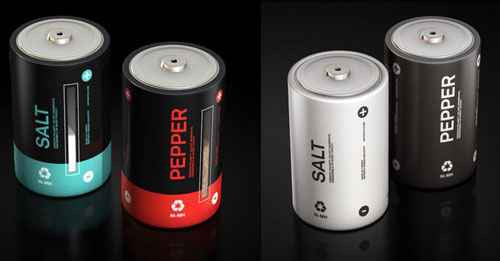 Balance Salt and Pepper Shakers [link]
This one is really elegant and beautiful.
Stackable condiment holders form a Zen-like composition for the table. This porcelain set includes a smooth white salt shaker, a rugged-surface grey pepper shaker, and a white base that doubles as a bowl for oil, syrup, or dipping sauce.
Biegsie Salt and Pepper Shakers [link]
This might be the coolest salt and pepper shaker set around.
Bend it, shake it – and look what happens. A bold hex-bolt head screw changes into a salt shaker while its countersunk – flat-headed relative becomes a pepper shaker.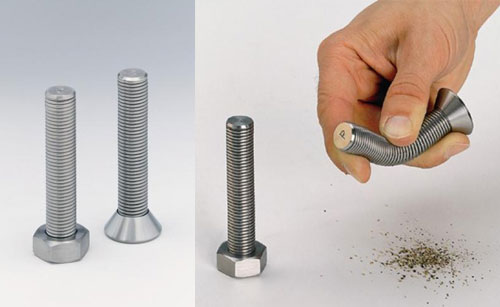 Hug Salt & Pepper Shaker [link]
This porcelain duo is just too cute to refuse! The hug connotes love and affection and adds a stylish touch to your table setting. (It also makes an awesome gift). The clever interlocking design has made it one of Mint's most celebrated designs.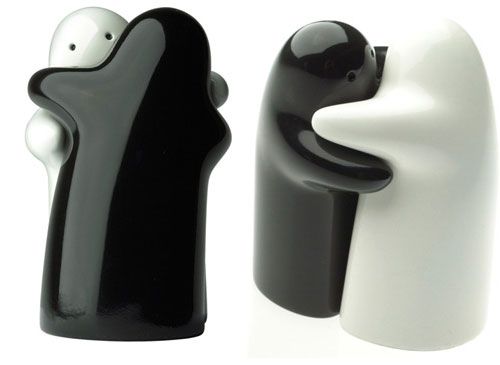 Good Chemistry Salt and Pepper Shakers [buy on Amazon]
From the periodic table to your dining table, this clever porcelain salt and pepper set reduces our favorite condiments to their elemental essentials. We can all be scholars in the science of seasoning.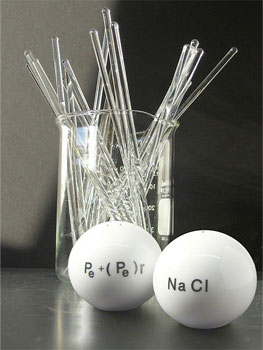 Bones Salt and Pepper Shakers [link]
Shake your bones! These hilarious salt and pepper shakers are designed by L.A. arrtist Chris Stiles and made of unglazed porcelain–giving the look and feel of boniness.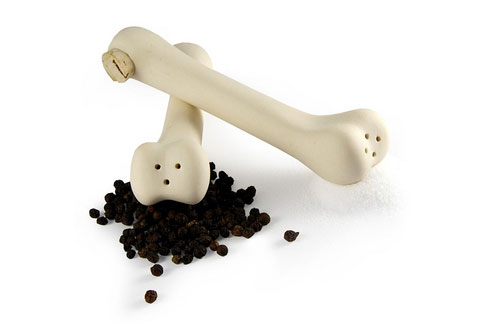 Black ants salt and pepper shakers [buy on Amazon]
I guess that will be the only ants who will get invited to every picnic. This fun salt and pepper shakes have a glossy black finish, plus wire legs and tiny antennae.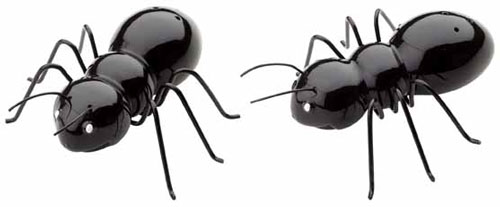 Brain Salt and Pepper Shaker [buy on Amazon]
Another creepy and a bit scary design… I guess the only proper occasion to use it is Halloween.
It's made of two halves just like a real brain, where one side is salt and the other is pepper. Both the halves are kept together with a couple of small magnets and the brain is intricately made out of ceramic.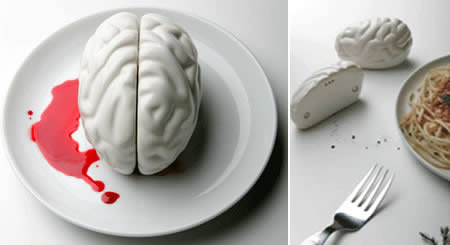 Steampunk Salt and Pepper Shaker [link]
This set is really awesome. It is made by the guy from Moscow. He makes stuff to decorate tables and turn the regular salt and pepper sets to some steampunk exotics.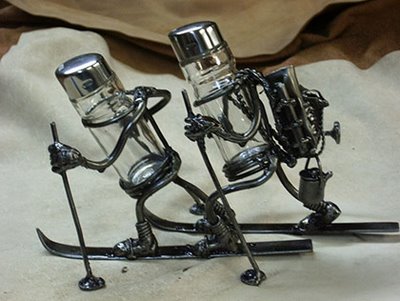 Twin Toilet Salt and Pepper Shakers [link]
Bring the toilet to your table with these unique toilet-shaped salt and pepper shakers! These bowls full of seasoning will surely serve as conversation pieces when the boss comes over for dinner. Or, tell your jerk-face uncle how you really feel about him when he asks you to pass the salt. Fun for the whole family!
Not sure about this fun….But it will definitely work if you want to fool someone.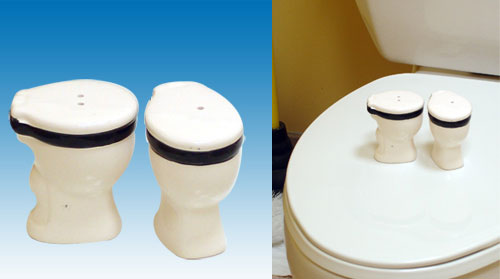 Mustache salt and pepper shaker [link]
When you hear salt and pepper mustache what do you think of? I think of Burt Reynolds and maybe a mustache that Spinderella grew after Salt and Pepa broke up. These are actual mustache salt and pepper shakers. Instead of pass the salt you can say pass the stache. The shakers separate for easy use and when put back together viola! Stashtastic table accessories!
It also has different numbers of holes on halves to distinguish that one is salt, and one is pepper.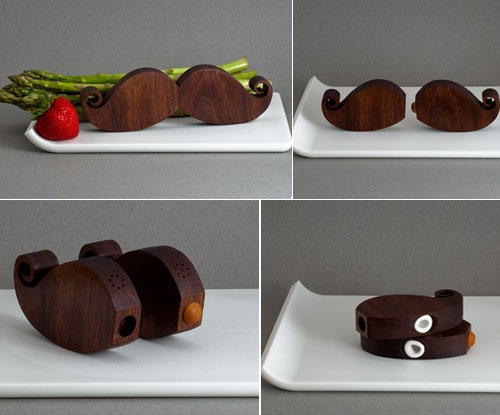 Menu Boogie Woogie Salt and Pepper Shakers [link]
Menu's Boogie Woogie Salt and Pepper Shakers give a whole new meaning to "Pass the Salt" at the dinner table. Built from anodized aluminum with synthetic wheels, the design will definitely brighten up the mood at the dinner table.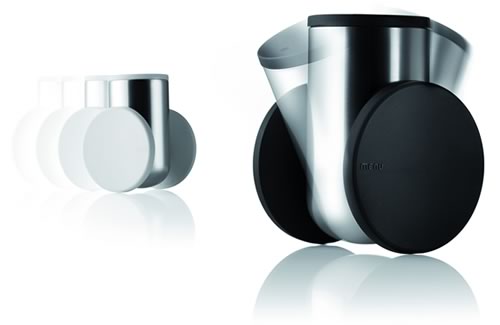 Salt and Pepper Plant
Here's a lovely idea for your table: salt and pepper shakers that look like buds and are sitting in a solid wooden 'pot' – think of it as a little salt and pepper plant. To use it, all you do is take out one of the buds, turn it around and shake it a little and you are good to go. Just place it back in the pot when you're done and your salt and pepper will always have a place to call home.
Designed was the piece by the great guys over at Apiotek who have already provided us with the super smart Piece Of Cake. With the Salt and Pepper plant, the buds are hand made out of ceramic and the pot is solid wood.
A very unusual and lovely addition to your table…