Creating the perfect home is almost impossible without designing a complementing outdoor space. Whether you opt for a luxury retreat with a pool or a more humble setup, trendy outdoor furniture can add to the decor and make your space look sophisticated and inviting. Regardless of whether you go for customized or contemporary furniture, choosing the right pieces is a foolproof way to elevate your entire outdoor aesthetics. But in an era of choice and variety, how do you know what is the right furniture for your space and needs? To get an idea of what's new in patio furniture and what's hot and what's not, check out the latest trends that are setting the tone this year.
Bring the Inside Out with a Large Dining Table
It is a well-known fact that your outdoor space should be an extension of your home, so your best bet at encouraging outdoor dining is adding a large dining table that will accommodate your friends and family. This way, you will always be prepared for trowing a garden party and you'll kiss goodbye the old days of squashing around your tiny outdoor table. For the ultimate effect, go with a sleek glass top on a rattan base, pair it with matching chairs in fashion-forward chocolate and black tones. If you don't have enough space to go with an oversized model, you'll find a range of extendable dining tables at any online outdoor furniture sale. These pieces have had a major stylish update and truly offer the best of both worlds.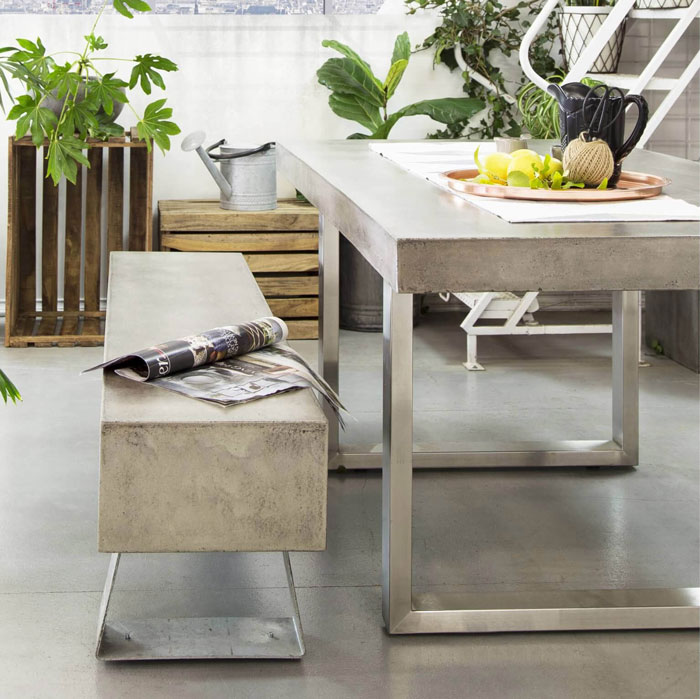 Chill Out on a Modular Sofa
Imagine spending your long, lazy afternoons sinking into the comfort of your outdoor seating that's made extra cozy with plush cushions and luxuriously soft furnishings. Ahh, the dream. Well, in 2020, Japanese-inspired seating is predicted to take over the world of outdoor furniture, and we can't be more happy about it. Modular sofas are becoming more and more popular thanks to their versatility and ability to fit a range of settings and adapt to the changing needs of homeowners, depending on how they choose to entertain or shift their space around. These pieces embody the merging of functionality and style, driving the furniture industry forward thanks to the adoption of new designs.

Add a Timeless Glory
2020 is all about embracing quality things from the past. You can add a retro-inspired style to your outdoor space with the help of vintage furniture. To give your outdoor space a nostalgic flair, you can use a piece of furniture that you used to love to capture the retro vibe. For example, you can add an old rocking chair that will bring a sense of antiquity to your outdoor oasis.
Classic Teak vs. Industrial Metal
This year, teak and metal are getting their turn in the spotlight, providing a rough edge to the modern style that we just can't get enough of. Teak is the strongest and most durable of all hardwoods, while metal offers a cool aesthetic that looks really good when placed right next to the natural greenery in your garden. Whether you choose teak or industrial metal from the next outdoor furniture sale you visit will depend on your sense of style as well as on the amount of maintenance you'll be able to provide your furniture. One surprisingly popular trend this year involves a mix of materials. You can see striking combinations of metal, teak, wicker, rope, and marble, as well as the juxtaposition of aged and contemporary surfaces.
Wicker Rules All
Whether you're trying to design a luxury retreat or a more humble setting, wicker is the one material that dominates gardens around the world. And for some very good reasons – it's lightweight, weather-resistant and it combines contemporary designs and smooth curves that update any outdoor space. From sun lounger and tables to storage units and outdoor chairs, wicker radiates a natural look, despite the fact that it is made from synthetic fibres. Even if you don't maintain it as often as recommended, you'll usually get years of usage out of it.
Infuse Life with Colourful Cushions
You might be wondering what is the best color for outdoor furniture and I'm here to tell you that neutral tones are timeless and provide an elegant base for your space, making it easier to update the way it looks every season. To play it safe, keep the large elements of your furniture (the dining table and the sofa) in muted colours, but introduce a pop of colour with accessories.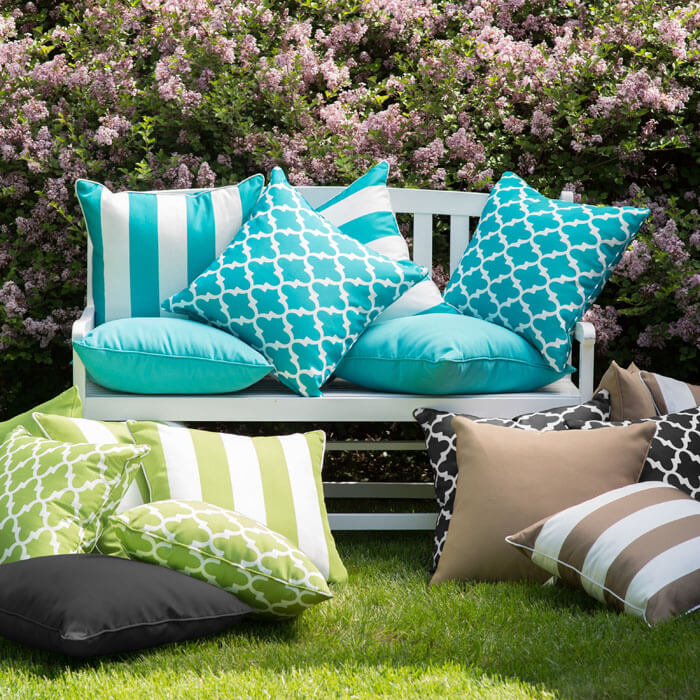 Clashing tones and mismatched cushions in different sizes are a great way to add a new dimension to your outdoor seating area. Opt for your favourite hues or browse online sites such as Pinterest to find inspiration and see which colours go well together. Look for cushions in patterns and colours that will coordinate with the palette you are already using in your outdoor furniture. If the theme is neutral, choose two or three bold colours to add a bit of depth to your space. The more neutral the setting, the brighter your cushions can be.
As for the technical part, if you are wondering "how do I keep my patio cushions in place", know that there is a simple hack to prevent them from blowing away in windy and stormy weather. The secret is using Velcro. Velcro is a two-sided textured surface which when aligned up – "sticks" together. It is easily sewn or stuck onto surfaces with self-adhesive backing. It comes in a number of sizes and colours. All you need to do is attach the Velcro between the chair frame and the cushion to keep it in place.
Border Your Elements with Strip Lighting
The proper lighting provides that sought-after feel-good feature that sets the ambience and makes your outdoor space more inviting. Strip lighting is very simple to set up and can be used to highlight some of the best parts of your garden. It is the sort to say, grown-up version of fairy lights as it provides a beautiful and clean border under benchtops, steps, or around pools. You can play around with strip lighting to add a steady or a twinkling glow to pathways and along fences. It is one of the easiest ways to complement your outdoor elements and create an ambience.
Bottom line is, thanks to these inspiring outdoor furniture and design trends, you can easily create your outdoor sanctuary that exudes peacefulness, relaxation and comfort, without going overboard with decorations.