Fred&Friend is one of my favorite brand, which has a lot of interesting, weird, creepy and unusual designs. It might not that type design of everyone, but it won't be hurt to see something unusual and funny. Sometime, their products just give me a smile and make my day.
We are a participant in the Amazon Services LLC Associates Program, an affiliate advertising program designed to provide a means for us to earn fees by linking to Amazon.com and affiliated sites.
1. NOMSKULLS – kooky creepy cupcake molds [link]
Knock 'em dead with these four stylish silicone skulls. Nomskulls are ready to fill with your favorite grey batter and bake into perfect cupcake craniums. One bite and you'll be head over heels, because there's no doubt about it — this skull bone's connected to the YUM bone!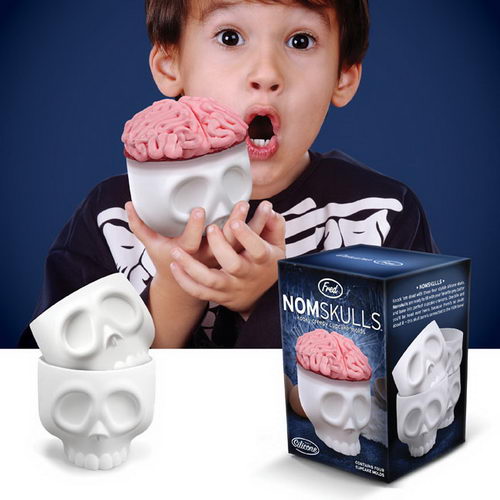 2. BONE HEAD – a cretaceous comb and brush [link]
Somehow, this one reminds me of t a Japanese animation "bleach".
Messy hair is a thing of the past! We've combed through the Cretaceous to come up with just the thing to keep your hair from wigging out. Bone Head takes its cue from the fossil record to provide a comb and brush combo that works with prehistoric precision. The flexible teeth are strong enough to chomp through your tangles yet gentle enough to keep you smiling through the process.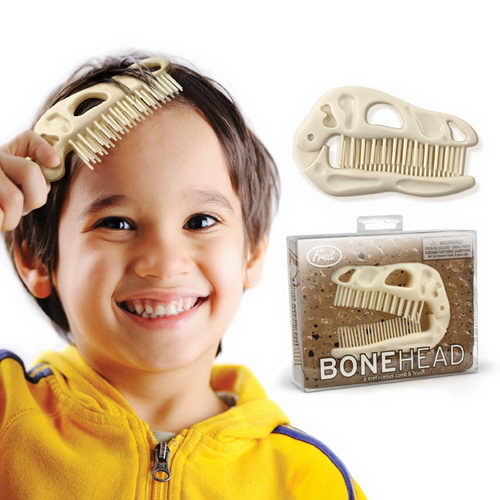 3. Brain Freeze Ice Tray
– brain on ice [
buy on amazon
]
We humans are well known for our highly-evolved sense of humor. This is evidenced by Brain Freeze, the ice tray that makes 4 frosty brains. So let's celebrate our higher powers by raising a glass. Because a brain (not to mention a cocktail) is a terrible thing to waste.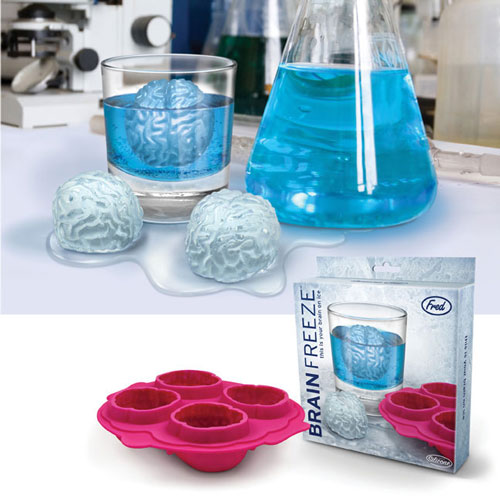 4. ICE SCREAMS
– put your anxiety on ice [
link
]
Feeling a little anxious? Some people swear that a good old primal scream is all you need. We have a better idea — release a few of our Ice Screams into your beverage of choice and revel in the relaxation. Each dishwasher-safe silicone tray includes 12 expressionistic renderings of Edvard Munch's "The Scream".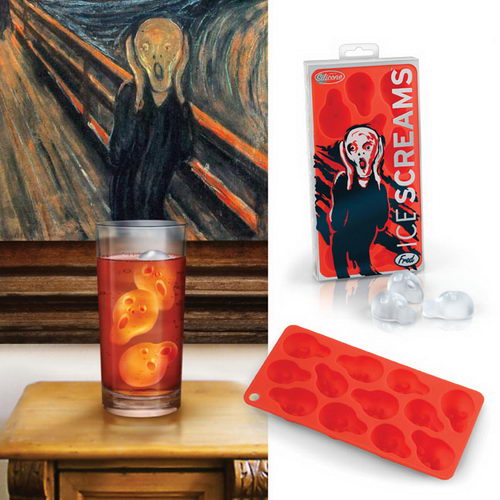 5. MURDER, INK
– deadly serious sticky notes [
buy on amazon
]
This 300-page sticky notepad is perfect for poison pen notes, letters of resignation, hit lists, and office to-do's. Murder, Ink comes complete with blood spattered pen, so it's sure to make a statement on your desk right beside that suspiciously sharp letter opener.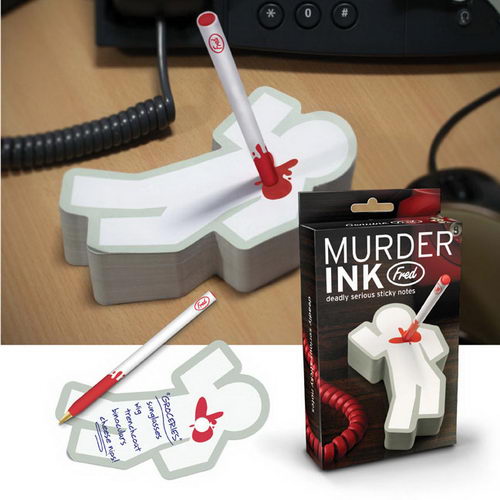 6. NINJABREAD MEN
– they're cut out for action [
link
]
These stealthy warriors are set to sneak into your kitchen and stage a cookie coup! Cut, bake, decorate…and then watch them disappear! Ninjabread Men are molded from rugged, food-safe ABS plastic and packaged in a colorful giftbox.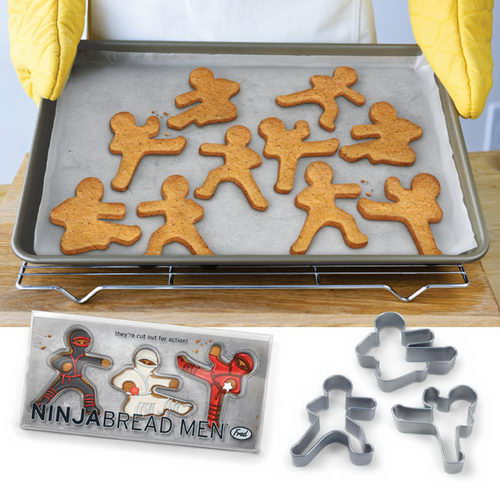 7. HOLY TOAST!
– the visionary bread stamper [
buy on amazon
]
In the beginning…there was bread. Ho hum. Make that boring bread an inspiration by embossing it before you toast! Our easy-to-use Holy Toast stamper always makes a good impression.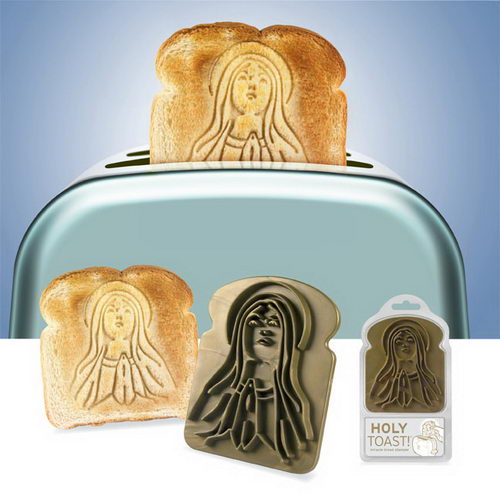 8. ABC* COOKIES
– already been chewed [
buy on amazon
]
Fred's cookies are so delicious that all he's ever left with are crumbs, so he devised this devious ploy. Just bake them with bite marks built-in and watch your friends leave them behind on the tray. It's Fred's famous ABC (Already Been Chewed) Cookie Cutters! Two styles – nibbled Variety Pack & maimed Gingerbread Men. The Variety Pack includes 4 assorted every-day designs – Heart, Star, Flower, and Disk (or is it a hockey puck?), each missing one prominent, off-putting, innocent little bite. And those poor poor Gingerbread Men! Well, their loss is your gain. ABC COOKIE CUTTERS are made to the highest culinary standards from luxurious cast aluminum so there are no seams or sharp edges and they're easy to clean.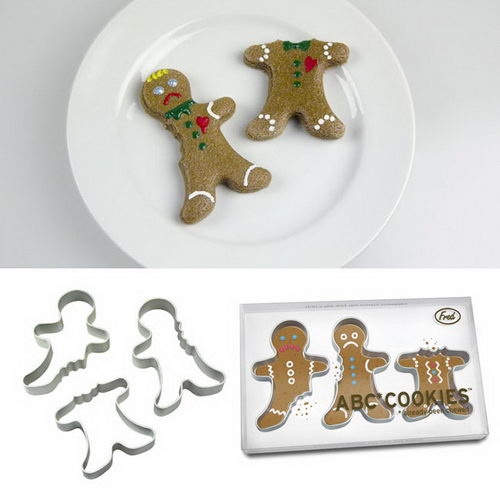 9. LOADED!
– it's all about the benjamins [
buy on amazon
]
Feeling a little cash poor these days? Not to worry, you can at least look like you're Loaded with this full-color printed wallet. Satin-lined interior with lots of pockets for all your credit cards.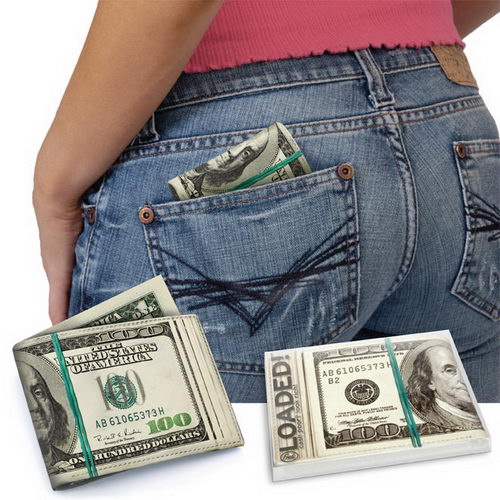 10. PICK YOUR NOSE
– party cups with personality [
buy on amazon
]
Who knows how to liven up a party? YOU do! Each of these photo-realistic paper cups comes emblazoned with a new nose. When you tip your head to take a drink – voila – you get an instant nose job, and a chuckle from the crowd. Remember, never turn your nose up at a good laugh! There are 24 12-oz. cups in each pack, evenly divided between male and female proboscises (errr, noses).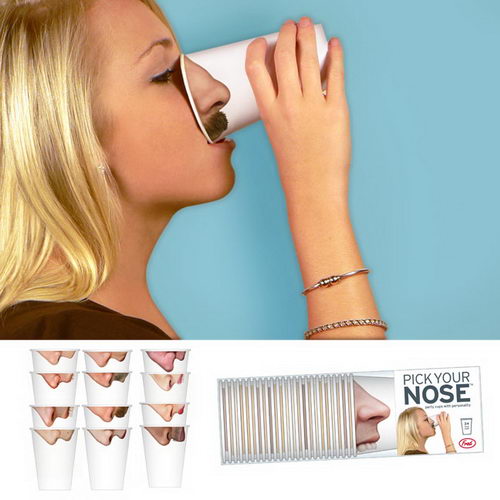 11. COLD BLOODED
– add some bite to your beverage [
buy on amazon
]
Twilight descends, beverages are poured. Hmmm, something's missing from the drinks. Maybe they just need a little bite. So drop some stone-cold fangs into your Bloody Mary and feel that chill go right down your spine.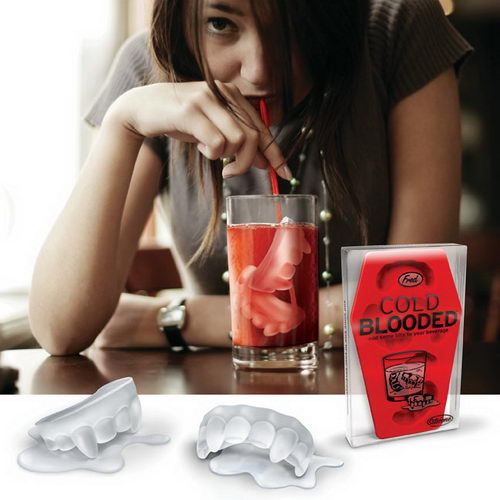 12. XPOSED!
– Get in touch with your inner stuff [
buy on amazon
]
Here's a subversive new line of bags that subtly reveals the real you, as well as your spiked collar and snub-nose revolver. Xposed comes in two styles – a handy zip-close cosmetic bag and a grocery tote. Durable non-woven plastic fiber. Uhhh, not recommended for airline carry-on.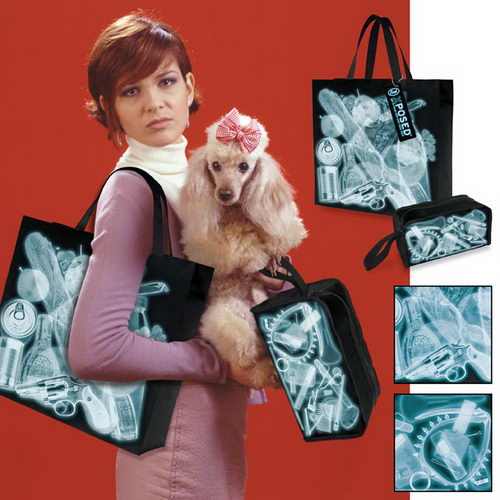 13. TOOTH PIKS
– they stab, they spear, they scoop, they schmear [
buy on amazon
]
Tooth Piks are molars on a mission – one side is a perfect little party fork and the other side a spoon for scooping and spreading. No matter what's on offer you've got it covered! These handy little utensils are washable, reusable, durable, and food-safe.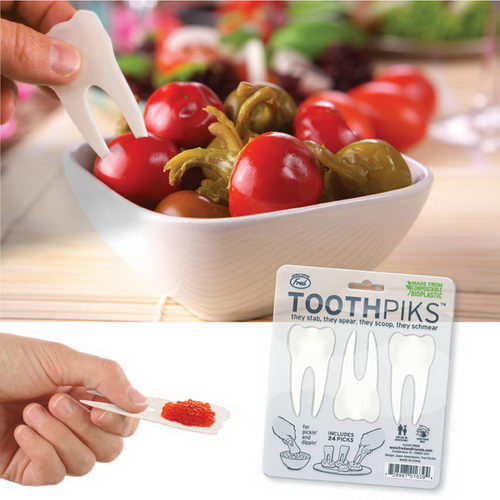 14. OUCH!
– the voodoo doll toothpick holder [
buy on amazon
]
Make your next party painfully amusing by inviting Ouch!, the voodoo-it-yourself toothpick holder. Perfect for finger food, emergency hexes, and jump-starting the good times. Two fashionable colors, elegant clear display-box packaging. With Ouch, olives will never be boring again!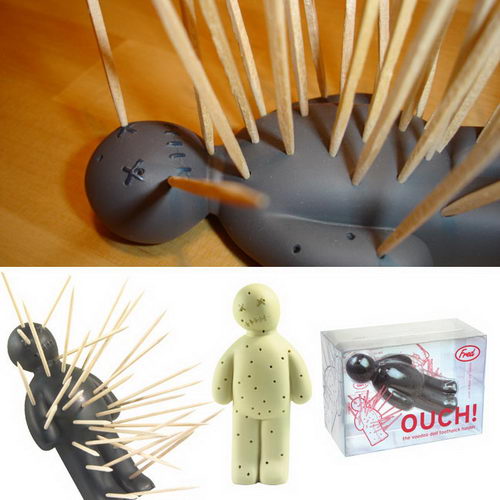 15. CALF & HALF
– the udderly irresistible creamer [
buy on amazon
]
Generally speaking cows are more comfy in the barn than at the table, but Calf & Half is a perfect house guest. She's always in a good mooooooooood, an you will be too when you pour from this playful little pitcher. A gentle reminder of where our cream really comes from.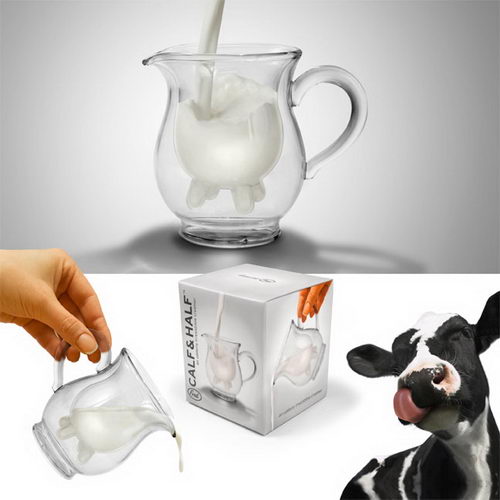 16. PASTASAURUS
– Prehistoric pasta server [
buy on amazon
]
Since the dawn of time, mankind has labored over the challenge of slippery spaghetti. Then the mighty Pastasaurus appeared on earth, uniquely adapted to this very task. Its ergonomically designed handle and pasta-snaring teeth work together to make it a lean, mean, spaghetti-serving machine.
17. OH, SNAP!
– finally, someone's built a cheddar mousetrap [
buy on amazon
]
Oh, Snap! is a really nice 9" x 5" beechwood cheeseboard that comes with a handy stainless-steel cheese slicer, and it's all disguised as a giant mousetrap. This one makes us squeak with glee.