You love your iPad, but you also want to free your hands sometime. Hence, we rounded up 14 Stylish and Functional iPad Stands from Internet. Those stands/holder help you bring your iPad with you everywhere. Hope you enjoy.
We are a participant in the Amazon Services LLC Associates Program, an affiliate advertising program designed to provide a means for us to earn fees by linking to Amazon.com and affiliated sites.
LUXA2 H4 Aluminum iPad Holder Stand [buy on amazon]
LUXA2 H4, is an e-book holder made of solid aluminum with a sleek and chic design tailor-made for the Apple iPad and other e-book readers. With firm and strong bottom, 6 supporting arms with rubber pins, and silicone pad design, it is the best holder to read, browse and play with iPad.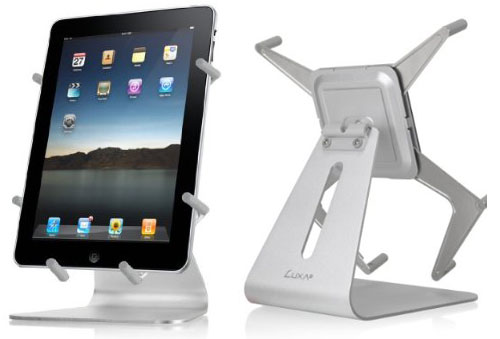 JOULE, iPad work stand [link]
This one looks pretty apple-ish. Its stable solid base has a simple, clean, and elegant design that enhances your iPad and makes it easier to use. Unlike most stands, the Joule won't tip over when using the iPad's touch screen. Allowing you to better utilize your iPad on your deskop or kitchen counter top.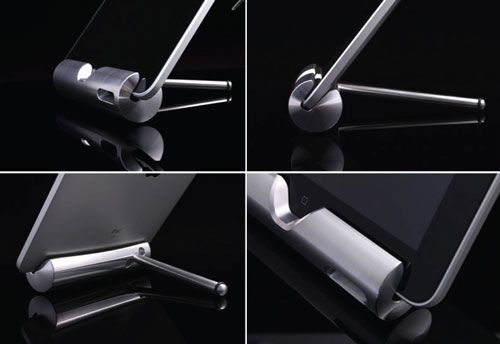 BookArc for iPad
[
buy on amazon
]
BookArc for iPad gives you a choice of four different positions. In "work mode," iPad sits at an angle in both portrait and landscape positions, and provides access to the home button. In "storage mode" iPad sits upright in both portrait and landscape positions, perfect for charging and using your iPad as a stylish photo frame.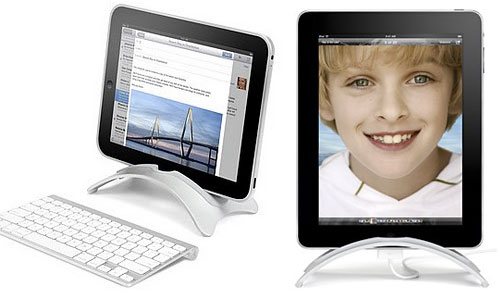 elago P2 Stand (Silver) for iPad and Tablet PC
[
buy on amazon
]
Another simple, yet effective stand comes from Elago Design. Available in silver or black and made from aluminum, the slightly angled P2 has a hole in the back for cable management, making it a great desktop option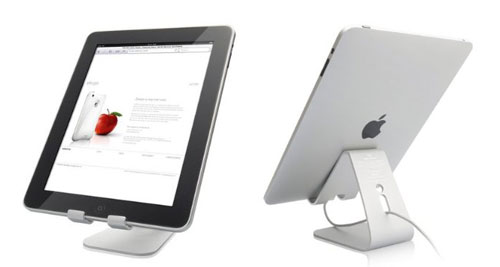 Thought Out Stabile Steel iPad Stand
[
buy on amazon
]
Made from solid steel, this American made artistic structure is stable in every twist of the word. * Spelled as stabile, noun: Defining an abstract structure made of sheet metal having no moving parts. At 2.5 times the weight of an iPad, with an extremely low and user focused center of gravity Stabile has the stability that others will not duplicate. For your daily use this iPad stand has Thought Out characteristics like split back cable management, anti slip and non-skid feet and quality protective padding where your iPad rest. Use without or with a case or skin in portrait or landscape, and look cool doing it.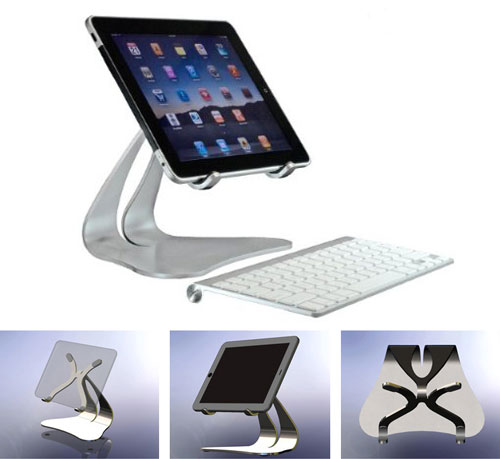 WedgePad
Unlike the other more desktop-like stands on this list, the WedgePad's unique selling point is that it's perfect for when you're lounging on the sofa or even in bed. The hand-made, bean-bag style design is finished in microsuede and it has little elastic straps on each corner to keep your iPad in place.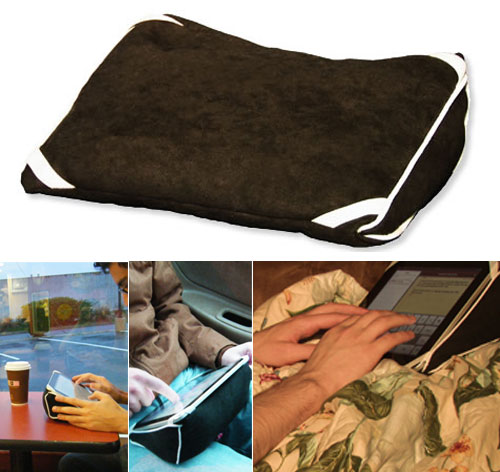 Kickstand Stand Adjustable Handheld Electronics Holder
[buy on amazon]
This stand is very suitable for holding Ipad, Iphone and other laptop computer below 12″ Elevates your screen for cool computing and comfortable viewing.
It is a flexible, height-adjustable stand which allows you to raise your screen to an ergonomic viewing height.
Extremely protable it collapses to fit in your pocket or your computer bag.
Ideal for business travelers, studens, and anyone who uses Ipad, Iphone, and laptop computers.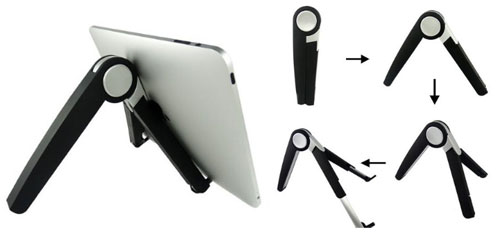 Griffin A-Frame Tabletop Stand for iPad
[
buy on amazon
]
* Simple, beautiful table and desktop stand for your iPad
* Holds iPad upright in landscape and portrait views or at a lower, wrist-friendly angle for surfing, reading and more
* Stable aluminum a-frame design
* Non-slip rubber cradle accommodates Griffin's flexible and hard-shell cases and many others
* Allows easy access to iPad's dock connector for charging and syncing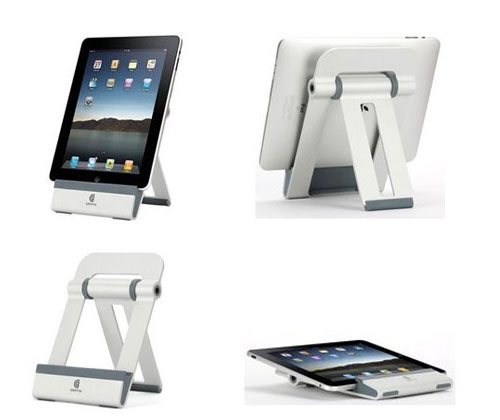 Macally BOOKSTAND Protective Case and Stand for iPad
[
buy on amazon
]
* Functions both as a protective travel case, as well as viewing stand to
* improve typing and viewing comfort
* Form fitting protective case for maximum protection
* Durable lightweight construction
* Open to all connections and controls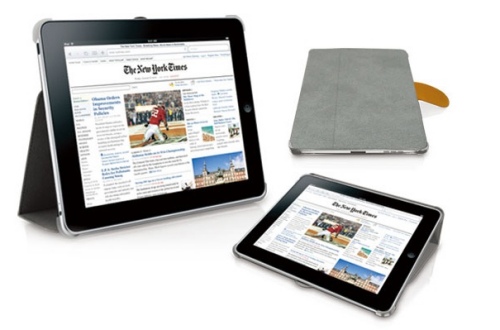 Tuff-Luv multi-view (TM) Saddleback Leather case cover for Apple iPad
[
buy on amazon
]
Elegant case handmade in high grade tuff genuine cow hidel leather. Patented Integrated multi-viewTM stand feature technology- 5 settings, 'Viewing angle 20 degrees – 70 degrees. Secure Tuff-flap to ensure ipad is safe when loaded into the pouch. Use with confidence!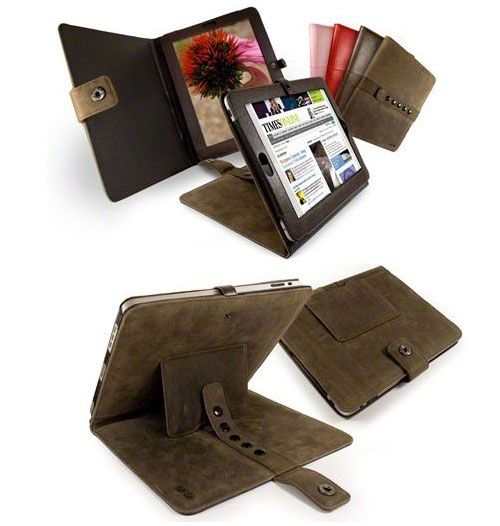 Cradle – The iPad Lap Desk with a Twist
[link]
Love your iPad but hate that you can't comfortably use it while lounging on your couch or lying in bed? Boom – problem solved. The Quirky Cradle is a portable, lightweight lap desk for your Apple iPad.
– A minimalist bent design constructed from Plyboo (bamboo plywood, a sustainable alternative to wood).
– An integrated circular plate, made from matte, soft-touch plastic, that allows you to rotate your iPad between portrait and landscape views.
– A foam cushion with woven covering built into the underside of the desk, which rests on your lap for added comfort.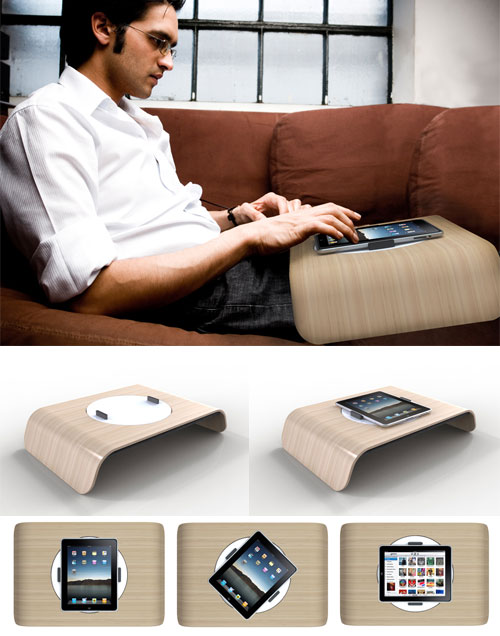 Quirky Cloak iPad Case and Stand
(discontinue)
Protect – and prop up – your Apple iPad with the Quirky Cloak, a sleek, sturdy case that doubles as a stand! Cloak can be positioned to sit on a flat surface in portrait, landscape, and typing stand positions. Portrait: fold the Cloak's front cover behind your iPad and use the larger plastic support brace located on the product's inside cover to prop up the screen vertically. Landscape: open Cloak's front cover and use it to prop up your iPad screen from behind. The screen can be positioned in different angles using a friction-fit folding mechanism. Typing stand: flip out the smaller plastic support brace on Cloak's inside cover to prop up your iPad screen at a low landscape angle, ideal for typing. The Cloak is constructed from non-slip rubber, with durable plastic on the hinge mechanisms.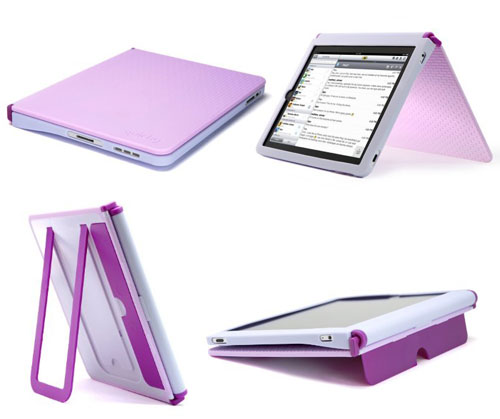 @Rest for iPad
[
link
]
Built from precisely cut steel with a beautiful, durable powdercoat finish, @Rest for iPad supports your iPad in portrait or landscape orientation at angles ideal for the side table or countertop.
With its ingenious design, good looks, and excellent construction, @Rest for iPad is sure to support your current iPad, your next iPad, and the one after that.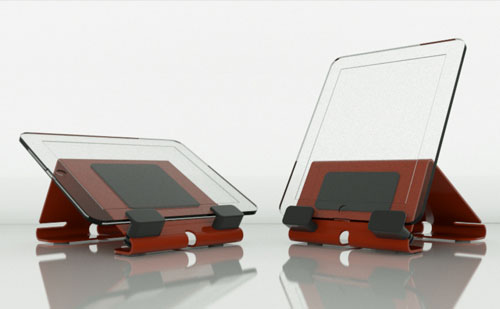 ClamCase™ for iPad® – Touch Screen Stand
[link]
The chiclet style Bluetooth® keyboard offers a tactile feedback allowing you to compose and type quickly.
The 360-degree torque hinges enable greater flexibility and fixed angles for featured modes of operation as the simple and sleek design of the ClamCase™ protects your iPad® from dents and dings.
Designed to enhance the iPad® experience by providing a you-decide stand with an endless combination of positions to accommodate your desired tasks.