20 Creative Shark Inspired Product Designs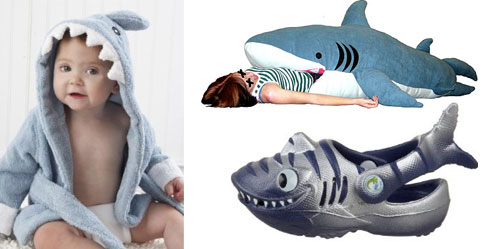 Sharks cause an irrational fear in many people and are often viewed as mindless animals bent on destruction. However, the truth of the shark is that unprovoked shark attacks are actually quite rare. Moreover, it can represent experience to be reckoned with, fearless and ambition. In this post, we will have
20 Creative Shark Inspired Product Designs
, from clothing to shoes, from peg to backpack, from soup bowl to tea infuser. It is really cool to see so many shark inspired products. Let shark rule!
1. Sharky Tea Infuser, make a killer cuppa tea [link]
The Sharky Tea Infuser, designed in Argentina by Pablo Matteoda has a clever design that is both fun and useful. The floating tea infuser extracts tea leaves, herbs or fruit in water until completely saturated. During the waiting process, you can see the color of your tea create a beautiful effect which reminded us of the movie scenes where the ocean turned blood red. Very amusing in deed.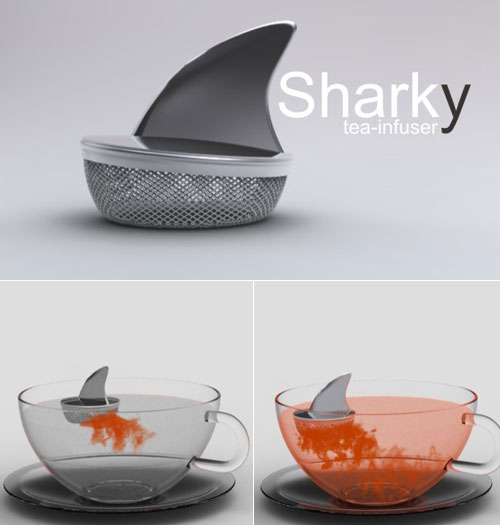 2. Shark Fin Ice Cube Tray [amazon]
The Shark Fin Ice Cube Tray makes floating Shark Fin Ice Cubes! You can make 5 Shark Fin Ice Cubes per tray. The ice tray features a large shark bite out of the side!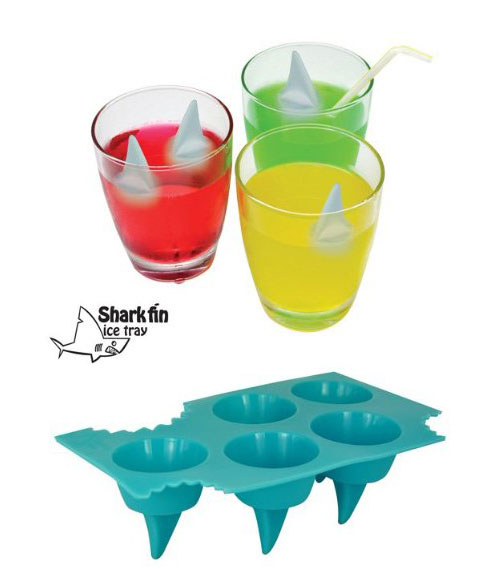 3. SockGuy Classic 3in Shark Cycling/Running Socks
[
amazon
]
Made with 75% Ultra-wicking Micro Denier Acrylic, 15% Nylon, and 10% Spandex for exceptional comfort and strength. These socks create an interesting sharp bit effect on your foot.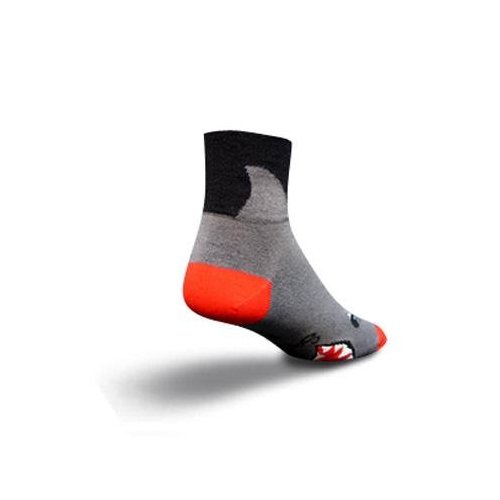 4. Baby Aspen "Let The Fin Begin" Terry Shark Robe
[
amazon
]
Mom and Dad are going fall for this terry-ific sea-inspired robe–hook, line and little stinker. After a refreshing bath time for baby, they'll want to wrap their wiggly, wet one in something cozy, absorbent and cute. Baby Aspen's Terry Shark Robe is reel-y fun and oh, so fin.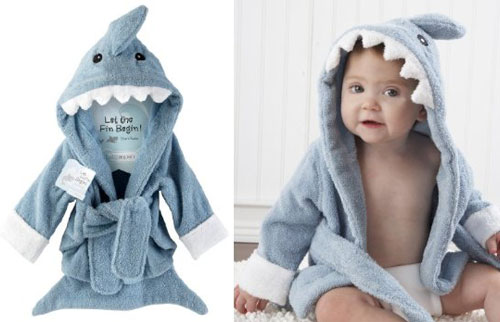 5. Discovery Exclusive Shark Week Hoodie Shirt
[
amazon
]
This item is exclusive to the Discovery Channel Store. Celebrate Discovery s Shark Week with this exclusive Shark Week Hoodie Shirt! The custom design creates a shark mouth when wrapping your arms in front of you. Shirts are printed in full color with sharp, detailed graphics. Printed on recycled fabric with eco-friendly inks. Sport fabric is made of 100% polyester and is UV resistant. Machine wash cold, tumble dry low. Made in the USA.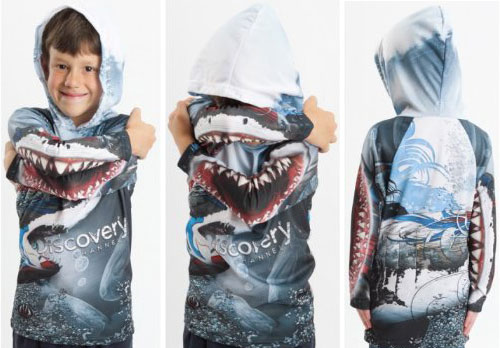 6. Monster Hoodies: Shark Bite
[
amazon
]
Your worst fears come to life with this sleek Monster Hoodie! JAWS, take a back seat. Cruise around in this hoodie and show everyone how you survived the Shark Bite!
Hand-made on a super soft, lightweight fleece offering supreme softness.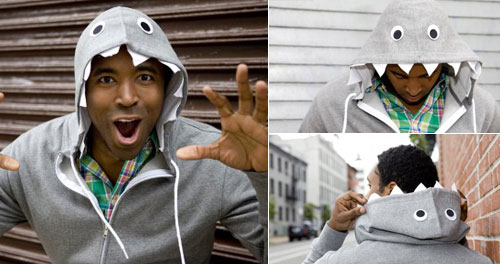 7. Shark shaped submarine
[
link
]
Here is an amazing vehicle – a shark shaped submarine that performs feats like a shark. Its creator Rob Innes, however, doesn't consider it a submarine but a cross between a plane and a boat.
Not only is this, but Seabreacher X has many close resemblances to a white shark. It includes a dorsal fin, gaping jaws, rows of dagger-sharp teeth and measures 16.5ft in length which is almost identical to sharks'. Powered by a 260hp engine that enables the shark shaped boat to run 50mph above and 20mph below water is for the rich adrenaline-junkies and costs about £60,000 per unit.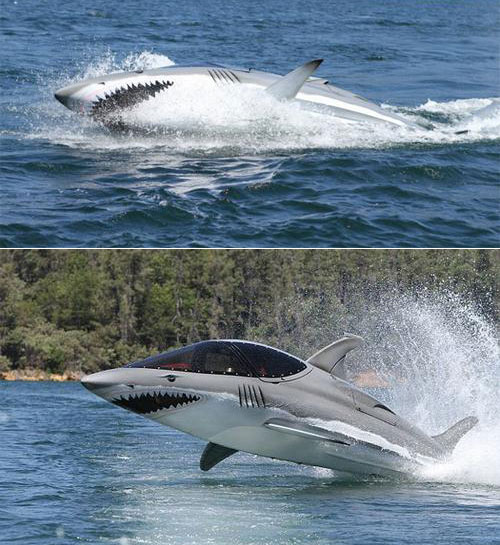 8. ChumBuddy
[
link
]
It's a stuffed toy! IT'S A SHARK! In an effort to make sharks more cuddly, it is designed and produced a prototype for the ChumBuddy. This 7 foot monster plush was 100% hand sewn (sewing machines hate me) from fleece and felt & contains about 30 lbs of poly-fill.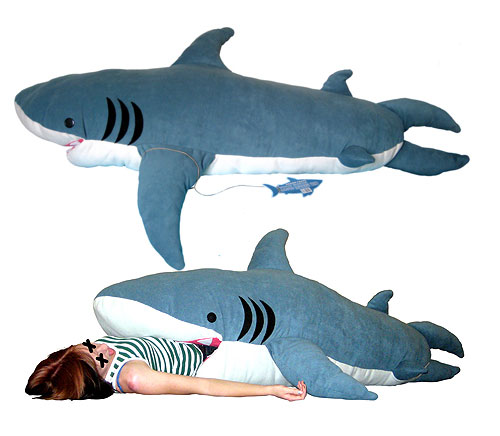 9. 15 inch Triple Edged Fantasy Shark Knife
[
amazon
]
This attractive shark knife would be an excellent addition to anyone's collection. Shred anything just like a shark would with 3 directions of serrated teeth. A knuckled grip with baby teeth and blood red jewel accent this piece. Features: Triple edged blade Overall Length: 15 inches Blade Length: 9 inches Weight: 1.17 lbs Includes display stand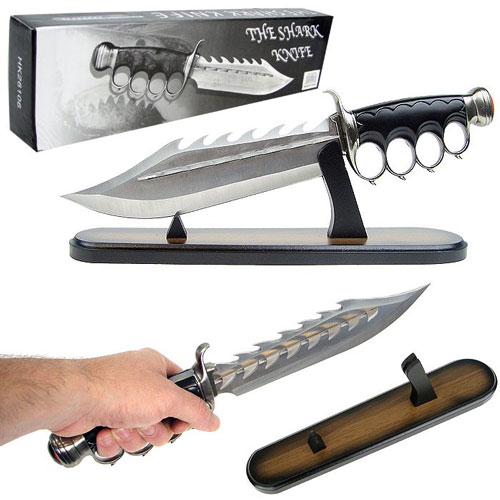 10. Shark soup bowl
[
link
]
"There's a shark in my soup!!!"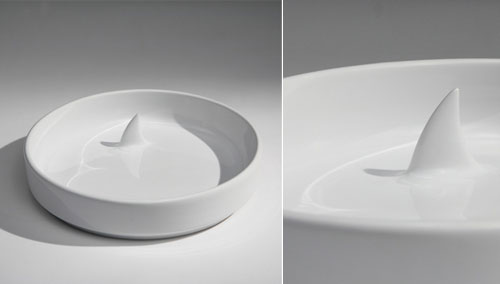 11. Sharky
[
link
]
That is an interesting design… shark peg…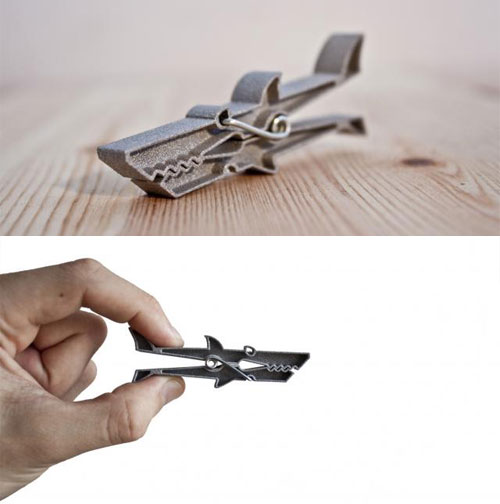 12. Just Be Paws Bite Meez – Jaws the Shark
[
amazon
]
Jaws Bite-Meez Shark Puppet. Just give us a hand and you will see why Bite-Meez are as fun as they can be. These hand puppet toys are trimmed with fleece and contain squeakers. They are sure to be a playful puppy's best pal.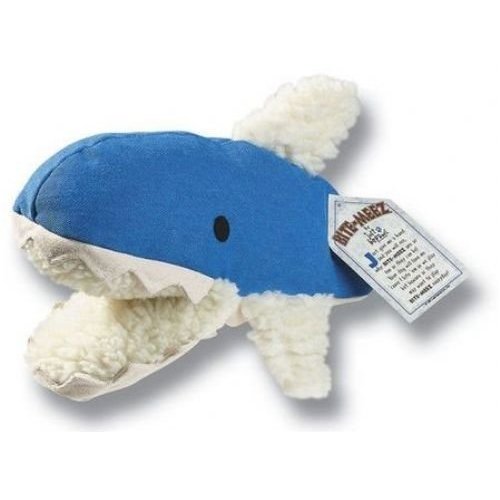 13. Polliwalks Toddler/Little Kid Shark Clog
Now your little one can rule the land and sea with the help of this playful Shark clog from Polliwalks. With its sturdy molded soft foam upper and breathable vents, comfy anatomical foot-bed, and grippy foot printing sole, it's got some serious bite.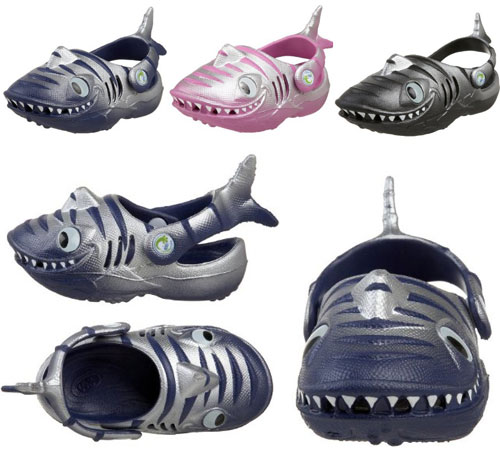 14. Shark Gray Backpack
[
amazon
]
* Large Backpack 17″x13″
* Double zip top comparment
* Front Comparments zipper closure
* side pockets
* Adjustable Paddle straps
Shark Backpack great for teens/adults & for climbing,camping & school.
15. Man Eater
[
amazon
]
This hilarious shark looks like it bit off more than it could chew… just don't let it swallow! With big buggy eyes, it looks just as surprised as you!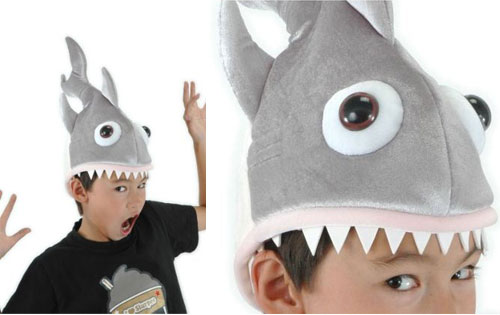 16. Great White Shark Slippers
[
amazon
]
Surprise friends and family with the most fearsome slippers in the closet! Patented plush animal slippers Padded interior for lush comfort Shaped like a real great white, with complete fins, felt teeth and beaded black eyes Fearsome predators – or cozy slippers? Only you will know for sure when you slip your feet inside these plush, warm and pampering designs.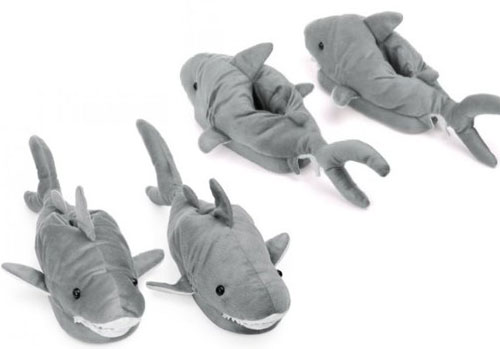 17. Shark Peek-A-Boo Plush Transforming Pillow
[
amazon
]
# Fiesta consistently works to provide the highest quality, innovative designs, best pricing, and commitment to outstanding customer service
# Fiesta considers safety of its products as well as value to the consumer paramount, desires to be in total compliance with certification requirements
# Peek-A-Boo plush is a pillow that unzips and becomes a stuffed animal
# This stuffed animal is great for imaginative play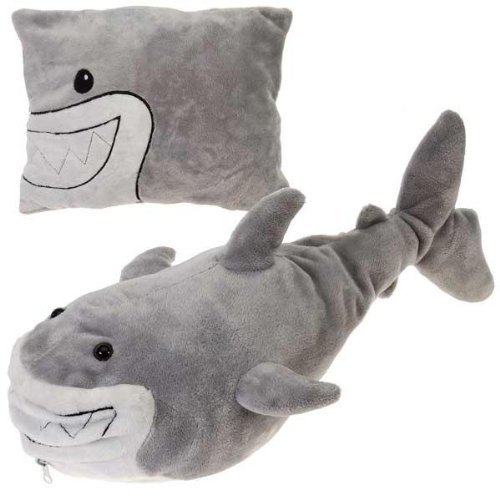 18. Hog Wild Idea Kitchen – Pizza Shark Pizza Cutter
[
amazon
]
We're not sure what a shark has to do with pizza but this cute, kitschy cutter makes a great addition to the abode of any pizza lover. Cute, Kitschy Cutter — Invite this shark to dinner and get perfectly sliced pie. This pizza cutter is anything but traditional. The round cutting blade is in place of where the shark's teeth would be. Simply roll it across your pizza for smooth cuts through even the thickest of crusts. Dishwasher safe. Length: 7 ½". WARNING: Not a toy. Adult supervision required.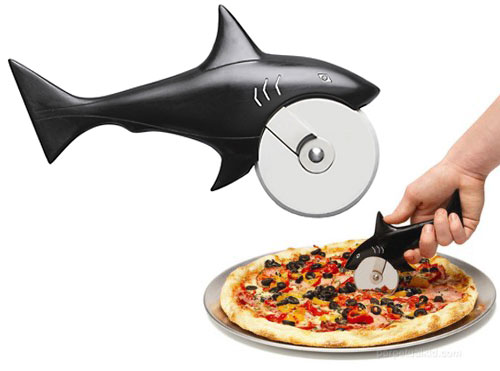 19. Shark Bottle Opener
[
amazon
]
Boston Warehouse has created fun in the kitchen with their new Animal House products. The everyday basic kitchen gadgets are built for serious cooking with a smirk. Despite its fierce reputation, the Shark bottle opener is sure to be a crowd pleaser with its strong teeth to open bottles and stainless steel tail for pulltabs!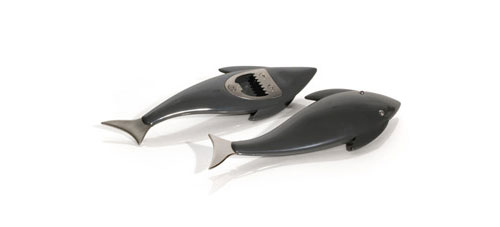 20. Jac Zagoory Shark Bite Stapler
[
amazon
]
Dress up your desk and turn a mundane task into joy. With so little on our desks these days whatever does go on it should speak volumes of our individuality, hobbies and interest. Reach for Inspiration!