Development of technology has brought architecture to the next level. Indeed, designers and architects eagerly implement the latest advancements to create stunning visualizations for their projects, and it proves to be a great way to connect with their clients. What is 3D visualization and how is it helpful for architectural design? Keep reading!
The "whys" and the "hows" of 3D visualization
People have been applying visualization to communicate different messages since ancient times. If you think about it, visualization emerged long before writing and a comprehensive language. It's been actively used all the way through human evolution. Essentially, 3D visualization is the same cave painting, but way more sophisticated.
3D rendering and 3D modeling technology progress pretty fast these days. While some people wonder whether 3D visualization can grow any quicker, others actively make it a part of their businesses.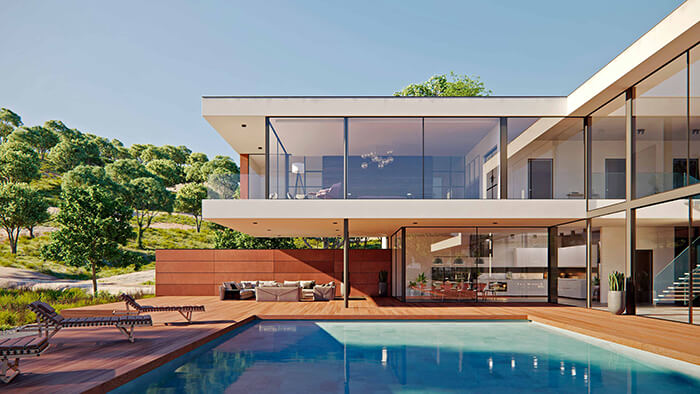 3D visualization influences the way we design, and it certainly simplifies the way we interact with clients. What was virtually impossible some fifteen years ago is a common practice now, which is great because it really works. When there's the need to explain the project to other people, a good-looking 3D model of the exterior is better than the most vivid explanations. Skilled 3D artists today can provide their clients with accurate and realistic 3D visualization of virtually anything they desire in smallest details, and even put those designs in everyday context.
Clients aside, visualization software benefits architects and designers it a number of other purely technical ways. For example, an interactive 3D modeling enables you to evaluate "scales" and "proportions", simulate lighting, recreate different environments, etc.
3D visualization in architecture
So how 3D visualization can be useful in architecture? That's an interesting question. In fact, there are numerous ways to apply this technology for the benefit of the industry.
It's a perfect tool for designing realistic illustrations of architectural projects. It enables a comprehensive visualization of object development stages, a presentation of a work-flow to the clients, and a demonstration of the expected result long before the beginning of a construction.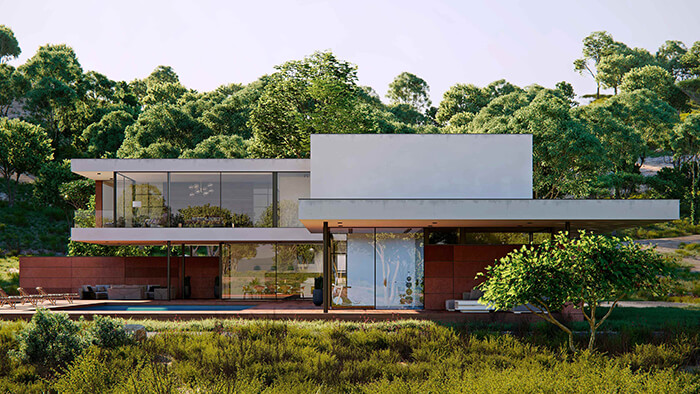 Visualization of projects in 3D recreates the full picture of a building process. It greatly assists the architects by providing them with the tools for drawing up the key components of the exterior, such as the positioning of major objects, adding important details of the environment. Thanks to 3D rendering, the architects are now able to re-create the location in its finite form.
The capabilities of 3D visualization tools help architectural companies to develop high-quality promotional materials that are essential at the stage of investor engagement. Likewise, 3D rendering assists industry experts in the process of expanding the customer base as it enables a cross-checking of already existing solutions.
Another significant benefit of 3D visualization for architecture is the possibility to quickly navigate between concepts and make changes to initial ideas in real time. Now, limited capabilities of software don't hamper the workflow of architects. On the contrary, the existing technology simplifies their lives as it allows them to explore opportunities and create multiple versions of the object.
Finally, a comprehensive software for 3D visualization helps architects to immerse in their idea and see the flaws and drawbacks long before the project is carried out. It minimizes the possibility of project inconsistencies.
Also, 3D visualization is a massive leap forward in terms of collaboration between professionals from different areas. Now, architects cooperate with designers on a much deeper level. Therefore, it's hard to imagine that a finished project might turn out not exactly the way it was planned.
What else is there for architects?
Did we mention that architecture and design gradually implement Virtual Reality technology? VR and architecture is a breathtaking combination. It's an absolute gamechanger for the industry. Whereas 3D visualization allows viewing the finished project like a movie, VR basically enables one to time travel to the constructed site, walk around, and feel it. And these are not the ambitious plans for the future. It's already happening.
Architects have the resources to develop virtual environments, but it's not yet possible to re-create a total immersion by adding sounds, textures, and spaces. Once these important details are covered, clients will be able to actually "visit" their future apartment before it even exists.
Overall, architecture is going through an incredible transformation. It's hard to imagine what the industry will look like in ten years from now. In any case, the changes bring tremendous opportunities. For now, we can enjoy the possibilities of 3D visualization and wait for the "impossible" to become the reality.