Three years are enough to be trapped in the four walls of your own house. It's time to get your plane tickets at the ready, take your loved ones on a getaway to Jamaica, and let its roaring waves relieve your tired soul.
You've got the world's fastest sprinters, the famous Blue Mountain coffee, and Jamaican rum punch waiting ahead. Does anything sound more tempting than a few lazy nights in a relaxing boutique hotel by the sparkling coastline? These five best boutique hotels in Jamaica will have you in awe with the thriving tropical gardens and an impeccable sea view to die for. Let's dive right in!
Sandy Haven Resort
Set foot on the white sandy shoreline of Jamaica's famous Seven Mile Beach, Sandy Haven Resort's claim to fame is the laid-back Jamaican vibe with 35 fully-stocked guest rooms and suites. The fabulous boutique-ness is gracefully executed, ranging from Deluxe King Room to Deluxe Ocean Suite.
If you're here to soak up the enchanting waves off the coast of Negril, stay at one of their airy and bright ocean-view rooms. Or those who'd rather chill in their sun-flooded suite by a lush garden, you'll have a series of garden-view suites to lounge in and cleanse your mind.
But keep in mind that the hippie town of Jamaica's west coast is too good to be wasted! So leave the best comfort of your room behind and venture out to the nearby Times Square Mall, Rutland Point Craft Centre, or the Negril Craft Market during the day before enjoying Negril's finest Caribbean cuisine at the resort's Bongos Restaurant by night.
And the best part, you ask? Wind down with a spa treatment accompanied by a holistic viewpoint. Enhance your physical and mental wellness using high-grade natural ingredients within a 90-minute package. At the end of the day, your body will thank you for this relieving therapy and you'll never feel more alive.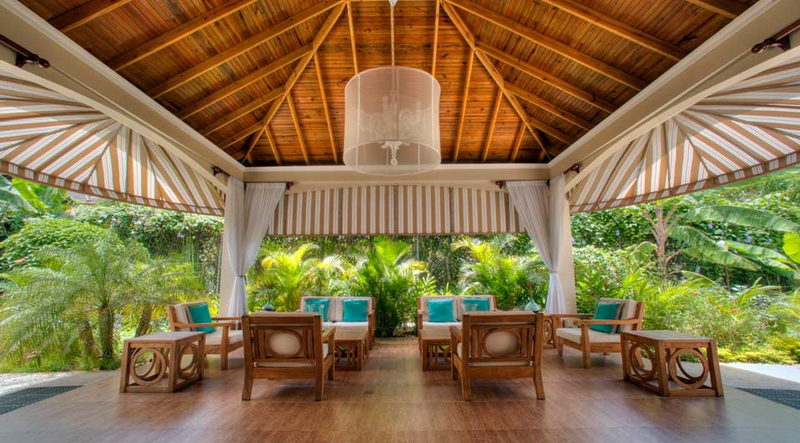 Strawberry Hill
Pushed to the top of the lush Blue Mountain, Strawberry Hill is a secluded mashup of 13 Georgian-style white wooden cottages offering a million-dollar view of Kingston.
Strawberry Hill truly defines what an Old World hotel should be, using rustic colonial décor as the backbone of the theme. From the breezy balconies to the French doors, from the curved windows to white mosquito nets, everything about Strawberry Hill compliments a humble vibe yet charming and elegant.
Strawberry Hill is a perfect call for you and your loved one this summer. Book one of the studio suites for the two of you or a two-bedroom villa with a full kitchen if you tag your kids along.
The four-poster bed becomes the limelight of each room. And every morning when you step out of bed, open that wooden door and be embraced by the jagged green peaks and valleys of the World Heritage Blue Mountains. If this is not a dream come true, we don't know what is.
Strawberry Hill is built on the skeleton of a former coffee estate, swathed by the sun-kissed tropical gardens where fresh vegetables are grown on-site and sent to the restaurant every single morning.
Before sunset, spend a lazy afternoon plunging in its freshwater infinity pool or book a spa treatment to recharge after a long traveling day.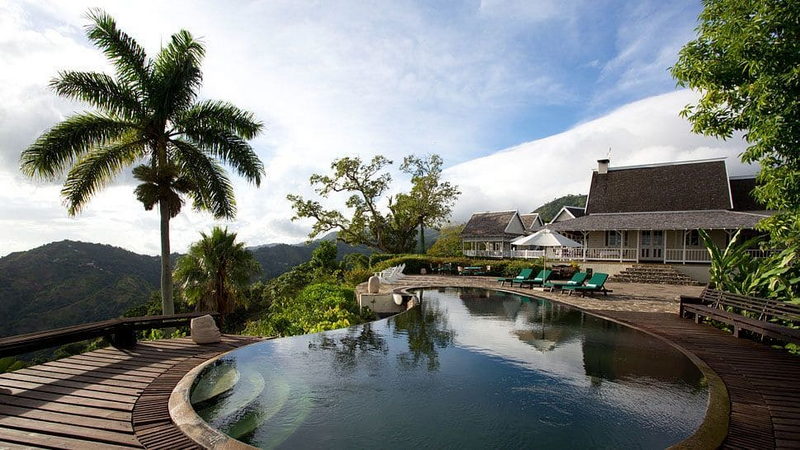 Tensing Pen
Get in here, our lovely honeymooners! Tensing Pen is no more a stranger when it comes to Jamaica's best boutique hotels. Dispersed along its rocky outcrop is a series of cottages, bungalows, longhouses, and villas steeped in the sheer Jamaican nature by the lapping waves.
Complimenting local materials such as stone, wood, and bamboo, Tensing Pen has everything it takes to pamper you with utmost privacy.
But that's not all!
Every morning when you wake up, whizz your way down on one of the three ladders around the property to set foot in the turquoise water off the rocky outcrop. From there, you can see one of the scenic viewpoints perfectly made for tanning, watching the sunset, and falling fast asleep on a teak lounge chair.
When the sun is out, tag your loved ones to the on-site Lodge Restaurant to indulge in a Jamaican gourmet dinner using farm-to-table ingredients. Their specials are rotated frequently by incredible chefs working hard behind the scenes so you can game up your palate with a variety of authentic coastal cuisine.
Feeling a little weary after a long day on the beach or chasing the waterfalls? Stop by its Tensing Pen Spa to relax your muscles with a hot stone massage by the ocean breeze.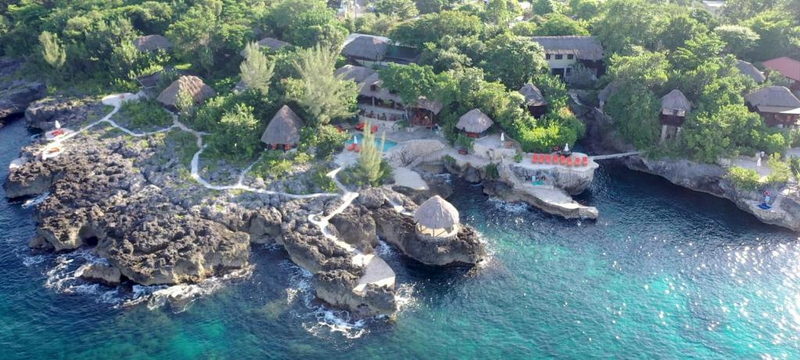 Jakes
Nestled by the rocky shore of Calabash Bay, Jakes is a stellar boutique hotel in Jamaica steeped in a serene and whimsical environment. This funky hideaway celebrates an upbeat vibe of a fishing community. If you're loving everything Jamaica-related, you'll love this place!
Each building is soaked in jangling tropical color while the surrounding tropical greenery blends in to promote a blissful rusticity of a coastal accommodation.
Less is more – nothing about Jakes is extravagant. Instead of all the bells and whistles, Jakes makes way for humble yet artful touches with the use of polished driftwood, louvered windows, and conch shells.
Jakes is made to spoil. Looking for a day staying put? Come over to its saltwater pool and soak in the stunning ocean view fro was m the deck with an icy glass of cocktail from the nearby Dougie's Bar. When the sun beams down, linger by to watch the dramatic sunset while sipping on the thirst-quenching rum punch recipe.
Whenever your stomach goes rumbling, don't forget to order the mouthwatering BLT tortilla wrap and seafood pizza at its on-site restaurant using locally sourced ingredients.
Jakes only has 33 rooms and suites at the moment. So book ahead of time to steal one of their cottages with the cracking sea view!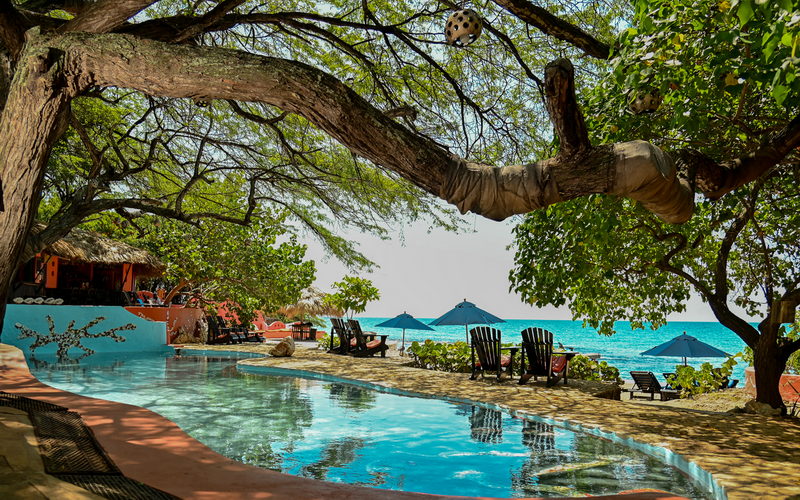 Jamaica Inn
Want to be Marilyn Monroe and Arthur Miller for a long weekend? You'll be stunned to learn that Jamaica Inn is where this famous couple toasted their honeymoon.
Going strong since the 1950s, the inn is still taking Jamaica by storm with its glamourous colonial décor. Perched on a gorgeous cove east of Ocho Rios, Jamaica Inn boasts an extensive range of beachfront accommodations including suites, bungalows, and cottages.
Every time you walk into the room, the balustraded pavilion pressed against the manicured gardens instantly steals your attention. The beach-themed straight-up white walls are accompanied by the typical low ceiling, exposing a blissful, warm, and inviting living space to the fullest.
Meanwhile, the use of dark wooden beams and furniture seems to extend the glam of the space even more. If you're looking for a secluded space to unwind in an old-time glamourous ambiance, Jamaica Inn is the best call to spruce up your holiday with style.
And every year when summer is around the corner, the inn beckons endangered Hawksbill turtles finding their way back home during the hatching season up on the sandy shoreline. So why travel further afield when you have the sheer beauty of mother nature displayed right outside of your doorsteps?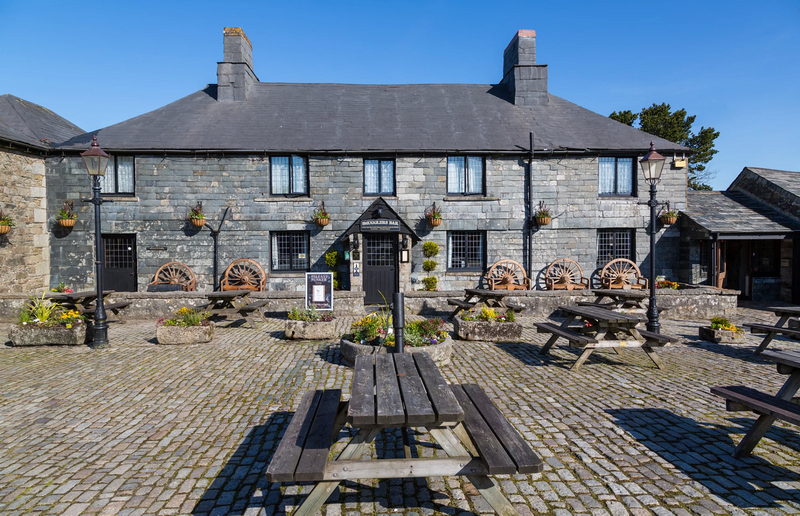 Which one of the above is your favorite? If you're looking for a place to shill with style at the Seven Mile Beach, then Sandy Haven Resort is the top call. But if you'd rather hide out in the forest, look no further than Strawberry Hill!