Step into a world of enchantment with our collection of "6 Playful Cauldron Shaped Product Designs." Each piece is meticulously crafted to add a touch of magic to your everyday life. From the soothing allure of the oil burner to the whimsical charm of the yard decoration, these products will captivate your imagination.
Indulge in sweet delights with the candy holder or elevate your dining experience with the artfully designed ceramic bowl. Embrace the mystique of the mist maker, creating an ethereal ambiance, or cultivate a magical oasis with our planter.
With "6 Playful Cauldron Shaped Product Designs," enchantment awaits in every corner of your home. Embrace the charm and allure of these bewitching creations that seamlessly blend functionality and style for an extraordinary experience.
2 Pcs Hanging Cauldron Pagan Oil Burner
The hanging cauldron witchcraft decor has been carefully crafted to be artistic and beautiful, featuring a cut out design and a cool matte finish; It's a fun and creative way to add fragrance to your home.
Include: 2 pieces of creatively designed hanging cauldron oil burners and 10 pieces of tealight candles
Large Witches Cauldron on Tripod with Lights
Cauldron with green magic fairy witching toxic poison soup, great object for horror or fantastic themes. Place this creepy cauldron in your yard or on your front porch to petrify passersby and phantoms alike. Tripod holder measures 52 Inch high, the cauldron measures 12.5 x 7 Inch.
3 Plastic Witches Cauldron on Rack
These cauldron bowls perfectly blend classic Halloween elements with cuteness. Each bowl measures 5.5 x 4 inches and features a shiny black finish with a vivid black flame design. The black metal rack measures 22 x 4.72 x 11 inches, providing sturdy support. Hang them easily using the three included plastic hangers. Fill these bewitching bowls with foil-coins, candies, and other tasty treats.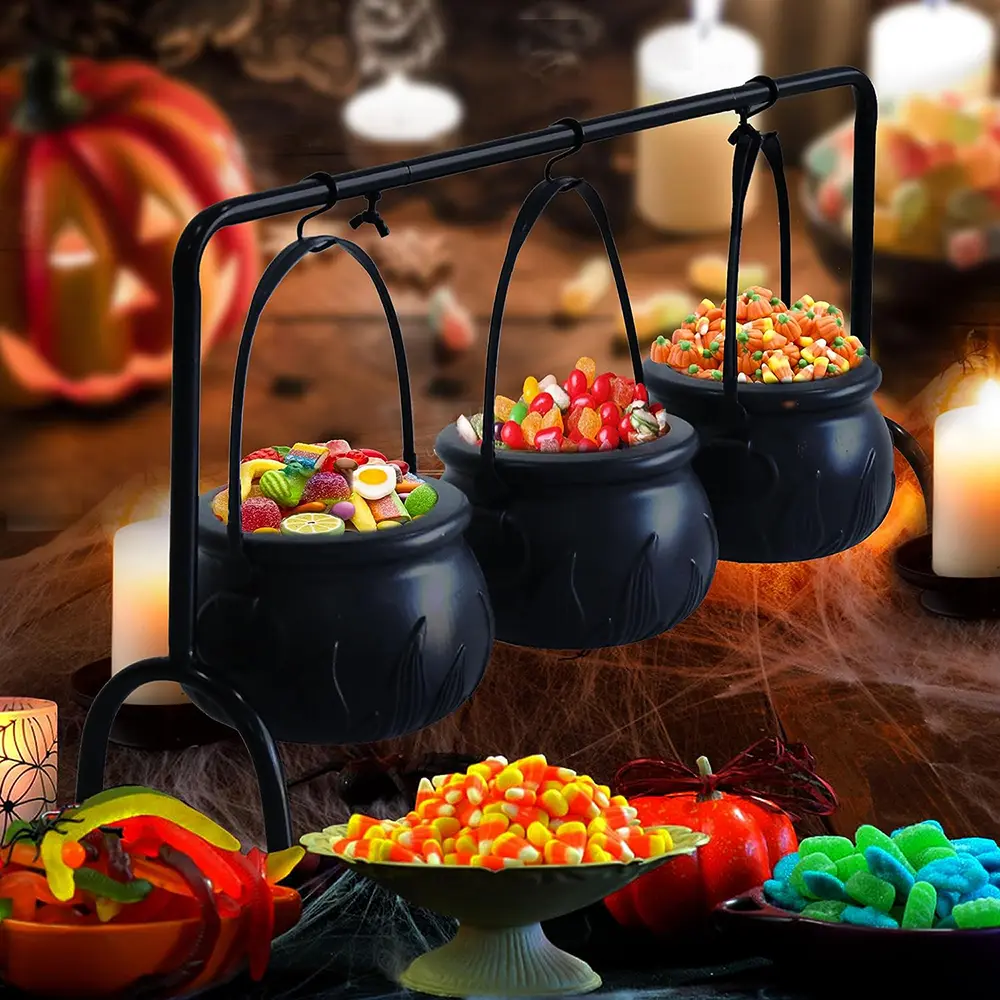 [buy on amazon]
Witches Broth Cauldron Ceramic Bowl with Broom Spoon
Product Dimension for this set is 5.5″W x 4.3″D x 5.5″H. Made of Hand Painted Food Safe Ceramic Stoneware. Prop 65 Compliant. Dishwasher Safe, Not Microwave Safe. With a removable lid and matching witches broom spoon, this soup bowl will become a customer favorite.
12 LED Fogger Witches Cauldron Mist Maker
The package contains 1 piece of Halloween black cauldron, and 1 piece of Halloween mist maker with 12 LED light flashes. The witches cauldron measures approx. 8 inches, mainly made of quality plastic, with a smooth surface, sturdy, reliable, and can withstand daily wear and tear, causing no hurt to your hands, and the Halloween mist maker is equipped with a waterproof cover, which can avoid spills and messes, suitable for multiple occasions.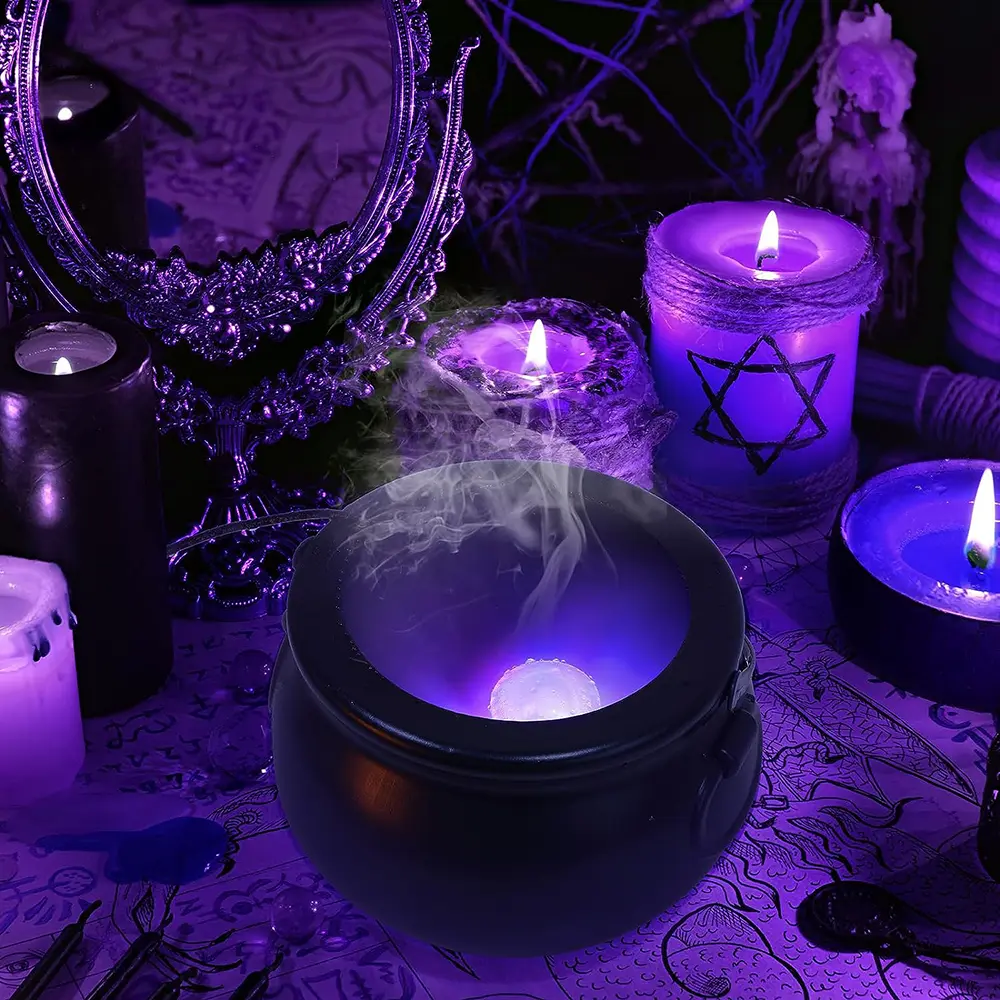 [buy on amazon]
Triple moon cauldron Planter
Triple moon cauldron terracotta plant pot measures 4.5″ tall, 5.5″ wide and 4.5″ deep approximately. It weighs about 11 ounces.
This black terracotta cauldron pot with silver triple moon design makes a unique and witch-approved way to grow plants and flowers in the home. This adoable plant pot is the perfect size for sunny windowsills and ledges. Can also be used to store pens and pencils on a gothic desk space.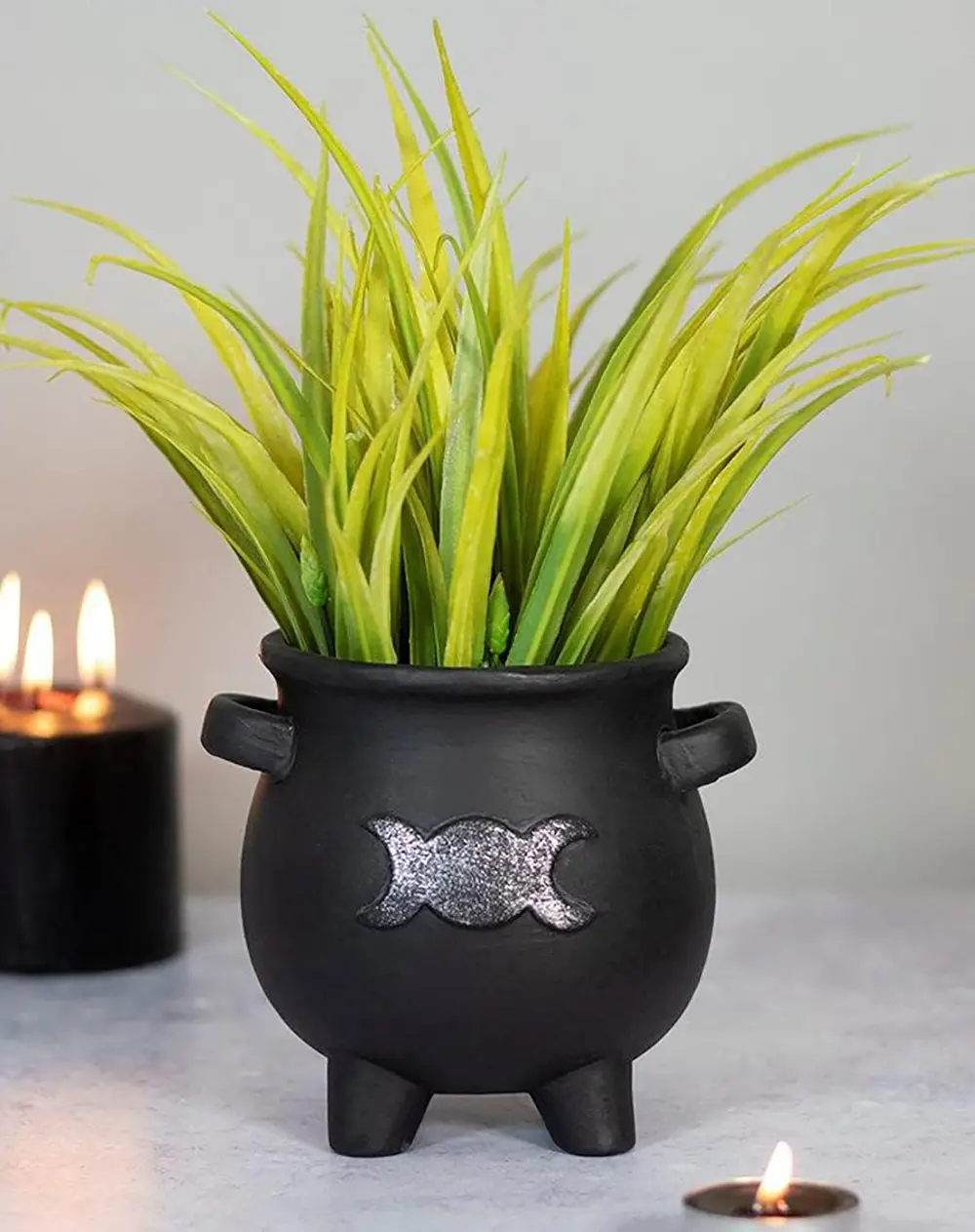 [buy on amazon]