Who doesn't like swing chair? Hang in the air and enjoy the cozy comfort. You can put them wherever you want it to be, inside or out. It's for after that hard day at work, or something fun for the weekend. Picture yourself, chilling out and relaxing, wherever and whenever you want. Isn't that great? Check out below 7 Cool Swing Chairs, you can not only swing by yourself but also swing with your family or your co-workers.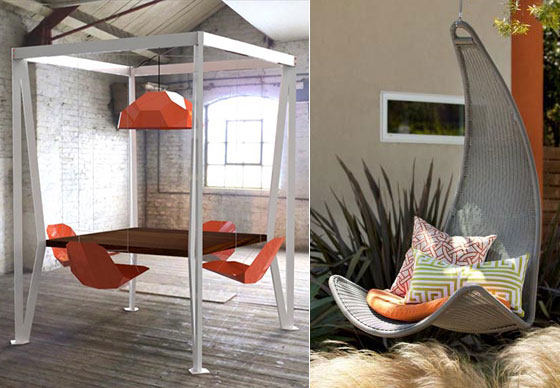 We are a participant in the Amazon Services LLC Associates Program, an affiliate advertising program designed to provide a means for us to earn fees by linking to Amazon.com and affiliated sites.
1. Cozy Egg Shape Swing chair [buy on amazon]
Enjoy the cozy comfort of the Bertone egg shaped swing chair. Let the wind gently sway you as you relax in the deep, luxurious cushion. All season durability, easy care and water-wicking fabric cushions make the Bertone the perfect addition to any patio or deck. Simple assembly required Use in shaded area recommended for extended durability.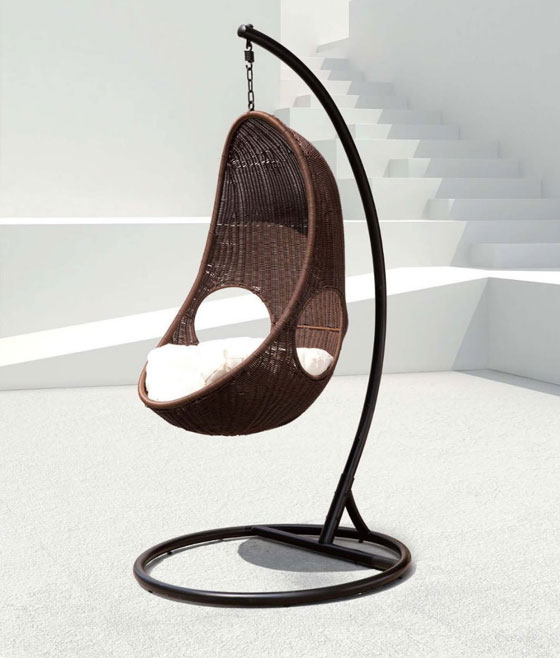 2. Balance Curve Porch Swing Chair [discontinued]
Enjoy the open-air of sunshine or moonlight on your deck or patio with the balance curve. The gentle contours of this hanging chair set will enhance any outdoor living design. Weight capacity: 250 Materials Epoxy-coated aluminum frames w/ resin wicker Hardware, Eyelag S-hook Chain Cushions One comfy pillow Easy to maintain, the gorgeous-looking synthetic weave furniture focuses on appealing modern shapes without neglecting comfort. Simple assembling require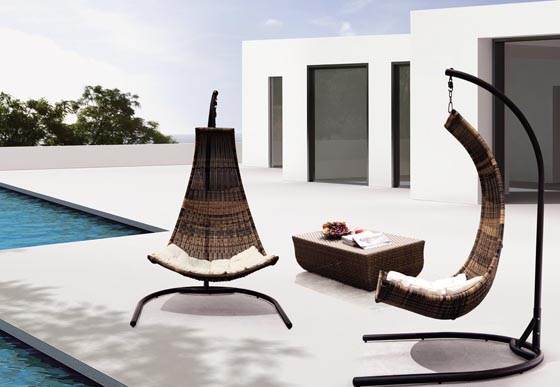 3. Urban Balance Curve Rattan [buy on amazon]
As you settle in and adjust to a new level of relaxation, a peaceful easy feeling takes over and before you know it, you've contracted a full-blown case of peace of mind. Which is A-OK, because hopefully you've got nowhere to go and everywhere to flow. The Urban Balance Curve is made from premier quality materials such as epoxy coated aluminum frames and all-weather wicker with strict attention paid to the highest manufacturing standards.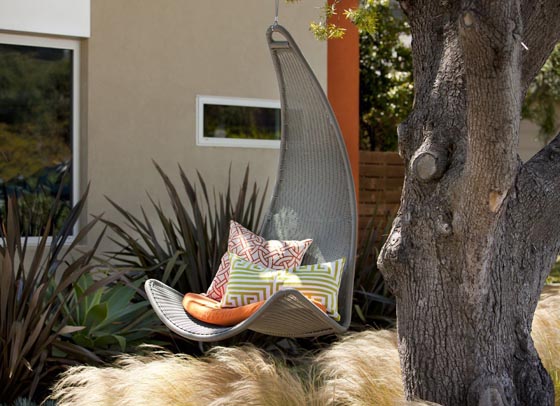 4. Outdoor Wicker Swing Chair [buy on amazon]
The wicker swing chair is a great piece of outdoor furniture it provides relax, comfortable and stylish looks to your back yard. Made of all genuine material; wicker and rattan. Water-mimicking fabric cushion gives you comfortable seating. Simple assembly required.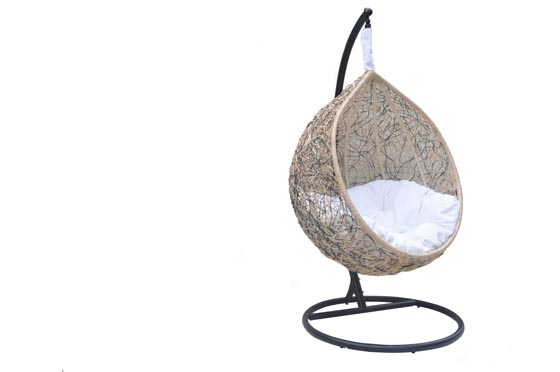 5. Bubble Chair [buy on madeindesign]
Type : Armchair
Colour : Clear – Silver cushions
Material : Acrylglass -Chromed steel bar – Cushion Taifun silver
Dimensions : H 108 x W 105 x D 83 cm
Characteristics : 2 meter chain + hooks
6. Swing Table 4 Person [buy on duffylondon]
Materials: Walnut wood from Forestry Stewardship Council managed forests and other controlled sources, and powder-coated mild steel.
Finishes: Available in a variety of other colours and finishes. Please contact us in regards to your preferred finish.
Dimensions: (H) 220cm (L) 160cm (W) 160cm
7. Cacoon swing chair [buy on hang-in-out]
Cacoon by husband and wife team Nick and Sarah is a swing chair, a hammock, a hanging garden seat and whatever you want it to be. It is the coolest hanging haven for grown-ups and a fantastic place for growing up in for kids.