Known for being a standout amongst the most frequently used zones in the house, the living room holds a special place in every home. It's perhaps the room that sees the most action by far since it's the place where we engage with friends and family, unwind after a long day at work, make diversions, and mingle with our family over meals. Every now and then, it's very convenient for you to want to make particular changes in the room where you carry out most of your in-house activities. Because of the tremendous everyday overuse, the furniture will eventually wear out, the walls will change their original color, and the whole living room may lose the spark it once had. Even if you are not ready for a significant overhaul of the area, little renovation projects here and there can still refresh the whole setting of the room. In the following article, we will share seven easy ways to freshen up your living room and give it a new structure without breaking the bank.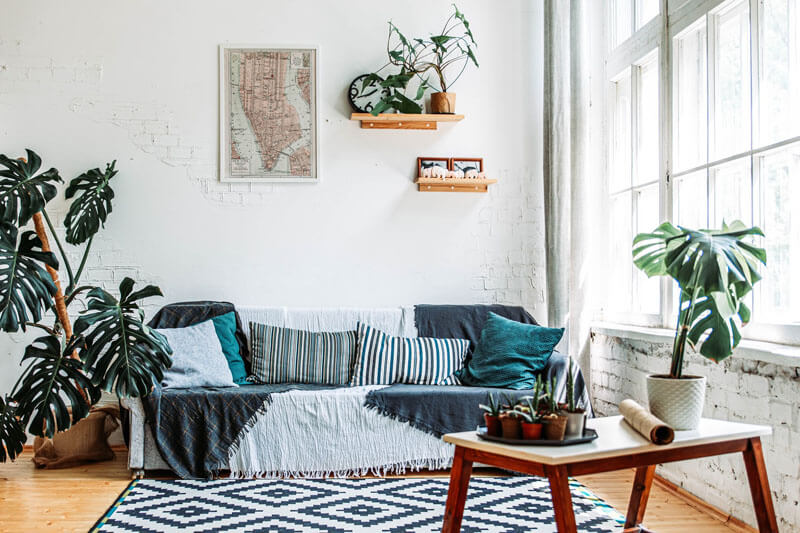 Photo by Stanislav Kondratiev from Unsplash
Add A Statement Wall
Adding a statement wall in your living room is an easy and genuine way to make a seemingly significant change without too much effort. Pick the wall that you want to make the new focal point of your living room, find yourself a highly skilled tradesperson on YourJobCost to do the plastering and skimming part and enjoy this super quick and cost-effective living room refreshment. Once the work is done, it's totally up to you to decide how to decorate the new wall in your living room, whether with a fresh coat of a particular trendy color paint or with some stylish wallpaper. You can also consider adding split face tiles and creating your statement wall with tiles instead, as this effect works perfectly well on the main TV or fireplace wall; or the wall located directly behind the seating sofa.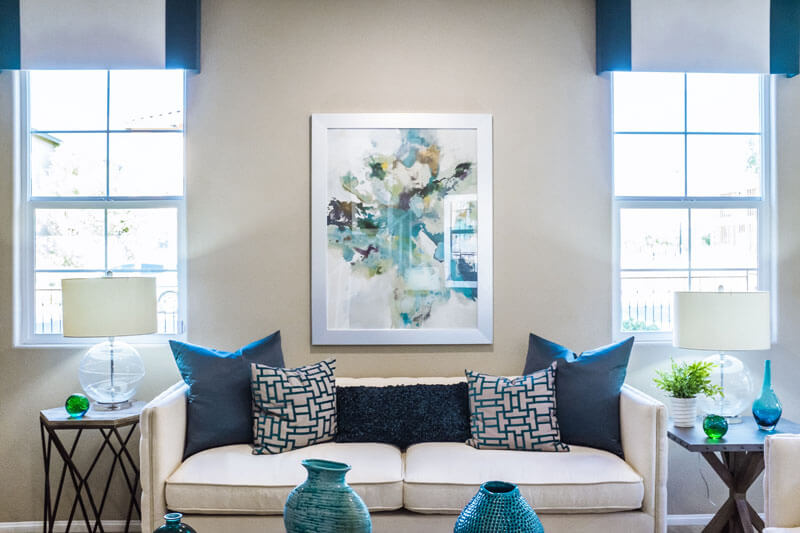 Photo by NeONBRAND from Unsplash
Rearrange The Layout Of The Room
Experimenting with a modified layout to refresh the appearance of the room is never a bad idea. Besides adjusting and moving the furniture around to new angles of the room, you can likewise swap some accessories and soft furnishings from different rooms into the living room to see how they fit and if they refresh the existing look. As we tend to keep the same furnishings in the same place for so long, people become set in their ways of keeping stuff and rarely think to change it up. For instance, the massive sideboard in one's bedroom may undoubtedly look better in the lounge area behind the seating sofa in the living room. Or perhaps the lighting you forgot about in the spare room might be able to update your living room's look and coziness instead. You will be pleasantly surprised that even the smallest rearrangements can make a huge difference in the ambiance of the room.
Accessorize
Adding some stylish accessories can play a big part in making your living room feel welcoming and warm. They can complement nearly every arrangement and style and make the living space cozier for everyone. If your living area is bright with pastel colors, pillows in bold colors, and good-smelling candles can complement the comfortable atmosphere in the room that people find charming. Besides, pillows are also great for sitting, so you can play with them as you wish and place a few of them on the floor. You can add accessories of any type and shape that will suit your refined taste and the style of the living room like art pieces, various designs of mirrors, vases, blankets, macrame hangings, and many more.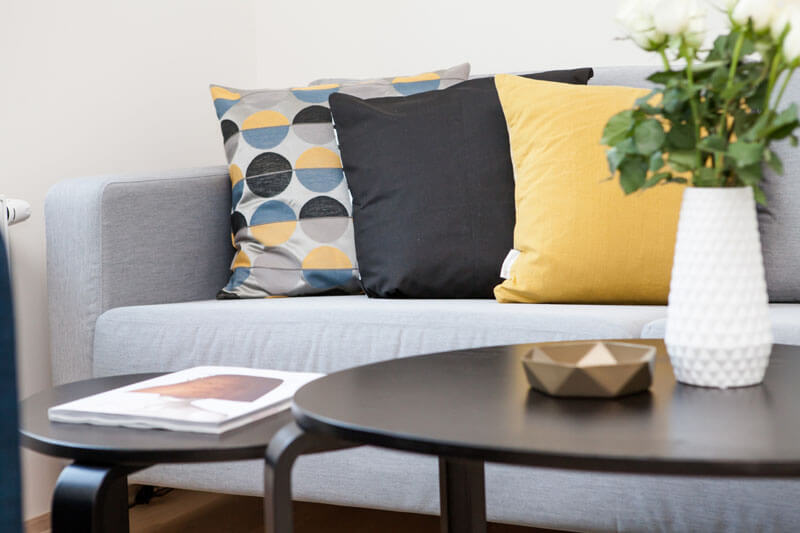 Photo by Terje Sollie from Pexels
Replace The Old Curtains With Blinds To Maximize Space And Light
As curtains are ridiculously light-absorbing, if you want to achieve a fresh, open, and lighter look for your living room, you can opt to replace your old curtains with blinds and enhance the light and space of your primary area. Typical wooden slat blinds are an excellent choice if you want to maintain privacy levels and allow as much or little light in the room as you need and give a soft, elegant look. Venetian blinds are immensely practical but know that metal construction provides a more masculine, uniform, and consistent look than the wooden slats. You can always spray the shades with suitable paint to create your authentic look that will suit the color scheme of the room.
Clever Storage For Clutter-Free Look
Systematizing your living room with a lot of storage solutions will momentarily produce a tidy and harmonious environment. Pull-out boxes, cube storage units with internal drawers and open shelves, and even the conventional chest of drawers can provide the much needed flexible storage spaces to suit most situations. You can also add a couple of wicker boxes and pull-out canvas as both are perfect for keeping children's toys in order and out of sight after bedtime. Select a combination of finishes to complete your interior scheme and use storage to add more color and texture to your room.
Lighting That Will Transform The Space And Dictate The Mood
High-quality lighting can quickly transform a room, changing the atmosphere and mood of the whole scenery in seconds with a simple switch. If you are looking for a quick fix, you can add a lamp or two in the living room's dark corner. If you are looking to make a real impact in the room, go for a tall lamp to add height and interest to the space. If you are longing to create a cozy ambiance and fresh white look in your contemporary and modern living room, you can never go wrong with warm white bulbs.
Create A Photo Wall
In this digital era that we are undoubtedly part of, nobody has their photos processed anymore. So, if you solely rely on your smartphone or tablet for all your family photos, where are all your memories? What's a home without family photos or a gallery wall of memorable events?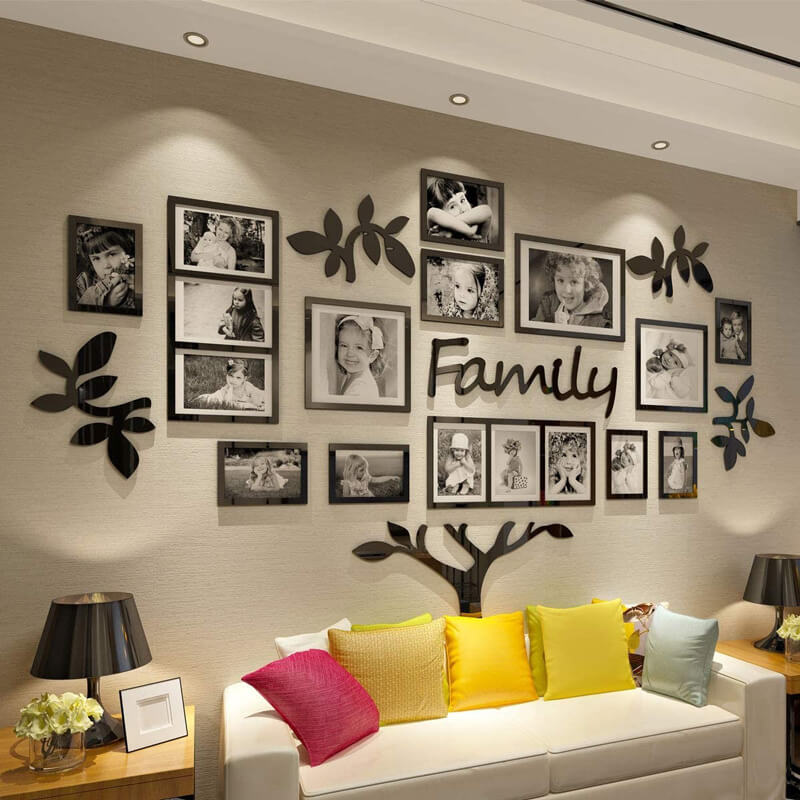 Photo from Pinterest
While photos still play an essential role in our lives and retrieve fond memories, you can have digital pictures printed out on photo-quality paper, framed, and create a photo wall in your living room. This way, you will add personality to your living room and create an unusual freshening feature at the same time. Don't forget to refresh the photos and frames from time to time, so your wall gallery will always look exciting and fresh.